Recently I started getting a lot of emails regarding the quietest drones, how can make we make them quieter?, are there any DIY techniques and much more? And much more. So, I thought of writing this article for those who love the drones but hate the noise at the same time.
Recently, A NASA study founds that sound of drones is more annoying than the rumble of buses and trucks. It was concluded that humans have become used to of these vehicle noises. Though noise of drone is far lesser in decibels in comparison to some vehicle's sound, still it's more annoying.
In the Study, NASA researchers played the different samples of pre-recorded audios and ask them to rate the sound which is annoying and surprisingly, they rated drone sound more annoying than the sound of bus and trucks. You can read more about NASA Drone Sound Experiment over here.
Drones are really in some of the best inventions of our century. Their applications and future possibilities can transform the human lives. Making a completely soundproof drone is quite impossible, but we have a couple of drones which produce very less sound. Though not everybody complains about the sound, but it could be irritating to many people.
If you are especially into filmmaking, then noisy drone could be a problem for you.
The noise in the drone is coming because of the propellers and sometimes build quality of the drone can also be a decisive factor in its noise level. Several companies have started manufacturing quiet drones. Below are some of the benefits of a quiet drone.
Zero Disturbance: It can be irritating for your neighbors if you fly drone daily. The sound of the drone can be an issue for the people and animals living in your surroundings. It can also cause unrest among birds and animals living in trees. So, if you are going to fly the drone nearby living being then better buy one which produces the least amount of noise.
Future is silent: A lot of companies are working hard to make deliveries possible through the drones. And you make something noise as they are, it's going to be a big problem. To use them for pick and drop off objects, you have to make quieter drones. However, it might look cool to see an autonomous flying bot coming for delivery, but its noise would be irritating at the same time. So in future, we will see a lot of silent drones coming in the market.
Natural Sounds: If you want to capture the sound of nature, then it because quite difficult because of these humming propellers. So, if the drone is silent, then it can help you the capture the sound of birds, trees, wind from a completely different angle. Especially in filmmaking, there is a much need of this type of drone.
How do we measure the noise level of a drone?
The sound is basically captured in decibels. And every single increment in decibel number makes the sound three times noisier. In simple words, a decibel ratio defines the sound pressure on the human ear.
Asking which sound is irritating is bit subjecting because the human perception of sound varies. What might be irritating for someone, could be soothing for others? The threshold of the ear also varies from person to person.
Take Music for instance. A type of music you like, your friends might not like. Same works with the sound of the drone. For some, it could be irritating while for others it can be like any other normal sound.
There are no specific regulations when it comes to drone's noise. However, European Aviation Safety has certain guidelines, according to them if a drone is flying 3 meters away, the noise level should not be more than 80 decibels.
Below are some of the most popular drones and their noise level in decibels.
DJI Phantom 4 Pro:             90Db
DJI Mavic Pro:                      84Db
DJI Spark:                             81Db
DJI Mavic Air:                       78Db
DJI Mavic Pro Platinum:      77Db
DJI Mavic 2:                         76Db  
Parrot ANAFI:                       72Db
How to make a quadcopter quiet | DIY 
People also have been asking about how to make a drone quiet. What can be done regarding motors and propellers? If you want the least noise, you can go for mini-drone, they are just for fun and produce far less noise than other popular drones.
Though, Some Users said by using the propeller guards helped them to reduce the sound. While others said quad frame sometimes amplify the sound, you can remove the stickers and other extra stuff to bring down the little noise bit. I recently stumbled upon this funny thread on DJI Forum that you can also check.
Making Drone Quieter | A DIY Experiment
Top 5 quietest drones that you can buy in 2019
1- Force1 F100 Ghost Drone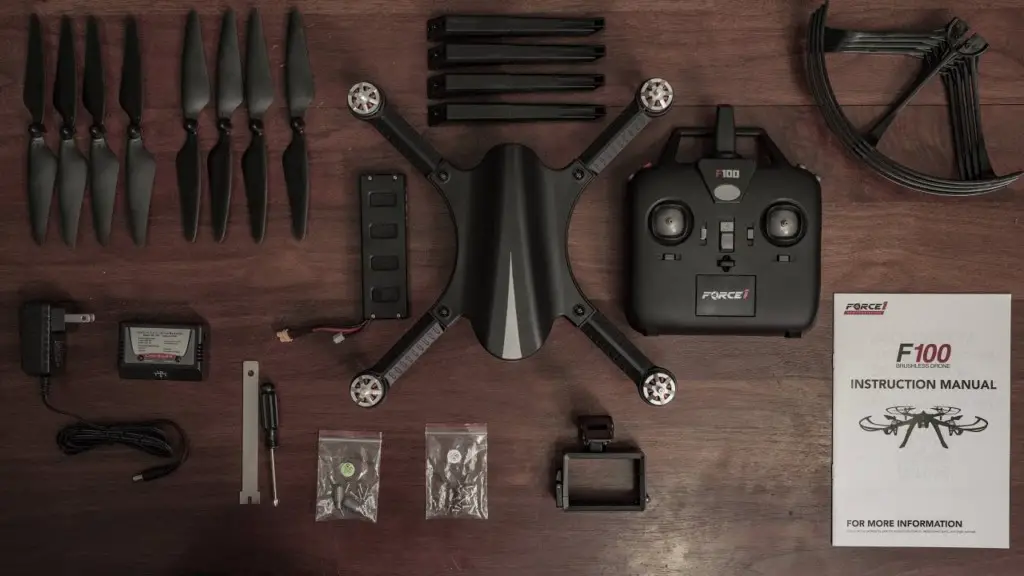 This is one of the quietest drones that you can in 2019. This comes with 1080P Camera. You also get extra batteries with this long range RC Quadcopter. It comes with brushless motors that make it one of the quietest drone in the market. There is also an option for mounting Go Pro that certainly gives it an edge over other drones. Its dimensions are 16.6 x 13 x 6.2 inches, and it weighs around 2.2 pounds that makes it bit heavy though. But, the drone is pretty inexpensive and gives you decent performance.
You get two-speed modes with the drone so that you can control it at your disposal. If you are a beginner, then you can go for low speed and higher speed if you already have drone flying experience.
Brushless motor does two important things, it makes the drone quieter and also increase the drone efficiency by giving a better flight duration. You can fly it up to 15 mins.
The drone is recommended for 14+. It comes with propeller guards and landing gear which makes the drone more safe to fly and land.
Is this ready to fly a drone? Or I have to any pre-flight preparation is required?
Yeah, it is ready to fly a drone. Just Sync the remote with drone, and you are ready to take it off.
How's the customer service of the company?
It's pretty good. If you see any problem within the warranty period, you can call them. They are very quick in response.
How long does it take to get the battery fully charged?
It takes 2 hours to get the batteries fully charged.
Does it support Go Pro 4 and 5?
Yes, it supports both of them. It comes with the mounting brackets that you can use to fit them.

2- Yuneec Q500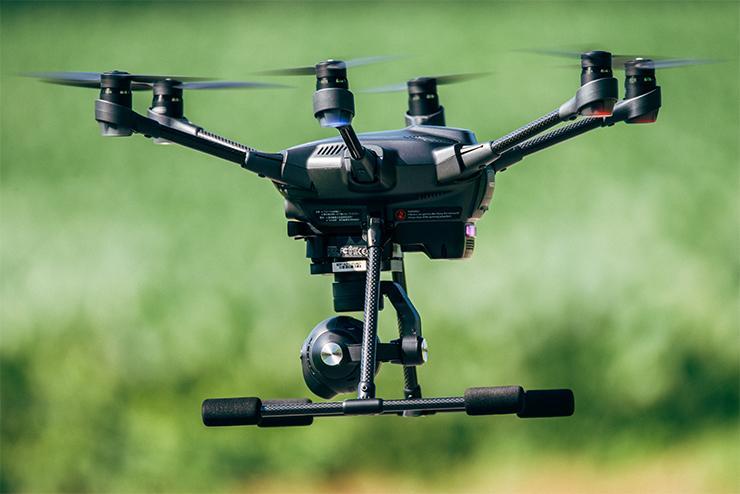 This is one of the most popular under $500 drone. It comes with great filming capabilities. It produces less than 70db sound while flying 3 meters away. The drone is also capable of recording 4k videos in 30fps. The company claims that it has some insulator materials on the drone body which reduces the vibration and that leads to an almost silent drone. It also flaunts its 12MP Camera which comes with no distortion lens. If you are looking for a drone for aerial videography and photography which comes under 500 range, then it could be a great fit for you. Below are some important features of Yuneec Q500.
It has three axis gimbal with precise alignment, and you also get the remote with built-in touchscreen.
It is good for making slow motion high definition videos as you can record in 1080p and 4k with 30 to 120 frames per second.
It is a bit bulkier and might not be very portable as a comparison to other drones. LED Light Indicators make it look cooler.
How many batteries do we get with the drone?
You will only get one battery with the drone. Extra battery, you have to purchase separately.
Does this drone come with 3D Mapping as well?
No, It doesn't. You have to buy Typhoon H for that.
How's the build quality of the drone?
It's good.
Does Yuneec Q500 come with follow me feature?
Yes, it has follow me feature.

3- ANAFI Parrot Drone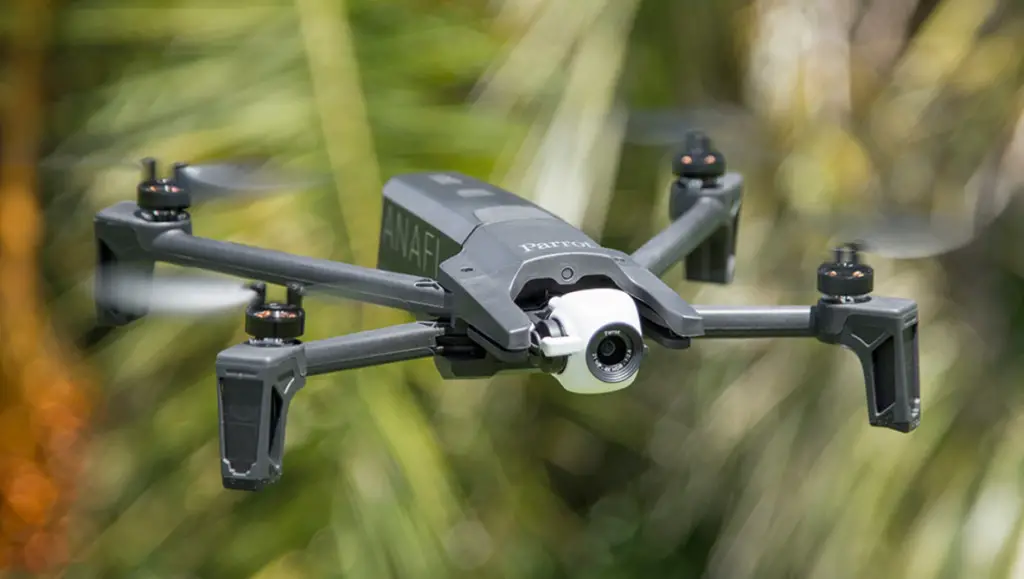 This is also a great option when it comes to quieter drones. This foldable quadcopter comes with 4K Camera. It is very compact in size and easy to carry as well. The camera of the drone can be moved in the 180-degree direction that gives it a broader field of view. Its 21MP camera comes with f/2.4 wide angle lens which makes it capable of recording in 2.7k and 4k as well. You can easily zoom in and zoom out without losing the picture quality. You also get multiple mode options to take your experience at a completely different level. It comes with Li-Po battery which gets charged very quickly and provide you around 25minutes of battery life. The drone can fly at the speed of 55 km/h which makes it faster than the other drones in this price range.
It weighs less than 320grams which makes it very lightweight and easy to carry. You can even fit this drone inside your pocket as well.
Multiple advanced features give this drone an edge which includes Geofence, SmartRTH, and Find My Drone function.
It has an automatic software update so that you don't have to worry about any manual software installation. It will keep you posted with the latest ANAFI's enhancements.
Does this drone have altitude hold?
Fly the drone at a certain height and leave the controller. It will remain steady in the same position.
Does it support the VR Goggles?
It does have freefligh6 virtual reality mode, but there is no confirmation from the company regarding the Goggles compatibility.
Can I change the return to home in between flight?
Yes, you can. You can land it on your current location manually or with autolanding mode.
Can I use the separate charger for the batteries?
You can. But it's not recommended.

4- DJI Mavic 2 Pro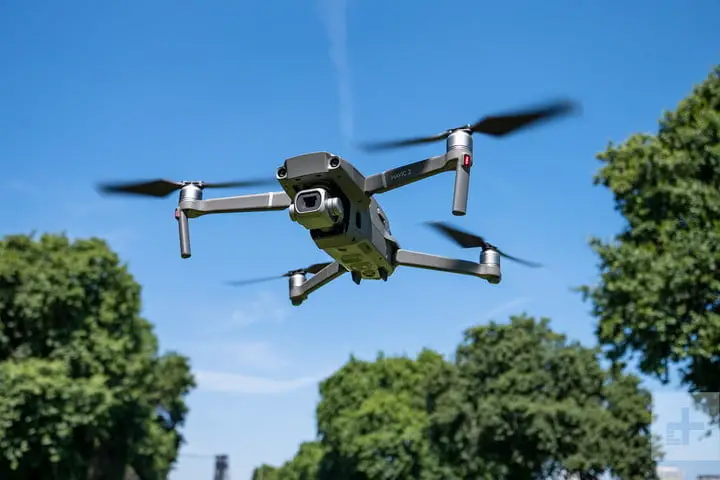 It is one of the quietest DJI drones that you can in 2019. It is small, has a good camera and has some advanced features that make it unique. It comes with Hasselblad L1D-20c camera which gives you amazing picture quality. You can also change the aperture of the camera which gives you more flexibility in video making. It comes with OcuSyc advanced technology which makes 1080p transmission possible even though drone is miles away from you. The drone is faster, quieter and better time duration as well. Below are some of the features of DJI Mavic 2 Pro that you should know.
It can fly up to 72kph in sports mode which makes it fast. It can easily follow fast moving cars and give you amazing footage.
The drone is durable and promises a longer life as it has advanced obstacle avoidance system. Obstacle sensors are installed on all sides of the drone.
If you are buying the drone for professional filmmaking then instead of buying the drone, buy the complete kit in which you will get an extra battery and other important accessories as well.
What is the price of DJI Mavic 2 Pro?
The price of the drone is around 1500$.
What is the difference between mavic two pro and pro?
There is no big difference. But you will see minor changes in build quality and features as well.
Should a beginner buy this drone?
The drone is very safe to fly if spending 1500 dollars is not an issue for you. You can surely go for it.
Is Fly More Combo worth buying or not?
Fly More Deluxe Combo is recommended.

5- DJI Mavic Pro Platinum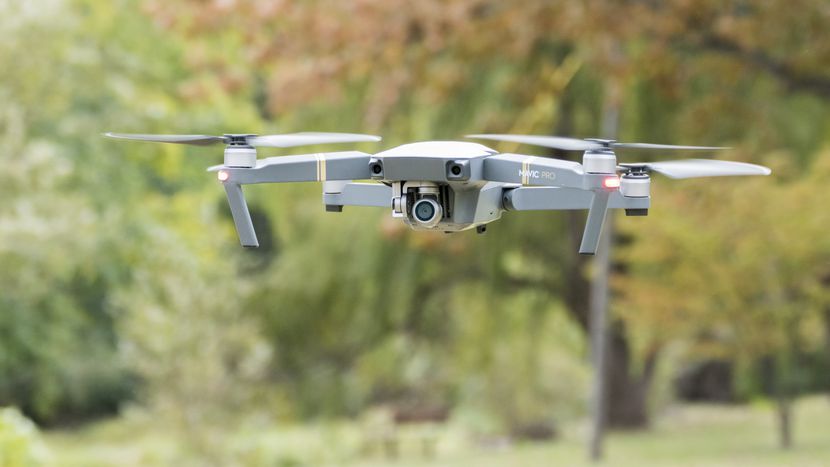 This is also one of the best options if you are looking for some high-end drone which is quieter at the same time. This compact small size drone comes with some amazing features that make it one of the most popular DJI Drone. This drone is also loaded with Ocusync technology that gives you glitch free transmission miles away from the drone.
This comes with 8331 propellers that make drone more quieter. The company claims that the noise level of the drone has been reduced to 60%.
You also get 30 minutes of flight duration that is decent enough to give you a good time for aerial footage.
Drone is for professional and might seem the bit complex at the starting to fly. Take your time, learn all the modes then only fly it at high speed.
Which is better Mavic Pro 2 or Mavic Pro?
I would recommend Mavic Pro 2.
How's the obstacle avoidance system of the drone?
It has improved a lot more. The chances of crashes have come down significantly.
Can this drone film in 2.k?
Yes, it does.
How's the build quality of drone?
It's compact and sturdy.

Conclusion
So, These are some of the quieter drones that you can find in the market. Though there is no drone made till now which is completely quiet. In the future, we might see a lot of advancements, and that can reduce its noise pollution. Till then keep learning and enjoy your drone.
Happy Flying!!!
Read More:
Trending Gadgets in 2021