After the launch of DJI Spark, this year, the number of drone users has grown significantly. Spark made the drone very compact and affordable at the same time. DJI Spark can fit in your palm. This is the drone which can be used by kids, adults and professionals as well. The drone has superb image quality; there is no drone near to it at this size and price range.
The drone costs less than $500, and you can easily fit it inside the bag. Today, in this article, we will discuss everything you should know about this drone. We will also compare the drone with mavic air and phantom 3. So, read the whole article thoroughly, in case you have any question, don't forget to let us know in the comments below.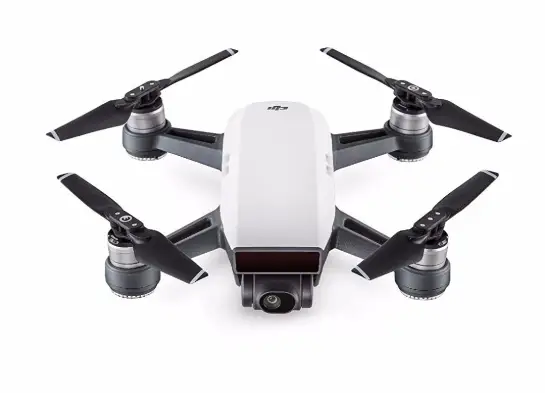 What I love about this drone that it is appealing to all the user whether you are a newbie or expert. Though the drone is very small and compact that makes it easy to carry but there are some cons as well as it doesn't have the 4k recording, three axis gimbal that we will cover in some different section.
DJI Spark Review
The DJI Spark comes with an advanced autonomous system that allows the drone to take care of everything by itself. The main camera also has forward facing 3D sensing system that gives it an edge over others. The drone also has GPS and GLONASS that allows it to has a smooth flight with high precision. The drone has a good altitude hold and can hover at the same place without moving to and fro in one direction.
There are some cool features as well that includes intelligent modes like quick shots. You can also set the drone on a set path, and it will follow the track smoothly. Below are some of the important features that you should know.
1- Quickshot Modes: It has four quick shot options that you can use. With Rocket option, you can send a drone up in the air while the camera is pointing down. With Dronie Mode, the drone goes away from the subject. In Circle Mode, the drone is rotated around the subject. At last, comes the Helix mode that allows you to spiral the drone around the subject while going away from it.
2- Control by Mobile: You can control the drone with your smartphone. Though, while operation from mobile, there would be some constraints as well. You can also the drone with gestures that take your controlling at next level. Though, the remote controller offers some better flight controls and more features that you might not be getting with a smartphone. So, if you don't want to use some advanced features, you can keep using the smartphone, no need to spend extra money on a controller.
3- Compact and portable: Compact size and solid build is the forte of this drone. Once the propellers are folded, you can put it inside your pocket as well. It is also light in weight; it feels like as you are carrying a mobile in your pocket.
The carrying box is also very handy; you get it once you make the product purchase.
It acts as a launch pad as well that eliminates the possibility of the crash while landing on the ground.
4- Gesture Control: The cool thing about the drone that it can be controlled with the gesture. When you control with your hand, it looks like you are a Jedi master. This controlling mode is super smooth; you can steer it with your palm movement. At the starting, this feature might look a bit tricky but with practice, you can surely master it. I recently watched Phillip Schofield trying to control it with gesture, and it was funny as hell.
The drone looks very small, but it can do wonders with its amazing features. Its self-flying autonomous capabilities it stand out of the crowd.
5- Solid Build Quality: When it comes to its build quality, Spark has a solid rigid frame which covered by a coloured cap on the top. Cap comes in five different colour that includes red, white, green, yellow and blue. Its quick release props make the folding and packing easier.
Propellers are made up of carbon fibre that make them almost unbreakable no matter how hard the crash is. It also has an obstacle avoidance system that reduces the chances of any possible crashes. The camera comes with two axis gimbal; you can tilt the camera straight down but not left and right.
DJI Spark Cons
You need to spend some extra bucks to get the Remote controller. Because, with mobile, you won't be able to use all the features.
Battery Backup is not that good. You need to carry one extra all the time.
You have to buy the battery charger separately that again adds up the price.
The drone only comes in white colour, so there is no other variant to choose from.
It doesn't have 4k Camera, and you won't be able to shoot in raw format as well.

DJI Spark Technical Specifications
| DJI Spark | Specifications |
| --- | --- |
| Camera Resolution |  12MP |
| Take-off weight | 300g |
| Drone Dimensions | 143x143x55mm |
| flight time | 16 minutes (Maximum) |
| Speed | 50km/h (31mph) [Max with controller] |
| Gimbal | 2-axis mechanical |
| video resolution | 1080/30p Max |
| Image formats |  Jpeg |
| Bitrate | 24 Mbps |
DJI Intelligent flight modes
DJi Spark vs Mavic Air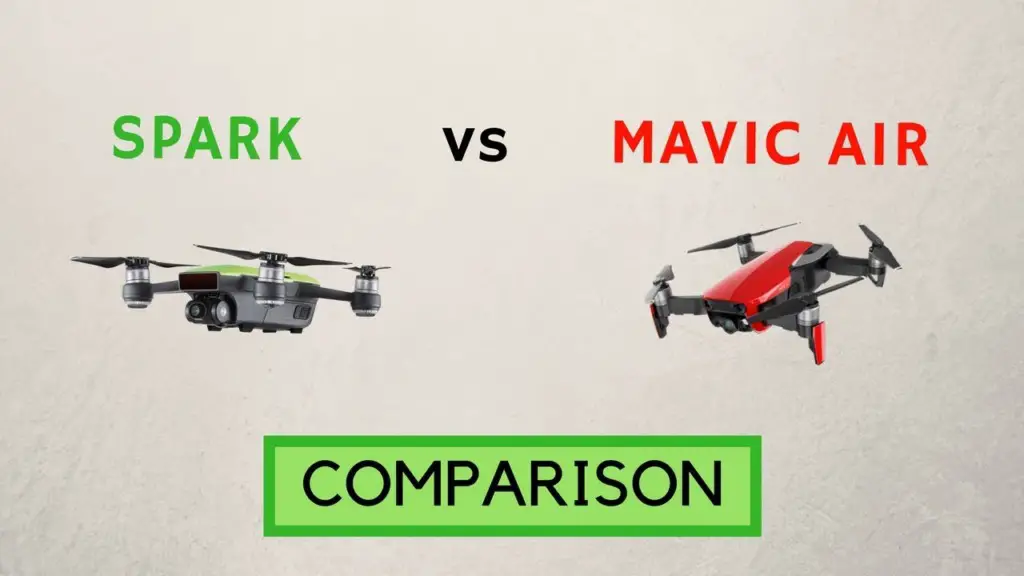 In this section, we will talk about Spark Vs Air. A lot of people have been finding this confusing, which drone is better? We will try to cover all the important aspects of both of them. Then, you can decide which drone is the best choice for you.
1- Build Quality & Design: Let's talk about Spark first. It is smaller than air, and material quality is decent but it's not as good as air, and that's why it is cheaper than it. While Mavic Air feels more premium and comes in better material quality.
When you fold both the drones, size is almost similar. They are very small, fits in your palm and easy to carry with. If we compare the gimbal, then Spark lacks as it comes with two axis gimbal while Mavic air flaunts its three axis stabilisation.
2- Flight Time: The tiny Spark is around five minutes shorter than the Air. The Mavic Air can fly up to 21 minutes while Spark manages to fly up to 16 minutes in the excellent weather.
3- Camera capabilities: If you compare the camera capabilities then Mavic Air is the clear winner. The Mavic Air comes with three-axis stabilisation and can record in 4k while spark can only record up to 1080 30fps. In Spark, you can't move the camera left and right, but you can tilt it completely down. The DJI Spark's FOV is equal to 35mm film. Air gives you buttery smooth image with its high quality and camera and stabilisation. So, here no doubt, the Mavic Air is the winner.
4- Obstacle Avoidance: Obstacle Avoidance is also a very important part of a drone. Both the drones have completely different avoidance system. For obstacle detection, the spark uses the infrared sensors, and with its detection, it decides where to fly.
This infrared is not very advanced technology; it gives the drone a very basic idea instead of detailed information. There is one camera mounted at the bottom of the drone, but that's not the part of obstacle avoidance system.
The Mavic Air uses advanced technology with two inbuilt cameras in it and that allows the drone to see the world as a human would see with naked eyes. Feeds of both cameras are put together to give drone an in-depth map of the surrounding, and that's how a drone avoids all possible collisions.
Verdict
The Mavic Air is around $400 costlier than the spark, but that is worth its price. The Mavic Air has advanced features that make it more solid and high end. So, if you have extra money to spend, you can surely go for Mavic Air otherwise inexpensive Spark should be the right choice for you. DJI Spark is good for beginners and has some amazing features to experiment with.
DJ Spark vs Phantom 3

In this section, we will discuss the difference between DJI Spark and Old Phantom 3. Some areas, Spark is better while in some other areas, Phantom 3 is the winner. So, without wasting any time further, let's dive into the specifics of these drones.
1- Controllers: The Phantom 3 comes with a huge controller, two antennas at the top with buttons and steering sticks. On top of that, you have a mount for a smartphone as well. You can also attach the tablet if you want and see the live view while the drone is flying. The controlling is very smooth, and it takes around 90minutes to get fully charged and can be used for two and a half hours. While for spark, you don't even need the controller. You can control it with a smartphone and even by gestures as well.
Though, you won't be able to use all the features with a smartphone. If you want to use all the advanced features, you need to buy the controller separately.
2- Speed: All the Phantom 3 quadcopters can fly up to 35.8mph while Spark can go up to 31mph though it won't make any difference unless or until you are using these drones for racing purpose. Phantom 3 can descend at 6.7mph and ascend at 11.2mph max.
3- Flight Duration: Phantom 3 has better flight duration than DJI Spark. The DJI Spark comes with only 16minutes of flight time. The Phantom 3 gives you more time to take cinematic shots. If you are thinking of buying a spark, you should always buy an extra battery.
4- Size: The size is one of the drone aspects where Spark is the clear winner. The DJI spark weighs only 300grams, and diagonal distance is around 170mm. However, all the phantom three models weigh around one and a half, and they are bulkier in size as well. So, if the portability and ease of carrying it, is your topmost priority then Spark should be the right choice for you.
DJI Spark Setup & Tutorial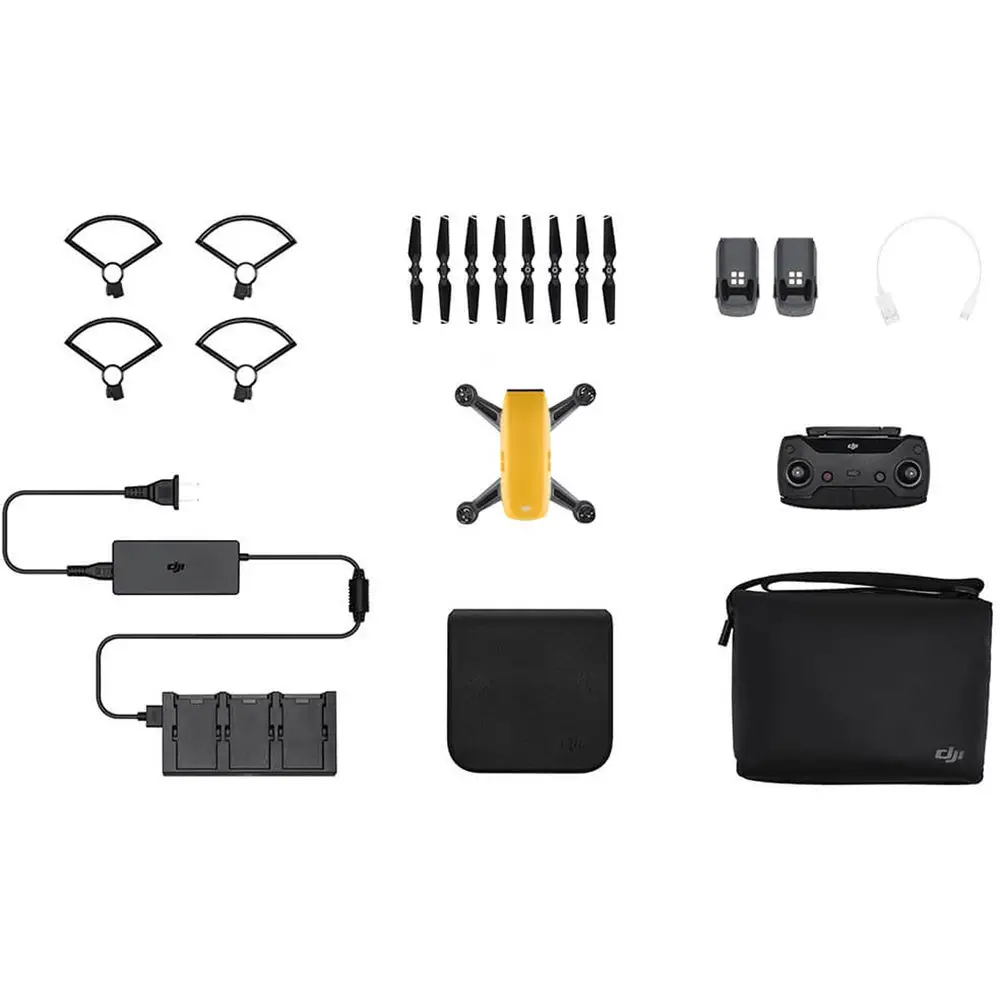 In this section, we will focus on Spark Setup. It is easy to use and quick to fly. To start this drone, firstly you have to install the DJI Go 4 application in your smartphone. The app is completely free and available for Android and iOS both.
Then, you have to register for the DJI account. If you already have one, you can directly login into it.
Then insert the battery. Then, power it on by holding the power button for 3 seconds. It will turn on the battery; the drone power can be turned on by pressing it for 9 seconds. You will hear a continuous beep once the drone power is on.
Connect the drone with a smartphone through wifi. If you are doing it for the first time, you need to enter the password that you will find in the battery compartment.
Once you are connected to WIFI, then open the application in your smartphone. If there is an update pending, it would be done. To use all the features, the firmware update is mandatory; you can't skip it.
Then, connect the Remote Controller's Wifi with the smartphone. This, you will find at the back side of the remote controller.
Then, a popup will come on the smartphone as notification that everything is connected. If still, you are facing the problem, repeat the steps from the beginning.

Things to keep in mind before taking it off
Take Off: This is one of the most important points when it comes to drone flight. If you are a beginner, fly it in the open ground where there are no obstacles. There are three different ways you can take off the drone. You can manually take it off, do the autonomous flight or you can also go for gesture control.
Landing Pad: If you are a beginner then make sure you have a fixed point for taking off and landing the drone. You can't just land it on the uneven place. You can also use the drone carry case as landing gear. Avoid the sandy beach and grassy field for safety reasons.
If you are using it with gesture mode, you can launch it, with the help of your palm. When you are using the gesture mode, put the drone facing toward you and double tap the power button.
Gesture Control is fun: This is the funniest part of this drone. At the starting, this mode will seem tricky, but once you master the gesture control, it's going to be fun. Also, understand the LED signals, what do they mean. It would give you clarity about the drone and control as well. Below are some of the colour indication in gesture control mode.
IF LEDs are Red: It means drone didn't lock the subject till now. It won't follow you.
If LEDs are yellow: It means the camera is trying to locate your palm.
IF LEDs are green: It means the camera has locked your palm and now, you can control it with a gesture.
FAQs
Does the DJI spark come with a controller?
No, you don't get a controller with DJI Spark. The drone only costs around $499. For the controller, you need some extra bucks. You can also buy the combo in which you will get all the required accessories.
In Combo, you will get a controller, extra propellers, battery, a quad charger, prop guards, power cable, USB cable and shoulder bag.
How long does it take to charge the DJI spark?
If you are using the standard USB charger, it would be fully charged in 80 minutes. If you have the charging hub, then the single battery will take 54 minutes, 55 minutes for two batteries and 85 minutes for three batteries.
Does DJI Spark have internal memory?
No, it doesn't have internal memory. You will get data stored in your DJI Go app directly, and from there, you can export it to your smartphone.
How to reset DJI Spark WiFi?
After connecting the drone with the app. You can do the reset. Just hold the power button until drone beeps for three times. A single beep will take around 9seconds.
How high can the DJI spark fly?
You can fly the drone, 13000 above the sea level. It can fly smoothly even in high winds as well.
Is DJI spark waterproof?
It's not waterproof. But it's a little bit resistant to water.
How fast does the DJI spark go?
DJI Spark can fly up to 31 mph while flying it in sports mode.
Read More:
Trending Drones