DJI is known for setting new benchmarks in the drone industry every once in a while. This time, it comes with a single machine that is powerful, portable and has 4k capabilities. It is the perfect combination of DJI Mavic Pro and Spark, and We call it "DJI Mavic Air."
Since the launch of this drone, there is a massive demand for it, and drone enthusiasts all around the world are just loving it. Portability has always been an issue. As a travel filmmaker, I still found phantom series too big to carry. But making more compact and portable drones has certainly made drone industry more appealing to the buyers.
In this article, we would have a proper full review of DJI Mavic Air. We will cover everything, you need to know about DJI Mavic Air including camera quality, design, flight performance, Mavic Air Vs. Mavic Pro and much more. The drone is foldable and easy to deploy. In case, you have any doubt, don't forget to let us know in the comments below. We'll try to respond as soon as possible.

Camera and Video Quality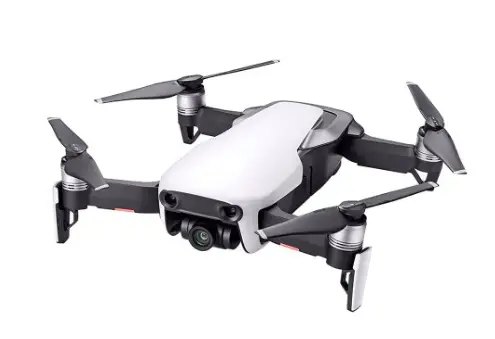 If you are using a drone for professional purposes, then camera & video quality becomes the first priority. It gives you the perfect high-resolution 4k recording with better resolution and brightness.
In 4k, it can record up to 30fps, and you also get 100Mbps remarkable UHD Quality.
There won't be any glitch while recording. You will get crystal clear pictures even when you are flying at top speed. There are a lot of different modes as well that you can use to capture the desired shots. You can go for motion tracking videos or make full panoramic pictures, everything is just a single touch away. When it comes to focus there is a slight difference between mavic air and mavic pro. In Pro, you have to adjust the focus by tapping on the screen while Mavic Air comes with infinite focus.
If you want more frame rate, then you can go for 1080P that allow you to record up to 120fps. Mostly when it comes to making a slow-motion video, people prefer to shoot at higher frame rates so that later on, they can slow it down.
With DJI Go 4 app, you can instantly share your beautiful moments on social media. You can do this in mid-air flight. It doesn't impact the recording. While with other drones, the footage was shaky while flying at the top speed but here you won't find any glitches. It gives you buttery smooth footage.
You can also go for quick auto editing option that allows you to have a quick short movie made up with your footage with music included. This really makes the whole experience so simple and automated that newbies start feeling like a filmmaker.
You can also do a lot of things with gesture control. If you want to click a picture, make a V sign using your hands, and when you want to record, you can make a framing outline, and it will start filming for you.

Remote Controller Features
Remote Controller also has a pretty solid build Quality. It is also foldable like drone itself and that makes is more compact and easy to use. The RC is designed ergonomically, and it fits perfectly fit in your hand with your smartphone mounted on it. The controller handles are removable so that you can easily store the transmitter.
It might look like extra work, but these sticks are tiny and very easy to use. Holding it feels like you are holding a gaming joystick. It has a lot of sophisticated features but still easy to use at the same time. There are a lot of intelligent modes that you can use keep drone flying at your disposal.
It gives you the live feed in 720P so that you have an idea what are you shooting actually? The drone is almost impossible to crash, so you just focus on capturing the right moments, rest drone will take care of by itself.
Build Quality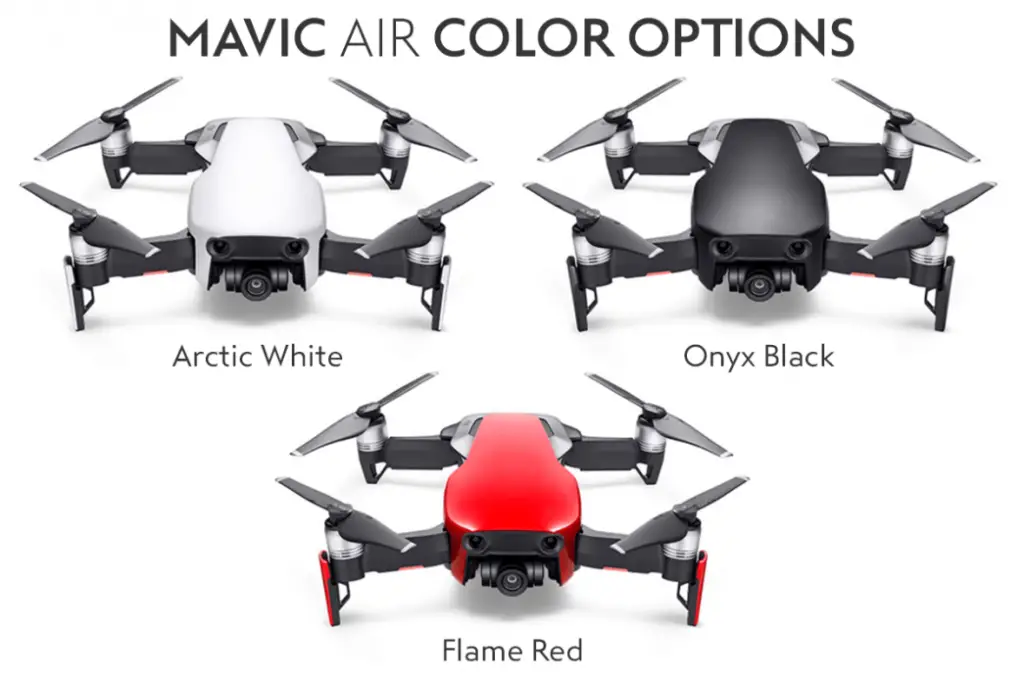 When it comes to design and build quality of the drone, it's an epitome of perfection. It weighs less than half kg (430g) and fits in your palm perfectly. This foldable piece is so compact that you feel like using a small toy. The drone with such amazing features is so easy to carry that you can directly put it inside your trouser's pocket and travel around the world.
If you compare it with spark and pro, then it is the bit bulkier than the spark and smaller than pro. Every single part of this drone is made with elegance. You also get color options to choose from. Below are the three colors that you can choose from.
Flame Red
Arctic White
Onyx Black
The Mavic Air comes with the upper covering of multirotor that gives it air vents for better airflow. This air flow helps in keeping the drone cool all the time. When the propeller gets old, and you feel like changing them, you can simply push & twist to remove them.
This drone comes with six other cameras apart from the main one that makes it more safe and secure. They are present in front, rear and on the bottom side that scan the location and eliminates the possibility of crashing into an object. The drone antenna is integrated with fold-out feet directly that makes the connectivity more enhanced and smooth.
It looks like a small fighter drone which is super fun to fly. It is super stylish, you keep it in your drawing room, and it resembles like a piece of art.
FLIGHT MODES
When it comes to flight modes, this drone certainly gets an edge over others. Below are all the flight modes that you would be getting with your drone.
Panoramas: This mode is for capturing multiple wide-angle moments in a single shot. In this, you get 180 degree horizontal and vertical shots that combine and gives you a completely different perspective. It might require some advanced editing skills as well. You can also get the sphere panorama that allows you to have multiple images merging which turns out as a new 360-degree view. You need a panorama photo viewer app to enjoy its different perspective.
QuickShots: This allows you to have multiple flight modes to choose from. You get below mentioned six flight modes in this.
Helix: In this camera moves upward and also circles around keeping subject into focus. It is a kind of combination of dronie and circle function.
Dronie: In this mode, the drone flies away vertically and horizontally from the subject.
Asteroid: It gives you a spherical view from the top then it zooms and twists into the subject, and that makes it feel like as if you are flying down from the orbit.
Boomerang: In this mode drone goes away and comes back to the subject with around and up motion. This technique is used to show the different perspective of the subject presented in a landscape.
Rocket: In this case, the camera focuses down, and drone goes straight in an upward direction.
Circle: In this drone will circle around the subject maintaining the same distance from the subject.
ActiveTrack: In this mode, you can keep the track on different subjects. You have to precisely set the route with focus if you want to get best out of it. It gives you the good motion tracking while you are riding on the bike and drone following you back no matter at what speed you are riding. To perfect this mode, you need to have a little bit of practice and proper understanding of the DJI Go App.
SmartCapture: This is the gesture control mode that makes the flying more fun and cool. This works up to 6 meters range, and by using this, you can click pictures and capture videos. This also needs little bit practice to master this.
TapFly: This mode gives you the control just by tapping on your smartphone. It allows you to move your drone forward and backward. You can also fine-tune the speed to capture the desired shots.
Technical Specifications
Drone Model: Mavic Air
Drone Manufacturer: DJI
Size: 6.5 x 3.3 x 1.9 inches(Folded) | 6.5 x 7 x 2.5 inches(Unfolded)
Weight: 430 g
Camera Resolution: 12MP / 4K
Video Bitrate: 100Mbps
Flight Ceiling: 16,404 feet (5000 m)
Flight Duration: 21 minutes
Wind Speed Resistance: up to 23mph
Range: 2.5 miles
Battery Charging Time: 55 minutes
Control Modes: Remote controller / mobile device / gesture
Max Speed: 68.4 kph
Temperature Operational: 0°C – 40°C
Storage: microSD card / 8GB internal

RECOMMENDED USERS
A lot of people are asking for what kind of users, this drone is recommended. I would say this can be used for a wide variety of drone enthusiasts. Below are some of them.
Enthusiast filmmakers & Real Estate Shooting
YouTubers & Instagram Influencers
Travel Enthusiasts
Action sports
Conclusions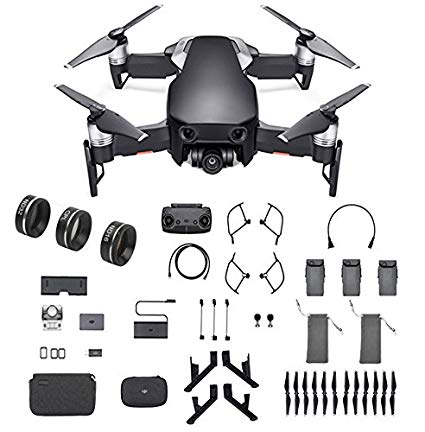 When it comes to a conclusion, let me be very honest. No doubt, it's pricey, but it is worth every single penny. So, if you are a professional for whom drone is a must then mavic air is highly recommended for you. The specifications that you are getting at this price range, you won't be getting in any other drone. If your priority is the compact size, then you can go for DJI Spark if you want to ante up the drone specs then you can probably choose in Inspire Series.
I think we have covered everything you need to know about DJI Mavic Air. For more information, you can visit their official site. In case, you have any question, don't forget to let us know in the comments below. We'll try to reply as soon as possible. Below are some of the "Frequently Asked Questions."
FAQs (Frequently Asked Questions)
What is the difference between DJI Phantom and Mavic Series?
Regarding camera capabilities and videography, Phantom series is really capable. But if you are looking for something more compact and easy to travel with, then Mavic Series is highly recommended.
Is this the right drone for commercial use?
Yes, it is. But if you want to upgrade yourself, you can go for phantom or inspire series.
What new flight modes we are getting with Air?
QuickShots, Boomerang, and Asteroid.
How Do I Set Up the Mavic Air?
Download the app, recharge the battery, Select the Mavic Air & Connect through Wifi. Calibrate the drone and gimbal. Go through tutorials and start flying.
Watch the Video till End
Read More:


Trending Drones
Best flight controller with GPS