So, Today we have Contixo F22 RC Foldable Quadcopter Drone to talk about. The Contixo F22 is one of the best drones out there as of right now, it's foldable that means ready to use and not worry about assemblage at all, and so it saves your time too. The Contixo F22 gives you marvelous features; the camera is perfect just what you want from a Drone. Contixo F22 is one of the best product that comes under $200; this is a good pilot drone for all level experience, even the beginners.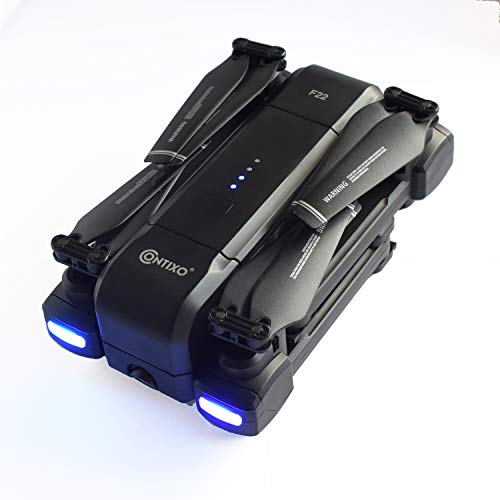 You can even control the drone from your phone, just download the Remote Fly App, and we are ready to take off. As the Drone is ready to use you don't need to do any hard work, just pick it up and go to your next adventure.
Inside the box
1x Preassembled Contixo F22 RC Quadcopter Drone
1x 1080p 2.4 GHz WiFi Camera
1 x 7.4V 1200 mAh Li-Po Battery
1 x Transmitter
1 x Extra Set of Spare Propellers
1 x Smartphone Holder
1 x Screwdriver Tool Set
1 x USB Cable and Balance Charger
1 x User Manual
Features
Pre-Assembled and Foldable design
The Contixo F22 has lots of features, first let talk about the drone and because it's foldable it's so easy to use, many of you might buying this for the first time and assembling a drone is a task on itself, and this saves you the work of fiddling with a screwdriver and other tools to get your drone ready, let's be a bit serious here, we don't really want to experiment on an expensive product we have just bought, so I think this is the drone you are looking for if you want to get out of the hassle that's assembling a drone.
 It comes with a good case to keep your drone protected, so you can take it out there without worrying about dropping it and damaging it in the process.
Standard features
It has all the features like Selfie/Gesture Mode, GPS, Follow Me, Headless Mode, Auto Hover, First Person View, 1-Key Takeoff & Landing / Auto Return, Waypoint, Circular Rotation, Fail-Safe Return To Home and More.
Camera
It has built-in 1080P full HD WiFi camera. It's a good camera to take high-quality pics and shoot videos doesn't matter if you are indoor or outdoor, or simply covering a landscape. It's good for everything. You can use the On-Drone 1080p WiFi Camera paired with your smartphone and live stream video during flight for First Person Viewer to fly the drone as if you're sitting their right inside the drone. You also get a bird's eye view from this drone.
Battery
The Contixo F22 drone has a high-quality 7.4V 1200mAh lithium polymer battery. This drone gives you 15 minutes of fight time at the full charge, this also has a charge indicator lights, so you can know when your drone is at its limit, and you need to charge it again. The Contixo F22 takes 100 minutes of charging time to get it fully charged. You can always try to buy a spare battery if you want to increase your flight time.
The flight control distance is 1800 ft with the controller, which has a smartphone holder so u can easily use the app to live stream, the app only gives you 600 ft of the footage though. Another feature in this drone that's very helpful is waypoint feature which allows you to select the route for the Drone with your smartphone. Once it's launched the drone follows the route you selected.
Lightweight, Compact, and Portable Storage Carrying Case
Made for the Contixo F22 RC quadcopter drone, this exclusive carrying case allows you to store and transport your new hobby toy safely. Never worry about removing or uninstalling the propellers again. This carrying case makes it safe and very convenient to carry your flying RC vehicle around.
Motor Model: 1020
Camera: 1080p 2.4 GHz WiFi Camera
Remote Controller: 2.4 GHz
Remote Control Distance: 1800 ft
Maximum Flight Time: About 13-15 Mins
Charging Time: About 110 Mins
Pros and cons
Pros of Contixo F22
It is simple to fly for a beginner:- Every beginner has a fear of damaging the product, the Contixo F22 lessen one your worries to assembling the drone, very easy and comfortable for any beginners taste.
It has many features:- The many features of this drone is very appealing to every customer, like gesture mode, the drone follow your gestures and this mode also allows you to take selfies, which is a must in any device we buy. Follow me helps you take pictures of yourself even when you are doing some outdoor activity and so many others.
Foldable and good weight:- It is a good advantage with any drone or any device literally.
Comes with a durable carry case:- The carry case makes it very easy to transport the drone from one place to another and looks sleek like a briefcase and very sophisticated too.
Indicates the charging level: – Intelligent battery that indicates how much charge is left.
Sold with a limited warranty of 1 year:- Every value for money items required a warranty period and one year warranty period on a product is reasonable.
Batteries last long.
Cons of Contixo F22
Spare batteries not widely available
Too many features might be confusing for a beginner to use
Reviews from other customers
2nd flight, calibrated, obtained GPS, Started props, hit Auto Hover, boom – right up to 5 feet and hovered within a 1 foot or less radius. 1st. Flight, indoors – out of control and crashed several times. May have been me.
 Back to 2nd flight – this was in my large back yard; I slowly moved around the yard keeping at the initial 5-foot height.
The F22 handles like a dream, very smooth and responsive.
 After gaining a little confidence, I took it up to about 30 feet, let go of the controls and let it hover at the new height, perfect.
 Then I hit the return to the home button; it was a little scary, the drone rapidly came back home at the same height, about 30 feet, hovered for a couple of seconds, then descended very close to where it took off from.
 This is my first GPS enabled drone, and this is my review for the initial OUTDOOR flight – to sum it up – AWESOME!
Great brushed, foldable, GPS drone for the price! Very easy to fly for any beginner and fun enough for the experienced! Folds down and comes with a travel case so you can take it with you anywhere! It takes great pictures and videos. I'm extremely happy with my purchase, and after a wonderful experience with customer service, I'll be a forever customer! P.s. Order an 8gb micro SD card as well to record 1080p HD photos and videos on board! I also recommend buying a second battery for more fun flight time! If you're on the fence with another drone, look no further.
Watch the Video till End
Conclusion
With so many features in a single drone like auto return mode, follow me mode, 1080 HD camera, and others this is definitely a good value for money product. The Contixo F22 is one of the best foldable drones under $200 with so many features that will leave you ecstatic. The picture quality is good and easy to handle is one of the many advantages of this Drone. And if you want to double your flight time, then you can order a spare battery whenever from Contixo.
Trending Gadgets in 2021