DBPOWER X400W is one of the cheapest drones in 2019 which has features that will certainly amaze you. Thousands of people have given it positive rating online, and that itself is proof of its high-end features. DBPOWER Company is based in the UK and known for making some high-end affordable products. If you want information about their other products, you can visit their official website. They are into laptop, keyboards and projectors business. You can also buy the spare parts in case you need them for the quadcopter.
This drone is suitable for beginners as it comes with simple UI and easy to use functions. This quadcopter suits the best for kids, beginners, and recreational drone lovers. In this article we will try to cover everything, you should know about this unmanned aerial vehicle that includes review, manual & instructions, specifications, tutorial, app and much more. So, read the whole article thoroughly, and you can let us know about your suggestions in the comments below.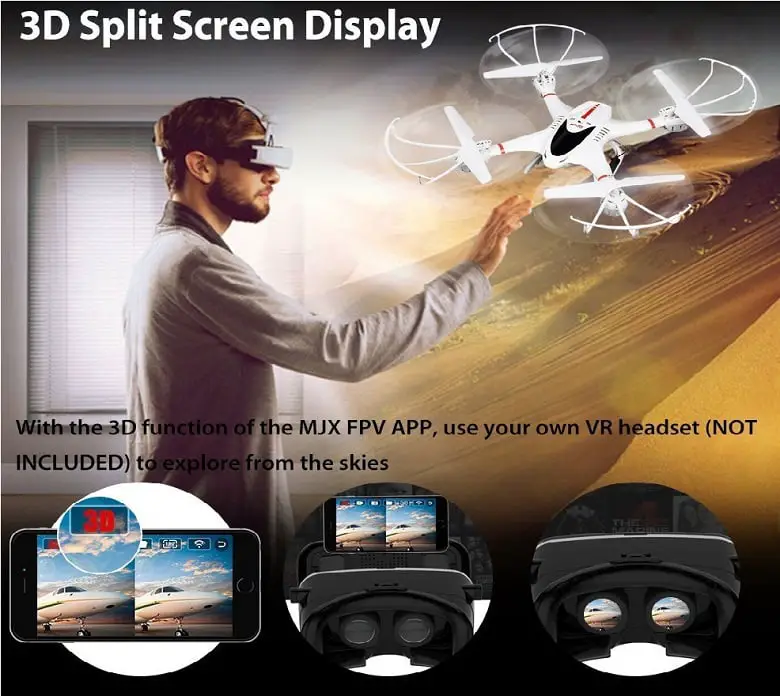 This device is capable of the first-person view, and that helps you to see the things from drone eyes, you know what you are shooting. Apart from the real-time transmission, it also has a good build quality that makes it sturdy. The drone can easily survive the minor crashes. There are other features as well like 3D VR Headset, headless mode and others that we will dive into later on. When you unbox the product, below are the following things you would be getting inside the box.
X400W Quadcopter with camera
Controller
Phone Supporter
One Battery (3.7V & 750mAh )
USB charging cable
Spare propeller blades (4)
Screw Driver & User Manual
1-year Warranty and lifetime technical support
DBPower X400W Review
In this section, we will be going in detail and talk about all the important aspects of the drone that one should be aware of. All these important features of the drone, make it the best seller. So, let's dive into each one of them one by one.
FPV Real-Time Transmission: This is an essential feature that a drone should have. It allows you to have the bird's eye view. You can frame the shots and composition in a better way. When you are beginner then if you have two views, first is the real sight view and second is the camera view; it overall gives you the better drone controlling, and you feel comfortable flying it. You can instantly share the content on the social media with real time.
Headless Mode: This mode is really helpful for kids and beginners because, with this mode, you don't have to worry about the drone front and back. Any part of the quadcopter can work as a nose, and that gives you better control. I faced a lot of problems when I flew my first drone that was not having a headless mode.
Camera & Video Quality: Yeah, you heard it right. This drone which costs less than $50 comes with an inbuilt camera. Though you might face some lag in the live transmission, and you might not be very happy with the footage quality as well. But, let me tell you if you are a beginner then it suffice your needs. Don't expect a drone to shoot footage that you see other Instagramers posting online. The drone is for fun; it will teach you how to fly a drone and set the proper composition. If video quality is your priority, then there are other drones as well that you can check out. Holy Stone HS160 could be a good choice for you.
VR Compatibility: This is a cool feature that makes this drone stand out of the crowd. The drone gives you 720P HD Quality footage. For the live streaming, you need to install the MJX FPV App in your Android or iOS device. Though, you would not be getting the VR glasses with the product that you have to buy separately. But, you want a more immersive and unique experience, then it will be worth your investment. Make sure; you fly your drone in an open ground when you are using the VR Mode because in this case, you would seeing everything from the camera point of view only.
Multiple Speed Mode: With the quadcopter, you would be getting the two-speed modes that again gives you the option to choose. If you are a beginner, then it is recommended to fly the drone at low speed, and once you become the master, you can go with the higher speed. These options make the UAV suitable for beginners and experts both so that they can choose the speed at their disposal.
Build Quality: When it comes to the build quality of the drone, it is made up of good quality plastic material which can easily survive the minor crashes. You also get the propeller guards with the drone that takes the safety to the next level. It is always recommended to use the prop guards when you are flying the drone indoor. Blades are made up of some solid flexible material. The props bend like anything, but they never break. The drone is super, and it weighs around 112grams while that makes the drone, easy to carry but lightweight becomes a problem when you are flying it in a windy situation.
The company suggests not to fly the drone in the windy and rainy atmosphere; the drone is not water resistant. Though drone is sturdy, but still fly it with proper care.
3D Flips & Rolls: This feature adds fun to the quadcopter. DBPower X400W is capable of doing 360-degree flips in all the directions. You can showcase these stunts in front of your friends; I am sure that they are going to love it.
Remote Controller: The controller has a very sleek design, and it has a total of 12 buttons in total. All buttons on the controller are in reach of your fingers. You would need 3 AA size batteries to run the drone that you have to buy separately. The drone is very responsive to the transmitter, so it is advised to fly the drone at low speed when you are starting with it.
Battery & Flight Duration: The drone runs on 3.7V 750mAh battery which takes around two hours to get fully charged (that's a lot of time). Once the battery is fully charged, the quadcopter can fly up to 8 to 10 minutes. You won't be getting any spare battery with the product. It's good if you buy one or two extra batteries so that you can have consecutive flights.
Keep in mind the flight duration depends on which speed mode you are using if you are using the FPV Mode with high speed and also night mode. It's not going to last more than 6 minutes. There are also a couple of things regarding battery safety that you have to keep in mind. For more information, you can read the user manual that you get with the product.
Flight Performance & LEDs: The flight performance of the drone is good. It fulfills your recreational requirements. The controlling range is up to 100meters, and max flight speed that you get is around 5mph. It also has bright LED lights of a different color in front and back that allows you to keep in mind the difference between both the sides. If you are flying it in low light condition, these LEDs help.
Technical Specification
| Drone size | 11.8 x 11.8 x 3 inches |
| --- | --- |
| Drone battery | 3.7V 750 mAh |
| Charging time | 120 minutes |
| Flight Duration | 8-9 minutes |
| Recommended age | 14 years and up |
| Control distance | 100 meters |
| Headless mode | Yes |
| Transmitter Battery | 3 x AA Battery |

DBPOWER X400W Pros & Cons
In this section, we will talk about the pros and cons of the quadcopter that will give you more clarity about the positive and negative sides of the drone. If it fits your requirement, then you can go for it. Otherwise, you can look for other alternatives.
Pros
The drone is very durable keeping its price into consideration. The plastic that you get with the drone is very strong, and prop guards are plus.
It has a headless mode and real-time transmission that makes it suitable for kids and beginners. The drone is easy to learn as it comes with a very simple UI.
It also has some advanced features like VR Support, One key landing, 3D Flips that you might not be getting with any other drone with this price range.
The drone is very steady, and with LEDs, you can fly it in the night time as well.
The app is compatible with Android and iOS device both. It is lightweight, and its flight duration is decent for beginners.
Cons
Drone is not very stable in the windy situation because of its lightweight. It is too light that a small wind will blow it off.
You might see some lag in video transmission. After 50m, the connectivity might not be that good.
Though it has 720P HD Video Capability, don't expect the video to be a very high end. Let me be very honest; you have to think twice before sharing it on Instagram.
It doesn't come with the VR Headset that you have to buy separately.
Conclusion
As we have discussed almost everything about this drone now, the decision is up to you whether you want to go for this drone or not. Though it comes at a cheaper rate features are equal to some high-end drones. The company claims that you won't find this exceptional quality and performance with any other drone at this rate.
If you are looking forward to buying your first drone with which you can do some cool stunts as well with some advanced features like VR Support, Headless Mode and 3D flips. However its control distance and battery life could be a downside, but I mean, what do you expect 50$.
If you never flew the drone before then, this could be a good drone to start with. No matter how many times you crash this drone, it will fly again. I would also recommend buying the VR Headset as it will add the different and unique immersive experience. If you never used the virtual reality headset, I am sure that you are going to be amazed by it.
Watch the Video till End
Frequently Asked Questions (FAQs)
Where does the footage store?
They would be stored in the drone, and if you want to use it in the app, you have to add them in the album.
Does it have GPS?
No, it doesn't have GPS. You have to handle the drone manually.
Where do I get the spare parts of the drone?
You can buy it from Amazon or the official website of the drone.
What is the range of live transmission?
The range of the live transmission is around 40-50 meters.
How long does battery take to get fully charged?
It takes around two hours.
Can I fly it in windy situations?
Nopes. It will not hover in one position.

Top 10 Trending Drones