This is one of the cheapest drones in 2019 that you can buy. This $10 drone is a perfect beginner's drone, and it has some of the coolest features that you would need in a starter drone. The drone is super tiny. It also has propeller guard as well which saves the quadcopter from minor crashes. The quadcopter is available at Amazon & Banggood and received excellent ratings as well. The Remote controller that you also get super tiny and fits perfectly in your hand. You can also gift it to your friend and kid.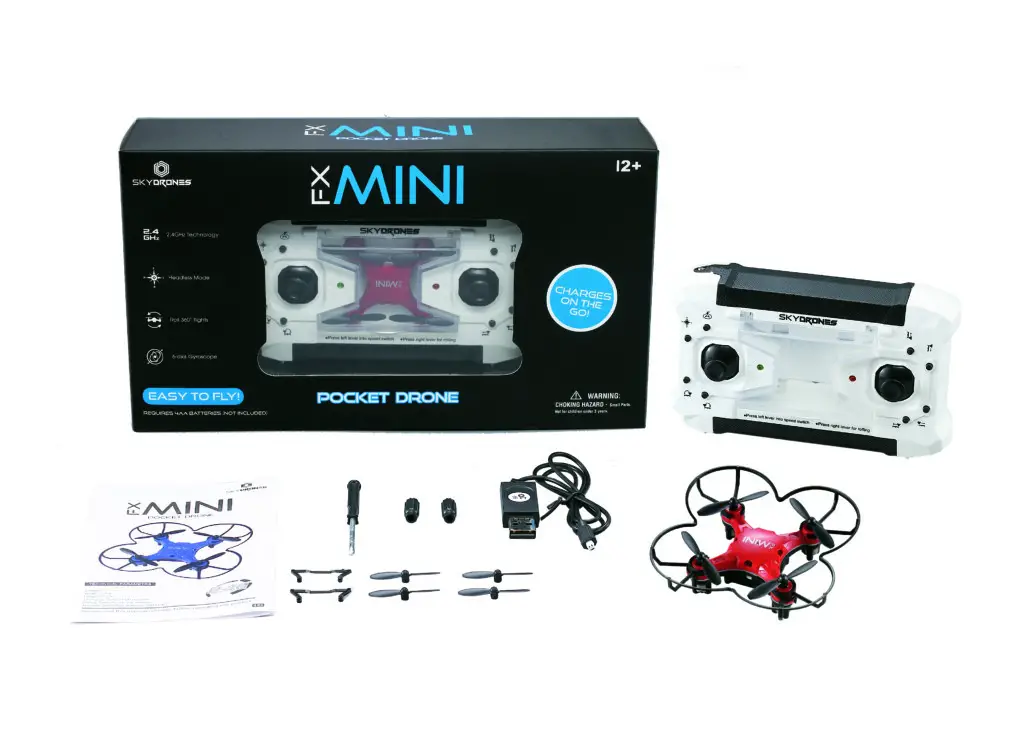 When it comes to battery specifications, it has 3.7V 100mAh battery that gives you around 6-8minutes of flight duration. I would say that this is one of the best pocket drones that you can buy in 2019. Once, the battery is fully charged, you also get 6-8mins of flight duration. The pocket drone can also fly up to 100feet that is also a decent flight range. I don't think that there is any other quadcopter which costs less than $10 and can fly up to 100 feet. The battery of the quadcopter can be fully charged in just half an hour. It also has a six-axis gyro that provides good stabilization.
The drone is recommended for kids above 12 years. What I really about the drone, it's simplicity. The quadcopter is easy to set up and fly. Though, there were a lot of people who complained about its manufacturing defect. However, that's very rare, in case you receive a defected product, you can ask for the replacement. Though the instructions that you get with the manual are not that t proper, so I would recommend you to watch the below video completely so that you have clarity about it. Below is the list of items that you would be getting with the package.
Quadcopter
Remote Controller
Spare Propellers (2)
Charging Cable
Screw & Screw Driver
User Manual
Technical Specification
| Drone | Specifications |
| --- | --- |
| Battery | 3.7V 100MAH Lipo |
| Charging Time | 30mins |
| Flight Duration | 6-8mins |
| Flight Range | 100feet |
| Modes | 3 Speed Modes |
| Gyro | 6 Axis |
| Age Recommendation | 12+ |
| Dimensons | 5.25"H x 2.25"W x 9.5"D |
| Warranty | 90Days |

Skydrones fx Mini Pocket Drone Review
In this section, we'll talk about the different essential aspects of the drone. Let' be honest, what do you expect in $10? So, no judgments here. Whatever you are getting here in $10 is worth investment. Let's dive into all of its features one by one.
Build Quality:
Here, you get a small super tiny drone. You can fit it inside your pocket and carry it while traveling. The quadcopter's inbuilt battery can be charged quickly with the laptop or power bank. The drone is completely black, and it's very lightweight. Don't fly it in a windy situation; it's very hard to control it. It flies well indoors, and you can have good flight experience. Its controller is also very compact and tiny. If you are thinking of gifting it to a kid, it will fit perfectly in his hand, and he can use it without putting a strain on fingers.
Though, the plastic quality that is used is not very good. You drop it, and it might never fly again. So, be careful while flying the drone.
Battery Backup:
With the quadcopter, you get an inbuilt battery. You can't replace it. The battery gets charged pretty quickly, and you get around 6-8mins of flight duration. You get USB Cable with the drone that does the charging. In case, you are using the different charger, make sure it has the same ampere and voltage reading. The battery is of 3.7V and 100mAH.
6 Axis Gyro:
The company claims that it has six-axis gyro stabilization as well. It gives you a stable and smooth flight. Though, don't expect very decent stabilization. Most of the times, the drone will move to and fro, and you have to control it manually.
Multiple Speed Modes:
You also get multiple speed modes in the drone to choose from. If you are a beginner, you can go at low speed; then once you become good at it, you can go for high speed. You can fly the drone forward-backward, left-right direction. You can also do 360 rolling with the click of a single button.
BETTER & AFFORDABLE ALTERNATIVES (RECOMMENDED)
Conclusion:
I would say that it is the cheapest drone in 2019 that you can go for. This is a kind of drone; if you crash it on the first flight, you won't regret it. If you are thinking of giving a birthday gift to your kid or a friend, this could be a perfect surprise for him. This mini pocket drone is worth more than $10. If you are looking for other alternatives, you can have a look at below options.
There are also some cool drone tech in the market that you can have a look at. There is an amazing Drone Grenade Launcher and also a Drone for catching fish. A lot of innovation is happening in this field, we hope to see some more advanced gadgets in upcoming years.

Smallest Drones in the World: Watch the Video till End
Trending Drones
DJi Flame Wheel F550 Hexacopter Review
Drone Fishing Setup & Release Mechanism
Hobbytiger H301s Ranger Drone Review
Eufy Security wi-fi Video Doorbell Review
Blade Chroma vs Yuneec Q500 4k