Are you tired of holding up your phone to take selfies? What if I told you that there's a new way of taking selfies from a completely different perspective?
The pocket selfie drone is the new trend in the drone industry that we have seen since the last couple of years, and it is expected to grow at the same rate in upcoming years. Though these drones look very small, they are versatile enough.
What I love about these drones is their small size. Most foldable ones can easily fit in your pocket, and you can easily carry them around from one place to another.
A lot of people are asking about what is a pocket drone. Are all of them foldable? So, let me tell you, these drones may or may not be foldable depending on your buying model.
Though there is a false misconception that smaller drones are not good with the camera, that's completely different. Some of them are loaded with excellent camera quality.
You can use them for various applications like photography and videography. These drones are very suitable if you are a beginner and looking forward to buying your first drone as they are easy to fly and not too prone to crashes like bigger ones.
You have to go for FAA registration for a few models, while you don't need to worry about others.
As most of these drones are small, you have to remember that you are not flying in windy conditions as you will have a hard time with stability.
We'll cover various brands in this review; the price might vary drastically from $50 to $1000, so choose the one that suits your requirement.
Top 12 Pocket Selfie Drone with Camera
1- DJI Air 2S
The DJI Air 2S is the best pocket camera drone for less than $1,000. It's also one of the best consumer-grade pocket selfie drones on the market, with 5.4K video recording, 8X zoom, and 20MP still photo capture.
The excellent camera, robust auto-hover, and cutting-edge flight and safety features make this an excellent drone for close-up work, and the 8X zoom allows you to be even safer by keeping the drone a little further away while capturing your material.
If you want to take images and video from the skies without breaking the money, we suggest you go for DJI Air 2S.
It's quick, exciting, and simple to fly, and we enjoy the expanded connectivity range—7.5 miles is quite a distance.
We're content with the rock-solid connectivity at closer range because we can't legally fly that far. There has yet to be a hitch or stutter in the HD live video transmission.
Below are some of the essential things you should know about this mini pocket drone.
DJI Air 2S can perceive its environment in four directions: up, down, forward, and backward, allowing it to actively avoid obstacles, even in complex scenarios and high speeds.
It also has electronic stabilization, making your footage buttery smooth, and you don't see any jerks in the video.
The automatic flight system is fantastic, which allows you to adjust according to the weather and lighting to give you the perfect shot.
It also has many advanced features which make it one of a kind. It has a gravity control system, voice control, level 5 wind resistance, and can fly up to 31 mins.
Check the Best Price on Amazon
2- Holy Stone Foldable Selfie Drone
This is the second drone in our top 10 list. It also comes with a 1080P Camera and can record very good quality video.
Its GPS flight assisted system is also pretty good, which gives you exact positioning during flight. It has a 1080P 120degree field of view camera which can be adjusted up to a 90degree angle.
It also has followed me mode, which adds an entirely new perspective to your footage and makes it more cinematic. Below are some important aspects that you should be aware of.
The drone is very easy to fly and very affordable. Recommended for both beginners and advanced, you can have a really good time with it.
The drone has a range of up to 100m, and the flight duration is around 10mins. I love its 3d flip function that adds fun to its flying experience.
Though it is not recommended to fly in windy conditions as it doesn't come with sensors, you'll have difficulty maintaining stability.
It also comes with a headless mode, which is helpful for beginners as you don't have to worry about its orientation during flight.
Check the Best Price on Amazon
3- Potensic A20W FPV Mini Drone
Potensic is also known for making some great quality products. A20W is one of them. It comes with an FPV camera that gives you real-time transmission, and you can see things from the drone's perspective.
It has three adjustable speed options that allow you to fly it at your disposal. If you are a beginner, start with a slow speed, and gradually, you can easily move to a higher speed once you are comfortable flying it.
Though it doesn't come with a very high-quality camera, other features make it stand out. Below are some of the features you must know before buying this mini pocket drone.
Flying this drone is a great experience. It has gravity control, and you can maneuver it by the movement of your mobile. When you are flying it the first time, you sure you try it on open ground.
It comes with auto-landing and takes off the option that is very helpful for beginners again and reduces the possibility of a crash.
It also has some advanced modes like altitude, which allows the drone to be at one particular height and hover at the position. You can use this feature by leaving your throttle.
This pocket drone is under $50, making it one of the most affordable in this category.
Check the Best Price on Amazon
4- DJI Mavic 2 Zoom
The DJI Mavic 2 Zoom is not only one of the largest Mavic drones available, but it's also one of the safest, with one of the best zooming cameras available.
From afar, the combination of optical and digital zoom produces excellent image quality, making it a good selfie drone.
Because the last thing you want to do with a drone is put your safety at risk, the Mavic 2 Zoom allows you to keep the drone at a safe distance while still capturing all of the action.
The DJI Mavic 2 Zoom is one of the best selfie DJI drones on the market, but we are cautious about suggesting it due to its age.
We can't help but expect a new model to arrive shortly after it was released in 2018, and we see almost as impressive camera performance from computers half the price.
If you disregard those external issues, it's still worthwhile.
Check the Best Price on Amazon
5- ANAFI Parrot Drone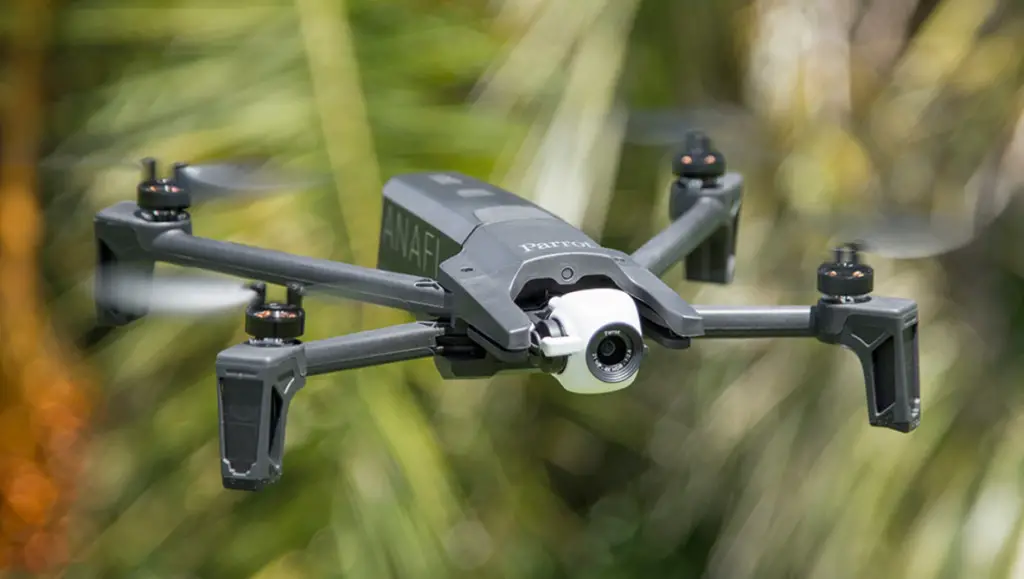 This is a high-end 4k drone recommended for professional users. It comes with HDR Camera with an f/2.4 wide-angle lens and 2.8 times digital zoom.
This is a bit costly drone but worth its investment. It comes with 25minutes of flight duration, making it stand out from the crowd. It is also pretty lightweight as well and weighs around 320grams only.
It is a very easy-to-use drone and unfolds only in 3seconds. Below are the main features of the ANAFI Parrot Drone that you must read before buying.
It comes with a 21MP camera that captures everything in high definition. You can also create a very cinematic video with this quadcopter. Its super zoom helps you to focus without losing any detail.
The drone can fly up to 33mph and weighs around 11.03 Ounces. It has a unique feature to rotate the camera towards the sky.
There are also different video options that you can try. You can do Slow-motion, Hyperlapse, and other modes as well.
Anafi has everything you need in an ideal drone, but its higher price could constrain many users.
Check the Best Price on Amazon
6- DJI Mini 2 – Best bang-for-the-buck

The DJI Mini 2, known for its compact and aesthetic design, is the type of drone that most pilots should think about buying.
It isn't the best camera drone on the market, and it isn't designed for indoor flying, but if you have $500 to spend, there is no competition.
The 4K camera is silky smooth, the connectivity is reliable with a good range, and it's capable of having some fun in the skies.
Should I invest in a DJI Mini 2? We can't think of a better machine, whether you're searching for a great beginner camera drone or a fun drone that fits comfortably in your bag.
The Mini 2 isn't simply amazing value for money; it's also a fun drone to operate.
We believe you will get a lot of usage out of this drone, at least until you become addicted to the activity and want the finest of the best.
Below are some of the features of the drone that you should know.
It also has an altitude hold, which allows the drone to be at a fixed height without any problem.
You can also perform different tricks with the drone, which adds fun to its flying experience. It also has a smart voice control system.
It has the excellent build quality and can easily survive minor crashes. You don't have to worry too much when flying it.
It is pretty lightweight and portable.
Check the Best Price on Amazon
7- DJI Spark Pocket Drone
The much-awaited DJI drone is known for its amazing flight performance. The kind of credibility that you get with DJI Products is hard to find with other brands.
It is a lightweight drone with 16mins of flight performance and the longest range of up to 2km. This could be the best option if you are looking for a long-range drone because no other drone we mentioned above can fly that far.
It also comes with 2axis gimbal-stabilized Camera that gives you shake-free video quality. Below are some essential technical aspects.
It comes with all the safety features that you need in a drone. Its intelligent modes make it hard to crash. For propeller safety, it has propeller guards as well.
It also has face recognition technology that lets you launch the drone with face ware function, adding a new dimension to your flying experience. On top of that, it also has gesture control as well.
Many drones come with follow me mode, but this one has a very accurate tracking system that doesn't let the object go from its frame.
Check the Best Price on Amazon
8- Hover Camera Passport Self-Flying Drone
This pocket quadcopter comes in a unique design known as a passport camera. Everything is covered in this drone, and you can fly it safely indoors without crashing.
This flying machine is built especially for a selfie, and it is good at it. It comes with auto-follow me mode that allows the drone to follow you wherever you go — whether surfing, running, or cycling.
It is always there to capture your moments. According to the company, its outer cage is designed with carbon fiber, making it hard to crash and safe to fly.
Its face recognition technology and gesture control features are pretty accurate.
It can hover at a 360degree angle to capture all the aspects.
It is one of the safest drones in the market. It folds in half and easily fits into your pocket. Its ability to record in 4k & FHK gives it an edge.
It's a bit expensive but worth the investment considering its features.
Check the Best Price on Amazon
9- PowerEgg X Explorer – Multi-Purpose Selfie Drone
The PowerVision PowerEgg X is a fun drone that has been designed with your selfie requirements in mind.
The object tracking AI and the fast-moving camera gimbal, in particular, provide a terrific follow-me experience.
Best of all, the propeller arms can be removed and the fuselage-mounted on a tripod, allowing you to utilize the drone as a camcorder.
Is PowerEgg X worth it? We enjoyed watching the object tracking follow an object around on the PowerEgg X. However, we had some trouble connecting it to Android smartphones.
When the weather isn't cooperating, the PowerEgg X is one of our favorite machines.
Check the Best Price on Amazon
10- GooIRC T47 FPV Pocket Drone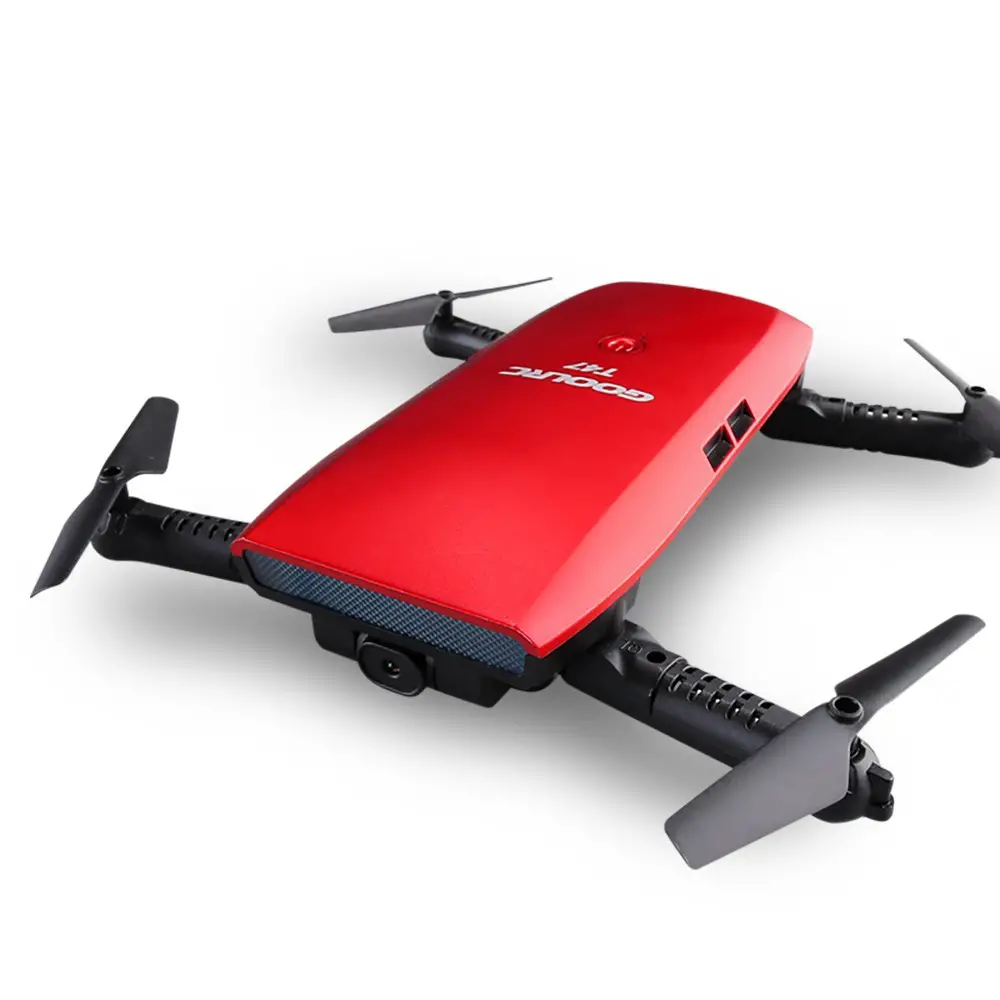 You might not have heard about this company before, but it's worth having a look at. If you are looking for a decent drone under the $100 range, this could be the right fit for you.
It has a decent camera which allows it to record awesome videos. It has a six-axis gyro stabilization system, making it smooth flight performance.
It can also do a 3D rollover that adds to the flying experience. Below are some of the important features you should know about this drone.
It has 7minutes of battery backup and ranges up to 100meter. It comes with two batteries, so you can easily replace it and go for a consecutive flight.
It has advanced features like a gravity control system, headless mode, multiple direction flight movement, and more.
It has good reviews online. But, still, you are considering this for purchase. It will recommend you read the user feedback and only make the decision.
Check the Best Price on Amazon
11- FQ777 FQ17W FPV Pocket Drone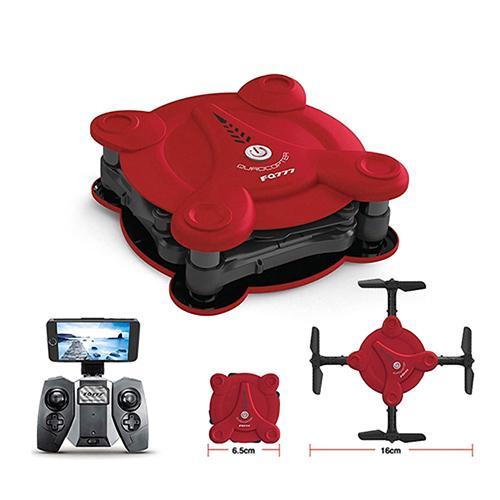 This is also a great pocket drone. It comes with a 0.3MP camera and also has a camera reverse function. The quadcopter has the good build quality and can easily withstand minor crashes.
Its Camera can record 720x576p resolution at 30 frame rates per second. It also has an altitude hold that lets the drone hover at one position without changing its height.
Suppose you are a beginner, the auto take-off and landing feature is also going to be helpful for you. Below is some vital aspect of the FQ777 FQ17W FPV Pocket Drone.
The quadcopter can do 3D flips and rolls with a click of a single button which adds fun to the flying experience.
It has two-speed modes and three different adjustments that you can choose from. If you are a beginner, it's recommended to go with the slow speed, and if you are an advanced user, you can fly it at a higher pace.
The drone comes with an LED light, which helps you know the orientation, and you can also fly in low light conditions.
The normal drone range is up to 80m, and the FPV range is 30m. It has a 2.4GHz transmission with four channels.
You need to purchase the transmitter batteries separately. It is very tiny, dimensions are 2.6″ x1″ x2.6," and weight is around 1.6 ounces.
Check the Best Price on Amazon
12- Hawk4K Folding Pocket Drone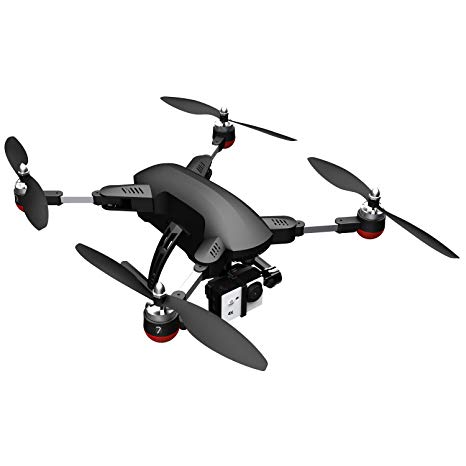 It is one of the best pocket quadcopters regarding camera capability and flight performance, but we have kept it at 10th position because of its higher price.
So, if budget is not your issue, you can certainly consider buying this quadcopter.
It has a 3axis gimbal stabilization system and comes with a brushless motor which gives it more power, and it can fly at a higher speed. Below are some key features of this quadcopter.
It has a 4k camera capable of recording very high-quality footage to give you a very cinematic output. Below are some different frame rate variants.
4k at 15fps
2.7k at 30fps
1080P at 60fps
It is not very lightweight and weighs around 3.7pounds. The drone dimension is 13″ x8.3″ x5.5″.
It has some advanced features like follow me mode, altitude hold, auto landing, and takeoff, which is helpful for beginners.
Check the Best Price on Amazon
How Does a Drone Take a Selfie?
The selfie drone appears to be the next big thing, with advertisements urging users to "throw away those dumb selfie sticks and enhance your selfie game." But how can one take a selfie with it?
The answer is dependent on the sort of selfie requested and the flying vehicle employed. Some people want a simple aerial still selfie, but the most popular drone selfies, also known as "dronies," include the drone focusing on you or your party and then backing out to disclose your position.
In other cases, you'll need to fly the drone up to a reasonable height, aim it towards yourself or your group, and then shoot a selfie or fly the drone backward and upwards.
Other drones are more self-contained and can actively track you once you've chosen yourself as the topic. It will then track and film you, or focus on you, before flying higher and outwards to show your location.
Phone or Drone for Selfie: Which Is Better
Let's get a couple of things out of the way first: I will talk about camera capabilities.
I only want to emphasize that several little drones are equipped with cameras that can be used to snap selfies. The differences between a toy and a tool, in my opinion, are significant.
As much fun as shooting pictures with a flying camera, I feel it is critical to examine what you want to accomplish with a drone.
A serious camera is one thing, and a fun toy is another; the two seldom collide in a single device.
This is where I draw the line between toy and tool, and if you've been using cell phones for a while, you'll understand what I'm going to say.
The best drone cameras on drones under $1,000 are comparable to the cameras in today's better phones. In certain circumstances, we're discussing the same internal sensors.
If you compare a $1000 drone to a high-end smartphone, you can see that a $500 drone is still decent but not exceptional.
A $100 drone is unlikely to provide a good photography experience. I'm not attempting to upsell you anything.
I only felt it was fair to point out that drones are still a young and hot sector and that manufacturers are still learning how to produce better products — many are jumping in with no expertise.
My thesis is simple: we're about to show you some of the greatest selfie drones, but none of them will outperform a comparable smartphone.
If you want to have a good time while flying, be prepared to spend a little extra if you also want nice pictures.
Selfie Drone with Advanced Features
Some UAVs include facial recognition capabilities, allowing them to focus on your face or another person's face for a crystal-clear selfie photograph.
We'll use a drone in the middle of the pricing range as an example. You may either point the camera at yourself and snap a conventional selfie or select "short video" mode while flying the ZEROTECH Dobby drone.
Then, while holding the record button, Dobby will automatically pull up and away for 10 seconds while filming a pull-away selfie video before returning to you.
You can also use this quadcopter to set timed shots and sequence to shoot photos at regular intervals. The Dobby selfie drone also incorporates face and target tracking, allowing you to choose a focal point for the drone.
Drones with more advanced functions, such as the Mavic Pro, are more costly. You may use the Mavic Pro in WiFi mode and leave your controller at home.
The 'Gesture Sense' function may then be used to tell your drone to complete certain tasks. Make a picture frame with your hands to instruct the Mavic to shoot a selfie; it will identify this form and capture a shot of you. This is about as self-contained as selfie drones get.
Tips for Using Your Selfie Drone to Shoot Dronies
When taking a 'drone,' keep in mind that you'll only be the focal point for a little moment as the drone zooms in and out, showing your surroundings. As a result, choosing an unusual or attractive site is critical.
Raise the selfie drone between 5 and 10 feet off the ground to begin. Then, with the camera facing you, make sure that the appropriate background is behind you.
If your drone has a sophisticated gimbal, set it to a level angle so that it captures the horizon rather than the ground as it backs out.
Then, pitch the drone away from you for a few seconds and gently lift it, keeping the pitch and height equal. Some selfie drones have built-in systems that automate this movement. And you should have a seamless, professional-looking capture of yourself and your fascinating surroundings. It's time to show off your very first 'dronie.'
If you want something more than "simply" a dronie, consider a drone that follows you while you walk, drive, surf, or ski.
Conclusion
We have covered everything that you should know about these pocket drones. Each drone is unique in some sense. Some have HD Quality Cameras, while others are good for flips and fun flying.
The range varies from $50 to $1500, so choose the one according to your budget.
I would also recommend you check the reviews online before making any decision. If you have any questions, you can let us know in the comments below, and we'll try to respond as soon as possible then.
Be Safe & Fly Safe.
FAQs (Must Read)
Are all pocket drones foldable?
Not all drones are foldable.
How long can a pocket drone fly for?
The flying duration can vary from 10mins to 30mins depending on which model you are going for.
Do pocket drones have 4k cameras as well?
Yes, we mentioned a few having 4k capability and suitable for aerial photography.
Can I take the battery out of a pocket drone?
Most of these drones come with a detachable battery option.
Trending Drones