Today, we'll talk about the Nemo underwater drone, which is capable of taking underwater photography and videography to the next level.
When it comes to seeing exploration, we have very few options. Most of the time, this sea exploration is done by big commercial companies; it's always been impossible for an individual to take care of everything on its own.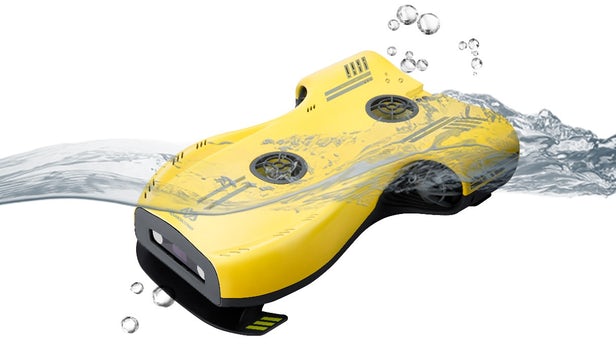 Recently, Aquarobotman launched a successful campaign on Kickstarter about an underwater drone. This Nemo drone can shoot in 4k that adds an entirely new dimension to the videography.
You also get a hundred-meter cable with a product attached to the drone when it dives inside the water. Here, the connection is made through the wifi, and you get real-time transmission on your mobile app.
There are a couple of other underwater drones as well, but they face a problem of stability, but here you get four thrusters blended with advanced technology, which gives you a different experience altogether.
The company says that stability is essential when it comes to underwater drones because it allows you to record and click the pictures without the jelly effect.
Nemo also solves the bubble problem with its advanced system, which makes it very silent and quiet, so that fish and other underwater species don't run away from it.
The Company official said that their priority was to make something that had a very little impact on marine life. Nemo is a revolution in this field, and it will help marine biologists and scientists to have a completely different perspective.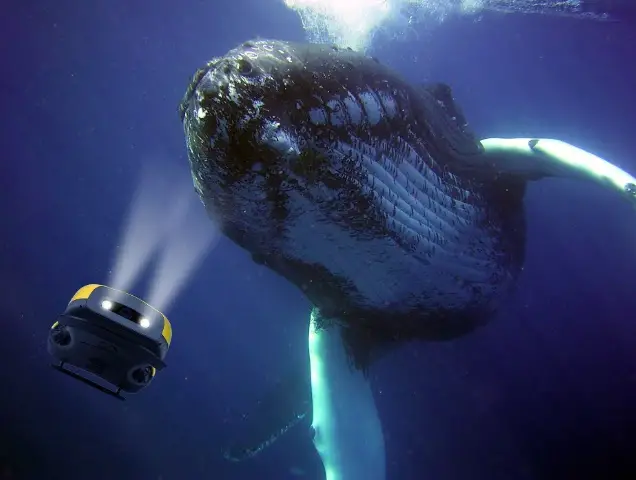 It can be used by a hobbyist; you can enjoy diving and fishing with it. Nemo is the future of underwater drones, and you will also see a lot of upgrades in terms of keeping it advanced.
Below is the list of items that you would be getting with the underwater drone package.
1 X Nemo 32G/64G
1 X Nemo battery
1 X Kevlar zero buoyancy cable -50m/100m
1 X Wi-Fi base station
1 X Wi-Fi base station battery
1 X Reel
1 X Nemo Backpack
Nemo Underwater HD Drone 4k Review
Multi-Purpose Use:

What I love about the drone is that it is not built for one specific audience. Instead, it's a kind of drone that can be used according to the needs.
You can use it for fishing, diving, marine life shoot, and exploration as well. Nemo is popular among hobbyists, researchers, marine explorers, and another underwater enthusiast.
It's also going to level up the fishing experience; now you will know where the big fish is.
Earlier shooting underwater was very difficult and costly, but now with a 4K Camera, you can take your videography skills to the next level.
So, if you are a sailor or treasure hunter in the water, it's going to be a perfect companion for you.
Camera Quality:

This is the forte of this Nemo Underwater drone. Here, you get ultra HD 4k footage which gives you high definition view. It allows you to capture detailed information as underwater life is full of unexpected adventures.
It has FPV features that give you real-time transmission so that you can see the things from drone's perspective.
The company also added that Nemo comes with advanced technology which makes it ultra stable underwater so that the footage that you get is butter smooth and crisp as well.
You can choose among the different video resolutions and photo pixels at your disposal. When it comes to frame rate, you can record up to 120FPS, and the video latency is less than 200ms.
APP & VR Control:

Nemo is very easy to use a drone. App has very simple navigation which connects to the drone with its dedicated WIFI system. You can control the Nemo with your smartphone.
All the data is saved to your smart device through the wifi connection. For more information about the device, you can visit their official website.
What I love about the drone is its VR compatibility. It gives you a more immersive experience, and for a moment you feel as if you are underwater.
You can also share the real-time footage on social media with a single click through the app. The app is supported by iOS and Android.
NEMO Build Quality:

When it comes to the build quality of the drone, it's pretty solid. It comes in yellow color and looks very sturdy as well. It has a QAS balance system with four tandem thrusters which give it a smooth ride.
It also has a removable holder, the size without holder is 39.4*29.0*9.5cm however with holder, the Nemo Size is 40.4*29.0*11.4cm. The weight of the drone with the holder is around 3.6kg.
It has waterproof anti-corrosive motors which are required for underwater dives. It can go up to 100meters and work in temperature from -2degree Celcius to 35degree Celcius.
The speed that you get is around 2m/s (3.9knot). It also has an altitude hold which allows it to hover at one position.
You can move it front-back, left-right, make it float, dive, pitch, and much more. 2*4 Matrix LED lights give you 1000lm of luminance so that you can see in very dark conditions.
Battery Specs & Longer Diving Hours:

You get a powerful 48Wh 12V battery with the drone which can be fully charged in 1.5hours and gives you around 3hours of battery backup.
However, the WIFI Connector battery takes the same time for charging and lasts up to 6 hours. If you want a glitch-free experience, then you can also buy the extra battery with a combo.
Technical Specifications
| Nemo Drone | Specifications |
| --- | --- |
| Depth | 100m |
| Speed | 2m/s |
| Weight | 3.6kg |
| Battery Backup | 3hours |
| Charging Time | 1.5hours |
| App | iOS & Android |
| Working Temp | -2C to 35C |
| Wifi Communication | 50Meters |
| Cable Strength | 100kg |
Watch the Video till End
FAQs (Frequently Asked Questions)
How's the build quality of the drone?
The drone is pretty sturdy. Corrosion Free Motors and looks aesthetically good as well.
From where I can order the drone?
You can order it from Amazon, their Official or Kickstarter Website.
How long can 32G record?
It can record up to one and a half-hour in 4k 30FPS. If you go with the lower resolution, then time might be increased.
What is the Camera Angle of the Drone?
It's a 150-degree wide-angle lens.
How deep can the Nemo go?
It goes to 100meters (328feet).

Conclusion
Nemo is the revolution in the field of underwater drones. It is quite affordable as well as keeping its capabilities into consideration. It has received excellent reviews online. Its powerful battery gives you longer diving hours.
It is also VR Supported which makes the experience more immersive and level up the complete diving experience. The drone has multiple combo options, so you can choose the one which suits your requirement.
Trending Drones