This is one of the best commercial drones in 2020. This is a complete package in which you get a hexacopter which has longer flight duration, solid build quality, advanced features and much more. This is the drone for inspection, thermal imaging, security, surveying, mapping, and other purposes. This drone has also been used in a lot of Hollywood Movies for cinematic purposes.
Though, when it comes to commercial drones, Couple of DJI drones dominate the market, but Yuneec H520 is giving them good competition. When this drone got launched in CES in Las Vegas, this was a game changer. It suddenly drew the eyeballs of a lot of professional and commercial companies who need this kind of high-end drones. This hexacopter is a giant beast which is more significant than their previous modes. The body of the drone also got thicker, and propeller got bigger.
This drone is capable of higher payload capacity, and you also get three camera options according to the requirements. The kind of customization, you can do with the drone is remarkable. It has application in a variety of fields like engineering, ecology, farming, archaeology, and aerial mapping as well.
When it comes to price, it is costly. It costs around 2500 dollars and depending on the what camera you choose; the price might go up to $5000. But don't worry, the features that you get at this price make your every single penny of investment worth. The company has also kept in mind several safety measures which eliminate the possibility of any crashing. This is a kind of drone which can be used for border security as well.
It has six high torque motors which deliver you the stable and smooth flight. It can smoothly fly even in a high-end environment, what I love about this rotor that even if one motor fails, still it will stay in the air and land safely.
It has an advanced and powerful U Blox processor with GPS, Galileo satellite system and GLONASS which gives it the perfect stability and positioning. We should thank its high voltage battery, even though being so bulky, it can fly up to 28 mins.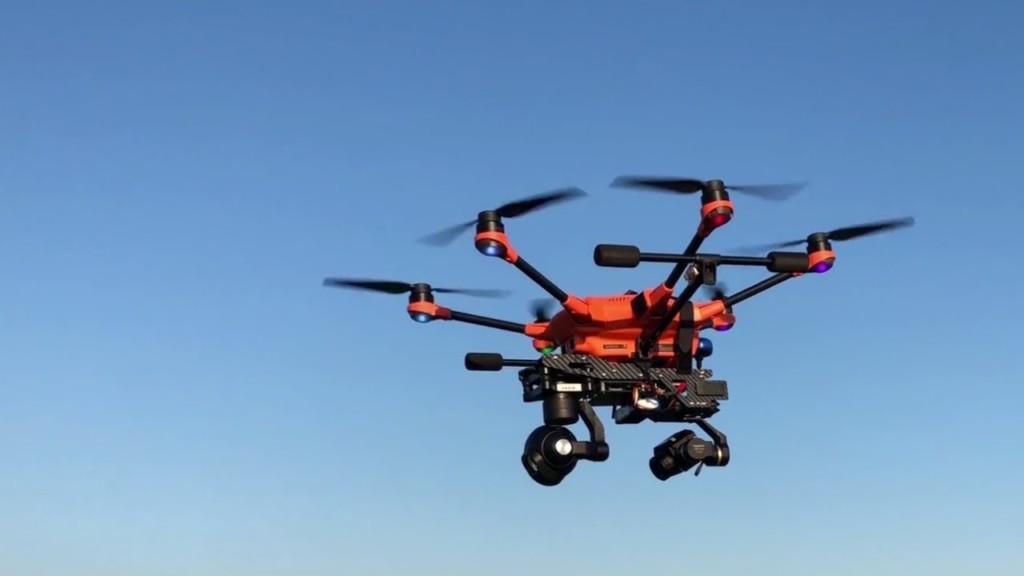 Yuneec H520 also has DataPilot software which gives you full control over the mission. It also has offline map cache that allows you to track the route without internet access as well.
It is also capable of getting power through the tethering system. In case, for live broadcast, you want the stationary viewpoint for a longer time, you can buy this tethering system separately and use it as long as you want. It sends live HD Video feed on the ST165. Depending on the operator, you can set the mobile device center and use the live videos for TV productions.
You have three camera options with the drone that allows you to choose the one which is required. The requirement will vary depending on what purpose, you are buying the drone. Its landing gear is fully retractable which allows the gimbal a full movement, and you can complete 360-degree view without any obstruction.
Yuneec H520 Commercial Drone Review
In this section, we will talk about all the important aspects of the Yuneec H520 and why it is one of the best commercial and aerial mapping drone in 2020.
1- Build Quality:
The hexacopter comes with an entirely new design as compared to its last version. The drone is much larger and bulkier, rotor blades have also increased in size. It seems that they also made the changes in the build material of drone. Apart from having the sturdy build, it also has an excellent aesthetic outer look as well. The drone looks high-end commercial UAV from every angle.
As this drone is built for use in bad weather, survive motor failure and other obstacles that are quite palpable from its rugged design. It can carry a massive payload without compromising with the hexacopter stability. As the length of the props have increased, you will see the smooth and stable flight. The great props produce a better lift, and it can quickly change the orientation without any jerk.
This drone can be used in disaster response and relief operations as well. Its vast application possibility makes the drone suitable in various sectors. The drone comes in bright orange color which is very visible and helps you to keep track of it. Many a time these law enforcement and land surveying team have to work in adverse weather conditions, and this is where its bright color is going to help you.
2- All in One Controller:
Its controller is known as ST16S Ground Station which is a high-end transmitter and receiver as well. It allows the operator to click the pictures and videos with ease. The drone is suitable for film making, in its full 7-inch screen, you can set the composition and frame properly and have some breathtaking shots. ST16S is android bases controller which gives you real-time display. The control is full-fledged in itself, you need any other device for it.
It also has several advanced features as well, and one of them is mission planner in which you can set the route and flight mode through a touch screen, and the drone will follow everything with precision and give you the expected result and this all will happen with the press of a single button.
3- Mapping Capable:
We have very few drones available in the market which are capable of 2D and 3D mapping but don't worry, Yuneec H520 is there for you. With its high-speed mode, it can cover large areas of land very quickly.
For mapping, you can either go with either CGO-3+ camera or CGO-ET camera. The second camera allows you to overlay infrared images with normal ones. You can use it for crop monitoring, building analysis, farmlands, and urban areas.
You also get software development kit with the drone that can help you in creating 2D and 3D models of the surveyed area. The software customization and integration should only be done by the experts only.
4- Three Payload Camera Options:
You get three payload camera options with the drone. So, choose the one that is required in your industry. So, let's dive into each of these camera details and get to know their applications as well.
E90: This is a 20MP camera that comes with a 1-inch sensor and also has high image processing H2 chip. It can shoot at 4K as well up to 60fps. This kind of camera is suitable for film making, search and rescue mission and 3D mapping and modeling. You will see very least distortion with this camera as it comes with 23 mm lens. You can also use ND filters as well that will give you better control over exposure and white balance. It has three axis gimbal which is precise up to +/- 0.02.
CGOET: This camera is built for the low light condition. You can also use it for thermal imaging as well. Its application is mainly into Fire Fighting, Solar inspection, Construction management, Search & Rescue and Crop Monitoring. The company claims that it has 20x higher sensitivity than the human eye. This 1080p camera along with the thermal processing combines with features like Infrared and RGB which gives you a clear and bright picture. It is also capable of measuring temperature as well. Various Colour Spectra allows you to have accurate heat source visualization.
E50: This comes with 12 Mega Pixel camera with 1/2.3" sensor. It is also capable of shooting in 4k up to 30fps. This payload option is suitable for wind turbines, cell towers, and another inspection purpose. This option is a bit lighter in weight than other options. You might see better flight duration in this case. Its camera has a 40 mm lens that captures every single visual detail while keeping your drone at a safe distance from the subject.
Though your complete drone bundle with one of this camera is going to be costly, but it is worth the investment. Though, you might find a cheaper deal with DJI but let me tell you Yuneec H520 is better regarding versatility.
If you are a filmmaker and want to do some great photography, then CGO-3+ is the best option. For cinematic video purpose, you can go with CGO-CI or CGO-ET ones.
5- Flight Control & Data Transfer:
The hexacopter has perfect flight control with its amazing high-end ST16S control system. You can also control the drone with the help of your mobile screen as well. Mission Mode is the forte of this drone which allows you to the set the flight route and then the drone will follow it autonomously.
Media can be downloaded without removing the memory card from the quadcopter, this remote media access gives you more freedom, and you can download the videos and photos very quickly. You also have all the access to the telemetry data during the flight that includes Speed, Flight status, GPS Position, and battery status as well. The software development kit brings in the other possibility as well and allows you to do a lot more things. It has three axis gimbal and 360-degree camera rotation. You also have yaw control and remote tilt option.
6- Intel RealSense Technology:
This is one of the best obstacle avoidance technology that you will find in any drone. Most of the drones for obstacle avoidance relies on the GPS, Camera, and Sensors but Intel RealSense Technology is at the next level. It is like giving your drone, real eyes. This high-end technology creates a 3D Model around the drone and recognize the potential obstacles and then accordingly choose the safest path.
The company says that its real sense becomes better with the time. The more you fly the drone, the more you better it will become at obstacle avoidance. It remembers the flight maneuvers and path and decreases the possibility of running into the same obstacle twice.
When you fly most of these high-end drones, you have to focus on the drone and as well as camera control as well. But with Yuneec H520, your complete focus will be on the shot composition because RealSense technology will take care of hexacopter safety and keep it away from any possible crashes.
7- Battery and Flight Duration:
When the drone was about to get launched, people thought that it would come with 6850mAh LiPo battery, but the drone made its way with 5250mAh LiPo. Though they might have dropped the ampere, but they increased the voltage. This one has 15.2V which gives longer flight duration. The Typhoon H comes with a 14V battery that's why when it comes to thrust and lift H520 is a winner. The flight duration will vary from 25 mins to 30 mins depending on which payload option, you are going for.
8- Smart Features:
Yuneec H520 is loaded with a lot of advanced features which ensures the drone precision, flight stability, safety, and buttery smooth control. Because of these advanced features, the drone can be used in various sectors for a variety of applications. Let's dive into some of the advanced features of the drone one by one.
GPS+GLONASS+GALILEO: The combination of these three features make the drone safest commercial drone in 2020. You also get perfect accuracy and precision especially when you are using the mission mode. The drone will follow the exact path that you mentioned. These features help you focus more on the camera than the drone control.
FAILSAFE MODE: Yuneec is known for embedding this high-end feature in most of their hexacopters. You will see this feature in Typhoon H as well. This mode allows the drone to land safely even though one of the rotors fails (that is very unlikely though). You will not need this feature very often but in rarest of a rare situation, this one going to save your drone and save your thousands of dollars.
SDK: This software development kit can take your drone capability to the entirely new level. It helps you create the application according to the requirement. Though, to use Kit, you should be an expert in drone functioning and development. For more information, you can visit the official site of Yuneec and get to know more about it.
Team Mode: This Functionality shows why this drone is so costly. This mode allows you to have better control of the copter. In this mode, one person can take care of the drone control while others can focus on the camera controls. This collaborative functionality allows you to take the things at the new level. This kind of features are mostly used in film making, fire department and search and rescue mission. Here, the camera operator should guide the drone operator where to move to have a better look at the subject.
Yuneec H520 Technical Specifications
| Yuneec H520 | Specifications |
| --- | --- |
| LCD SCREEN SIZE |  7" |
| BATTERY | 4S 15.2V LiPo |
| DIMENSIONS | 520 x 457 x 310 mm |
| WEIGHT (WITH BATTERY) | 1633 g |
| CHANNELS | 16 |
| Operating System | Android |
| REMOTE CONTROL | ST16S |
| VIDEO LINK RESOLUTION | HD 720p |
| BATTERY POWER | 5250mAh 4S/15.2V |
| MAXIMUM RATE OF ASCENT | 4 m/s |
Yuneec H520 Drone Appications
1- Filmmaking: This is the perfect drone for filmmaking. You can have amazing shots with great composition and framing. Its high camera is capable of shooting in 4K up to 60fps. Team Mode functionality allows you to have better control where one person can maneuver the drone while others can focus on the gimbal movement and shot composition.
2- Search & Rescue Mission: The Yuneec H520 enhances the safety at accident scenes and speeds up the recovery process in case if there is an accident. Its thermal imaging and resource management feature give you better clarity about the situation. In case, there is a fire; you can get use the thermal imaging and have more detailed information. Some people call it the Swiss Army Knife of the Unmanned Aerial Vehicle World. You can quickly change the payload and sensors in seconds that gives you more freedom in controlling every aspect of the drone.
3- Agricultural & Forest Use: This drone can be used for agricultural purpose where you have to take care of your farms. This can also help in pesticide spraying and precision agriculture. You can also use this drone for forest monitoring and irrigation purposes.
4- Security: The drone can also be used for security purposes, and one of them is border security as well. Though Security is a vast sector, so it is up to for what purpose you want to use it specifically. You can also go for farmland security, building security and others. Its thermal imaging cameras give you better control in low light conditions. If you want to use it for night time, then you can go for dual sensor thermal&low light CGO-ET payload option.
5- Inspection & Survey: You can also use the drone for inspection and survey purpose as well. What I love about this drone that it captures every single aspect and gives you the detailed information. With the help of software, you can do the 2D & 3D Modelling as well. The live broadcast can help multiple people to see the things and take better decision.
Yuneec H520 vs. Inspire 2
In this section, we will talk about the several important aspects of both the drones then you can decide about Yuneec H520 vs. Inspire 2 and choose who is the winner in this case. When it comes to Maximum ascent speed, Inspire 2 has the speed of 16.4 ft/s while Yuneec H520 is around 13.1 ft/s. Though in terms of flight duration, there is no much difference. The DJI One is capable of up to 27 minutes while Yuneec can fly up to 28 mins. When it comes to controller frequency, you will see DJI can work in two frequency modes 2.4 GHz, and 5.8 GHz while Yuneec works on 5.8 GHz one. When it comes to battery type, both the UAVs come with built in Lipo battery only. However, if we talk about battery configuation, Yuneec has 5250 mAh / 79.8 Wh battery while DJI comes with 4280 mAh / 97.58 Wh.
Yuneec is the hexacopter and has to fail safe mode while DJI Inspire 2 is a quadcopter, it will crash if one motor fails. Though Yuneec H520 looks bulkier because of its large propellers, but when it comes to weight, the Yuneec H520 weighs far lesser than the Inspire 2. Yuneec H520 weighs around 1.645Kg with battery while DJI Inspire 2 weighs 3.27kg with battery.
So, there is no winner because in some case DJI Inspire 2 is better while in other Yuneec H520. But if you are looking for a drone who is more versatile and capable of customization, then Yuneec H520 is better than DJI Inspire 2.
Read More
Blade Chroma vs Yuneec Q500 4k
Yuneec mantis q vs Xiaomi fimi x8
Final Verdict
Yuneec H520 is not for all. It's a commercial drone which has various application. The drone has features that will certainly blow your mind. This drone is suitable for emergency management, environmental work, industrial application, inspection works, and film making.
It certainly has a high price tag but worth the investment. So, if you are looking for a camera that can do thermal imaging, team control, and land safely even though one motor fails then this is the perfect fit for you.
Watch the Video till End
Referece:
https://www.yuneec.com/en_GB/camera-drones/h520/overview.html
Trending Gadgets in 2021