Eachine E511 is one of the high-end quadcopters by the company. It has some of the advanced features. The drone also looks alike of Mavic Air. Its build is sturdy; the good quality plastic is used which makes the quadcopter more durable. Bright LED lights in the quadcopter allow you to fly it in the low light condition. Though it looks the twin of Mavic Air, when it comes to the features, there is a huge difference between both of them. What I really appreciate about the drone that they give you two camera options to choose from. Either you can go with default 2MP, or you can go with high-end 5MP. The price difference between both the camera option is around $10. It is powered by a 1200mAh battery which gives it around 17 minutes of flight time. The Company claims that it can fly up to 200m.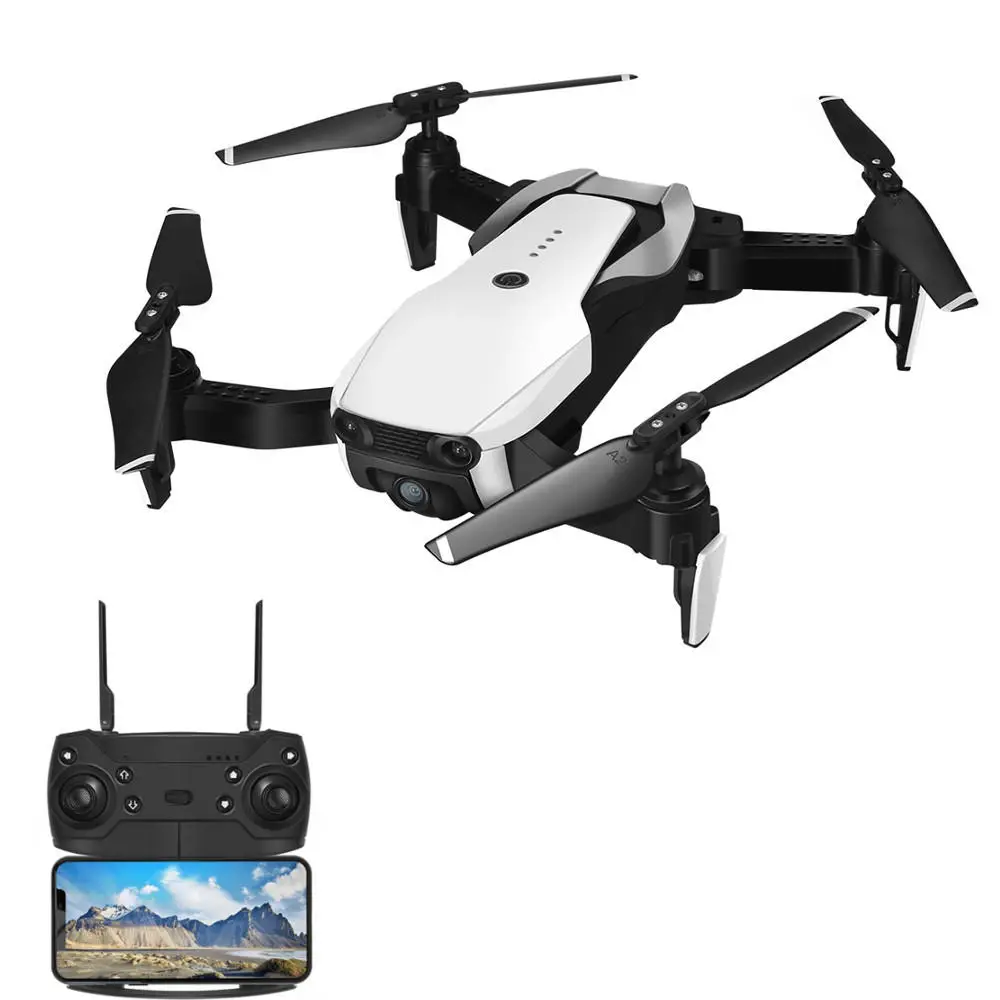 When it comes to color choices, you get only one option that is a black and white model. The folding design of the drone makes it tiny, and you can carry the drone while traveling. It has some good features like headless mode, high hover, and 360 rolls which are really fun and helpful for beginners; we'll discuss them in detail in the below section. It has a 2.4G transmission which provides you the HD live feed. Don't try to fly the quad, out of the range; you might lose the connection. When it comes to drone motors, here you get 1020 powerful Coreless motors which give better torque and makes the drone more responsive.
There are a very few drones in this price range which are capable of flying up to 17mins. Its high capacity battery really makes it stand out of the crowd, especially in case of flight duration. Below is the list of items that you would be getting with the package.
Eachine E511S RC Quadcopter (1)
Transmitter (1)
7.4V 1200mAh Lipo Battery (1)
USB Charging Cable (1)
Protection Cover (4)
Spare Propellers (2)
Screwdriver (1)
User Manual (1)
EACHINE E511 Drone Review

In this section, we will talk about the different important aspects of the drone. We will try to cover build quality, camera features, multiple modes, and much more. So, let's dive into all of these features one by one.
Build Quality:
The quadcopter has good build quality. It looks like a Mavic Air which gives it a good aesthetic look. The UAV becomes more compact once you fold the arms. The Company claims that it is made up of flexible ABS plastic which makes the drone more durable. It can easily survive minor crashes. Though we have the only option when it comes to color options, that is decent looking. It is very lightweight; you can easily carry it inside your bag while doing the backpacking. Same goes with the controller, the transmitter also is well built, and you get the good holding grip.
Camera Quality:
Here, you get 720P/1080P wifi camera which records in full HD. It has a 120-degree field of view, and the camera angle can be adjusted up to 90 degrees. You also get FPV live feed which allows you to see the things from drone's perspective. It teaches you apart from handling the drone; you also have to handle the camera. If you are a beginner, there is a lot, you will learn from this drone. How to set the composition? How to frame the shots? And much more. FPV Transmission only works up to 80m, so try to fly it in the given range for glitch-free transmission. You also have two options when it comes to the camera, so choose the one that suits your requirement. Either, you can go for 720P or 1080P wide angle lens camera.
Multiple Modes:
The drone also has multiple modes which make it more fun and easy to use. These modes allow you to take your creativity to the next level. So, let's dive into all the quadcopter modes, one by one.
Headless Mode: You can fly the drone in headless mode. In the beginning, a lot of novice flyers face the problem of orientation confusion; they have to manually figure out the nose and tail part of the quadcopter and have to control the drone accordingly. But, this mode allows you to operate with the same controls no matter at what direction, the quadcopter is facing. In this mode, any part of the drone can work as the tail.
Altitude Hold: This mode is also very important as it allows the drone to hover at a fixed height. With the help of this, you can click the pictures free from jelly effect. To use this mode, just release the sticks, and the drone will stick wherever it is. Though, many users said that it's not very precise in the case of eachine e511, so be ready for some manual maneuvering as well.
RTH Function: The drone also has the return to home feature that allows the drone to come back to you with the click of a single button. Sometimes, you will find yourself in unexpected situations where you either lose control or drone goes out of sight. In that case, just press the button and the quadcopter will return back to its locked home position.
Trajectory Mode: It also has trajectory mode in which you can draw the path on the screen, and the quadcopter will follow the coordinates exactly. This is the advanced mode and only recommended once you have good flying experience.
Multiple Speed: You can also switch among various speed options which allows you to fly the drone at your pace. If you are a beginner, start with the low speed, and gradually you can increase the level.
360 Flips: The quadcopter is also capable of doing the 360 flips which add fun to the drone. Make sure when you are using this feature, the drone is at a suitable height. You don't want to get it crashed while doing it.
Remote Controller:
The remote controller that you would be getting over here is similar to the one you get with E58 drone. It has retractable drone holder and dual antenna system. There is a total of six buttons that are under your finger's reach so that you can use them without strain. You, get two controller sticks with fixed height. Landing and take off buttons are on the left side of the drone.
You also get two shoulder buttons on each side of the transmitter. Right buttons are used for emergency stop, flips, and speed switching while left buttons are for headless mode, RTH mode, and Video recording. It uses 2.4GHz anti-interference technology. Four channel transmission gives you full control over the drone; you can do forward-backward motion, left-right sideward, ascend-descend, and flips as well. It has six-axis gyro stabilization which provides you the stable flight experience.
IMP**
There are a few things that you have to keep in mind before you take off the drone. It is recommended for 14+ age group. It's recommended to read the instructions carefully before you start using it.  When it comes to battery, don't over charge it. If you are using the different charger, make sure it has same voltage and ampere reading.
Technical Specifications
| EACHINE E511 Drone | Specifications |
| --- | --- |
| Remote controller | 2.4G Remote Control |
| Gyroscope | Six-axis |
| Material | ABS |
| Camera | 2.0MP |
| FPV transmission | Wifi |
| Control Distance | About 100m |
| Charging time: | About 60 minutes |
| Battery | 3.7V 1000mAh Lipo |
| Price | Check Here |
Watch the Video till End
READ MORE……
Best Drones with Camera in 2019
How To Get A Drone Out Of A Tall Tree
Smallest Gimbal Camera in the World
How to take a perfect Dronie shot
Lightweight Drone for backpacking under .55lbs
FPV Racing Drone Kit with Goggles
Conclusion
The drone is not very popular. But it has some features that make it worth having a look at. There are some good alternatives in the market that you can choose from. Below, we have mentioned some of the Amazon best selling drones. Incase you have any confusion, do let us know in the comments below.

BETTER & AFFORDABLE ALTERNATIVES (RECOMMENDED)