When it comes to drones, they have a very diverse history. Their use started as a wartime weapon when Austria attacked Venice in 1849. This was the first time when Unmanned Aerial Vehicle (UAV) was used. Then, a lot of advancement happened in the second world war when the USA started developing this technology. Since then, drone technology has changed completely, and it has also impacted certain technology sectors as well.
Generally, when we think about drone, we visualize a flying device with four propellers. But do you know, there are tricopters, hexacopters, and octocopters which are more efficient than quadcopters in certain aspects.
A hexacopter have six motors in which three rotate clockwise while other three anti-clockwise. Hexacopters are mostly used for commercial purposes as they are capable of carrying more weight than the traditional drones.
Recently, people have been asking a lot of questions about hexacopters; if you are one of those curious people, then you are at right place. Today, we'll cover everything; you need to know about hexacopters. We'll include what is the difference between all these multirotors, how you can build your hexacopter from scratch (DIY) and what are some of the best ones that you can directly buy online?
Octocopter vs Hexacopter vs Quadcopter vs Tricopter
Tricopter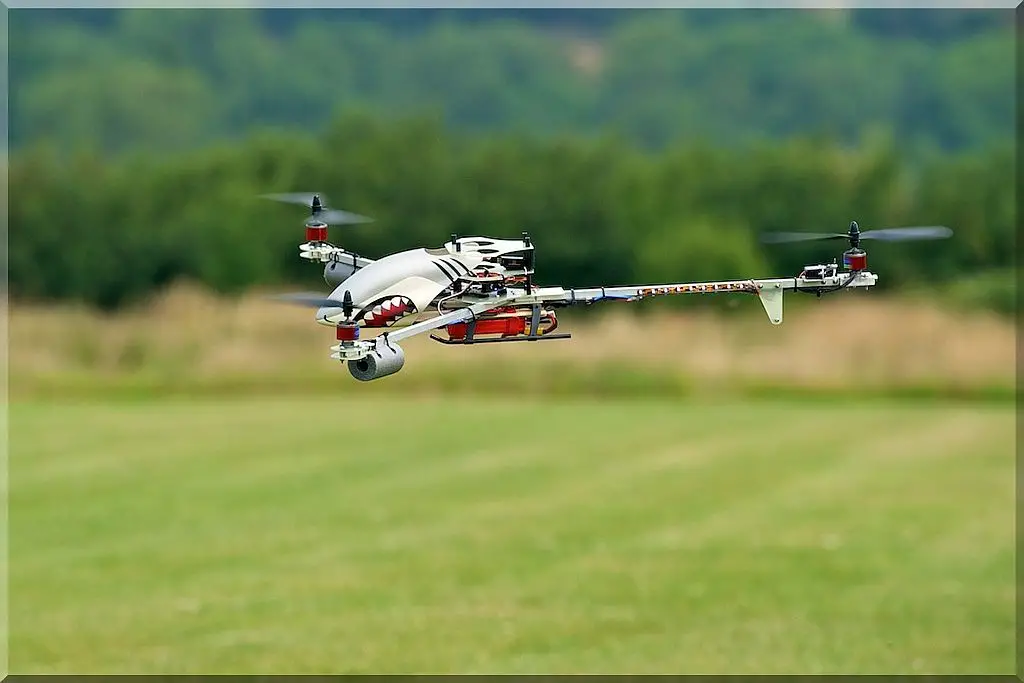 Tricopter made up of two words Tri + Copter that means, the drone which has three vertical rotors. This is the simplest form of multicopter. It is not very popular, but a lot of drone enthusiasts prefer to build their own. These drones are simple to use and have very straightforward working dynamics.
There are some UAV companies which make these drones at a very cheaper rate. So, if you are a newbie and looking for a drone only for fun then, you can find excellent deals on Amazon.
Though, prices can increase exponentially if you go to the higher end of it. So, it's entirely up to you whether you want to buy a drone for recreational purpose or professional purpose. If you are thinking of building your drone, you can read this article.
If you have little bit experience of the multicopters, it won't be that difficult to build your own. You can buy the required components online or local drone shop. I would still recommend making your tricopter than buying one because that gives you more room for customization because most of these ready-made drones come with fragile body and not very durable. Don't expect an excellent quality battery backup from these already built drones.
What I love about tricopter is their simplicity. If you are a beginner in drones and learning DIY, then it could the right place to start.
Quadcopter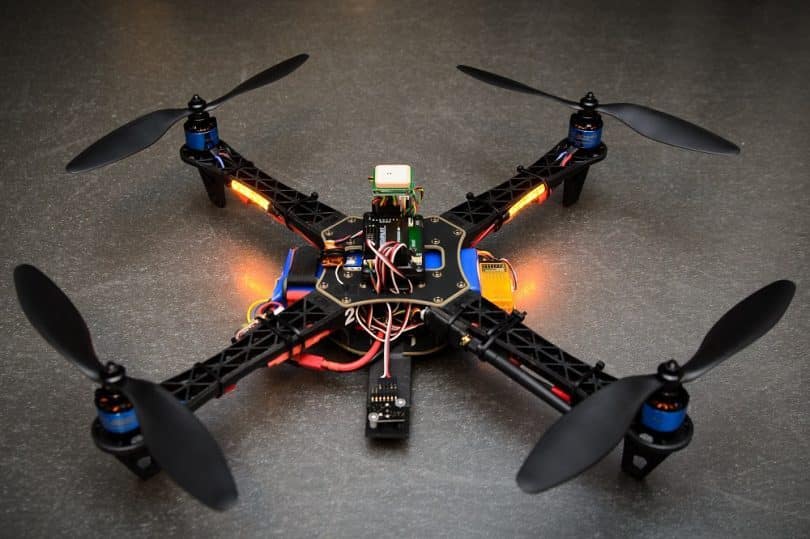 This is one of the most popular drones in the market. I would say more than 70% percent drone market is occupied by quadcopters only. Their four rotors provide better stability than the tricopters. Quadcopter also brings in the new possibilities like altitude hold, flip, and rotation that is not possible with tricopters. DJI is known for making some high-end quadcopters. They are available in all the ranges from $50 to $5000.
These drones can be used for recreational or professional purposes. If you want to build your quadcopter from scratch, then you can read the complete guide over here.
If you are an engineering student, then you can probably use it for your drone project as well. This quadcopter pdf is the perfect DIY guide for drone enthusiasts. There are a lot of kits available online in which you get all the required components, you only have to assemble them, and the drone is good to go. You can also do a lot of customization by adding the camera, gimbal, GoPro mount and much more.
The quadcopter has more power than the tricopter but less power than the hexacopter and octocopter. So, if you are looking for a drone in which its lifting capability is the topmost priority then multirotor with at least 6 propellers is recommended.
Hexacopter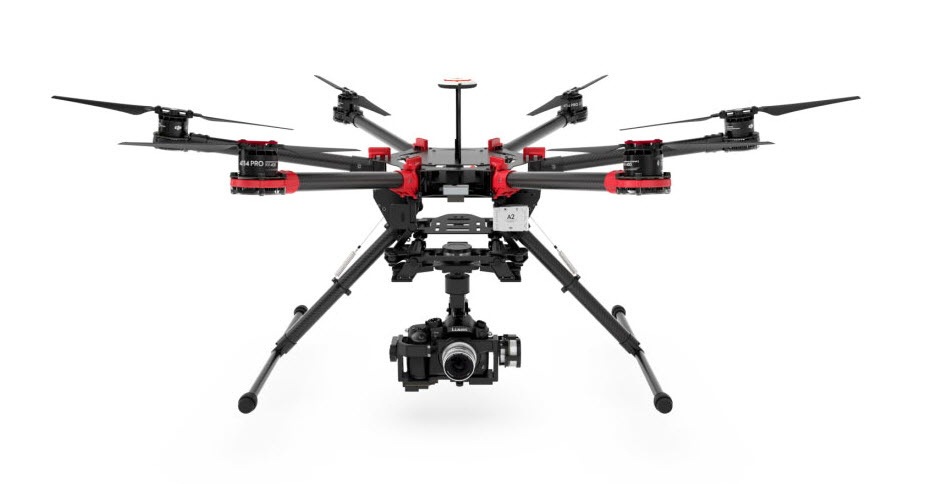 While the tricopter comes with three props, quadcopter has four propellers; the mighty hexacopter comes with six of them. It has more power than the drones with fewer propellers. Hexacopters also not very popular like tricopters. In most of the cases, they are custom built for the specific purpose. You won't find a cheap inexpensive hexacopter online. Hexacopter frame design is a bit different than the others, but flight dynamics is the same. DJI also makes high-end hexacopter that you can buy from their official site.
If you want to put your imagination together and make it a reality then you can go for DJI Flame Wheel F550 Hexacopter(//drones-camera.com/dji-f550-flight-time-flame-wheel/), in this, you will get all the components, and you can assemble them to get the perfect drone.
In Hexacopter, all the propellers are arranged in circular symmetry, and it has also had legs for landing. It helps you in carrying the heavier loads as it is more powerful than its competitors.
What I love about the hexacopter that even if one motor fails during flight (Though, it's very rare), it won't topple down. Five rotors would be enough to keep it flying. It makes the drone more durable and sturdy. Regarding stability, hexacopter is again better than quadcopters; they are also fast at the same time. We have also seen some large hexacopters for transferring the heavy duty load.
Octocopter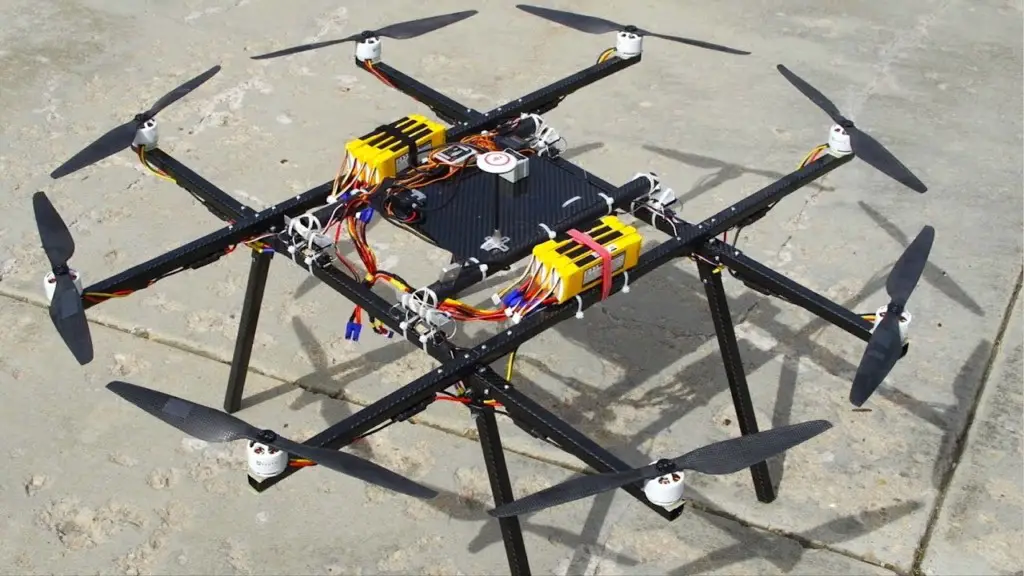 The octocopters have eight propellers that make the drone more complex but also very capable at the same time. I would say October is faster, smoother and stable than all the above multi-rotors. These drones are very rare and mostly custom built. You can find all the required components online.
These drones are mostly used in agriculture survey, real estate and other sectors where precision and accuracy is essential. Apart from their commercial use, people also like to work on octocopter drone projects in their engineering. If you are a beginner in drone and still learning the ABC of it, then this drone is not for you. This is for advanced users; you should only go for this once you have a good understanding of drone dynamics and structure. The octocopters are generally large in size and also expensive in comparison to three.
You have to treat them with care; if any part gets broken, it's also quite cumbersome to replace them. As they have eight motors, they need enormous batteries for good flight duration, and that makes them bulkier.
If you are using an octocopter, always carry an extra battery because here, running out of battery is very common here — the good thing about the drone that you will find stability in windy or rainy weather as well and you can also land the drone even if you lose one or two motors mid-flight.
How to make a hexacopter from scratch | DJI hexacopter f550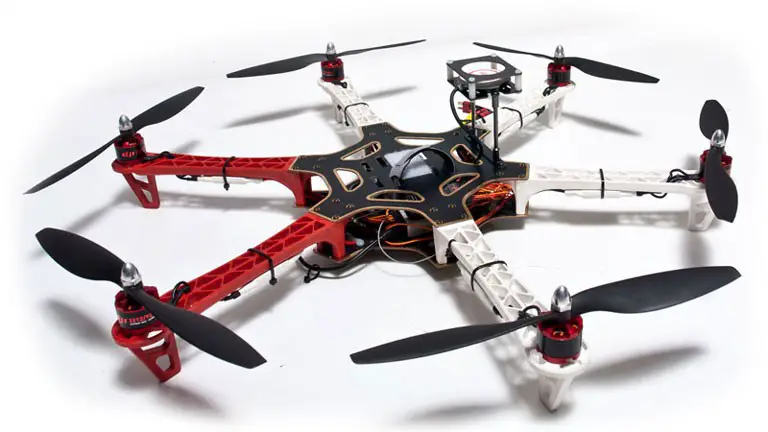 So, in this section, we will specifically talk about DJI Hexacopter F550 how you can build it from scratch. There are other options as well in the market, but I would say, this one is an excellent way to start. Because with this one, you get all the parts required at one place. It saves your time; you don't need to waste your time searching for components.
This DJI F550 Hexacopter is also known as the Flame Wheel which is different from other products of the company. The most of drones that DJI makes are ready to fly drones but this one comes completely unassembled, and you have to build your drone from scratch. What, I love about this hexacopter drone build kit that you get all the high-end components with which you can build a good quality drone.
DJI Flame Wheel comes with three models which include F330, F450, and the F550. While earlier two versions are the quadcopters and F550 is a hexacopter. Most of the parts are the same, but you will see a difference in design. Hexacopter is preferred by most of the DIY enthusiasts as it provides more room for experiment. This multirotor is ideal for videography, photography and it can also be used for recreational purpose.
In the kit, you would be getting 6 E300 ESC (15A), propulsion motors, blades, and one complete frame. You can choose between DJI WKM and Naza V2 for the autopilot system. The diagonal base of the drone is 550mm in diameter, and it uses 5000mAh Lipo battery. With the kit, you get M2x8 and M2.5×5 screws, sixteen propellers and a set of power lead as well. The hexacopter frame weighs around 478grams. It will cost you around 300 to 400 dollars. There are two options you get in 550 depending on the GPS. You also get landing gear as well for safety purposes.
How to Assemble
If you have already bought the drone and wondering how to assemble it, then read this section thoroughly — no need to get overwhelmed by it. Take one step at a time, and you will be able to finish in a couple of hours.
Watch the Video till End
The main thing about a battery that you have to keep in mind is to choose the right one. If you are buying, 3S batteries then go with 10-inch propellers & if you are buying 4s batteries, then 8-inch props are recommended. So, if you have bought all the components, then you also need some tools as well for its assembly. Keep soldering iron, solder and flux handy. Now follow the below steps one by one.
The PCB board that you get with the kit, it is well marked. So, make the connections accordingly. In case, you feel any confusion; you can read the instructions in the manual.
Before you make the proper final soldering, crosscheck the connection whether it's working or not.
Soldering is very important. Make sure; you use enough flux so that all the connections are strong. You don't want your wires to come off during mid-flight.
Then, you can attach the legs as the landing gear on the bottom of the hexacopter. Make sure; you tighten the screws properly. Then plug all the motors to the ESCs and put the controller at the bottom board. Keep the controller in the right direction; inputs should be facing the rear side.
Download the latest version of the application — the mount GPS and battery. It's a most crucial part so make sure you do it properly after reading all the instructions.
Then you can do the compass calibration before having a test flight.
For more customization, you can also add gimbal, GoPro mount and much more. Fly low at the starting once you are sure everything is working fine, you can take it to new heights.
Top 5 Hexacopters Online
1- Yuneec Typhoon H Pro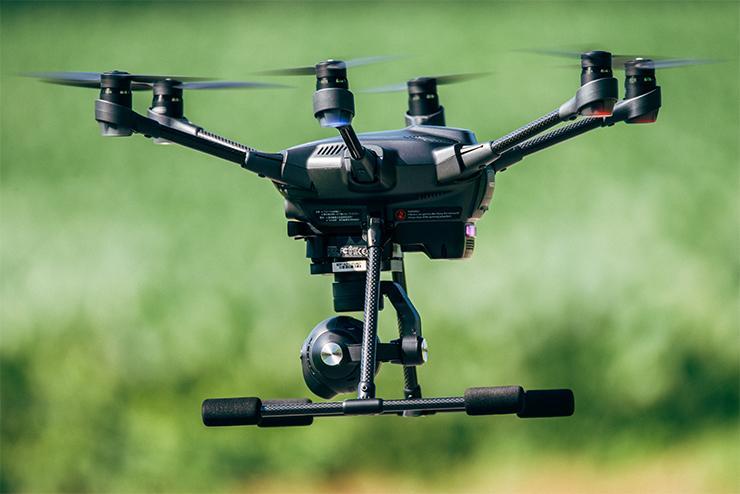 This is one of the best hexacopter that you can buy online. It is made for professional users. This high-end drone is costly but worth every single penny of investment. When it comes to its capabilities, no other hexacopter can match with it. It has GPS that gives you stabilized flight control. It also has a fail-safe mode, in case one motor burns out during flight, you can safely land the drone with five motors. It has multiple intelligent modes as well that you can use to do some cool stuff. It has multiple autonomous modes that allow Typhoon to land or take off with a single button. You can shoot 4k HD Quality footage with the drone what I love about the drone that you can rotate the camera in 360 degree that gives a lot of freedom to capture the landscapes.

The drone dimensions are 21.2 x 17 x 12.5 inches, and the whole item weighs around 12 pounds.
The CGO3+ gimbal camera comes with a 98-degree field of view and wide-angle lens. If you want to know more about Typhoon H, you can read the User Manual over here.
The drone comes with one year of warranty. The company is known for its good support. You can mail or call them on their toll-free number 1-844- 343-9770 and they are very quick to respond.
2- MJX X600 X-SERIES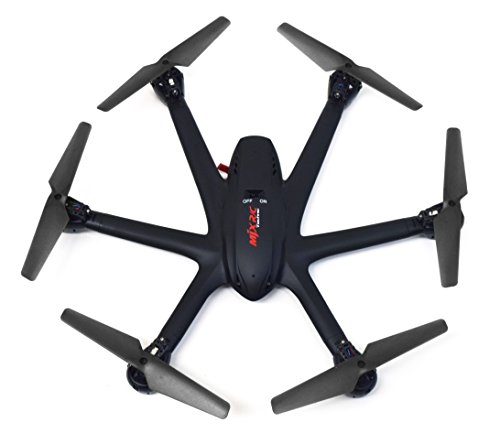 This is the second best hexacopter available on Amazon. It is not as good as Typhoon, but if you are looking for an affordable choice, then it could be a perfect fit for you. It comes with four channels function that provides it better stability and smooth flying experience.
The company claims it is also very stable at strong wind conditions as it comes with 6 axes gyro posture control system.
The controller can be easily be synced with the drone by moving the left the left joystick up and down.
The drone is very simple to use, and even a beginner can understand all of its functioning in a short amount of time. Though people complained about the drone overheating problem; it's recommended to give a 15-20 minutes rest to drone after every flight.

It also has a headless mode that again make it easier for a newbie to take it off. The product dimensions are 38.5*42.5*6cm that make it a little bit bulkier as well. Below are some of the important things that you should know about this hexacopter.
The drone is easy to use as it comes with throttle sync, headless mode, and one key return to home function.
It is more stable than the quadcopter and also very efficient at the same time. MJX unique design gives you a steady flight experience.
It has 2.4Ghz auto connection technology that makes it more advanced. Once the battery is fully charged, it gives you around 8.5 minutes steady flight.
3- TOZO MJX X800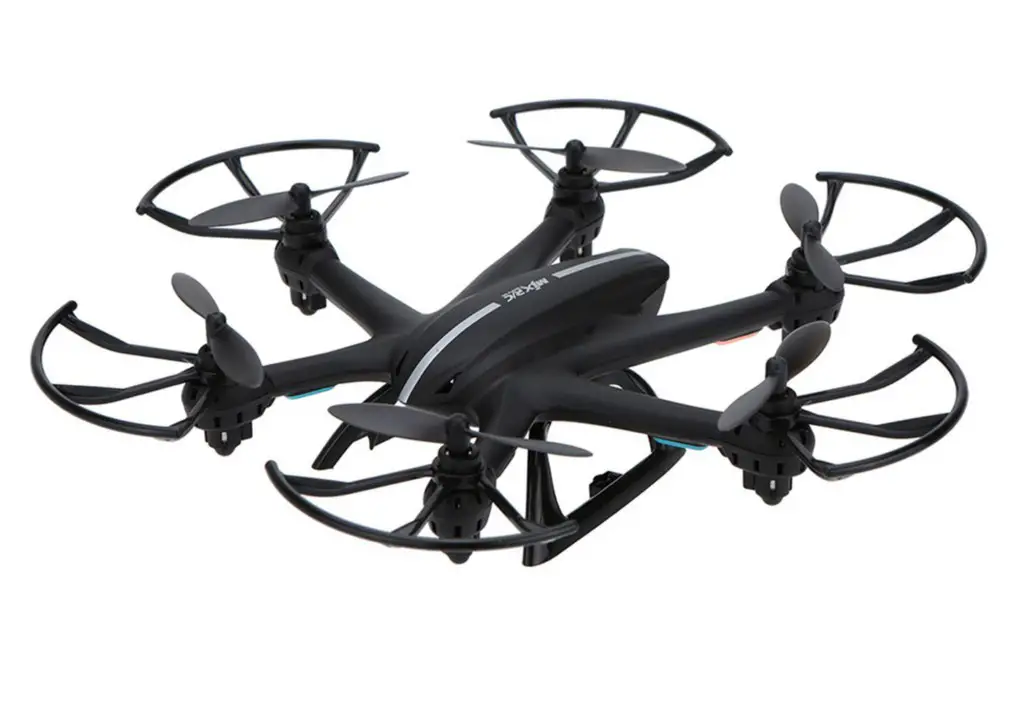 This is a 2.4GHz 6 Axis Remote Control Hexacopter which is not very popular though but could be a good choice to start. The drone control distance is up to 150meters that is not very great, I would say, but it gets fully charged in 2hours and give you 8-10 minutes of flight time. The drone also has good wind resistance with various flight movements. You get two controlling options over here that is cool; you can do it either by remote control or by gravity mode as well. It also has LED lights that allow you to fly the drone in the night.
It also comes with three-speed options so that you can choose the speed at your disposal. You won't be getting a camera with this drone; if you want the drone with the camera, then you have to go with other options. Below are some of the advanced feature that you should know about this drone.

What is unique about this drone that it comes with adopted 2.4g anti-interference technology that eliminates the possibility of a crash with another flying drone in the same range.
It has advanced features like 3D Rolls, throttle limit and FPV Real-time transmission. It has a simple design that makes assembly and maintenance easier.
To use this drone, you have installed the application which is supported in Android and iOS as well.
4- Techrc TR005 RC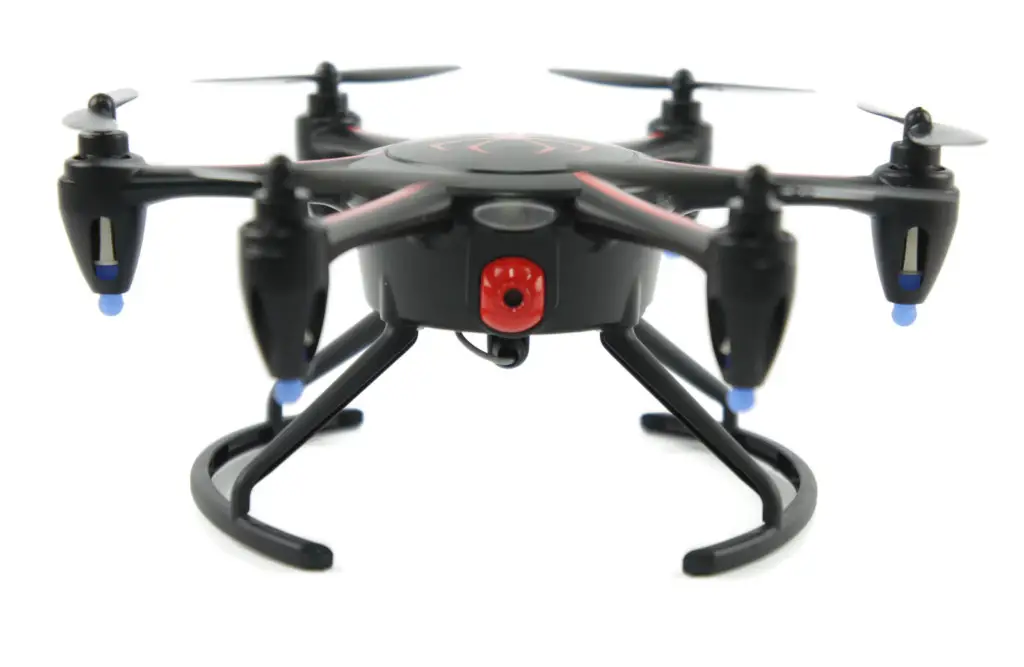 Techrc comes with 40meters of controlling range. This is a toy recommended for beginners. There are some constraints that you have to face with this drone. The controller is only compatible with 4-inch width device. It has 500mAh 3.7V Lipo battery which gets charged in one hour and give you around 6-7 minutes of flight duration. Below are some of the important features that you should know about the drone.
It has 0.3MP Wifi Camera which can capture 480p videos and click some not so bad pictures.
It also has features like one key landing and takes off. You can also switch between different modes to have some fun.
The drone is recommended for beginners and kids. If you are already a professional, then it could not be a good choice for you.
5- Freefly Systems ALTA UAV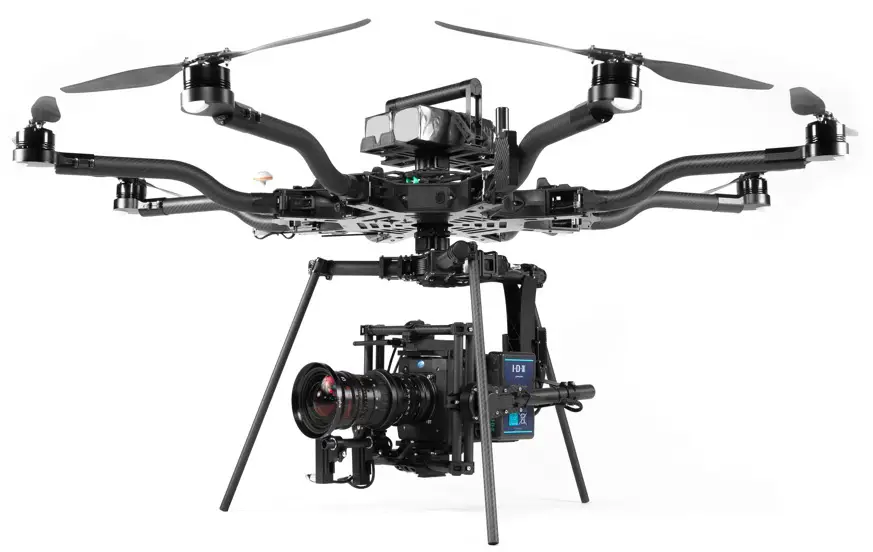 This is a high-end drone built for professional filmmakers and those who want to use it for commercial purpose. Its range varies depending on what radio system you are using. It generally comes with 2.4Ghz that gives you around 1mile of range, and that's decent enough for a hexacopter.
This drone is costly and huge at the same time. It has the longest flight duration, it can fly up to 45 minutes, and that's what is incredible. It can carry the weight load up to 10 lbs. Though the drone might look very overwhelming at the start, it's easy to set up and ready to fly in five minutes. You can mount the whole camera rig on it. This kind of cameras is used in a lot of Hollywood movies.
This drone is the next level hexacopter if you are looking for something that is fast, can carry a huge payload, and have good battery time at the same time then you won't find any better hexacopter than this one.
Read More: