If you are a filmmaker, I am sure; you probably would have heard about DJI Osmo Pocket by now. This three axis gimbal camera is undoubtedly going to revolutionize the video making. Instagram Influencers and Wanna be cinematographers are going to love it.
This new DJI camera is capable of shooting in 4k and provides you buttery smooth video quality with its three axis gimbal stabilization. If we go back in time and think about gimbals we had for mobile and DSLR, they used to be huge. DJI Osmo mobile Blackmagic pocket is undoubtedly a revolution in gimbal industry. It is the smallest gimbal ever built. A lot of YouTubers called it a device from the future because it is so tiny yet capable of so many things.
It's going to give fierce competition to its rival GoPro 7, that we will discuss in below section in detail. Build Quality of this device is solid, and it also comes with dozens of accessories that can help you in taking your creativity to the next level.
Though, it's not waterproof; for that, you have to buy a separate waterproof case. You can plugin iOS and Android smartphone to your DJI Osmo Pocket and do a lot more with its DJI Mimo app.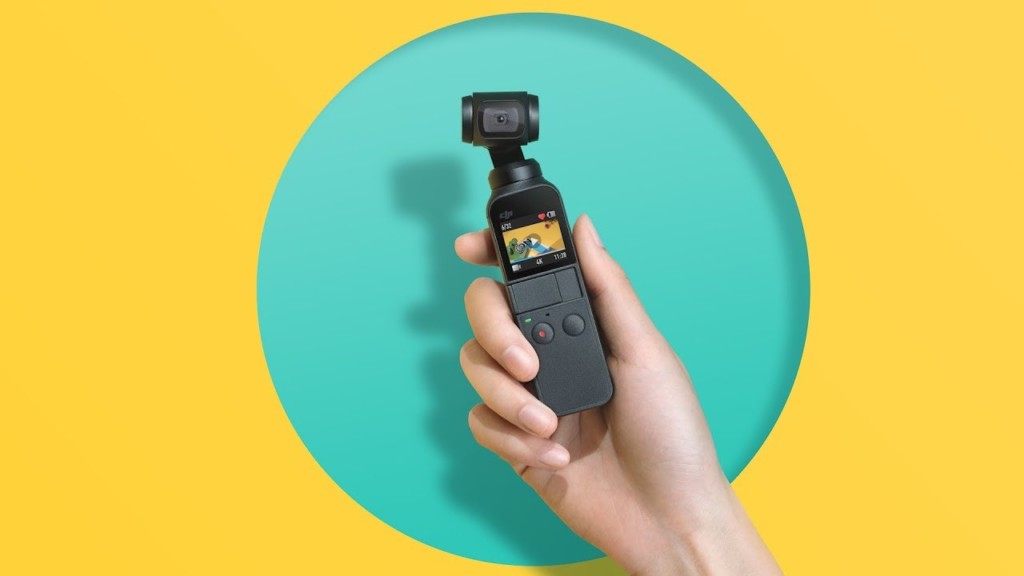 If you are a beginner, then it could be a bit expensive for you. If the money is not an issue for you, then it is worth every single penny investment. In this article, we would discuss everything, you should know about DJI Osmo Pocket; we will cover design & features, accessories, Mimo app, comparison with GoPro and much more. So, read the complete article thoroughly, in case you have any confusion, you can let us know in the comments below.
Design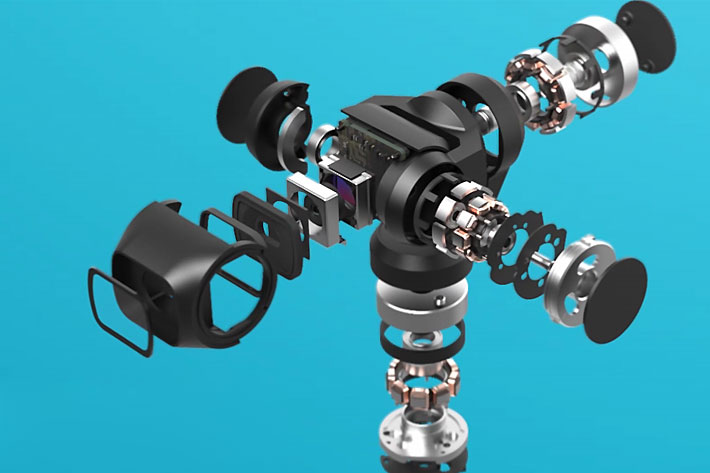 The design of the Osmo Pocket is its forte. It is incredibly small with three-axis mechanical stabilization. It might look weird when you use at the starting because it's not of very familiar shape and size. It will attract a lot of eyeballs. It is tiny almost the size of your palm. You might have seen it in pictures, but holding it in hand is an entirely different experience.
Gimbal part is made of metal, and remaining body is some kind of solid plastic that makes it more sturdy. I was watching the reviews on youtube and people seem to be amazed by it. It is tiny by huge when it comes to its capabilities; it can shoot 60fps 4K Videos and capture 12MP pictures.
A lot of people have been asking about the difference between Osmo pocket and GoPro stabilization. Let me tell you; there are three kinds of stabilisation. First one is optical stabilization, you might see in some high-end mobiles like iPhone, the second one is electronic stabilization that you can see in Gopro 7 which is better than the optical stabilization. And the third and the best one is manual stabilization that you will be getting in Osmo Pocket.
Hands down, the kind of smooth buttery footage, you would be getting with DJI Osmo pocket won't be possible with optical and electronic stabilization. What I appreciate about it, is its size. You can fit it inside your pocket, and that makes it portable.
The great news is that DJI will be selling a waterproof case that can provide you with smooth underwater shots and beautiful close-ups at up to 60 meters below the surface.

DJI Osmo Pocket Review
In this section, we will talk about all the essential features of Osmo Pocket that one should be aware of. We'll also focus on the pros and cons of the device so that in the end, we have an unbiased review. It comes in a tiny package, its weight is 116grams and dimensions are 121.9mm x 28.6mm x 36.9mm.
When you make the purchase, you also get the cover in which Osmo fits perfectly. It is always recommended to carry the gimbal in the case to eliminate the chances of any possible damage. DJI's last gimbal was Osmo Mobile 2 that was also a great hit because it had long battery life and was quite handy as well in comparison to others. You can call this, a miniature version of Osmo Mobile 2.
The Osmo Pocket negates the big word from its definition. Its controlled motors provide some footage; you can also do some perfect tilt and pan shots. Now, I think the notion of filmmaking that we need large camera gear for high-quality shot composition will be broken by the inception of Osmo pocket. We'll soon see a lot of professionals and filmmakers using this small device in their projects.
Though sometimes, it could be quite difficult to frame the composition and shot with its tiny screen then you can connect it with your smartphone that will make the filming and view finding more convenient.
So, without wasting any time further, let's dive into all the essential aspects of DJI Osmo Pocket one by one. We cover everything, gimbal, camera, audio, price, ease of use and much more. In case we forget something, your suggestions are most welcome in the comments below.
Osmo Pocket Stabilization: When it comes to footage stabilization, I am damn sure, you won't be having any complaint from it. Its three-axis motorized gimbal stabilization eliminates any possible jelly effect. During the launch of the Osmo Pocket, DJI appreciated its employees and said it is the result of sheer hard work and dedication of their employees and that's why we can achieve this remarkable feat. It has brushless motors that help you in achieving the precise and accurate result. According to the DJI, it is accurate up to +_0.005 degree. The dimension of gimbal camera is 38.4mm*28.6mm*36.9mm that you can use at max control speed of 120degree per second.
Osmo Pocket Video Quality: The Osmo Pocket has a good quality camera with an 80-degree field of view, f/2.0 aperture, and 1/2.3 inch sensors. It is capable of clicking 12MP still pictures, and you can also record the video in 4k 60fps at 100Mbps bitrate. You can do a lot of changes in the settings as well; for that, you need to connect the gimbal with a smartphone and have to install this Mimo app.
You won't be able to do many changes with gimbal alone only, but once you make the connection with the smartphone, you can change ISO, Exposure and shutter speed at your disposal.
Audio Quality: I would say that the inbuilt audio quality of the gimbal is not that superb. If you are an amateur filmmaker, then it's ok. But, if you are a severe content creator, then I would highly recommend using some external microphone with 3.5mm jack. In the windy situation, it doesn't capture your voice instead it captures the surrounding noise.
If you only want to use the internal mic and still want the decent quality, keep the camera always focused on you.
Design & Build Quality: When it comes to building quality, it has a sturdy design and solid build. When it comes to handling, it has a sweat proof non-slippery grip that makes carrying the gimbal more convenient. The size is very small; it's like carrying a mobile in your pocket. Though, its small size screen doesn't make everyone happy. The touchscreen is glitchy sometimes. If you want a better experience, buy the controller wheel, and that will make the filming experience more convenient.
Battery Backup: It has Lipo battery which takes around one and a half hour to get fully charged. Its 875mAH can be used for 2 hours and 30 mins once it's fully charged. Though, if you compare it with the Osmo Mobile 2, you might not be that happy as it comes with 15 hours of battery backup. But, also keep in mind that it has an inbuilt camera that brings down the battery backup drastically.
Easy to Use: It comes with a quick connection, and that makes its use very easy. It also has a universal port that allows you to connect with any smartphone (iOS & Android). It also has a fanless cooling system that again is an advanced feature to bolster its capability. It only has two buttons, very simple interface; one is for power, and another one is for mode button.
DJI Osmo Pocket Cons
Though it has a lot of features that make it unique but still there are a couple of things that bring down the user experience. So, below are some of the aspects of a gimbal that can be improved.
When you are running and filming in fast motion, and focus is changing from one subject to another, then it becomes quite glitchy. Its autofocus is not that fast, and you might see some lag in it.
If you are a beginner, then it could be a bit pricey for you. On the top of that, you have to spend some extra bucks if you want some more accessories like waterproof case, selfie stick, and others.
Inbuilt Mic Quality of the gimbal is also not very impressive. If the gimbal is not facing you then more than your voice, it's going to capture the surrounding noise.
Small Screen is not great for touchscreen controls are not that smooth. The smaller screen becomes a problem in shot framing as well. The touch screen is also not responsive so you might to need to connect it with smartphone sometimes.
DJI Osmo Pocket Unboxing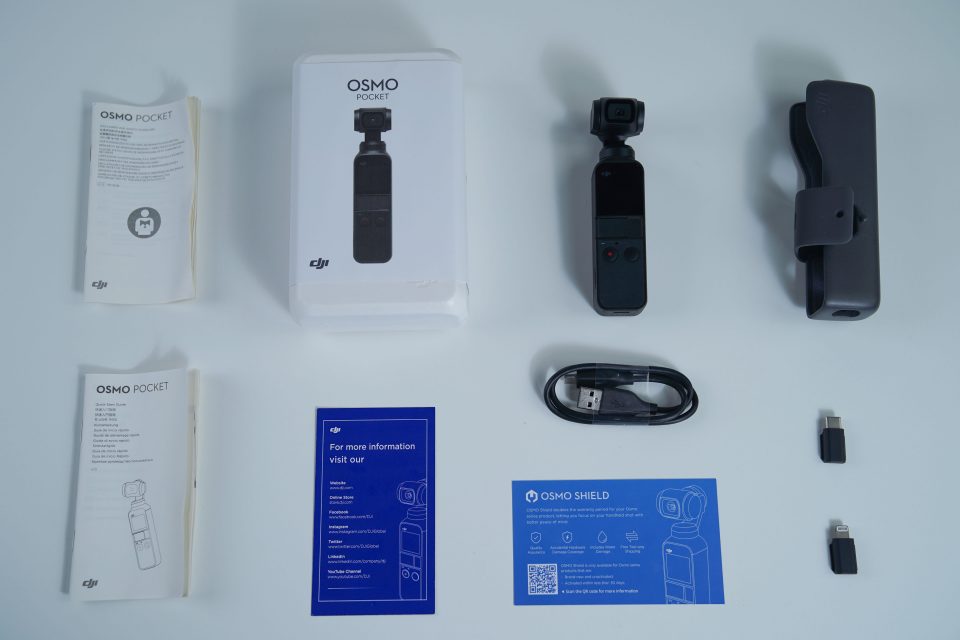 You receive a very small size box at the time of delivery. The box is even smaller than the size of your mobile. Once you open the box, you will receive some manual and paper documents in which you can read the instructions and all the safety regulations. Then, you will find connection cables and adapters. You also get type c connector for smartphone connection.
I would suggest going through all the instruction before you start using it outside. Below is the list of all the items you would be getting inside the DJI Osmo Blackmagic pocket.
Osmo Pocket gimbal ×1
Osmo Cover ×1
Mobile Adapter (USB-C) ×1
Mobile Adapter (Lightning) ×1
Lanyard ×1
Power Connection Cable ×1
DJI Osmo Pocket Different Intelligent Modes
In this section, we will talk about all the different intelligent modes that you will be getting with the Osmo Pocket. Some of these modes will take some time to master, but gradually you will learn them. If you are into filmmaking, then you have to careful in deciding which mode to use to take your filmmaking to a new level.
FPV Mode: If you love tilt and pan shot then this mode can be really helpful for you. For instance, you are riding a roller-coaster, and you want your gimbal to follow the movement smoothly then this mode allows you to have a buttery smooth movement following your motion. As I said, it will take some time to master this shot but, this certainly brings in the new possibility of filmmaking by adding some dynamics to it.
Night Mode: When you are capturing the shot in low light then Night Mode is going to help you. It helps you in capturing the minute details that add more information. I watched some night time youtube footage, and I was shocked by its amazing quality. It performs exceptionally well in low light condition and gives you high-quality footage.
Story Mode: We all know whatever content we shoot, if we never publish it, it's going to be of no use. But to publish the content, we need some post-production as well, and that needs editing. So, if you are not into editing, then you don't need to worry. The story mode of the Mimo App helps you in creating story automatically with the help of your video and pictures. You have to install the DJI Mimo app which is specially built for DJI Osmo pocket that will help you in making the one-minute perfect story. It will automatically add cool music and soundtrack on the background depending on the shot to create a perfect video. You can also share it on social media directly through the app instantly.
ActiveTrack and FaceTrack: Nobody ever thought that this small gimbal camera would ever be capable of Active and Face Track. It is helpful when something is in motion, and you want a camera, not to let it go out of frame no matter where it moves. This intelligent mode enables the camera to keep track of subject once you lock it in the frame. The subject or face that you want to lock, you have to click it on the screen then a green square will come, means the subject is locked. Now, wherever the subject moves, the camera will simply follow it. It is really helpful when you are making a selfie video and moving around, or you are capturing a moving subject. Just play with it, and gradually you will become master of it.
Timelapse and Motionlaspe Mode: These are some of the most common modes used by content creators nowadays. Because these modes add completely new perspective by showing the passage of time. These modes are simple to use; you just switch on the camera select the mode and rest will be taken care by Osmo.
When you are shooting motion lapse, you have to select some points in the frame like A, B, C & D. And camera will follow all of them to create a perfect time-lapse with motion.
Make sure these modes are only used when there is a motion in the frame, like moving cars, clouds, any movement. Change the shutter speed at your disposal to add some more dynamics to it.
Panorama Mode: This mode is very popular in photography. It adds more detail to a picture and makes it more beautiful. Osmo Pocket capture a 3*3 panorama through 180-degree movement. It clicks multiple pictures and merges them to make one.

Accessories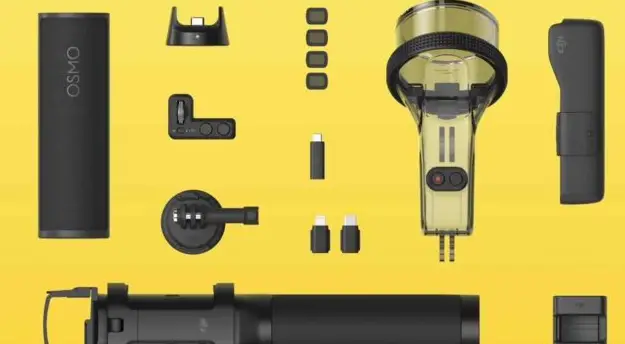 DJI Osmo comes with dozens of accessories that you can buy separately to add more creativity to your content. Some of them could be highly useful. So, let's talk about all of them one by one.
Charging Case: If you want a portable charger and a cover at the same time then Charging Case could be a good fit for you. It also has space for four ND filters, SD Cards, and smartphone connector as well. I would recommend this accessory because it could be really helpful when you are going for a full day outing, and you need to charge your gimbal again.
Extension Rod: If you are a selfie fan and want to capture some group selfies with your friend while you are pouting in between then extension rod should be considered by you. It has operation buttons which will help you in controlling the Osmo mounted on top of it.
Wireless Module: Osmo Pocket doesn't have inbuilt wifi or Bluetooth. If you want these features then you can buy the wireless module as well it allows you to transfer the data without using cables. This is not highly recommended, but you can buy if money is not a concern for you.
Accessory Mount: If you want to use some sports camera then it could be really helpful as it is compatible with a lot of GoPro camera and give you more options to experiment with.
ND Filter Set: If you are a filmmaker then only you will understand the need of ND Filter. They help your pictures not getting under or overexposed.
Waterproof Case: This is the must-have accessory for you. To capture some cool underwater shots, you need to buy this case. It makes your Osmo pocket completely waterproof, and you can use it up to the depth of 60metres.
Controller Wheel: I don't know whether it's recommended for you or not. Its requirement varies from person to person. A lot of people are happy with its small screen and don't feel any problem with it. While there are others, who find touch screen bit laggy and don't feel they have good control over it. So, if you want good control over your screen options then probably you can give it a try.
External Mic Adapter: If you want to use Rode Mic or any other mic for good quality input then external mic adapter is required. It will allow compatibility with 3.5mm mics.
DJI Osmo Pocket vs GoPro Hero 7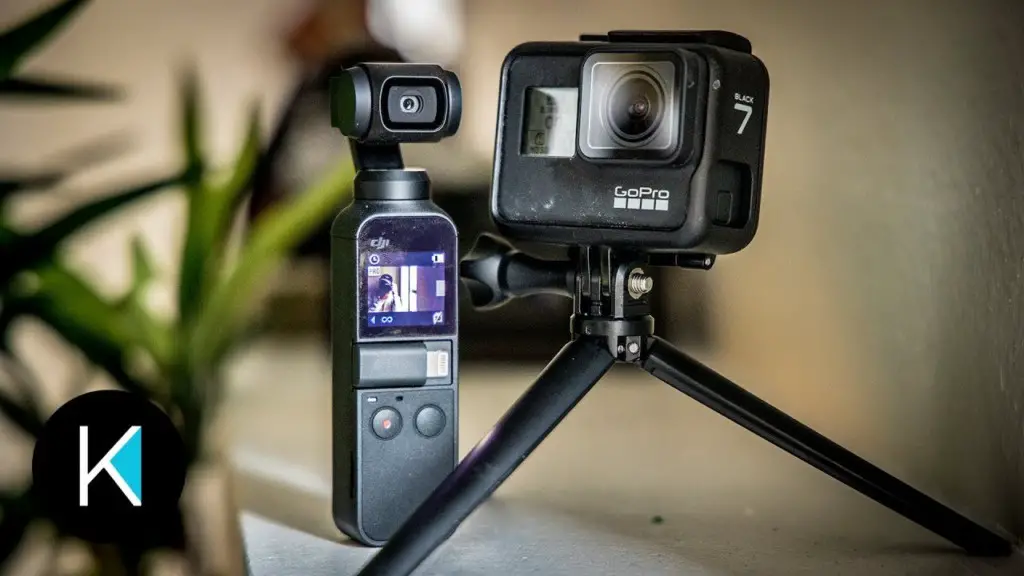 This is one of the most asked questions after the launch of Osmo Pocket. People found it confusing to choose the one. Which one is better? If you are among those confused people then don't worry, this section is for you only. We'll discuss all the important aspects of both the devices and then you decide which one suits you the best.
Manual & Electronic Stabilization: DJI Osmo Pocket has manual stabilization while GoPro 7 boasts about its electronic stabilization. We all know that motorized stabilization is far better than the electronic one. Apart from seeing the difference in shakiness, you will also see a minute frame distortion as Gopro with the help of gyro sensor crops the image to make it look more stable.
Though in daylight condition, you won't see a huge difference, but at the night time, you might see a significant difference in both device's stabilization. So, when it comes to image stabilization, hands down, Osmo Pocket is the winner.
Video & Audio Quality: The GoPro comes with infinite focus while Osmo has autofocus that helps you in capturing the perfect bokeh. Gopro is the perfect device when you are capturing the landscape beauty. Its wide angle shot helps you in bring in the more information. In Osmo pocket, you get autofocus which is also not very smooth at times. When it comes to sound quality, there is not much difference in both. If it's windy, then Osmo captures a lot of surrounding noise while GoPro might seem a little bit better in this condition. I think you are serious about capturing a good quality media then external mic is required no matter whether you are using GoPro or Osmo Pocket.
Build Quality: GoPro seems sturdier than Osmo. GoPro is no doubt one of the best adventure camera, it can easily survive the minor crashes. But, I don't know what will happen if Osmo pocket falls. GoPro is also waterproof while for Osmo, you have to buy a separate case. Osmo pocket's gimbal is made up of metal however the remaining body is of plastic only. Again, I would say GoPro is the winner as it is sturdier than the kind of fragile Osmo.
Ease of Use: When it comes to ease of use. They both are very easy to use and have simple User Interface. Though, GoPro interface is more responsive than the Osmo. You can easily do the navigation. But, when it comes to customization, you can change the shutter speed & ISO in, but in Osmo, you need to connect it with the smartphone.
Osmo's all features are only accessible when you connect it with some smartphone.
Osmo Pocket vs. Osmo Mobile 2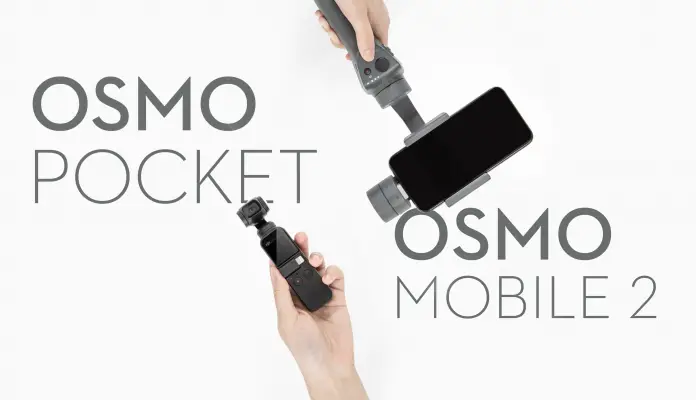 A lot of people were also having confusion about Osmo Mobile 2 and Osmo Pocket. Both the devices came into the market, this year only. One is having an inbuilt camera while for other, you have to use a smartphone. Both are different in sizes as well. While Osmo pocket is so tiny that it fits in your palm however you need a separate bag for Osmo Mobile 2.
Let's talk about gimbal stabilization first. They both come with three axis stabilization that allows the smooth footage. Osmo pocket has the smallest gimbal in the world. There is no difference in gimbal stabilization as they both are from the same company and have three axis mechanism.
When it comes to ease of use then I will say that Osmo Pocket is the winner; you just switch it on, and you are good to go. While the case is a bit different from Osmo Mobile 2, you have to stabilize it first manually; this presetting is very crucial in deciding the smooth footage. Then it is also not compatible with all the smartphones, especially the thick ones; they don't fit properly.
Portability is the main forte of Osmo Pocket. You just put in your pocket and carry it anywhere. It weighs around 116grams, a quarter of Osmo mobile. But if we compare the battery life, then Osmo Mobile 2 is the winner as it comes with 15 hours of long-lasting battery life while Osmo pocket lasts up to two and a half hour.
DJI Mimo app
This app is specially made for DJI Osmo pocket user. It helps you in taking your creativity to the next level. Its powerful editor automatically creates a one-minute quick story for you that you can directly share on social media through the app.
Media importing also becomes very simple with the app. The app has something for everyone whether you are a beginner or professional. The app is easy to use and have very simple navigation. You can do a lot of customization as well by adding some presets like filters, music, sticker, and templates. For more information, you can visit the DJI Mimo official website.
Conclusion
The DJI Osmo Pocket is the revolution in the gimbal camera industry. It is tiny in size but huge in possibilities. If you want to create some epic content and don't want to use bulky camera gear, then this device is highly recommended. It could be a bit costly for beginners but worth every single penny of investment.

Watch the Video till End
Read More:
Top 10 Trending Drones