Small Drones are very popular among drone enthusiasts and kids nowadays. There are many companies around the world which are entirely devoted to mini-drones only. In this article, we will talk about Eachine E56 which is a very popular beginner drone by Eachine Company.
Though these drones are not capable of a lot of things but still when it comes to fun quadcopters which are meant for the recreational purpose; no big drone can replace them. These small compact drones are easy to transport that make them a perfect backpacker drone as well. They are so small in size that they can fit in your palm very easily. You can know more about All Eachine Drones 2019 over here.
Today, in this article, we will talk about Eachine E56 which is also an excellent selfie drone. You never want a huge, bulky UAV to be used as a selfie drone that's why these mini quads come into the picture. People have been asking a lot of questions regarding E56 that includes, how to use the app, battery, what is a range, replacement parts, manual instructions and much more. We'll try to cover all the essential aspects of it that you should be aware of.
I think that at this price range, Eachine E56 is a powerful selfie drone camera. You can record video up to 720P. You also get a gravity sensor with the UAV that takes the whole experience to the new level. If you never flew the drone with a gravity sensor, I am sure you are going to love it because here, the drone movement syncs with your smartphone movement.
Most of these toy drones come with a conventional transmitter, but here you would be getting a unique kind of accelerometer. The drone can be controlled accordingly with the tilt of the controller.
When you want to move your forward, you can tilt the controller forward and vise-versa for backward movement. A single stick controls throttle & Yaw in the quadcopter.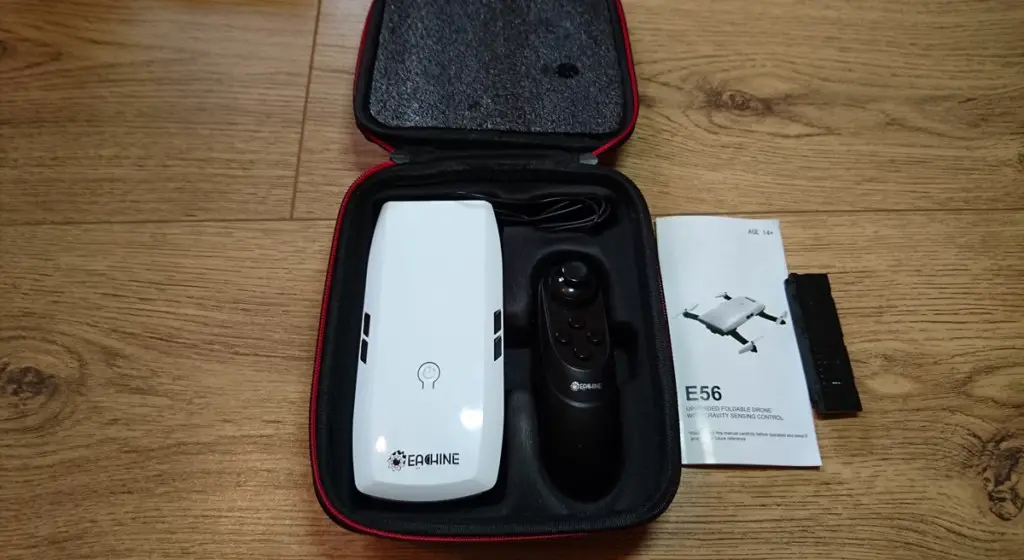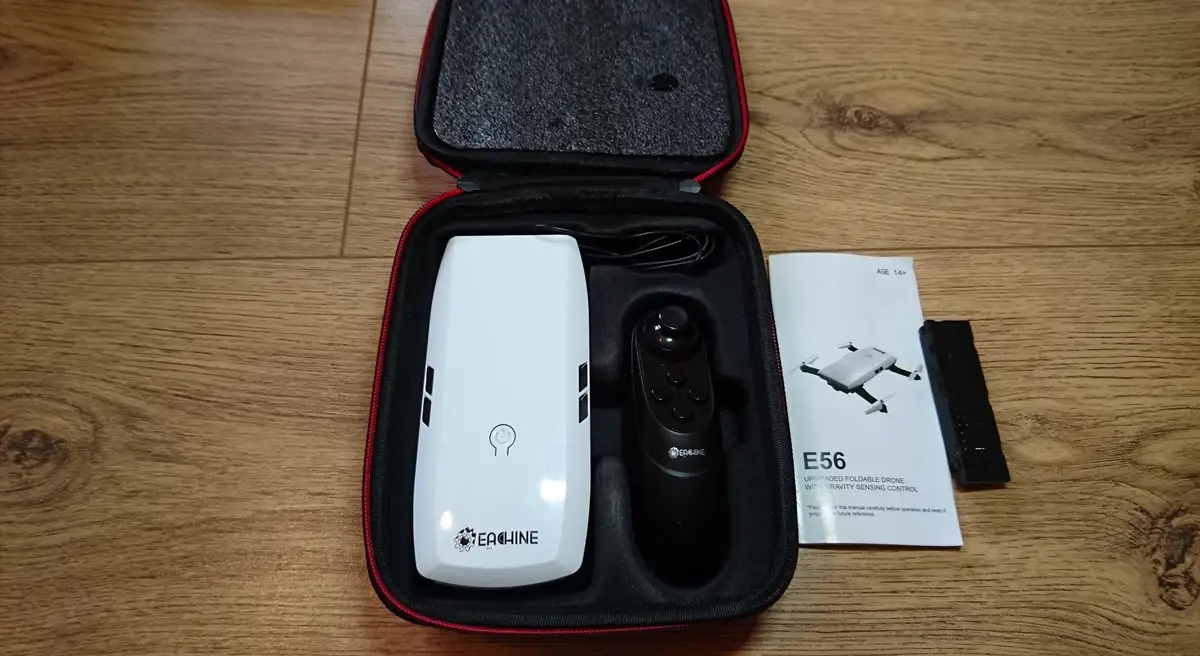 Its unique controlled has received mixed review online. There are people who loved this feature while others fight it to be a bit tricky. If you don't want to use the controller, you can go with the smartphone app control; there you will have emulator controller sticks. Below are some of the items that you would be getting with the product.
E56 Mini RC Quadcopter
Remote Controller
USB Charger
4 Props
User Manual
Protective Case
Eachine E56 720P RC Quadcopter Review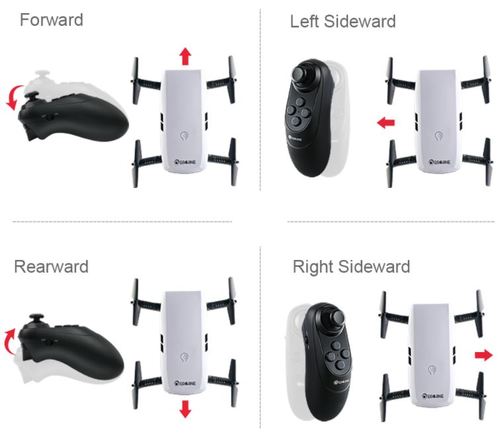 In this section, we will talk about the different aspect of the Eachine drone that you should be aware of. You can go through all the below important points and decide whether drone matches your requirement or not.
1- FPV & Camera Quality:
You also get the first-person view with the drone which gives you a completely different point of view. Apart from seeing the drone from your real eyes, you also see the view from the drone's eyes that gives you better control and handling. Though don't expect image and video quality to be very high end but still, it will suffice the beginner's need. It also doesn't have the wide angle camera which again could be a downside. But, what I love that camera angle can be adjusted accordingly up to 90 degrees. You can also take the top down photos, and that will add a unique bird's eye perspective to the image composition. Though, company brands the drone as a selfie drone but don't expect the pictures to be very high quality because it doesn't have the gimbal so you will see some shake and jitter obviously.
To use all of its features, you need to install the app which is supported in iOS and Android as well. Eachine Fly App is free and has straightforward navigation. You will learn all the controls within an hour.
2- Build Quality:
It has compact design as its props can be folded and that gives you a perfect small size. You can also call this drone the sibling of E57. If we talk about the drone dimensions are 5.7*2.6*1.25. But, once the blades are open, the dimensions will be a bit longer 7*7*1.25. If you want smaller drone, you can take a look at the E57 version as well. But overall, I would say that it has decent build quality in comparison to other beginner's drone.
3- Remote Controller:
It is a unique thing about this drone. Instead of having a conventional controller, here you will have a gravity sensor controller that you can use with one hand only. To get the perfect controlling, you need to practice a bit then gradually you will get a hold of it. Here, the movement of the controller decides the drone movement. When you tilt, the controller left and right, the quadcopter will also fly accordingly. The same goes with the forward and backward flight. When you are flying it in headless mode, it would be easier without that mode; things might be a bit tricky. Keep in mind, that gravity controllers are more responsive than the conventional controller, so go slow at the starting, and once you get used of the drone handling, then you can increase the speed.
4- Battery Backup:
This doesn't come with an inbuilt battery. The battery of the E56 can be easily replaced. You can simply pull the lock and take the battery out. I would recommend having some spare batteries so that you can get some consecutive flights without the need of putting it on charge for hours. The battery takes around one to one and a half hour to get fully charged and then you can fly it up to 7 mins. When it comes to battery charging, you don't have to take the battery out. You can simply charge it with the help of a USB Charger. There are a few things that you have to keep in mind if you want longer life your battery. Don't overcharge it. In case, you are using the different charger, make sure you have the charger with the same ampere and voltage range.
5- Advanced Features:
There are a lot of advanced features in the drone that makes the drone one of the best beginner drone. I would say that Eachine delivers its best when it comes to affordable high-end drones. So, below are some of those features, let's dive into them one by one.
Altitude Hold: This feature gives you better stability as the drone stays the same place once you leave the control. This is an excellent feature because when you are taking a selfie, this mode is going to help you to have pictures free from any kind of shake.
One Key Return: Many times, you will face the situation when a drone goes out of your control, and you don't know what to do. Especially, when using the unique gravity controller, you will see that the quadcopter controlling is not that smooth and you feel like putting it in a crash situation. At that point, you can use the One Key Return Function, and it will come back to you.
3D Flips & Rolls: It also has some fun part in it. With the click of the button, it can do the 3D flips, and you can showcase these cool stunts in front of your friend. I believe that they are inevitably going to love this. Make sure, when you are performing those stunts, the drone is at a suitable height. Otherwise, you will end up hitting it on the floor.
IMP Information: Switch On the drone first then turn on the controller. Once both are connected, then make sure, you keep the drone horizontal and then push the joystick. Once, the drone is ready to take flight; the lights will stop flashing. In case, the drone is going out of control in that case; you can push the emergency button, it will reach come back to you. Make sure, that you do the drone calibration prior to the drone to have a smooth and stable flight.
Technical Specifications
| Drone | Specifications |
| --- | --- |
| Gyro | 6 Axis |
| Product battery | 3.7V 500mAh Lipo |
| Charging time | 70mins |
| Flying time | 7mins |
| Video Resolution | 720P |
| Propulsion | brushed motors |
| Material | ABS |
| Product size | 17.8*18*3.2 cm |
| Channel | 4CH |
| Frequency | 2.4G |

E56 Pros & Cons
In this section, we will talk about the Pros and Cons of the quadcopter. This brief will give you an idea about the drone. You can see both the positives and negatives of the drone and then can decide whether it matches your requirement or not.
E56 Pros
It comes with carrying case with a zipper that makes it easy to carry. The foldable arms make it more compact.
The drone is easy to use & you can also control it with the help of the Smartphone App.
Gravity Sensor is a unique feature which will give you a completely different perspective about the flying experience.
E56 Cons
You won't have any selfie flight mode with the drone. Everything you have to take care manually, that could be a bit hectic for beginners.
You can adjust the camera angle through the app.
You might see the WIFI Connection loss problem once in a while.
Conclusion
If you are looking for a beginner drone, it might suit your requirement. Though, if you are entirely novice to drones, it could be quite tricky to operate at the starting. No doubt, there are better drones than this in the market, but for that, you have to go a little higher in terms of cost.
This drone is highly affordable, and you can have an enjoyable time with it. The drone has a 720P Camera, foldable design, and a unique gravity sensor controller. No doubt, it has features that will undoubtedly amaze. I would say that if you are looking for best drones under $100 with some unique and cool mode, this one could be a perfect fit for you.
Trending Drones
DJi Flame Wheel F550 Hexacopter Review
Drone Fishing Setup & Release Mechanism
Hobbytiger H301s Ranger Drone Review
Eufy Security wi-fi Video Doorbell Review
Blade Chroma vs Yuneec Q500 4k