Meet this mini tech, which comes with an impeccable list of features and a price range which you will love. It packs everything that a good drone should have.
Shutter speed, camera quality, built-in performance, and core aesthetics ensure the differentiation of this fantastic product.
So are you looking for a good drone that can cost you not that much but can yield you a compelling choice? Well, DJI Mavic Mini is right here for you.
If you are willing to throw in your bag and pack out for an adventure that can be captured on your Instagram pages, then this is the perfect companion for your trip. 
Check the Best Price on Amazon
Technical Specifications of DJI Mavic Mini:
Here are the technical requirements of this amazing drone.
The take-off weight is about 249g.

It comes with a folded dimension of around 140x82x57. For the unfolded version, the length is around 160x202x55 mm.

The diagonal distance is 213mm.

Max Ascent Speed is about 4 m/s (S Mode). 2 m/s(P mode) and 1.5 m/s(C mode).

Max Descent Speed is about 3m/s(S mode). 1.8 m/s(P mode) and 1 m/s(C mode).

Max's service ceiling above sea level is 300m.

Max flight time is about 30 minutes, which can be measured flying at 14 mph in windless conditions.

The max tilt angle is about 30.

It comes with an operating temperature range, which is 0 to 40C.

GNSS is GPS+GLONASS.

Hovering Accuracy Range is about Vertical +0.1 m with vision positioning.

Stabilization can be about 3-axis (tilt, roll, and pan).

The angular vibration range is about 0.01.

The Camera sensor is about ½ CMOS.

The active pixel range is 12 MP.
Diving into the Review and Features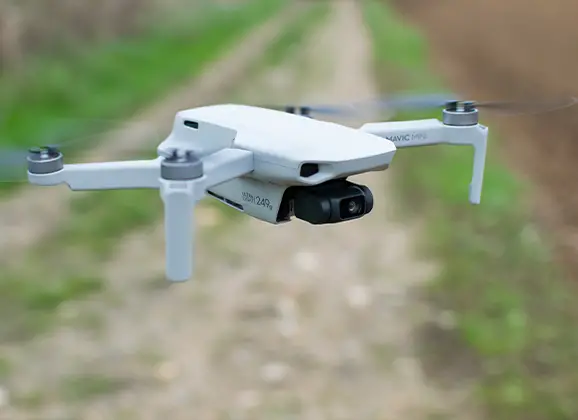 Let us come to the central part. Here is the central DJI Mavic Mini-Review.
Design
Mavic Mini is the perfect name for the DJI new and latest drone in the market. Just like its siblings, this is because it is completely collapsible and can transform into a couple of springe maneuvers.
This fantastic product is natural to look through, as well.
The design is exceptionally sleek, along with the performance that it packs with itself.
There are a pair of eyes at the front, and then there is a nuzzled and flat angled top side, which is for future performance.
On the front of the Mavic Mini, the three-axis styled and stabilized camera is good to capture the images upfront.
Color
The color is soothing to the eyes, especially if you look for a subtle tone.
Comes in gray or dark gray, it sets off a soothing vibe to be used. So this fantastic pair is suitable and gets a massive tick concerning the colors/tone of this item.
Charging
The back is for the micro SD card, and there is a USB charging port as well.
With the help of the port, you can charge your device for about a maximum of 6 hours to get it on full charge mode.
This new DJI Mavic Mini-Review is especially for those people who like to swap their various storage options.
The SD card slot is tucked under the battery, which is present for this amazing mini drone, and the design makes it convenient for perfect usage. 
The Mavic controller
Coming to the central part of this drone, here is a slight peak into the controller of this fantastic gadget.
The controller is fine, but this DJI Mavic Mini does not include a screen where you can see what is happening.
Instead of having a screen, it unfolds perfectly well so that you can put your Android or even your IOS device, according to your own choice.
There are tucked away into the body is the screw for the joysticks so that when it collapses, the controller will have a flat profile.
It will feel like a traditional drone, but at the same time, it comes with such advanced features that it can be entirely usable.
The left side of the controller has a USB charging port, which can be connected with other devices if you want.
This drone ships using other USB cables like the micro USB, USB C cables, and other accessories if you wish.
DJI Fly App
DJI company has an app to their name, which they help and use for collecting user-rich experience and satisfaction from a level of customers.
So with the aid of this app, you can get through the videos and then learn how to fly this drone.
There are tutorials through which beginners can learn about this app's advanced tech and mechanisms.
It becomes more comfortable for them and a compelling choice, which is a lot better.
Incredible Shutter Speed with the Camera
The main thing about the DJI Mavic Mini is its camera to the users. This DJI Mavic Mini can shoot about 2.7K video at about 30fps or a 1080p video at about 60fps.
The camera and the built-in performance are worth a try from your end. With the help of the ½.3 inch sensor, there can be 12mp capture of the image quality and built.
Across many ranges and modules, including the various positions for the high-speed flight and other CineSmooth experience, DJI Mavic Mini comes with a commendable camera on every basis.
Pros
A foldable mini drone that can fit right on your hand.

It comes with specular footage that captures about 4K in size and resolution of images.

12mp of camera that can achieve at high speed and flight.

The range of this item is quite low compared to the others.
Cons
The lightweight of this mini drone is not suitable for windy situations. So it is advised not to take it out then. Otherwise, this mini drone has nothing as a negative listed factor.
Check the Best Price on Amazon
Video Review
Final Verdict
So the DJI Mavic Mini is an amazing, portable, and perfect size drone, which can be used for quite some usages. 
If you want, you can take a quick test flight to understand the speed and the built-in camera quality of this excellent set.
If you are a video blogger and often travel, it is your perfect companion to take out.
Check the Best Price on Amazon
FAQ:
How can I use this DJI Mavic Mini?
With the help of the DJI Fly app, you can log in and then check out the tutorials, which show how you can use this amazing drone for yourself. It is not that hard to learn, even if you are a beginner.
Is the DJI Mavic Mini-Review suitable for beginners?
While the DJI Mavic Mini is super compact, lightweight, and foldable, they can take impressive shots as you wish. So surely, it is perfect for a beginner.
How long does it take to fly?
The max ascent speed is 4 m/s (S Mode). 2 m/s (P mode) and 1.5 m/s(C mode). So, it will take around a few minutes for the beginner, and only just two or three for the advanced to fly this.
Does this DJI Mavic Mini support the SD card?
Yes, the DJI Mavic Mini has a slot for Micro or Macro SD cards.
Do I need to check out the latest rules before flying my drone?
According to the new laws and rules passed, you have to check your country's rules and regulations before you fly your drone, or else it will cease. But sometimes, the rules change over time, so it is good to keep a lookout.