You probably might not have heard the name of this company before. But, let me tell you that they make some pretty excellent products and this is one of them. Today, we'll talk about Hobbytiger H301s Ranger Drone which is one of the best drones under $150 range. If you are a drone enthusiast and looking forward to buying your first quad, this could be the drone that you must consider in your buying list.
This is easy to use beginner drone comes with some advanced features. Its black color solid body with different LED lights make it look like a high-end drone. It has all the essential features that a beginner wants in his first drone, which includes altitude hold, RTH, follow me, and more. We'll discuss in detail in the below section.
Flight performance is excellent, and it can also do a pretty good job in low wind condition, which makes it suitable for outdoor flying. In the below sections, we'll talk about different important aspects of the drone that you should be aware of before buying. So, it is recommended to read the article, thoroughly so that you don't miss any critical point.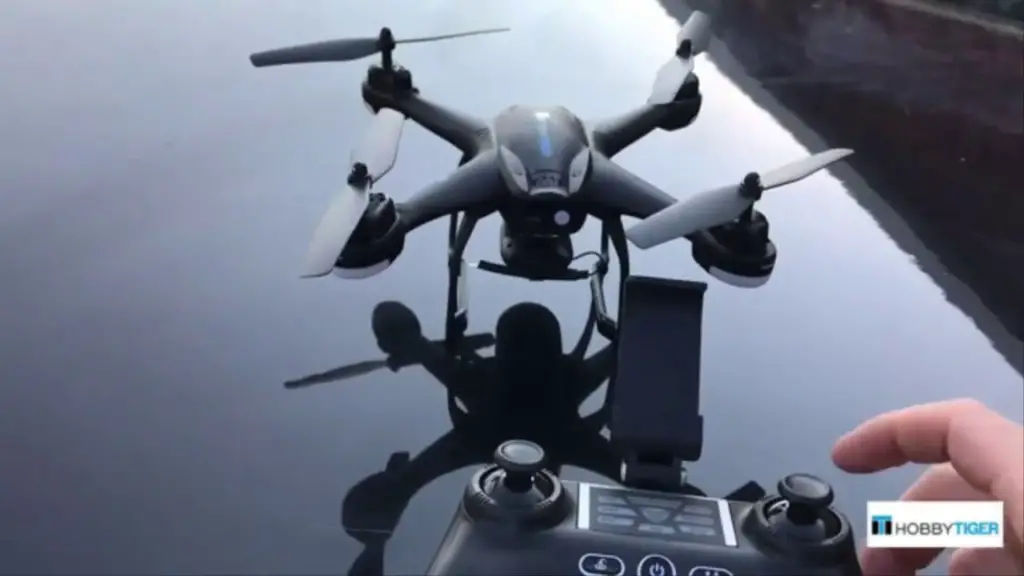 Below is the list of items that you would be getting with the hobbytiger h301s package.
H301S Range Drone
Battery
Transmitter
User Manual
USB Charging Cable
4G TF Card
Card Reader
Spare Propellers
Prop Guards
Extra Landing Gears
Blade Caps
Tools
Technical Specifications
| Hobbytiger H301s | Specifications |
| --- | --- |
| Dimensions | 12.6 x 12.6 x 4.7 inches |
| Weight | 5.8 ounces |
| FOV | 120Degree |
| Camera | 720P HD |
| SD Card | 4GB |
| Battery | 1000mAhLiPo |
| Distance | 180m |
| RTH | Yes |
| Age Recommendation | 14+ |

Review
In this section, we'll talk about some of the essential aspects of the hobbytiger quadcopter that you must know before buying. I would recommend reading all the points carefully so that you don't miss any important elements and you have proper clarity about the product before you make the purchase.
Advanced Features
The drone is beginner friendly and comes with some great features which make flying very convenient. Below are some of those features.
FPV (First Person View): It gives you glitch-free first-person view transmission that allows you to see what drone sees. The video that you see very sharp, but you might see some lag once in a while if fly beyond the certain range. You'll also learn how to compose and frame aerial shots.
Smart Return to Home (RTH): This mode is very helpful during an emergency when you lose the connection or some other technical glitch. You can press the RTH button, and the quad will return from where it started.
Follow Me Mode: This mode adds a cinematic look to your video and allows the quad to follow the moving subject. When you are using this mode, make sure that the drone has already locked the focus on the subject, and the subject is not moving at very high speed.
Headless Mode: If you are a beginner, then you might get confused with the drone orientation at the starting. You should keep in mind where the nose is facing. But, with headless mode, you don't have to worry about its orientation, the controlling will remain the same.
Altitude Hold: It also has very good altitude hold as well. You simply leave the throttle, and the quad will stay at the same position. In this mode, you can click some good pictures free from jitter. The altitude hold will not be very accurate in a windy situation.
Hobbytiger h301s parts
Parts of the drone are easily available online. You already get the spare propellers and blade guards with the package. But, in case you have a crash, and you want to buy replacement parts like batteries and motor, you can buy it from Amazon or their official website.
Hobbytiger h301s manual
It's highly recommended to read the manual thoroughly before you start flying the drone. Even though you have flown the drone before, it is recommended to skim through the manual. Because every drone is different. You should read about the controller commands, different parts, modes, and other important aspects. So that when you fly the drone, you know what will happen if you press this button.
Camera Quality
The quadcopter comes with 720P HD camera with 120degree field of view. It will help you capture some pretty good video and pictures. It comes with 4GB SD Card, which fits into drone where all the media is stored. It's better to go for 16GB or 32GB option that will give you more space.
Battery Specs
It comes with 1000mAh Li-Po battery which gives you decent flight duration, and you can fly the drone up to 180m. Make sure you charge the battery with the charger that you get with the package. In case you are using some different charging module, cross-check whether it's having the same ampere voltage reading or not. Also keep the battery in a dry place, away from humidity and hot temperature for longer life.
Build Quality
The good quality plastic material used in its build. ABS Plastic makes it durable, and it can easily survive the minor crashes. With the package, you get all the required parts like prop guards, controller, landing pads, Charger, and repair kit. You don't have to buy anything separately. The quad also looks very stylish and gives you the feel of a high-end drone.
Remote Controller
The controller also has a very good quality build, and it fits perfectly in your hand. All the essential buttons at your finger's reach, and you won't feel strain while using it. There are a lot of intelligent flight modes as well that allow the drone to take care of the most part by itself. Some users commented that it gives you the feel of a gaming pad.
Read More
Drones for Mapping & Wedding Photography

Watch the Video till End
Conclusion
It is an entry-level advanced drone suitable for both beginners and advanced users. It has a lot of intelligent features as well, which makes it very easy to use. Though drone has some cons as well but considering its positive side, it is worth the investment. Below are some important questions about the drone that you must give a read.

FAQs (Must Read)
Is this drone compatible with VR Glasses?
No, this drone is not VR Compatible. You only have this mobile FPV feature, which is not very immersive.
Where do i buy replacement parts?
You can check their official website.
Is the app supported to both Android and iOS?
Yes, it supports both.
What does the battery cost?
It will cost you around $20.
Do we have any better alternative of Hobbytiger H301S?
You can check this bit expensive drone but a lot better than Hobbytiger.
Trending Gadgets in 2021