The pocket drone is the new trend in the drone industry that we see since the last couple of years, and it is expected to grow with the same rate in upcoming years as well. Though, these drones look very small but very capable enough when it comes to the features.
What i really love about these drones, is their small size. Most of the foldable ones can easily fit in your pocket, and you can easily carry it around from one place to another.
A lot of people are asking about what is a pocket drone. Are all of them foldable? So, let me tell you, these drones may or may not be foldable depending upon which model that you are buying. Though there is a false misconception among people that smaller drones are not good with the camera, but that's completely different, some of them are loaded with excellent camera quality.
You can use them for various application like photography and videography. These drones are very suitable if you are a beginner and looking forward to buying your first drone as they are easy to fly and not too prone to crashes like bigger ones. For a few of the models, you have to go for FAA registration while for others; you don't need to worry.
As most of these drones are small in size, you have to keep in mind that you are not flying in windy conditions as you will have a hard time with stability. We'll cover various brands in this review; the price might vary drastically from $50 to $1000, so choose the one that suits your requirement.
Top 10 Pocket Drone with Camera
1- ZEROTECH Dobby Pocket Selfie Drone FPV Camera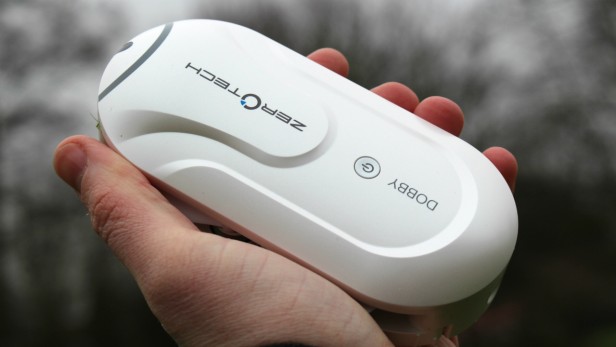 This is one of the best pocket drones that you can buy in 2019. It comes with a great camera and capable of capturing some high-quality videos and pictures. It has a 13MP Camera with 4k capability. You can use it with different devices like iPod, iPad, iPhone, or any other Android Phone. The drone is powered by Qualcomm processor and very popular because of its advanced selfie feature. You can connect the drone with the app and edit the images and videos through your smartphone. Below are some of the essential things that you should know about this mini pocket drone.
The drone comes with internal memory and saves an ample amount of data, including images and videos.
It also has electronic stabilization which makes your footage buttery smooth, and you don't see any jerks in the video.
Dobby's Automatic flight system is fantastic, which allows you to adjust according to the weather and lighting to give you the perfect shot.
It also has a lot of advanced features which make it one of its kind. It has a gravity control system, voice control, level 4 wind resistance and can fly up to 10mins.
It is a very affordable drone, recommended for beginners. But, Users are not really happy with its flight duration and range.

2- Holy Stone Foldable Selfie Drone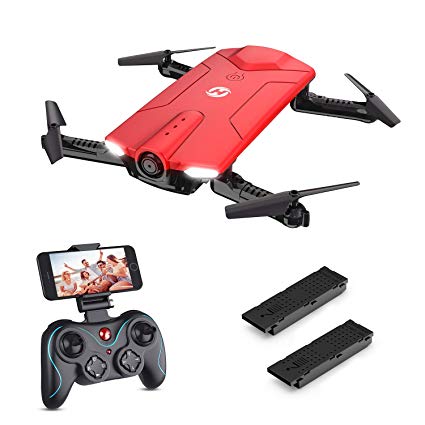 This is the second drone in our top 10 list. It also comes with 1080P Camera and capable of recording very good quality video as well. Its GPS flight assisted system is also pretty good, which gives you exact positioning during flight. It has 1080P 120degree field of view camera which can be adjusted up to 90degree angle. It also has follow me mode, which adds an entirely new perspective to your footage and makes it more cinematic. Below are some important aspects that you should be aware of.
The drone is very easy to fly and very affordable. Recommended for both beginners and advanced and you can have a really good time with it.
The drone has a range up to 100m, and flight duration is around 10mins. What i really love is its 3d flip function that adds fun to its flying experience.
Though it is not recommended to fly in windy conditions as it doesn't come with sensors and you'll have a hard time maintaining stability.
It also comes with a headless mode, which is helpful for beginners as you don't have to worry about its orientation during flight.

3- Potensic A20W FPV Mini Drone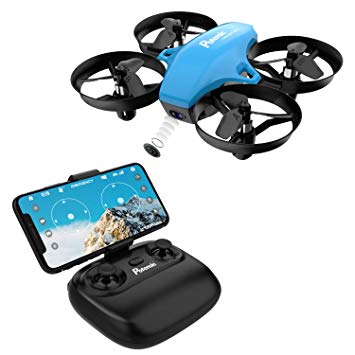 Potensic is also known for making some great quality products, A20W is one of them. It comes with an FPV camera that gives you real-time transmission, and you can see the things from the drone's perspective. It has three adjustable speed options that allow you to fly it at your disposal. If you are a beginner, start with slow speed, and gradually, you can easily move to higher speed once you are comfortable flying it. Though it doesn't come with a very high-quality camera, other features make it stand out. Below are some of the features that you must know before buying this mini pocket drone.
Flying this drone is a great experience. It has gravity control, and you can maneuver it by the movement of your mobile. Make sure when you are flying it the first time, you try it in open ground.
It comes with auto-landing and takes off the option that is very helpful for beginners again and reduces the possibility of a crash.
It also has some advanced modes like altitude, which allows the drone to be at one particular height, and it can hover at the position. You can use this feature by leaving your throttle.
This pocket drone is under $50, which makes it one of the most affordable in this category.

4- ANAFI Parrot Drone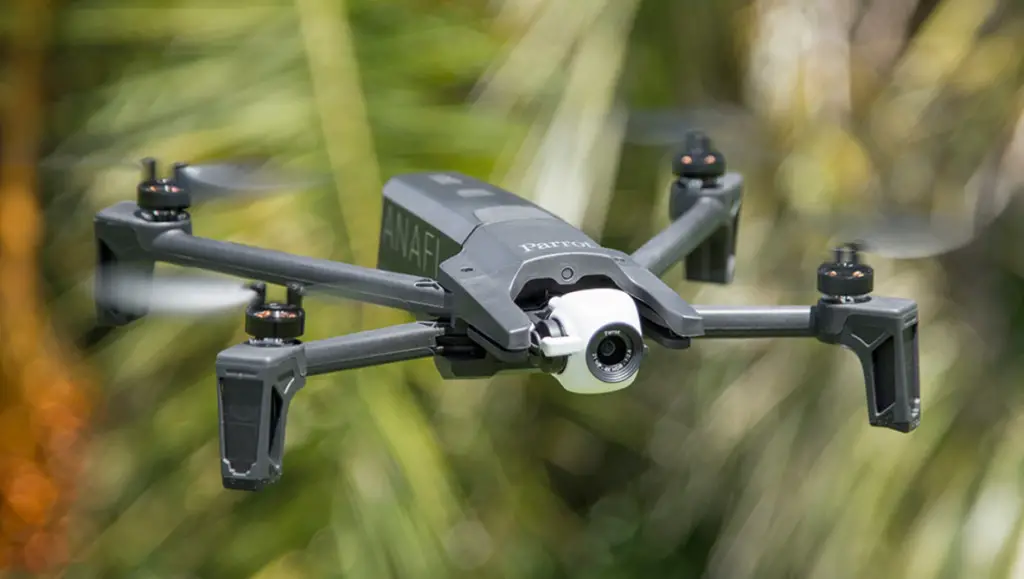 This is a high-end 4k drone recommended for professional users. It comes with HDR Camera with f/2.4 wide-angle lens and 2.8 times digital zoom. This is a bit costly drone but worth its investment. It comes with 25minutes of flight duration, which makes it stand out of the crowd. It is also pretty lightweight as well and weighs around 320grams only. It is very easy to use drone and unfolds only in 3seconds. Below are the main features of ANAFI Parrot Drone that you must read before buying.
It comes with a 21MP camera that allows you to capture everything in high definition. You can also create a very cinematic video with this quadcopter. Its super zoom helps you to focus without losing any detail.
The drone can fly upto 33mph and weighs around 11.03 Ounces. It has a unique feature that allows it to rotate the camera towards the sky.
There are also different video options that you can try. You can do Slow-motion, Hyperlapse, and other modes as well.
Anafi has everything that you need in an ideal drone, but its higher price could be a constraint for a lot of users.

5- Snaptain S5C WiFi Drone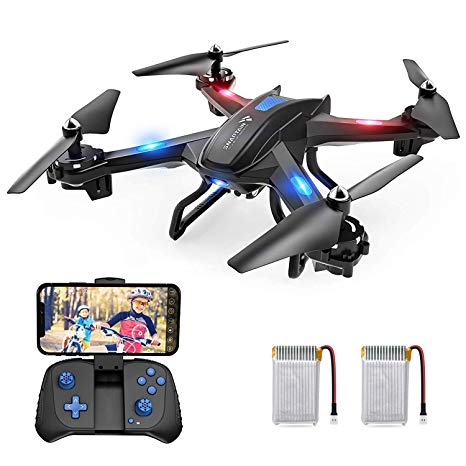 Snaptain is known for making some affordable drones. This is one of their most popular drone from Amazon. It comes with a wide angle camera which is capable of recording in 720P. Though, the Camera is not very high quality but decent enough if you are a beginner. It is very easy to fly a drone, and after a couple of flights, you can get used to it. You can also create a route in the app, and the drone will follow the path accurately. Below are some of the features of the drone that you should know.
It also has altitude hold, which allows the drone to be a fixed height without any problem.
You can also perform different tricks with the drone, which adds fun to its flying experience. It also has a smart voice control system, which is not very accurate but fun giving a try.
It has the excellent build quality and can easily survive the minor crashes. You don't have to worry too much when flying it.
It is pretty lightweight only weighs 127grams, including a battery that makes it very portable as well.

6- DJI Spark Pocket Drone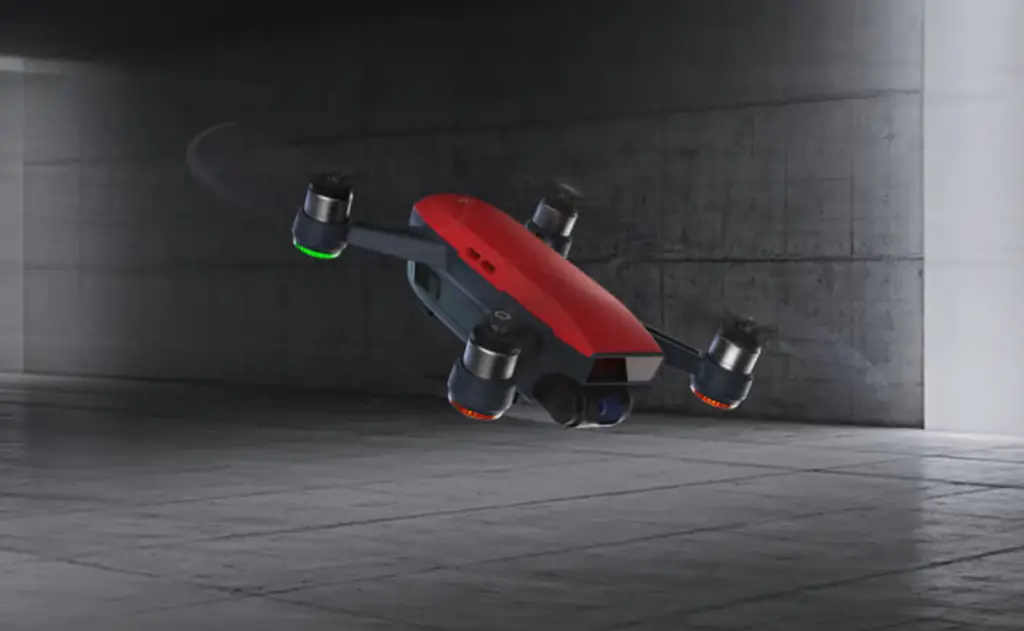 At the sixth place, comes the much-awaited DJI drone, which is known for its amazing flight performance. The kind of credibility that you get with DJI Products is hard to find with other brands. It is a lightweight drone with 16mins of flight performance and with the longest range up to 2km. If you are looking for a long-range drone, this could be the best option to for because no other drone that we mentioned above can fly that far. It also comes with 2axis gimbal stabilized Camera that gives you shake free video quality. Below are some essential technical aspects.
It comes with all the safety features that you need in a drone. Its intelligent modes make it hard to crash. For propeller safety, it has propeller guards as well.
It also has face recognition technology that allows you to launch the drone with face ware function, which adds a new dimension to your flying experience. On top of that, it also has gesture control as well.
A lot of drones come with follow me mode, but this one has a very accurate tracking system that doesn't let the object go from its frame.

7- Hover Camera Passport Self-Flying Drone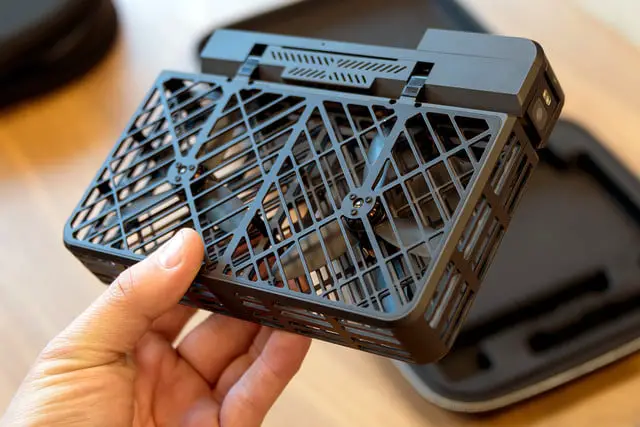 This pocket quadcopter comes in a unique design and also known as a passport camera.  Everything is covered in this drone, and you can fly it safely indoors without crashing. This flying machine is built especially for a selfie, and it is really good at it. It comes with auto-follow me mode that allows the drone to follow you wherever you go — whether you are surfing, running, cycling. It is always there to capture your moments. According to the company, its outer cage is designed with carbon fiber, which makes it hard to crash and really safe to fly.
Its face recognition technology and gesture control features are pretty accurate.
It can hover at 360degree angle to capture all the aspects.
It is one of the safest drones in the market. It folds into half and easily fits into your pocket. Its ability to recording in 4k & FHK gives it an edge over others.
It's a bit expensive but worth the investment considering its features.

8- GooIRC T47 FPV Pocket Drone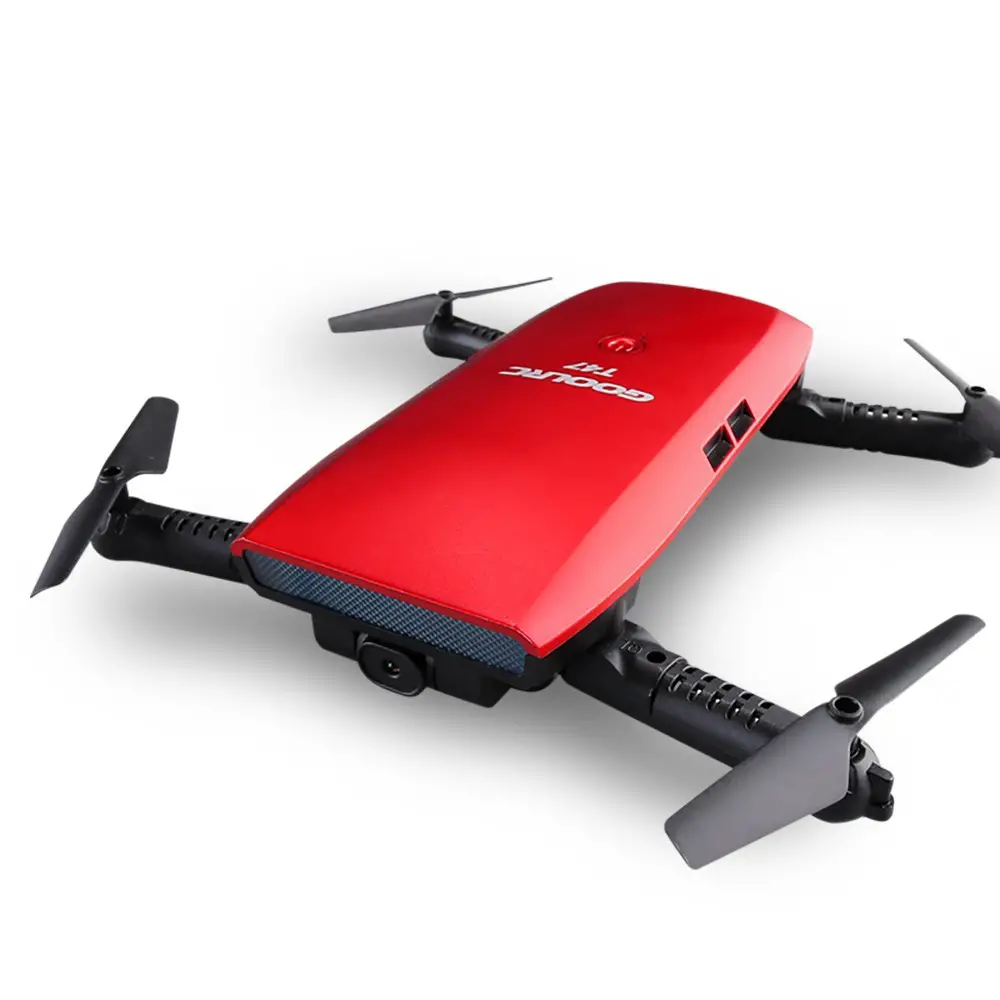 You might not have heard about this company before, but it's worth having a look at. If you are looking for a decent drone under $100 range, this could be the right fit for you.  It has a decent camera which allows it to record awesome videos. It has a six-axis gyro stabilization system, which gives it a very smooth flight performance. It can also do 3D rollover that adds to the flying experience. Below are some of the important features that you should know about this drone.
It has 7minutes of battery backup and range upto 100meter. It comes with two batteries, so you can easily replace it and go for a consecutive flight.
It has some advanced features like gravity control system, headless mode, multiple direction flight movement, and more.
It has good reviews online. But, still you are considering this for purchase, it will recommend you to read the user feed back and then only make the decision.

9- FQ777 FQ17W FPV Pocket Drone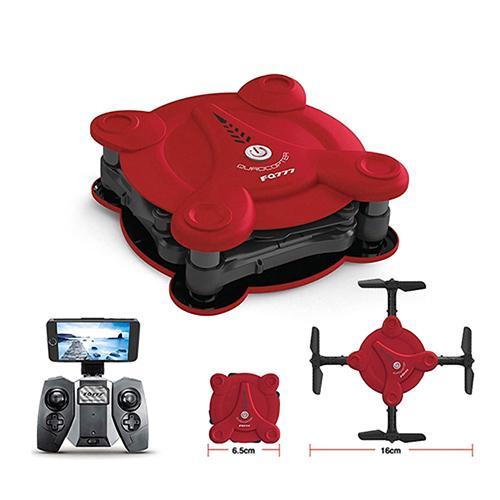 This is also a great pocket drone. It comes with 0.3MP cCamera and also has camera reverse function. The quadcopter has the good build quality and can easily withstand the minor crashes. Its Camera is able to record 720x576p resolution at 30 frame rates per second. It also has altitude hold that lets the drone keep hovering at one position without changing its height. If you are a beginner, it's auto take-off and landing feature also going to be helpful for you. Below is some vital aspect of FQ777 FQ17W FPV Pocket Drone.
The quadcopter is capable of doing 3D flips and rolls with a click of a single button which adds fun to the flying experience.
It has two-speed modes and three different adjustments that you can choose. If you are a beginner, it's recommended to go with the slow speed, and if you are an advanced user, you can fly it at a higher pace.
The drone comes with an LED light, which helps you to know the orientation, and you can also fly in low light condition.
Normal drone range is up to 80m, and FPV range is up to 30m. It has a 2.4GHz transmission with four channels.
You need to purchase the transmitter batteries separately. It is very tiny, dimensions are 2.6″ x1″ x2.6," and weight is around 1.6 ounces.

10- Hawk4K Folding Pocket Drone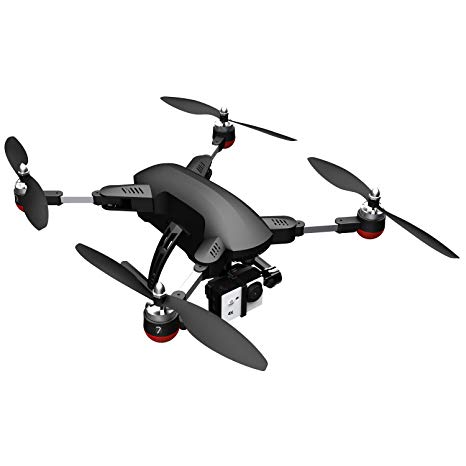 When it comes to camera capability and flight performance, it is one of the best pocket quadcopters, but we have kept it at 10th position because of its higher price. So, if budget is not your issue, you can certainly consider buying this quadcopter. It has a 3axis gimbal stabilization system and comes with a brushless motor which gives it more power, and it can fly at a higher speed. Below are some key features of this quadcopter.
It has 4k Camera which is capable of recording very high-quality footage to give you a very cinematic output. Below are some different frame rate variants.
4k at 15fps
2.7k at 30fps
1080P at 60fps
It is not very lightweight and weighs around 3.7pounds. The drone dimension is 13″ x8.3″ x5.5″.
It has some advanced features like follow me mode, altitude hold, auto landing, and takeoff, which is really helpful for beginners.

World's Smallest Drone | Watch till End
Conclusion
We have covered everything that you should know about these pocket drones. Each drone is unique in some sense. Some have HD Quality Camera while others are good for during flips and fun flying. The range varies from $50 to $500, so choose the one according to your budget. I would also recommend you to check the reviews online before making any decision.In case you have any question; you can let us know in the comments below, we'll try to respond as soon as possible till then.
Be Safe & Fly Safe.
FAQs (Must Read)
Are all pocket drones foldable?
Not all drones are foldable.
How long can a pocket drone fly for?
The flying duration can vary from 10mins to 30mins depending on which model you are going for.
Do pocket drones have 4k camera as well?
Yes, there are a few that we mentioned having 4k capability and suitable for aerial photography.
Can I take the battery out of a pocket drone?
Most of these drones come with detachable battery option.
Which is the best pocket drone to buy in 2019?
You can try this best selling pocket drone.
Trending Drones