This is one of the smallest drones of eachine that you can buy online. Even being so tiny, it comes with 2MP Camera, and you can also have a real-time transmission as well. Here, you get 720P HD transmission which allows you to see the things from drone's perspective. What I love about this drone that spare parts are easily available and you can easily replace them in case any parts get broken. Don't get confused with its small size; it is super fast so if you are a beginner, fly it carefully. Otherwise, you will end up crashing it. It doesn't have an FPV feature, but it is capable of recording videos. You can fly the drone either with the controller or by virtual control through the app.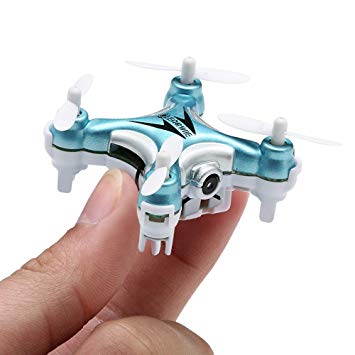 The connection will happen over here with wifi only. The app for the drone is supported by Android and iOS both. You can download it simply by scanning the QR Code. It also has a headless mode which gives you more freedom while flying it. This tiny bird also flaunts about its one key return feature that allows you to bring back the quadcopter once it is out of your sight. Below are some of the items that you would be getting with the package.
E10W Quadcopter (1)
Remote Controller (1)
USB charging cable (1)
Spare blades (4)
User Manual (1)
Eachine E10W Mini Review
In this section, we will discuss some of the important aspects of the drone that make it unique and why it is worth buying in 2019. So, let's dive into all of these features one by one.
LED Lights:
The drone also comes with LED lights that allow you to fly the drone in the low light conditions as well. Though a flying drone in the night is not that secure, it needs extra caution. But, you can certainly give it a try once you are an experienced flyer.
Six Axis Gyro & 4 Channel:
It comes with six-axis gyro stabilization that gives you stable and smooth flight. It also has four channel transmission as well which helps you to control the quadcopter in a better way. You can fly it in forward, backward, left, right, ascend, descend and other directions. It has eight frequency points which give other flyers option to fly in the same range without having a frequency clash.
3D Flips:
You can also do 3D flips with the drone which adds fun to it. Make sure when you are performing these stunts, you should have good experience of flying drone; otherwise, you will end crashing it on the very first flight. However, doing this flip is not that difficult, you will get it done with the click of a single button.
Build Quality:
The quadcopter is build of ABS high-quality plastic that makes it durable and the drone can bear the minor crashes very easily. It comes in a blue color, so you won't be having many options to choose from. The replacement parts of the quadcopter are easily available. So, in case any part of the drone gets broken, you can easily buy it online.
Battery Backup:
Here, with the drone, you will be getting 3.7V 150mAh battery. It takes around one hour to get fully charged and then you can fly the drone for 4-5mins. There are a few things that you have to keep in mind regarding battery safety. Don't overcharge the battery as a battery that you will be getting are not of very good quality. In case, you are using the different charger, use the one with the same ampere and voltage reading.
Easy App Navigation:
The Eachine App, you can easily download by scanning the QR Code. The app is supported by iOS and Android. What I really about this app that navigation is very simple. You can learn all the controls in minutes. Though, controlling the drone with the app won't be as smooth as controlling with the controller.
IMP***
There are a couple of things that you should know before taking off the drone. In case the drone loses controller in between, you can use the two function lever by pulling it down for 3 seconds. If It's not getting the lift then cross check whether the propeller connection is right or wrong.
Technical Specification
| ​ Eachine E10W Mini | Specifications |
| --- | --- |
| Frequency | 2.4G |
| Channel | 4 Channel |
| Quadcopter size | 32*32*22mm |
| Flight distance | About 15-30M |
| Charging Time | About 60mins |
| Battery | 3.7V 150mAh |
| Camera | 2MP |
| Material | ABS |
| Color | Blue |
Final Verdict:
The quadcopter is super small; it will fit in your pocket. You are going to have a lot of fun flying it. It has received really good ratings online. In case, you want the better; we have mentioned some good alternatives down below, you can have a look at that best selling drone.
Read More
Trending Drones
DJi Flame Wheel F550 Hexacopter Review
Drone Fishing Setup & Release Mechanism
Hobbytiger H301s Ranger Drone Review
Eufy Security wi-fi Video Doorbell Review
Blade Chroma vs Yuneec Q500 4k