Today, we bring you again one affordable drone under $100 that will take your flying experience to the next level. Snaptain A15 is specially built for beginners only. It has a solid compact 3D foldable design that makes it look cool, and you can also easily carry it with you while traveling. The drone is very small, and it will fit perfectly in your arm. Apart from having a good build quality, it also has some advanced features which make this drone stand out of the crowd. Its 720P HD camera with wide angle lens allows you to capture the world in high definition.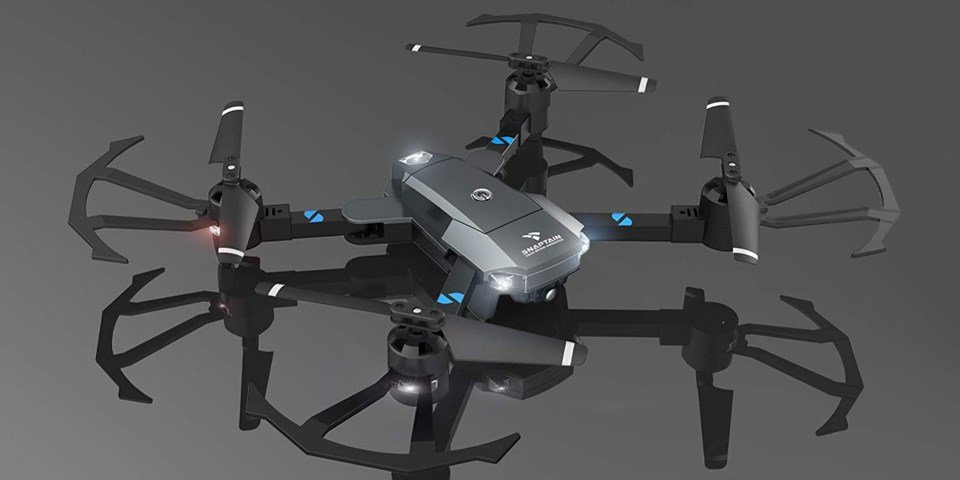 The drone also has a voice command feature that makes it remarkable. You can also try the different modes like altitude hold, 3d flips, trajectory flight and much more. The drone is very easy to fly, even though you are a beginner, you will get a hold of it after a couple of flights. You have to install the App in your mobile, and from there you will see the live feed and control options as well.
Though some users complained that voice control is not that smooth, sometimes you have to repeat yourself a couple of times. But, I would say that it is completely bearable at this price range. It is highly recommended to read the instructions carefully before you start using advanced modes; especially while doing stunts and flips.
Assembly of the drone is also pretty simple. You can fold and unfold it in just a matter of seconds. To unfold the drone, first, unfold the rear part then go with the front crankshafts. While storing the drone, you can remove the chips from the rotors; you can also remove the prop guards if you want.

The Snaptain A15 also has a good indication system through LED lights, and you get to know each and everything about the quadcopter. Below is the list of items that you get with the package.
A15H Drone
Remote Controller
USB Charger
Spare Rotor Blades A x4, B x4
Screw Driver
Protective Guard x4
User Manual
Removal Li-on battery
Snaptain A15 Review
In this section, we'll talk about the different aspect of the drone that you have to keep in mind. We'll cover the build quality, camera specs and much more. You can read them carefully. In case of any confusion, don't forget to let us know in the comments below. We'll try to respond as soon as possible.
Great Build Quality:
When it comes to building, the good quality plastic material is used, and it gives you a good aesthetic look as well. It can easily survive minor crashes. It also gets folded which makes it more compact and you can easily carry it around while traveling. The also weighs very less. It comes in black color with a glossy finish. For safety, you also get propeller guards as well which protects the propellers from any kind of crash. It's ready to fly drone out of the box; you can easily assemble and disassemble it within seconds. You get two modular batteries with a drone that gives you the pretty decent amount of flight duration.
Camera Quality:
With the drone, you get 120-degree wide angle camera which is capable of recording in 720P HD. If your priority is a 1080P camera, then you can go for some different drone. But if you are a beginner and learning how to fly the drone and this is a good one to start. The real-time glitch free transmission will help you how to frame the shots and composition.
Affordability:
The drone costs around $50 and gives you some cool features. I think that it is worth every single penny of investment you make. At this price, you only get a toy which barely flies properly, but this one with advanced features is a great deal for beginners and other drone enthusiasts.
Advanced Features:
When you are flying the drone as a beginner, the advanced features allow you to control it in a better way. Below are some of the main features that make this drone and give you great flight performance.
3D Flips: You can also do 3d flips with the drone which will add the fun to the flight. You can showcase it in front of your friends. Make sure; you read the instructions properly while doing this. The quadcopter should also be at a suitable height so that it doesn't hit the ground while doing the flip.
Auto Landing: The chances of crashing are very higher when you are landing the drone. But, here you get one key return feature which will bring the drone. Hold the return key for 2-3 second, and it will come back from where it started. If you want to quit in between, you can press any other key.
Headless Mode: This is a very important feature, especially for beginners. To activate this mode, you have to press the headless mode button; you will see the lights flashing and becoming solid. This mode allows you to control the drone in the same way, no matter what direction it is facing. Any part of the drone can work as a tail over here.
Voice Control: This feature is cool, and you can control the drone with simple commands like "Landing," "Left-Right," "Forward-backward" and more. Though, its smart voice command is not very smart. So, be ready for the glitches and just have some fun with it.
Altitude Hold: The drone also has a very precise and accurate altitude hold feature which allows the quadcopter to hover at the same position. You just leave the controlling sticks, and it will stay at the same height.
Multiple Speed Modes: You also get multiple speed modes with the drone to choose from. If you are a beginner, then you can start with the slow speed, and gradually, you can increase it. Also, keep in mind while doing the flips, the flip radius will vary according to the speed; you are flying the drone.
Trajectory Flight: You can also send your drone to a preset path. You just have to draw the track on the control panel, and the drone will follow it precisely. This is a very advanced feature; you will take some time to master it.
Technical Specifications
| Snaptain A15 | Specifications |
| --- | --- |
| Item Weight | 680 g |
| Dimensions | 29.4 x 20.4 x 8.2 cm |
| Batteries | 2 Lithium ion batteries |
| Assembly Required | No |
| Design | 3D Foldable |
| Color | Black |
| Altitude Hold | Yes |
| Camera | 720P HD |
| Price | Check Here |

Watch the Video till End
Pros & Cons
In this section, we'll talk about the pros and cons of the drone. We'll cover both negative and positive sides. You can skim through it and have an idea whether this quadcopter is suitable for you or not.
Pros
The drone is suitable for beginners as well for advanced users as it comes with a lot of features.
The drone is also very affordable at the same time. It's very hard to find the drone this much capable at this price tag.
The app has very easy navigation and very simple to use, and you will quickly become used to of it.
The build quality is great; it is also very compact and lightweight. Easy to carry while traveling.
The camera has a wide-angle view, and you can click some amazing pictures. Real-time transmission is smooth until you are flying it in range.
Cons
There are a few features that don't work very precisely. Like the voice command, you might have a hard time.
The range of the drone is not very good, and you only get 7 minutes of flight duration.
In windy situations, you might face a lot of problems. So, it's suitable for indoor and outdoor only when the weather is calm and composed.

Conclusion
I would say that it is one of the best drones for beginners. It comes at an affordable price. The advanced features make this quad stand out of the crowd. Also, don't expect too much from the drone but overall it's fun. If you want some alternative, you can have a look at below options. In case of any confusion, don't forget to let us know in the comments below.