This is one of the best drones by Xiaomi Company. It is super compact, has premium quality, and gives you amazing flight performance. If you are looking for a drone for professional use with which you can do some great aerial photography, this quadcopter should be the one that you should give a try. It gives good competition to the DJI drones. We have already covered Xiaomi Fimi A3 which is a good competitor of DJI Spark.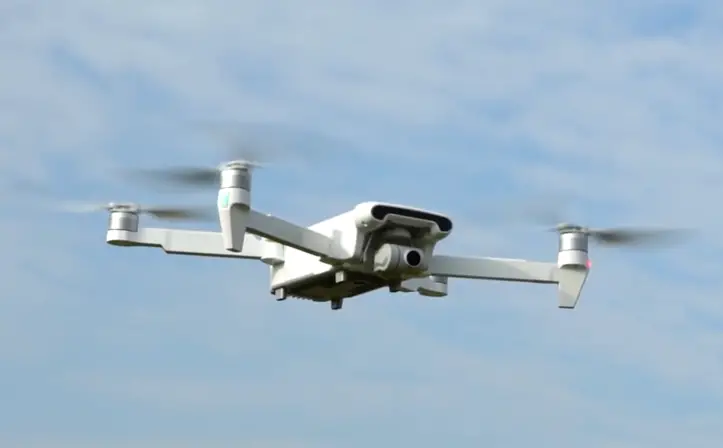 In this article, we'll dive into Fimi X8 which is the upgraded version of the A3. This is a foldable 4k drone capable of creating some really great footage. You'll find a lot of similarities between this drone and Mavic drone as they are very similar in terms of design and build quality.
Since its announcement last month, there has been a lot of excitement among drone enthusiasts around the world. If you are frequent backpack travellers, this could be the right choice for you. There are a few features that you would find only in Xiaomi they are not even available in DJI Mavic drone. We'll be covering all different aspects of the quadcopter in this article that includes build quality, camera specs, and more. We'll also do the comparison with other drones. I would recommend you to read the article thoroughly so that you have proper clarity about the product. In the end, if you have any confusion, you can ask in the comments below, we'll try to respond as soon as possible.

Technical Specifications
| Drone Dimensions | 204*106*72.6mm |
| --- | --- |
| Weight | 790g |
| Flying limit altitude | 500m |
| Max flight time | about 33mins |
| Satellite positioning | GPS + GLONASS |
| Battery | 3900mAh lithium |
| Stabilization | 3-axis gimbal |
| Max bitrate | 100Mbps |
| File system | FAT32 / exFAT |
| Video format | MP4 |
Watch the Video till End
Xiaomi Fimi X8 Review
In this section, we'll deep dive into different important aspects of the drone. It includes flight performance, builds quality, camera quality, and others. So, let's talk about them one by one.
Build Quality
It comes in white color gives the premium feel, and very good quality is used in its build. It has a foldable design which makes portable and it easily fits inside your bag. It has a very sleek design, once it's folded, it is almost the size of a smartphone. It has a good quality camera installed on it. Propellers have a quick release mechanism which makes the installation pretty easy. The remote controller is also pretty sturdy. The FIMI X8 SE remote controller has different ports like AV out port, a micro SD port and one port for USB charging. Even though you crash the drone, it will survive as it is very durable quadcopter. You get everything that you need inside the package.
Camera Quality
The camera is the forte of this quadcopter. It is capable of shooting in 4k at 30fps at 100Mbps bit rate. You can also shoot in raw and F-log. The camera that you get is of 12MP with advanced Sony IMX378 1/2.3? The sensor which is capable of giving HD quality footage. So, there were some overexposure and color issues with the footage that Company said, has worked upon with their firmware update. According to some user, the camera of parrot Anafi and DJI Mavic Air is slightly better than the Fimi X8. But, still considering the price, there are a few drones which have same camera feature.
Flight Performance
It can fly up to the maximum height of 500m, which is pretty decent. The total flight duration that you get is 33mins, which is better than DJI and other company drones. It can fly up to 5kms, which is also pretty decent. There are a lot of advanced modes in the quadcopter that you can try and have an autonomous flight experience. Though, some advanced modes will take you some time to master. But once you master them, it can add a completely new perspective your drone footage. Try modes like Image tracking, hyperlapse, panoramas, and waypoints.
It is also capable of doing this 3X zoom, which gives you a better view of the subject. The app is very easy to use and has simple navigation. The company also claims that the drone has an obstacle avoidance feature, which is very precise and accurate.
Sony Image Sensor
The quadcopter has a 1/2.3 inch IMX378 sensor (12MP) which is the best in the market at this range. And the aperture of the lens is an f/12.2 inch. It helps in lower power consumption, better color, and higher dynamic range. Its Ambarella image processor is also very advanced, which allows you to record at different frame rates and higher bit rate. If you want to have a better post-processing, then you can go for F-Log and DNG raw image as well.
SAR (Search And Rescue ) mode
This is one of the most advanced modes of the drone that takes it to the next level. It has a Search and Rescue feature which helps you in rescue mission as we have already mentioned that you can fly up to 500m altitude and up to 33mins which gives you a really decent amount of time. It has dual IMU system, very accurate altitude hold and strong wind resistance, which are really helpful in the rescue missions.
Dual GPS / GLONASS systems
This feature gives the drone capability to have an accurate positioning system. The drone tracking is precise and which gives a better flight performance. It has 2.4GHz wireless connectivity, which supports four channel. You also get a DIY port with X8 as well like A3 which you can use at your disposal. You can use it for servo or LED strip and fly the drone in low light condition.
Accessories
You can also buy drone accessories from Banggood.com. You can go with the extra batteries, spare propellers, prop guards and other parts to ante up the flight experience.

Xiaomi Fimi X8 vs Hubsan Zino
Fimi X8 is costlier than the Hubsan Zino and also has some better features as well. The range of the X8 is also better, and it also has a better battery backup as well. You'll also see some differences in the available flight modes as well. hubsan Zino is also very popular if you want a cheaper deal, you can go for it. It is suitable for recreational use. But if you want something more professional, then Xiaomi Fimi X8 would be your choice.
Xiaomi Fimi X8 vs Parrot Anafi
Here, the competition is very tough. Parrot Anafi is known for its amazing flight performance. Its better stabilization and zoom capabilities give an edge over Fimi. While when it comes to affordability and better flight range, the Xiaomi wins. Here, both the drones are for professional usage, but if you want something at a better end, then Parrot Anafi could be the option. If you want a drone for film making, then i would recommend you to go for Parrot.
Xiaomi Fimi X8 vs Mavic Air
There are a lot of similarities between both the drones in terms of design and build quality. When it comes to camera quality, i would say that Mavic Air is slightly better than the Fimi. Though, in terms of flight modes availability, you'll find more options in X8 than mavic air. While we take battery backup and price into consideration, i would say Xiaomi wins over Air.
Affordable Alternatives (Expert Recommendation)

Summary
I would say that this is one of the best drones by Xiaomi. It has some really cool features which make the drone best in the market at this price range. This is a kind of drone that can be used by professionals and beginners. There is a lot of customization options in terms of camera setting that gives you better control over the drone.
So, we have covered everything that you need to know about this quadcopter. We have also covered the comparison part. If you have any confusion or suggestions, you can let us know in the comments below. We'll try to respond as soon as possible.