Xiaomi is a company known for making diverse smartphones. They make from really affordable to really high-end drones. But, i was surprised when i got to know that they are also in the drone market and make some high-end budget quadcopters. Today in this article, we'll talk about their one of the most popular drone Fimi A3 with which you can create some cinematic footage and take your content to the next level. The drone is suitable for professional use, and if you are a beginner and looking for something, recreational purposes, i will not recommend this drone.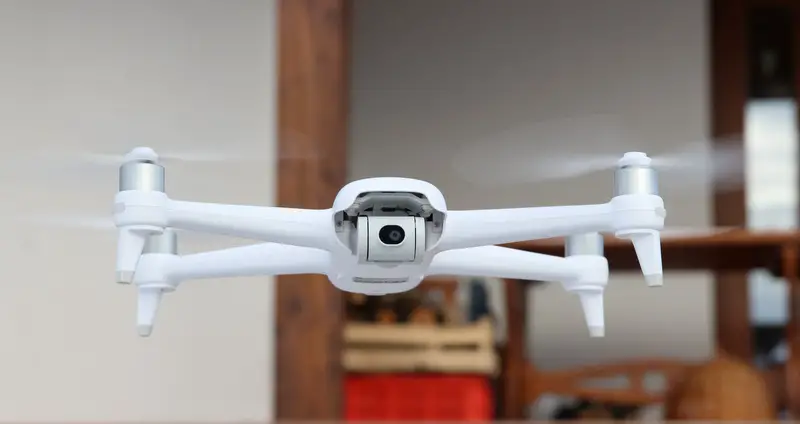 It is capable of recording in 1080P and 4k. You can choose the various frame rates at your disposal. It also has FPV feature that makes the flying more immersive, and you have more fun with the quadcopter. What i really love the drone is its footage stabilization as it has two axis gimbal stabilization and then you have Electronic stabilization system on top of it that makes the video buttery smooth.
It is an RTF drone, you take it out of the box, charge the battery, and it is ready to fly. There are other drones as well at this price range, but this one is the top notch. You get a very compact box during the delivery and below is the list of items that you get inside the package.
Xiaomi Fimi A3
Transmitter
Charger
3S balancer plug cable
USB & Micro USB Cable
Spare Props
Instruction Manual

Flight Setup
When you are flying the drone for the first time, i would recommend you to go through the manual properly. You can download the Fimi X3 User Manual from here. Also, make sure you do all the necessary pre-flight checks to ensure the safety and security of the drone. Below are some important flight setup instructions.
Also, make sure the battery is fully charged before you put them inside the drone.
To Switch ON the drone, you have to press the power button and hold it for 2-3 seconds. You can start the motor by pushing both the sticks inner downwards.
It is ready to fly a drone, but still, you need to install the propellers. Tighten them properly, so that they don't come off mid-flight.
While taking it off very first time, the compass and gyro calibration is essential. There should be at least 10 Satellites available for better GPS performance.
If you are flying the drone indoor. You have to tweak a few settings. The altitude hold mode should be activated, and Sports Mode should be ON.
Technical Specifications
| Xiaomi Fimi A3 | Specifications |
| --- | --- |
| Dimensions | 285*229*69mm |
| Weight | 560g |
| Flight time | 25mins |
| Battery | 11.1V 2000 mAh 3S Lipo |
| Sensor | 1/3.2? CMOS |
| Max Speed | 18 m/s |
| Range | Up to 1km |
| Satellite | GPS+GLONASS |
| Price | Check Here |
Watch the Video till End
Drone Review
In this section, we'll talk about the different aspects of the drone that includes build quality, FPV system, batter specs, and others. Read this section carefully, so that you have proper clarity about the product before you buy it.
Build Quality
Fimi A3 has remarkable build quality. You would see little bit similarity with Dji Spark in terms of design. Its dimensions are 285*229*69mm, and it weighs around half a kilogram. The quadcopter has power ON/OFF button, and there is a unique DIY port which gives you the room for customization. It comes with a good quality camera which has an Ambarella ISP processor and high-quality CMOS sensor. The footage that you get in real time transmission is also of very good quality.
Camera & FPV
As we have already mentioned that it comes with SONY CMOS image sensor and Ambarella ISP processor. It delivers HD quality footage. When it comes to footage stabilization, it has 2 axes manual gimbal stabilization and electronic stabilization for the third axis. You get buttery smooth footage with this quadcopter.
You can also change the camera angle mid-flight. You can change it from front view to ground view (Only One direction movement is allowed). It also allows you to do a lot of changes with camera settings that include ISO, Shutter, Contrast, EV, and Saturation customization.
When it comes to frame rates, you can choose among 25fps, 30fps, and 60fps. There is also the option of change the bitrate compression. If the compression rate is higher, your memory card will run out faster. I will recommend you to use at least 32GB memory card so that you don't run out of memory mid-flight.
Flight Performance
The quadcopter is very smooth to fly. It is very simple to use; the app has very simple navigation; you can easily switch among different settings options. It has all necessary modes that a beginner should need. You can change among different modes and enjoy some autonomous features of it. It has headless mode so that you don't get confused about the quadcopter orientation. You can use Return to Home feature in case you lose connection or face any technical glitch during flight. We'll dive deep into different modes below.
Its altitude hold is very precise, and it also has very good wind resistance as well. Once the battery gets low, it comes back to the place from where it started automatically. It also features the bright LED lights of a different color, which allows you to fly even in low light conditions.
Remote Controller
It has a very sleek and cool looking remote controller with dual antennas. It has 4.3inches screen in it. The design is very simple, and it is not cluttered with other buttons like other drones in the market. Its integrated DVR system records the journey of FPV flights. Build quality is also very good. It is so sturdy that even though you drop it from 1-2m height, it will still survive. It also has USB charging port, one slot for micro SD Card and AV out jack as well. It has two antennas, one for 2.4GHz drone control and other for 5.8GHz live feed transmission.
There are buttons for changing the mode; the camera recording button is at the backside of the drone. There are two dial knobs on left and right side of the controller. The left dial helps to change the camera angle while with right dial, you can change other settings like EV. During the flight, you get ample amount of drone data, which includes velocity, distance, altitude, signal, and much more.
Coupons
Coupon 1: 612105
Coupon 2: 5e5a6d
Coupon 3: e504de
Coupon 4: TTxBG10
Coupon 5 : fb9e95

Extras
You also get DIY Port with the drone which you can use at your disposal. You can fishing system, parachute, LED Strip, a servo, and much more. For more information, you can read the forums and understand the DIY possibilities. There are some really cool drones in the market. There is a Drone that swims, and there are a few drones that can be used as a weapon. Here is the Grenade Launcher Killer Drone that you must give a read.
8 Different Modes
In Xiaomi Fimi A3, you get eight different modes to try. They are really helpful for beginners and help you in having better control over the quadcopter.
Return to Home Mode: This mode allows the drone to come back from where it started. It is very helpful when you lose connection, have a technical glitch, and don't know what to do. It is not very precise; you have to do some manual controlling as well during landing.
Auto Take Off & Landing: The landing and take off of the drone is very crucial, and the chances of crashes are really higher. This auto mode allows the drone to take off automatically, and the drone starts hovering at a fixed height. Place the drone at the flat surface when you are trying this. (Uneven surface might cause a crash)
Orbit Mode: This is for making your footage more cinematic. In this, you choose the subject and once the quadcopter sets its focus on it. It will orbit around it. You have to enter data like distance & speed.
Follow Mode: When you want to capture something moving, this is the mode suitable for you. In this mode, The drone follows the subject as it moves. The speed of the subject should not be very high; it can go out of the frame.
Headless Mode: If you are a beginner, this mode is suitable for you. In this mode, no matter at what direction, the drone is facing, the left push will push the drone left, and the right stick movement will move it right.
Fixed Wing Drone: In this mode, your quadcopter will behave like a plane, and it will move in a straight direction without coming back. You can press the return key to exit the mode.

Pros & Cons
In this section, we'll brief you about the Pros and Cons of the drone. It covers both the sides of the quadcopter, advantages, and disadvantages. Go through them, so that you know the positives and negatives of the drone.
PROS
The drone is very affordable, considering the advanced features that you get with it.
You get HD quality footage with the quadcopter. It is stabilized and free from the jelly effect.
There are dozens of different modes in the quad that you can try. You can try fixed-wing mode, follow me mode and fixed wing as well.
Range of the drone is pretty good, and the FPV system makes the flying more immersive.
You also get DIY Port with the drone which allows you to do customization at your disposal.
CONS
Though it has 1080P Video recording capability, you'll face some constraints in terms of frame rates.
The drone is not foldable, which makes it a bit difficult to carry.
Its Upgraded Fimi X8 is better than this one while the price difference is very nominal.
The user also complained about FPV as it needs a sunshade. In broad daylight, it's not that visible.
You have to buy the memory cards separately.
There are some better deals than this one in the market.
BETTER ALTERNATIVES (EXPERT RECOMMENDATION)
FIMI A3 firmware updates
Below are the recent firmware update changes done on the software.
07 March 2019 Update: In this update, the gimbal self-checking optimization is done, which has increased the gimbal stability.
25 January 2019 Update: In this update, the cinematic mode has been added. Also the FPV mode, You should need better firmware version than V1018-A.
09 January 2019 Update: This update increased the precision of altitude hold, and users had better flying experience.
28 March 2019 Update: This update helped in adjusting the color scheme. Users were complaining about the overexposure. After this, things got sorted out.
For more information about firmware updates, you can download the Zip files and Instructions from here.
Fimi a3 vs hubsan zino
The Hubsan Zino is also a very good drone. When it comes to price, Fimi is around $100 costlier than the Hubsan. Hubsan is a bit entry-level drone, though it also has some advanced features you'll still struggle with the precision and accuracy. The range, camera quality, flight performance of the Fimi A3 is a lot better than the Hubsan Zino Drone. If you are not a professional user and looking for a quadcopter just for recreational purposes, the Hubsan Zino could be a good choice.
Fimi a3 vs dji spark
When it comes to design, you'll find a lot of similarity between both the drones. Color is different, but the shape and finishing are very much the same. They are both entry level professional drone. When it comes to camera quality, Spark wins as it comes with 12Mp Camera while Fimi only has an 8Mp camera. You'll see the slight difference in the image resolution of both the cameras.
In terms of dimension, fimi is a bit bulkier as well. Its dimensions are 11.22 x 9.02 x 2.72 inches, and it weighs twice the weight of the Spark. Though, in-flight duration, Fimi A3 wins over DJI spark as it has around 25mins of battery backup while spark only has up to 16mins.
Fimi a3 vs Fimix8
Fimix8 is the upgraded version of the A3 and have better specs as well. X8 can record in 4k while A3 can only do 1080P. There is also a significant difference in battery backup as X8 has 33mins of battery backup while A3 only has 25mins. When it comes to bitrate, X8 wins. Though both have the same Sony sensor with but A3 has 8MP while X8 has 12MP of camera. The drone range of X8 is around 5km, which is far better than A3. The transmitter is almost the same; there is no significant difference as such.
Summary
The drone is an affordable high-end drone and suitable for professional use. It has all the features that you should need in a good drone. It costs around $300, which is worth its investment. If you want, you can buy spare batteries at a cheaper price.
We have covered everything that you should know about this drone; if you have any confusion, you can let us know in the comments below, we'll try to respond as soon as possible.