Recently Micro Drone 4.0 was showcased in CES in small intelligent autonomous category recently, and since then people around the world are talking about it. According is tiny, fits in your palm and could be a good competitor of DJI Spark.
The quadcopter is loaded with a lot of features. The experts are saying that it fills the gap between recreational drone and professional pilot drones. It comes at the very affordable price range and capable of recording in full 1080P HD with a 110-degree field of view. You can control the gimbal of drone with the mobile app and bring your creativity into reality.
To give you the perspective about how small the drone is, it is 4.7inches wide and 1.5inches tall. It weighs around 115grams. The quadcopter is smaller than the lot of smartphones that we use nowadays. Micro Drone 4.0 is powered by Qualcomm based chipset and also has Neurala AI engine which allows you to choose between different flight and shooting modes.
When it comes to drone's speed, it can fly up to 30miles per hour that is pretty impressive. The quadcopter can fly up 200 meters range for 13 minutes that is a very decent range keeping the price into consideration.
Extreme Fliers is the first one to give us the inside information about this quadcopter. Apart from having advanced features, it also has a good aesthetic look. There are a very few drones in this price range which has this much stable video capability. Here, with this device, you won't have any complaint about its video capability. It has a 1200mAh battery which gives it a longer flight duration and they can easily be swapped. Its propellers can be folded which makes it super compact and you can easily carry it inside your bag while traveling.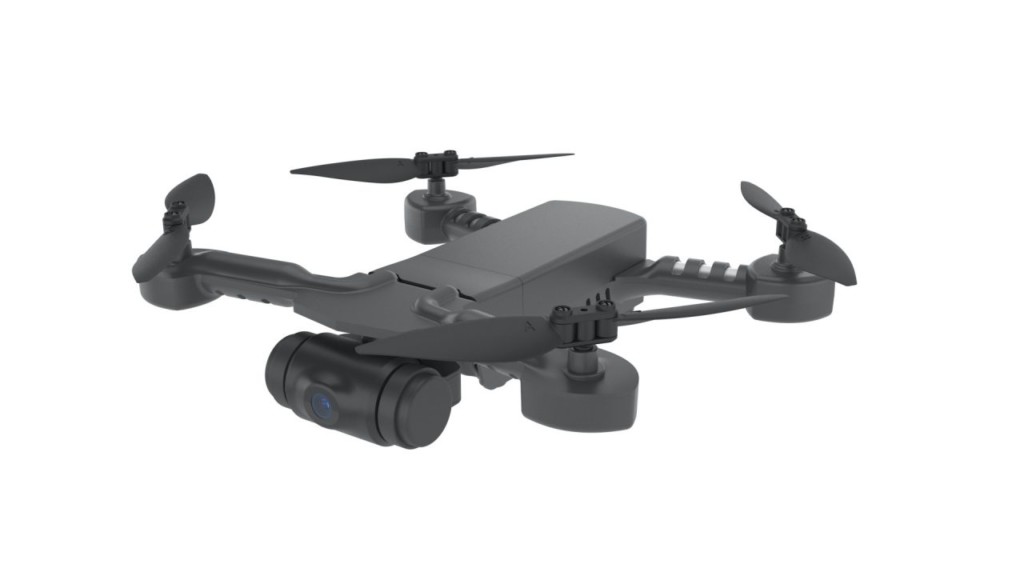 In an interview with Extreme Fliers, the Company CEO Vernon Kerswell said that "We're now able to bridge the gap between the budget toy and premium photography drone market with a drone that comes in at less than $200!".
There are a very few drones under $200 which are capable of these many features; most of them are like a toy only doesn't fill any professional demand. Professional drones start at a very higher range, and this becomes a bit difficult for a lot of people. Micro Drone 4.0 is affordable and suits the professional requirement at the same time. Below are some of the important aspect of the quadcopter that makes it unique.
Sony Image Processing: The quadcopter comes with advanced 1/2.3″ Sony® CMOS imaging sensor. It has an F2.6 aperture which allows the drone to capture high-quality images and videos. The sharpness and clarity that you get over here are remarkable.
Qualcomm Wireless Streaming: You will see very less latency in this case as it is powered by Qualcomm. It is FPV capable up to 400ft that gives you a decent range for real-time transmission. Qualcomm has advance transmission technology, and you get glitch free real-time view.
Electronic Image Stabilization: Apart from having the manual gimbal stabilization, the drone also flaunts about its EIS feature which allows you to have buttery smooth video quality. I think this is the only drone at this range which is loaded with electronic stabilization feature.
Autonomous Flight & Self Hovering: Its autonomous flight system makes the drone easy to control and you have better and smooth flying experience. Its self hovering is very precise, and it will stay wherever it is once you release the controller sticks.
Advanced Technology & Mainstream Demand: The kind of content that you get through this drone is worth sharing online. That's why the manufacturer has made it easy sharing capabilities. You can directly share the content online with a tap of a single button on the app. The company claims that they have advanced electronic components with the drone which makes the quadcopter quick and responsive. The company says that its motors move thousands of times to give you flawless stability.
Technical Specifications
| Micro Drone 4.0 | Specifications |
| --- | --- |
| Drone Dimension | 120mmx120mm x40mm (Folded) |
| Drone Weight | 120g |
| Max Flying Speed | 30mph |
| Flight Duration | 13 minutes |
| Drone Range | 200m |
| FPV Range | 100m |
| Battery | 7.4V 1200mAh Li-Po |
| Camera Quality | 1080p Full HD |
| Price | Check here |
Interview with Micro Drone 4.0 Founder
Micro Drone 4.0 Review
In this section, we will talk about the different important aspects of the drone that make it one of the best drone under $200 range. We will cover build quality, camera specification, flight performance and much more. So, let's dive into each one of them one by one.
Build Quality:
The quadcopter is very small in size. Its propellers are foldable which makes it super compact. It can fit in your palm. Its dimensions are 4.7*4.7*1.5 inches. It weighs around 120g with battery. The quadcopter is made up of good quality carbon composite material which gives it shining aesthetic look and at the same time, you also get the durable device as well. When it comes to its hardware system, it has Barometric Air Pressure Sensor, Optical Flow Camera, Qualcomm Microprocessors Chipset, Qualcomm Wireless Antenna, Neurala Deep Vision Artificial Intelligence, Sony Semiconductor, Gyro/Accelerometer, and IMU as well. What I really appreciate about the drone that its parts are easily available and in case of any damage, you can easily replace them. It has regularly brushed motors, and its gimbal has two axis stabilization.
Affordability:
This is the second factor why this drone is hitting the apex after its announcement. I think after its launch, there won't be any other drone this much capable under $200 range. In 2018, if we talk about the range of professional drones, they were all above $500 range that made these high-end drones bit expensive. Micro Drone 4.0 drone aims towards making a high-end drone which is affordable and accessible to beginners. In an interview, the company CEO said that the drone is built to bridge the gap between cheap toy quads and costly high-end drones.
Designed by Data & Statistics:
According to the company, the drone is designed by user feedback. They have tried their best to make a drone which is much needed in 2019. Earlier, only the heavier and bulkier drone which were very costly was able to give the stabilized and smooth video quality. But, Micro Drone 4.0 has made it possible in its tiny size. A lot of drone enthusiasts have appreciated it online and gave it very positive reviews. The drone is not in the market, but it is expected that the kind of response it has received very surely lead it to a big success.
Camera Quality:
The camera of the drone is its forte. It has a Sony sensor and capable of recording in 1080P full HD. The footage that you get at the end is gimbal as well as electronically stabilized which at the end gives you the buttery smooth result. You can also have a micro drone 4.0 accessory which increases the FPV range from 100m to 200m. Build quality of the camera is also good. It can easily survive minor crashes. You get a 110-degree field of view with the camera which is decent enough. You can shoot up to 30FPs with the Sony sensor camera. The video and images that you capture are saved at the inserted memory card in HD Quality that you can later on transfer to your device.
APP Control:
The Micro Drone App has very easy navigation. The app is known as Extreme Fliers App which is supported to iOS and Android both. You can do the drone calibration through the App before the flight. The Social Media sharing of the content through the app is also very simple and effortless. If you are an internet influencer, then you can also do Facebook and Youtube live. It gives you an immense possibility, and you can easily bring your creativity into reality. There is a lot of customisation; you can do with the app. You can make the adjustment with camera sharpness, saturation, exposure, and other levels. To avoid the latency, the video buffer starts 10 seconds before you press the recording button. You can easily swap between photo and video gallery option with the tap of the button. You can also try among various camera modes that include timelapse, burst, panorama and more.
Meet the World's Smallest Two-Axis Gimbal:
The drone has the world's smallest two-axis gimbal. The company said that their team worked on it for one and a half year to get this gimbal. The stabilization that you get with this drone is equivalent to some high DJI drone's gimbal stabilization. You can tilt and rotate the camera at your disposal and do the shot and frame composition to take your creativity to the next level. There are a lot of settings change that you can do with the gimbal. You can adjust the gimbal pitch speed, roll&pitch, and you can also lock the position and do the fine tuning. It also has dampeners that eliminate the vibration, and you get the footage free from jelly effect.
Remote Control Handset:
Here, you have multiple options to choose your remote controller. You can choose the advanced transmitter here, and that will allow you to have the longer range. The controller is completely optional. It's completely optional whether you want to go for it or not. Recently, they have shown the prototype of the controller that you can check out from the Extreme Fliers website. It provides you the range up to 700ft. The drone is very responsive to the controller, so be careful if you are flying the drone for the first time. You can also do a lot of customization with the drone controlling. It has the solid build quality, and all the controlling buttons are under your reach, and you will not feel strain while using it.
Battery Backup:
With the drone, you get 7.4V 1200mAh high-performance LiPo battery. They are quick to charge. Within 45 minutes, you can charge it completely and then you can fly the quadcopter up to 12mins. I would recommend you to buy one spare battery so that you can get a consecutive flight without putting it on charge for one hour.
Multiple Modes & Neurala® AI software-based features
The Micro Drone 4.0 also flaunts about its advanced modes that take the flight experience to a new level. Let's dive into all of these smart modes one by one.
Quick Take Off: You can use this feature by pressing the power button three times. The drone will take off from its place and start hovering.
Return to Home: It also has an RTH feature which is very precise. When the drone goes out of sight, or you have any connection problem. You can press the RTH button, and it will return to its home position.
Throw & Go: This is also a very cool feature in which you throw the drone in the air, and then motor starts automatically, and it starts its hovering. Read all the instruction before trying this mode. Throw it in the way, it's recommended.
Emergency Stop: The quadcopter also has the emergency button which eliminates the possible damage in case of a crash situation. You can press the emergency button, and it will stop all the motors.
Multiple Speed Modes: You can also choose the different speed options at your disposal. If you are a newbie, you can start with slow and gradually, you can increase the speed.
Auto Self Hovering: Its GPS altitude hold is very precise and accurate. The drone will hover in the same position. To use this mode, you release the controller sticks, and the drone will hover wherever it is.
Presetting Path: This is a very advanced mode, and you will take some time to master it. In this case, you can set the path and the drone will follow the path exactly. A lot of drones has this feature, but they don't have accuracy and precision, but here you will see the quadcopter following the path exactly.
Panning Shot: This is one of the most important shot when it comes to videography. Panning shot can add a new perspective to your footage. You can do by using the sideways flight. For this configuration, you need to spend some time to master it.
360° Orbit: You can also do the 360-degree orbit shot around the subject. It gives you the perfect dronie shot and makes your film making more creative. While using this mode, you have to feed the data like radius, speed, and height and once you enter the data, the quadcopter will give you the cool video footage.
Follow Me: It also has followed Me Mode which helps well when you are tracking a moving object. In this mode, the subject should not be moving very fast; the drone might lose the subject focus. So, for a nice and steady shot, have a subject with continuous motion.
Gesture Controls: The drone also has gesture controls like DJI Spark which is a cool feature. It adds more fun to your flight experience. The flight maneuver will take some time to master, but once you become good at it, you are going to have fun using it.
Watch the Video till End
Micro Drone 4.0 vs Dji Spark
A lot of people are asking which one is better. Micro Drone 4.0 or DJI Spark. Both come under the inexpensive high-end beginner's drone. Though, in terms of Camera Quality, Micro Drone 4.0 is the clear winner as it provides the dual stabilized 1080P Video quality. In DJI Spark, you will get the only 720P camera. In Tello, everything is stored in the mobile through wifi where you will see a slight decrease in pixels while in Micro Drone 4.0, everything has onboard storage which gives you high-quality footage. When it comes to motors, the Micro Drone 4.0 has brushed motors which give you less efficiency but better lift. However, the overall, Micro Drone 4.0 is the winner as it has a lot more features and customization options than the DJI Spark.
READ MORE……
Best Drones with Camera in 2019
How To Get A Drone Out Of A Tall Tree
Smallest Gimbal Camera in the World
How to take a perfect Dronie shot
Lightweight Drone for backpacking under .55lbs
FPV Racing Drone Kit with Goggles
Conclusion
At First Glance, the drone might look small and low quality, but it is packed with a lot of features. The drone has Qualcomm based chipset and Neurala AI engine which makes it a high-end drone. TechoBuffalo and some of other Tech Review websites have given it a very good rating and quoted it as a highly anticipated drone of 2019. I would say this is one of the best drones under $200; you won't find any other better alternative than this one. Below are some of the other best selling alternatives that you can have a look at.