If we talk about some of the best drone companies which are known for making affordable high-end products, then Eachine would certainly be in top 3. Eachine has made drone more accessible to kids and drone enthusiasts. There are more than fifty models of toy drones available in the market by the company. Today we will talk about one of them, which is Eachine E32HW. It is an FPV quadcopter comes with 720P HD camera. Eachine e32hw wifi fpv drone is suitable for beginners as it comes with all the features that a beginner would need. The drone is also very cheaper and costs somewhere around $50.
It's very rare to see the drones with all these features at this price range. What I love about this drone that it's not too fast not too slow. It gently lets you fly at a suitable speed. Its altitude hold is very precise. Most of the time, companies boast about the altitude hold features, but when it comes to accuracy and precision, they lack badly.
The quadcopter's body is also made in a streamlined way that gives a better lift and stable flight experience. The drone is not very popular online, but it has received some really good reviews from the customer. When it comes to color choices, you get two options to choose from either black or white. In the US, you can get the drone at a cheaper rate however if you are ordering Eachine E32HW in India, you might have to extra shipping charges.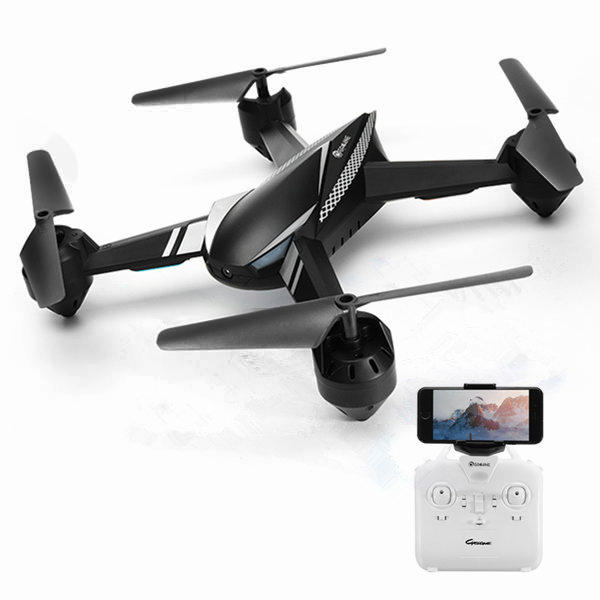 The drone has all the features that a first-time flyer should need. It has 2MP Camera, A remote control, Smart app control and much more. You can capture the good landscape videos in 720P. Control the drone at your disposal, ascend, descend, advance, retreat, 360flips and much more. It has a good build quality that can easily survive the minor crashes, though you don't get any propeller guards with it. With FPV Mode, you will be able to see the things from the drone perspective. Below are some of the item that the basic package includes. If you want more options, then you can also go with Eachine e32hw fly more combo.
1 x Eachine E32HW Quadcopter
1 x Lipo Battery
1 x USB Charger
4 x Spare Propeller
1 x Transmitter
1 x Screwdriver
1 x Phone Holder
1 x Protective Cover Set
1 x User Manual
EACHINE E32HW REVIEW

In this section, we'll talk about all the important aspects of the drone that one should be aware of. These below mentioned features make this drone suitable for
1- Build Quality:
The company claims that the drone is made up of frosted material that makes it durable and gives it a good look as well. It also has a streamlined aerodynamic appearance which gives a better lift during flight. If we talk about its dimension, it's of medium size which is 31.5 × 31.5 × 6 cm. There are two color options available. And the user manual that you get is in multiple languages. The overall drone looks good with its pointed tail. However, the drone is not that small; you might need a separate bag if you want to carry it while traveling. Its 2MP camera is built in the drone muzzle which keeps it secure from damage in case of any crash. It is powered by 550mAh battery which is pretty good compared to other drones in the Eachine toy category. You also get a microSD slot, where all your photos and videos will be saved.
2- Drone Performance:
Keeping its cost into consideration, I would say the drone performance is super. It gives around 8-10 mins of flight time which is really good. You can fly it up to 30 meters of range. Its 3.7V 550mAh battery takes around 80mins to get fully charged. The drone maneuvering is quite stable, and though, you are a beginner if you won't face challenges like other drones. It's quite smooth to take off and land. When you are using the one key return feature, keep in mind, it's not that precise, so don't depend on this feature completely when it comes to landing. The drone also gives a very stable flight in windy situations that is really appreciable. Charging of the battery is pretty simple, you can plug in the battery in USB Charger for one and a half hour, and it would be fully charged. Earlier when the product was launched, the price was around $100, but since then it has dropped and now it's about $50 which makes it an ideal deal. The drone also has LED lights that allow you to fly it in low light conditions as well.
3- Camera Quality:
It comes with a 720P Camera that allows you to capture the landscape. Though, the quality won't be that good so that you can share in on social media. But, it is an excellent way to start how the drone photography works, how to set the composition and much more. Try to fly the drone under 40m range, out of that you might see some lag in real-time transmission. The images and videos would be saved to a memory card that later you can remove and transfer to another device.
4- Remote Controller:
It works on the 2.4Ghz frequency and has four channel transmission. What I really about the quadcopter that you get two controlling option. Either, you can use the controller by Eachine controller, or you can use mobile virtual controls as well. You also get a trim button that allows you to set the speed accordingly. All the buttons are in the reach of your finger. The controller build quality is also good as it perfectly fits in your hand. For remote control power, you have to 4 AA Size battery that you have to buy separately, will not be included with the product. Smartphone App, you can download from the play store which is supported in iOS and Android both. Its six-axis gyro stabilization ensures that everything is under controlled.
5- Advanced Features:
The drone also has some advanced modes which certainly give it an edge over other drones. These features are beneficial for beginners and support you in having better control. So, let's dive into all the features one by one.
Altitude Hold: The drone comes with altitude hold which allows you click better pictures free from shake and jitter effect. Though there are a lot of other drones which come with altitude, this one provides you the better precision and accuracy.
360 Rolls: Like most of the other Eachine drones, this one also has a fun part to it. You can do the 360 flips with the drone in a single click. Make sure, when you are doing this stunt, the quadcopter is at a suitable height.
Headless Mode: There is also a headless mode with the drone which allows you to not worry about the quad orientation and you can fly it with the same controls.
One Key Return: Eachine E32HW also boasts about its one key return function. So, you never worry about losing a drone.
Technical Specification
| Eachine E32HW | Specifications |
| --- | --- |
| Gyro Stabilisation | 6 axis |
| Battery Power | 3.7V 550mAh |
| Charging time | 80mins |
| Flight Duration | 8-10 mins |
| Dimensions | 31.5×31.5×6cm |
| Transmitter | Mode 2 |
| Camera Quality | 720P |
| Color Options | Black & White |
| Flight Range | Up to 100m |
Final Thoughts
Eachine E32HW is suitable for kids and an excellent way to start learning drone. It has some advanced features, and it is also available at a very affordable rate. So, I think if you are thinking of gifting a quadcopter to your kid or friend, this could be a perfect surprise for them.
Watch the Video till End
Trending Drones
DJi Flame Wheel F550 Hexacopter Review
Drone Fishing Setup & Release Mechanism
Hobbytiger H301s Ranger Drone Review
Eufy Security wi-fi Video Doorbell Review
Blade Chroma vs Yuneec Q500 4k