Drones have a wide range of uses in a variety of sectors. Law enforcement organizations have long used drones as a tool, even as their logistical use is established.
These ingenious airborne vehicles serve as eyes in the sky, allowing access to far-flung locations.
Drones may be outfitted with a range of payloads, making them incredibly adaptable and useful for several tasks. Let's look at the best police drones for law enforcement below.
What Are the Real-Life Applications of Police Drones?
There are many ways that police departments can use the incredible potential of drones. Drones are helping to make our society safer by keeping police officers out of harm's way and assisting them in achieving achievements that would otherwise be impossible.
Search and Rescue
The first and most obvious use of drones by police agencies is searched and rescue. Drones can cover a large area faster and more efficiently than cops on foot or in a car.
Drones can also access areas that helicopters cannot, such as behind tree cover or between buildings.
A drone with a thermal camera may readily locate a lost or missing person hiding behind rubble, foliage, or even at night.
Tracking
Police drones can be used to aid in apprehending criminals on the run.
The drone's object tracking skills allow it to monitor and follow a suspect fleeing the scene of a crime, as well as offer information on the entire incident, helping authorities to catch the culprit more securely.
Officer Safety
An airborne viewpoint can give critical information in risky scenarios such as active shooter scenes or investigations into illicit operations.
While boosting the protection of law enforcement officers, the eyes in the sky can analyze the situation, capturing both the overall picture and even down to minute detail using zoom cameras.
Drones can also be used to make high-risk traffic stops safer.
Officers may use a drone to analyze the situation or broadcast recorded messages while keeping a safe distance from a suspect who refuses to get out of a car.
Monitoring
Drones can also play an important role in crowd surveillance, allowing operators to scan the whole scene for suspicious activity or find individuals in trouble.
Once again, Zoom cameras are vital for seeing the big picture and the tiny details.
Reporting and Analysis
Traffic crashes and criminal scenes may be reconstructed using an aerial viewpoint in conjunction with mapping software.
Drone camera software may be used to analyze the sequence of a collision for accident reports and piece together the events leading up to a crime.
Top 5 Best Police Drones for Law Enforcement
DJI Mavic 2 Pro – Best Surveillance Drones
The Mavic 2 Pro's build quality is fantastic. We've used it in tough desert circumstances in Jordan, chilly portions of Turkey, and wet weather in New Zealand, and it's performed admirably.
We have not been able to crash the drone even once, thanks to all of the sensors onboard, but if I did, I am confident the damage would be considerably dependent on the impact speed and the height of the fall.
With high-quality yet lightweight plastic construction, both the controller and the drone seem to be built to endure.
When it comes to controllers, the one designed for the Mavic 2 Pro is far superior to the one designed for the Mavic Air.
While both controllers have easy-to-use joysticks, the Mavic 2 Pro controller includes a good display that shows all the messages and cautions, which is quite useful.
Since the drone's introduction, DJI has launched an improved "Smart Controller" with a built-in display.
Check the Best Price on Amazon
Autel Evo II Pro –  Surveillance Drones
The EVO II Pro comes with a feature set that outperforms the Mavic 2 Pro and is on par with the Mavic 3.
When choosing between various drones, it all comes down to personal choice and which one is best suited for the job. So, how can this drone be distinguished?
First and foremost, if you work in airspace clogged by DJI geofences, the EVO II Pro might be the solution.
Geofencing isn't an issue with this drone. Therefore your pre-flight operations will be a lot more efficient.
Second, the Autel software has mapping/grid-style flight patterns built-in, which might be useful for capturing more images.
Third, with a roughly 10-minute flying duration gain over the Mavic 2 Pro and performance virtually identical to the Mavic 3, you can go close to a full 30-minute flight before safely returning to land.
Increased battery life can help you save time and money during solar site assessments by reducing battery swaps.
We believe the drone's value is immeasurable and that the increased expense is well justified.
Check the Best Price on Amazon
Anduril Ghost 4 sUAS Tactile Drones – Tactile Drones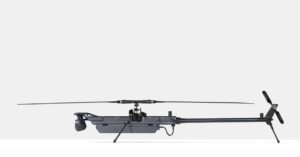 Anduril is a start-up founded by Oculus, Palantir, General Atomics, SpaceX, Tesla, and Google.
The corporation is well-known in the United States as a prominent provider of defense drones and technologies.
Customs and border police in the United States have used Sentry Towers and Anvil drones. The Ghost 4 may be used for both surveillance and tactical purposes.
Anduril's latest high-tech drone, the Ghost 4 sUAS, is capable of producing astounding outcomes.
The Ghost 4 has been tested and approved by the Royal Marines and Navy of the United Kingdom. T
Features We Like:
Portable and lightweight
Extremely Long-Lasting Endurance
Waterproof
Excellent acoustics (virtually silent)
AI processing capability that is superior
These features combine to make the Ghost 4 the ideal police drone for various missions. The Ghost 4 can also perform a wide range of tasks in any environment, including ISR, counter-intrusion, SAR, and signals intelligence.
LEMUR by BRINC Drones – Tactile Drones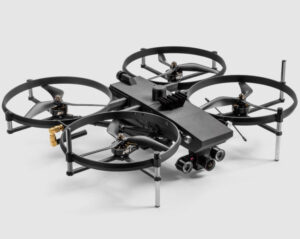 BRINC Drones, an American startup, invented LEMUR, a haptic drone. BRINC is an engineering firm established in Las Vegas, Nevada, specializing in public safety.
The BRINC Drones team includes NASA, Tesla, Pix4D, and FLIR members, among others.
The BRINC LEMUR police drone was created with the Las Vegas Metropolitan Police Department's SWAT unit (LVMP).
LEMUR has a flying duration of 31 minutes and a top speed of 50 mph (80.5 km/h). The drone is equipped with a glass breaker capable of shattering tempered, automobile, and residential building glass.
This is a necessary tool for ventilating burning structures or exploring a possibly hazardous environment.
Features We Like:
Design that is tough and long-lasting
Device for shattering glass
System of two-way communication
System of day/night vision
FPV capabilities
Moreover, the drone is equipped with a Lidar and autonomous capabilities to aid the pilot in congested areas.
DJI Matrice 210 RTK V2 Zenmuse XT + Z30 Zoom – Tactile Drones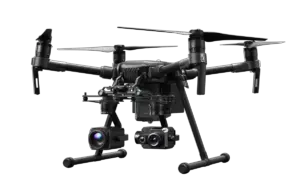 DJI is well-known for its consumer and business drones. In the drone business, the corporation holds a 70% market share. One of the most popular corporate drones is the DJI Matrice.
The Matrice 210 RTK is an extremely useful tool for law enforcement organizations when combined with DJI's Zenmuse payloads. The drone, for starters, is fitted with an RTK module that provides global accuracy within a centimeter.
The drone can provide ground troops with a thorough perspective from the sky, with a flight time of 38 minutes and an operational range of 8 kilometers.
FLIR's industry-leading thermal imaging technology is used in the Zenmuse XT thermal payload.
A high-definition zoom camera with up to 30x optical magnification is included in the Z30 payload.
Features We Like:
Can transport two cargoes at the same time
IP43 Dust and Water Resistance Built-in RTK Module
Obstacle Detection System (AOS)
A dual battery power system is used for more redundance