There are hundreds of FPV racing drone in the market, and it becomes quite confusing sometimes to find the best one out of them. Today, we will try to cover FullSpeed TinyLeader Brushless whoop drone. We'll cover all the different important aspects of the drone. The quadcopter is super tiny, and it comes in a bright yellow color. It has ducted rotors which are protected by high-quality ABS. The quadcopter can easily survive minor crashes. The drone weighs around 42grams without the battery, that gives you the idea about how tiny it is.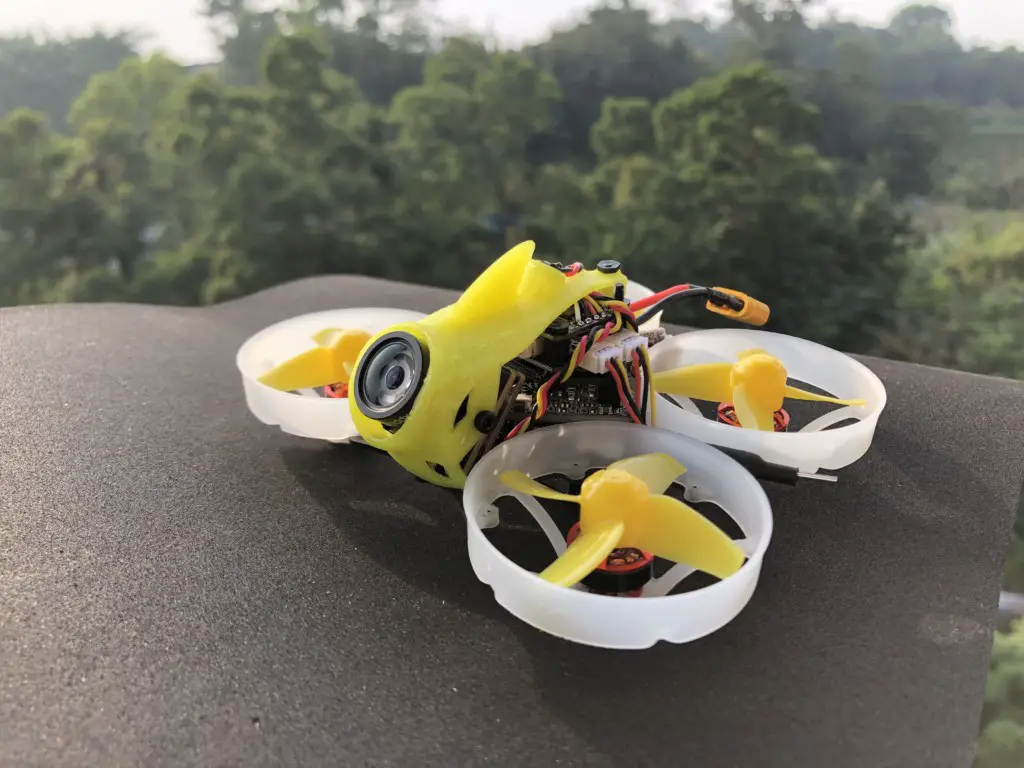 It uses the 3S battery which powers the drone. Its camera gives you the live feed so that you can track where the drone is moving. The camera angle is also adjusted up to 45 degrees.
FullSpeed Company says that it has all the features that you need in an FPV quadcopter. Its propellers are protected, it has FPV camera, versatile flight tower, and covered canopy. The camera is capable of 1080P recording at 60frames per second.
FPV Drones are more to crashes that thing the company has kept in mind while building it. It will crash and fly again. The spare parts of the drone are also easily available, so you don't need to worry about that as well. You can fly tinyleader indoor and outdoor. It doesn't have very good resistance to wind, so make sure when you are operating it outside, the weather is calm and composed. What I love about the TinyLeader 75mm drone that you get three receiver options to choose from. You can select among DSMX, FlySky, or FrSky. Below is the list of the items you would be getting with the package.
TinyLeader frame kit (1)
FSD408 1-3S 8A Flight tower (1)
1103-11000KV brushless motors (4)
40mm 4-blade propeller CW (2)
40mm 4-blade propeller CCW (2)
Caddx Turtle V2 Camera/Caddx Micro F2 (1)
FSD TX600 25mW-600mW VTX FPV Transmitter (1)
Receiver (BNF Only)
FullSpeed TinyLeader Review
In this section, we will talk about different aspects of the quadcopter. This review is completely unbiased and based on reviews and user experience. So, let's dive into all important elements one by one.
Affordability:
The drone costs around $100. Keeping its features into consideration, I would say that it's worth every single penny of investment. You can buy it from Banggood or Amazon. Though, the price will slightly vary depending on the what receiver you choose. You won't be getting the battery with the drone, for that you have to pay separately that a lot of users are not happy with. As this is FPV racing drone, the battery will drain out very quickly, so it's recommended to buy more than one battery so that you can have a consecutive flight without any glitch. If you want high-quality onboard HD recording, then you can go for Tinyleader HD Model which is also known as CineWhoop.
Build Quality:
The drone is painted in very bright color. It has a white and yellow color combination. It might remind you of Tiny7 model. Its solid canopy provides the drone main body protection from any crash. Though, a lot of parts and accessories of the drone are exposed. Camera Lens of the drone is also completely exposed, so be very careful while flying it at high speed. At the tail part of Tinyleader, you will find the VTX antenna. USB Port is present on the right side of the flight controller. However, you will not be getting any LED lights; you have to depend on the FPV function completely. If you want LEDs, then you can get them installed separately.
Here, you will have five blades in each propeller which gives the better lift and stability. The carbon fiber and plastic is used in drone build. Here, the motor is of 11000KV which provides the quadcopter with quick speed and more torque. When it comes to battery, there are a couple of options that you can go for. Either you can go for 2s/450mAh or 2s/300mAh LIPO battery.
Camera & FPV System:
Here, you get Caddx Micro F2 camera that does the decent job in giving you the real-time FPV transmission. Caddx is the company which mostly focused on security cameras, but recently they started making FPV camera as well. When it comes to the transmitter, you have multiple options to choose from. Keep the broadcast under 200mW which is decent enough. It keeps the battery duration intact, and you also get a good range as well.
Remote Controller:
The drone comes pretty much assembled. You have to complete the binding process which you can do by reading the instructions. There are a couple of videos available as well on youtube that also you can check. For the binding process, you need to go to Model Setup then go to Internal RF then under the operation mode, choose the D8 means 8 channels, then at the end, you can select the bind option. Once the binding is done, you will hear the high pitched beep.
Flight performance:
The drone has very stable flight performance. Once you receive the product, get the battery fully charged. Then you can try different modes like angle and macro mode. At the starting, fly it indoor, and once you become good at flying, you can try the outdoor experience. Drone is small, but it is very quick. Use the throttle very slowly and get used to of its speed.
Technical Specifications
| Drone | Specifications |
| --- | --- |
| Weelbase | 75mm plastic + carbon frame (1mm) |
| Weight | 41g (without battery) |
| Flight controller | FSD408(F411 FC) built-in OSD |
| Motor | 1103 11000KV with connector |
| Propeller | 40mm 4-blades props |
| Camera | Caddx Micro F2 camera |
| Multiple Modes | Yes |
| Build Quality | Good |
| Battery Backup | Up to 6 mins |
Watch the Video till End
Trending Gadgets in 2021
Conclusion
Let's be honest; This quadcopter is not one of the best FPV Quadcopter at this price range. You certainly have a better option than this one. However, the quadcopter has some good features that we should appreciate. It also provides you a lot of room for customization. Below are some of the good best selling alternatives, that you don't want to miss.
Trending Drones of the Month
Potensic D88 foldable drone Review