Thinking of purchasing a virtual reality drone? Well, you caught us on the right day! Promark P70 VR drone, a very advanced virtual reality drone with a 720p HD camera and a WiFi streaming quadcopter.
It allows you to stream, record, and photograph live. It's very easy to fly and capture all the beautiful scenes you intended to capture through the drone from right above the sky.
Moreover, the Promark P70 VR drone has a built-in WiFi signal that allows you to capture live 720p HD footage, which is directed to your smartphone or either VR goggles.
Also, you can switch the Free Promark VR aerial photography app (installed in your smartphone) into the 3D model and enjoy the view from the top with the help of Promark VR 3D goggles, which come with every set.
Promark P70 VR drone provides a well-balanced, perfect video and flight performance at an affordable price. It is designed for both beginners as well as experienced users.
This drone comes with an LED lithium battery and hardly takes one hour to charge it. Afterward, the battery lasts up to 4 hours straight, which is quite impressive!
With its amazing features like one-button 360 degree flips, headless mode, auto takeoff & landing, and the powerful Li-Ion rechargeable battery, the Promark P70 VR drone comes user-friendly and easy to handle. And that's what today's topic revolves around!
In this article, we have reviewed the Promark P70 VR drone, discussing its features, specification, pros & cons, and many other details. So, let's get started!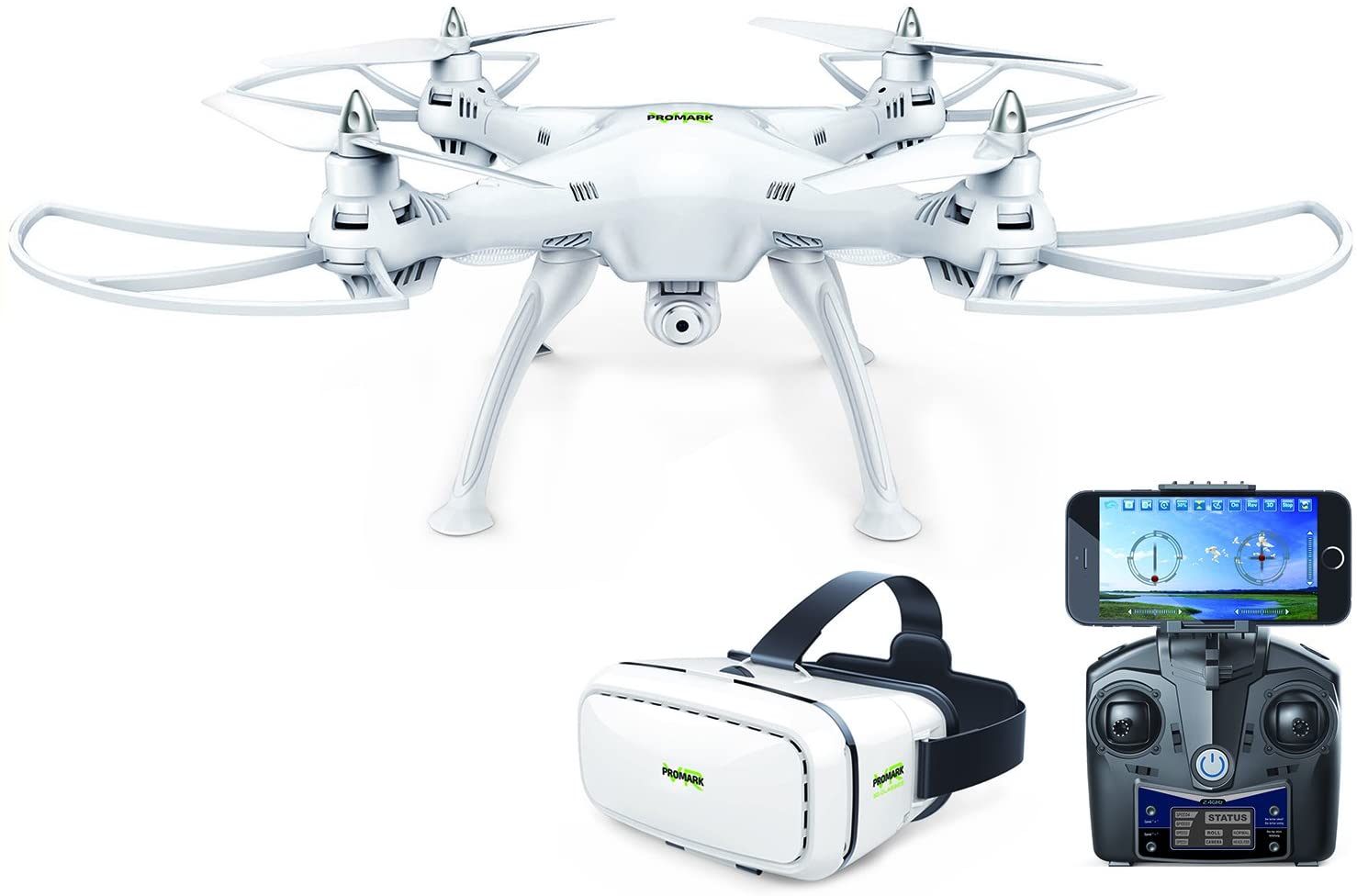 | Parameters | Promark P70 VR drone |
| --- | --- |
| Dimensions | 19×5.75×19 inches |
| Weight | 2.5 pounds |
| Brand | ProMark |
| Colour | P70-VR |
| Control type | Remote Control |
| Video capture resolution | HD 720p |
| Are batteries included | No |
| Wireless communication technology | Wifi |
| Video output resolution | 1280×720 pixels |
| Battery cell composition | Lithium polymer |
| Battery life | 4 hours |
| Battery | 1 lithium polymer batteries |
| Camera resolution | 720p HD |
| VR Goggles | Yes, pre-attached with the product |
| GPS Settings | No |

Features
Easy to fly
Promark P70 VR drone comes with auto takeoff and landing, auto hovering, headless mode, and one-button 360-degree flips. This makes the operation of the drone convenient to operate. Its easy fly features help capture all the beautiful moments from the sky.
The Promark P70 features three major modes: normal, the default mode for traditional flying, altitude-holding, which keeps the drone in the same place it was when the mode was started, and headless.
The headless mode turns any component of the drone into ahead, allowing the quadcopter to fly in any direction the pilot commands.
Auto hovering, one-button 360-degree flip, auto take-off, and one-key landing are other flight-related functions.
Virtual Reality Drone
This is what gives the Promark P70 its VR designation. The virtual reality 3-dimensional goggles with the Promark P70 are included in the package. It enables the pilot to live-stream the footage taken by the drone — this is what the VR capability is for.
It also makes flying control easier. The Promark P70, like other VR goggles, allows you to watch your drone in flight without having to carry your phone.
Functioning
Promark P70 VR drone guarantees its amazing functioning, making it 100%  user satisfactory. If the user isn't satisfied, the company claims they will return the money!
WiFi Streaming
Promark P70 VR drone has its advanced feature of built-in WiFi signal that allows you to easily stream, record, and photograph live 720p HD footage of anything from the sky and direct it to your smartphone or VR Goggles.
Box Items
The box of Promark P70 VR drone contains 3D goggles, Blade guards (6), Li-Ion battery, USB charging cable, screws and mini screwdriver, Spare blades (2), and Spare landing gear (2).
Emergency Stop
The Promark P70 VR drone comes with an emergency stop button that immediately turns off the power supply. And when the supply power is cut-off, the engine stops, and the drone falls back on the ground. However, it must be used only in emergency cases and not very rapidly as it can also harm your drone.
Speed Control
For the Speed control, a 3-speed setting is present in the Promark P70 VR drone, mainly for experienced drone users.
FPV Control
With FPV control settings, you can easily stream any live video from the sky with its 720p HD camera.
VR Goggles Mode
The VR goggles attached with the Promark P70 VR drone enable a real-time VR experience for the user.
Two-Way Flight Control
This app-enabled function allows you to control flying from your phone by connecting to the drone's WiFi connection. Because of the limited WiFi range, you can only fly up to 100 feet.
Use the radio remote with the standard 2.4GHz transmission power for a more traditional flight control technique. This is more efficient and allows you to fly up to 936 feet.
Battery Life
A twin cell 7.4volt 2000mAh rechargeable battery powers the Promark P70. According to the producers, this battery can enable a total flying length of 12 minutes before needing to be recharged for roughly 5 hours.
Specifications
Promark P70 VR drone is developed and designed with an advanced level of technology along with 4 strong rotor blades. The leg portion of the drone is quite large as it protects the drone against any camera or controlling issues.
It comes with an updated 720p HD camera that can easily be titled according to the requirement of the shoot through the remote controller. Its camera specifications have put quite a charm on the customers with its services.
The Promark P70 VR drone battery is equipped with a strong lithium-polymer battery of 7.4V 2000mAh compatibility.  The battery is placed inside the drone in an individual slot.
Moreover, the most intriguing thing about this Promark P70 VR drone is its LED screen. It helps in taking snaps, camera mode, and current settings.
The joysticks help in the direction and rotation controlling of the drone. Apart from this, it has an auto takeoff and landing setting that allows the safe and protected functioning of the drone.
Pros & Cons

Conclusion
In conclusion, we can say that the Promark P70 VR Drone is considered more suitable for those who are willing to purchase a large drone with a good quality camera but are ready to pay over its capabilities.
This drone is very efficient, and the VR Goggles that come additionally with the drone make it more enjoyable to operate and experience.
For those who have a prime interest in advanced specification and premium quality, the Promark P70 VR Drone works best for them! It allows the user to easily stream, record, and capture anything above the sky live with 720p HD footage which is further directed to your smartphone through the free Promark app or to your VR Goggles.
The functioning of the drone is very smooth and safe as well, just as the flight.
If you ought to purchase Promark P70 VR Drone, you benefit from its amazing features such as smart flight, 720p HD camera, headless mode, auto takeoff, one key landing, auto hover, built-in WiFi streaming, app-enabled, and many others.
Besides this, its large and ergonomic transmitter, along with the LED screen, makes the availability of the drone's status very easy and simple.
With our thorough research and product analysis, this Promark P70 VR Drone is a great choice for numerous users, and they consider it their best companion.
Frequently Asked Questions
What is the highest fly limit of the Promark P70 VR Drone?
The highest fly limit of the Promark P70 VR Drone is up to 300 meters with a speed timing of 12 minutes.
Is the Promark P70 VR Drone suitable for beginners?
On a broad note, this Promark P70 VR Drone is not considered more suitable for beginners as it comes with advanced specifications and settings which are mainly set for more experienced users.
What makes Promark P70 VR Drone different from its competitors in the market?
Promark P70 VR Drone comes with many advanced settings and features, but what makes it most distinct from others is its large and ergonomic transmitter and the LED screen that helps check the drone's status more easily and efficiently.
How long does the Promark P70 VR Drone take to charge?
On a general basis, the Promark P70 VR Drone hardly takes up to an hour to five hours to be fully charged.
Watch the Video till the End