When it comes to drones for beginners, there are tons of options available online that you can go for. But there are a few drones that stand out of the crowd, and Drocon Cyclone x708w is of the one. Today in this article, we will discuss everything that you should know about this wifi FPV drone for beginners. It comes with some of the advanced features that you won't find in any other quadcopter at this price range; we would be diving into those critical aspects in the below section one by one. Apart from being affordable, the drone is also very user-friendly and easy to use.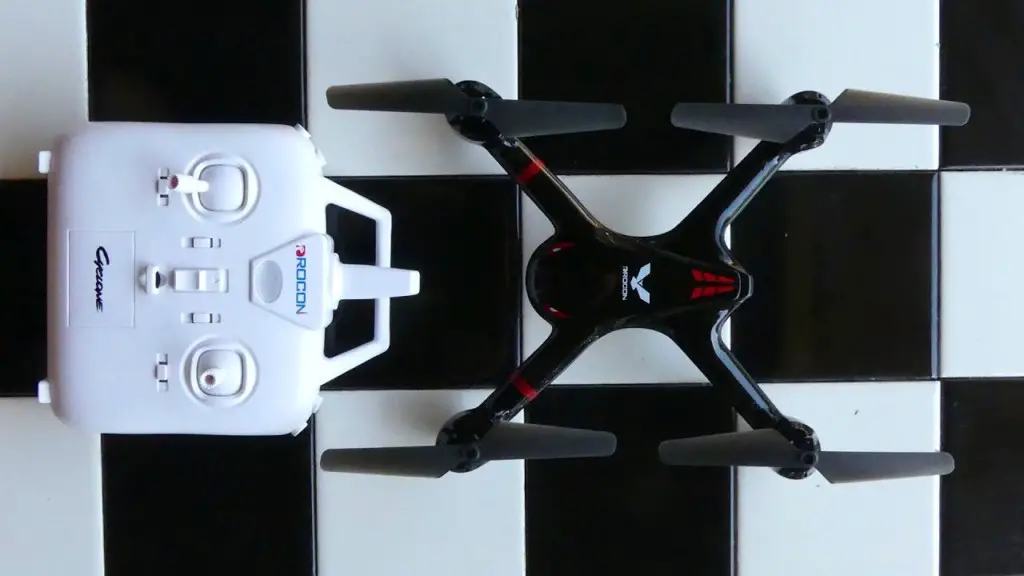 DROCON has been known for making some high-quality beginners drone, and Cyclone x708w is one of them. This could be a perfect gift for a kid because it's neither a toy nor a very professional drone; it's an ideal balance between both of them. People also have been asking about the difference between Bugs6 and this UAV thatwe will also cover later on.
This is one of the best drones under $50 in 2019. What I love about this drone that it is so cheap that even though you crash, you are not going to regret it. This quadcopter is easiest to learn and fly and highly recommended if you are thinking of buying your first drone.
When it comes to its looks, it has a solid build quality with sleek design in black color. You get the propeller guards with the product that you can attach and increase the safety of the drone to the next level. For more information about the drone, you can visit the DROCON official website. Below is the list of items that you would be getting once you make the purchase.
Drocon Cyclone X780W drone
One 550mAh Li-Po battery
4 Propellers
2 Spare Propellers
1 USB Charger
Remote Controller
Warranty Card & User Manual
Drocon x708w Review
In this section, we will talk about all the essential features and technical specifications of the drone that you should be aware of. This is an entry-level drone that you can use for training purpose. If you are someone who wants to be professional drone flyer, then Drocon Cyclone X708W could be the excellent drone to start with. When it comes to its online reviews, it has received 4+ rating on Amazon. It is a perfect backpack drone and could be a good option for recreational drone enthusiasts and travellers. Though at first glance, its low price might make you think that it doesn't have many features but don't get confused, it has features beyond your imaginations. So, let's dive into all critical aspects of the drone one by one.
Build Quality & Foldable Design: When it comes to drone build quality, it is made up of good quality plastics that makes it durable. It also comes with propeller guards which gives its props extra safety. Likewise, too, the drone will impress you, it has a red color nose that makes it look cooler. If you are thinking of gifting something to your kid, this could be a perfect surprise for him. I also love the foldable design of the drone which makes it an ideal backpacker drone. After the folding the props, it can be easily fit in the small pocket of your bag.
LED Lights: It has LED indicators that help you to keep track of its manual positioning system. It has two LED lights in the front of blue color while orange color LEDs are at the back. The difference in the color of LEDs helps you in understanding the front and back side of the drone. If you are a beginner, it becomes quite tricky to figure out the nose part and rear part, but these lights are beneficial for a novice. You can also fly the drone in the night, but keep in mind you don't let it go out of your sight.
Affordable Price: If you think of entry-level beginner drone of other companies like DJI, the price is remarkably higher. The drones will start around 200-300 dollars, but this one comes at $50 range that makes it super cheap. At this range, you get toys but DROCON provides you the drone with a camera with some advanced features, that is unbelievable. It is one of the cheapest camera drones that you can go for in 2019. At this price, it has features like headless mode, 360-degree flips, and altitude hold.
Camera Quality: When it comes to camera quality of the drocon x708w. It is capable of 720p/30fps recording. It has a 120-degree wide angle lens which is good for capture panorama and wide angle shots. The drone does its job best and clicks some amazing pictures as well. I don't think at this price range; you should have any complaint about drone's photo or video capturing capabilities.
Altitude Hold: This is a perfect mode for beginners. The quadcopter comes with a high-end barometer that provides the stable and smooth flight. When it comes to capturing pictures, it should not have any jitter otherwise your photos will come shaky. A lot of people ask this question, how to use the altitude hold mode, let me tell there is no separate mode as such. It means when you leave the sticks, it will stay wherever it is. This mode is conducive if you are a beginner.
Smart Control & FPV: To control the UAV through your mobile, you need to install the DROCON app which is available at iOS and Google Play Store both. It allows you to see the things from a drone perspective and you know exactly what you are shooting. It also helps to frame the shot and composition. It connects to the drone through wifi. FPV makes the whole experience more immersive, and it also helps you in controlling the drone in a better way.
To use this mode, you have to install the app and connection should be done properly between drone and smartphone. Drone doesn't have any microSD slot; everything would be saved in your mobile SD Card only.
Headless Mode: Let me share you my experience, when first time I flew a drone, it didn't have headless mode soi have to figure out front and back part of the drone through FPV and to keep drone in my sight and believe me it was very difficult, I almost crashed my drone couple of times. So, if you are a beginner and this is your first drone, then headless mode would be your great companion in this mode, the drone direction handling doesn't change no matter at what direction quadcopter is facing. This mode disengages the first orientation of the quadcopter, and any part of the drone can work as the nose.
One Key Return: This is also a great feature that I wanted to point out. Sometimes, drone gets out of control and being the beginner; you don't know what to do. In that case, press the One Key Return button and drone will return automatically at the home location. This function might not work if the battery is very low. Also, keep in mind that you are in the range when using this function.
360 Flips: These features add fun to the drone. The quadcopter is capable of doing the flips along the prop axis with the click of a single button. If you are recording the video while doing the flip, I am sure you will get some amazing footage. It gives you the feel as if you are flying the fighter jet. To do the flips, switch on the feature and push the sticks in the direction, you want to see the flip.
Battery Backup & Charging Time: You only get one battery with the product. The battery takes around one hour to get fully charged, and it lasts about 8-10 minutes. The battery that is used with the drone is of 3.7V and 550mAh. The battery of the drone is available at a cheaper rate, so I will recommend buying some spare batteries.
Drone Range & Storage: When it comes to quadcopter range, it's about 100meters that is good enough for beginners. Always keep the drone in the range so that it doesn't get disconnected with the controller. You don't have any SD card slot in the drone; all the footage will be saved in your camera only.
Drocon Cyclone x708w Pros and Cons
In this section, we will talk about the Pros and Cons of the drone that will help you in understanding both sides of the quadcopter. If it suits all your requirement, then probably, you can buy this drone. In case, if we miss anything, don't forget to let us know in the comments, your suggestions are most welcome.
Pros
The drone comes very affordable and has some advanced high-end features.
It has bright LED different color indicators which help you in figuring out the difference between the front and back part. You can also fly this drone at night time.
3D acrobatic flips add fun to the drone, and you can showcase it in front of your friends as well.
It's a good easy to learn drone and could be the best choice if you are buying the first one.
The drone has the good build quality, and it has propeller guards as well that allow the drone to withstand the minor crashes.
The drone is easy to carry with a foldable design which makes it a perfect backpacker drone. You also get two pairs of spare props.
The drone is ready to fly. There is no assembly required. Take it out of the box, and it's ready to go.
Cons
The drone has up to 10 minutes of flight time that is not very good enough. And it could when you have only one battery.
Though it comes with 720P video quality; you will not be very happy with the footage actual quality.
You might see some lag in real time transmission when you reach up to 80-90 meters of range.

Drocon X708W vs. Drocon Blue Bugs
If we compare the Drocon Blue Bugs with X708W, you will find that both of them are beginner's drone, but there is some significant difference between both of their capabilities. Blue Bugs comes at bit higher price and have some more features than X708W. Former comes with the brushed motors while the later one has brushless motors. You can see the difference between the sound of both when they fly. Blue Bugs is less noise than the X708W model. When it comes to camera quality, you will see there is no difference as such regarding video quality, but you get GoPro and action camera mount with the Bugs that you don't have with X708W. Again regarding battery backup, the Drocon Blue Bugs is the winner. Its battery backup is twice as X708W.
Important Instructions Pre & Post Flight
In this section, we will talk about the couple of things that you have to keep in mind when it comes to drone safety and maintenance. Drone weighs less than half a pound, so no FAA registration required for this one.
Battery Safety: When it comes to battery safety, always keep in mind that you don't overcharge it. Also if the battery is hot, wait until it gets cool down then only go for charging. If you find the battery is damaged like swelling, piercing or any other damage, don't use the battery with a drone. It can damage the drone parts as well. When you are charging the battery only use the given charger if you want to use different charger make sure it has the same volt and Ampere reading.
Calibration & Heating: Make sure you calibrate the drone properly before taking it off. If you are experiencing the unstable flight that could be because of improper calibration. You might also see heating in motors. So, please give 10mins rest to the drone so that they don't burn up.
Flight Setup: Before taking off, make sure the drone battery is fully charged. As soon as you switch on the drone, the LEDs will flash quickly and then slow down. Take off the surface for the drone should be flat. For pairing, you have to move the left stick up and down; if LEDs stop blinking that means, the pairing has been done successfully. For calibration, you have to push both the controls at the bottom and hold it for 2 seconds.
Beginner Tips: If you are a beginner, I would recommend switching the speed mode at the lowest speed. If you are getting confused between a front and back the go for a headless mode, also try the one key feature, it only works with the headless mode. When you are performing the 3D flips, keep in mind drone is at enough height so that it doesn't crash with anything. For more information, you can visit the official website.
Read More:
Conclusion
This drone is perfect for beginners, kids, and recreational drone enthusiasts. This is the suitable training quadcopter that will help you in learning how to fly UAVs. Though, this drone doesn't come with GPS feature, so you need to control it manually. The camera is 720P which is suitable for beginners, though not very high end. If we talk about battery life, it's only 10mins which are not very good. It's recommended to buy two spare batteries so that you can have multiple consecutive flights. The drone has a very simple user-friendly app that you can understand in minutes.
It comes at the lowest price. If you are looking for your first drone, I would say, go for it because you won't find any better deal than this one as of now in the market especially at this range. You will a stable and smooth flight with the quadcopter. If you are thinking of gifting something to your kid, this could be a perfect surprise for him.
Frequently Asked Questions (FAQs)
What is the FPV Transmission range of the Drocon X708W?
Without real-time transmission, it flies up to 80m, but if you want the first person view, then the range is up to 30m only.
What is the warranty period of Drocon X708W?
You would be getting one year of warranty with the product. For more information, you can visit their official site.
Do I have to register my drone?
It weighs less than 0.5lbs. You don't need registration for that.
Do I have to buy the prop guards separately?
No, you get the propeller guards with the product only.
Can I use the tablet for controlling?
Yes, you can. But you have to install the app in it.
Can I adjust the camera angle?
You can change the camera angle manually. So before the flight, decide what shots you are going to take and then set the camera accordingly.
Is it suitable for indoor flying?
That depends on who is flying the quadcopter. If you are a beginner, it's not recommended.
Can I use VR Headset with the phone?
No, it's not virtual reality supported.
World's Smallest Drone: Watch the Video till End

Trending Drones
Yuneec H520 Commercial Drone Review
Top 10 Drones for Real Estate Photography & Videography
Sensefly Ebee X, SQ, Classic & Plus| Price, Manual & Parts
Xiaomi Fimi A3 5.8g 1km fPV GPS Drone Review
Xiaomi fimi x8 se 4k GPS Drone Review