When you want to buy drone as a beginner, the first thing you look at is how easy drone is for you. You can't just put your hands on something that is very difficult and complex. So, Today in this article, we would discuss what are the best drones that a beginner should buy.
There is a myth among people that beginners should always buy the cheapest drones but that's is not always right as these cheap drones don't have good stabilization and can be easily crashed.
Instead of covering the cheapest drone for beginners, we would be focusing more on affordable drones for beginners. So, before we jump into the best drone to learn on. Let me first give you an idea about what are things you have to keep in mind before buying one.
11 Things to keep in mind before buying a beginner Drone
1- Cheaper drones aren't necessarily for beginners: Cheaper drones mostly come without GPS that makes drone controlling and flying stability worse. So, if you are thinking a beginner should only buy a cheaper drone, then it's going to make your learning experience more difficult. If Budget is not an issue, you can go for some good DJI drones. If you have a tight budget, then consider spending at least $100 to $200.
2- Failsafe & Obstacle Avoidance Mode: If you are buying a mini-drone then this feature is highly recommended. At the starting, when you are learning, you will see your drone getting lost many a times. This will allow your drone to return back automatically whenever you lose connection. Some high end drones come with advanced sensors that eliminates all the chances of crashing and you never crash your drone. This makes your drone more safe and secure.
3- RTH(Return to Home) Feature: Return to Home is also an essential feature which allows you to get your drone back to the home point. But this feature you have to set correctly. You have to set the home point properly before it takes off. Because sometimes drone returns to the position from where you started, and sometimes it returns where you exactly are. It works with a single tap on the screen but can be tricky sometimes.
4- Relatively Stable and Easy to Fly: Flight Stability is a significant thing. GPS plays a considerable role in maintaining this feature. We also call it altitude hold. The drone will hover in the same position when you stop using the controller. There are some advanced drones which remain stable even though it's windy.
5- Flight Time: Your drone learning experience might become quiet boring if you have less flight time. Go with the drone which has at least 15minutes of flight time. It is always recommended always to carry some spare batteries. If you don't have extra batteries, charging time also plays a huge role. Some take a couple of hours to get fully charged, while others get juiced up in 4o minutes.
If you have a spare battery and you want to retake your drone into the skies. Let the drone cool down, only then hit the take off button. It will increase the flight time.
6- Controller Option: Make sure your drone works with both, hardware controller and mobile device. This gives you more flexibility, and you feel more comfortable while operating it.
Also make sure to check, how comfortable the controller is. Many times, using a controller feels like using a joystick, like you are playing a game. Try practicing with both and then decide with which you are more comfortable.
7- Ready to Fly From the Box: If you are buying your first drone, An RTF drone is highly recommended. They are easy to use, and they are ready to fly out of the box. Simple charge it, switch it on, and you are good to go. Don't go for BNF drones, they might be a bit overwhelming for a beginner.
8- Size & Weight: Size of the drone is mostly overlooked. But Small size compact drone is more easy to fly, especially when you are taking it off indoors. You will find a lot of copters that will fit in your palm. The weight might vary from 100g to 300g for these smaller drones. So, first decide where mostly you are going to fly your drones, then choose the drone wisely.
9- Personal Preference: Sometimes people have a lot of personal preferences. What somebody else needs as a beginner, you might not need at the same time. Here comes a lot of factors, some people prefer to go with a higher end costly drone while others might be happy with the second one-time usable drone.
10- Cost: Drone cost varies from $50 to $2000, so before choosing the drone, don't forget to have a look at your budget. Naturally, Costlier drones come with more features and better stability in comparison to cheaper drones.
If you are just buying it as a hobby, don't spend too much money. If you are buying it for professional use, you might consider paying some extra bucks. Most people start off with cheaper drones and gradually they upgrade them while getting better at flying. Benefits of cheaper drones are that even though you crash it, you don't have too much regret.
11- Availability of Spare Parts: There are more than 85% of chances that you will crash your drone at a certain point. So, there are a lot of drones whose spare parts are not easily available. In that case, you have to buy the new drone once again.
So, better buy a drone which has parts available online, so if you crash the propeller or something else, you know exactly from where to get it replaced.
Top 10 Drones for Beginners | Easy Drone to learn on
1- DJI Mavic Pro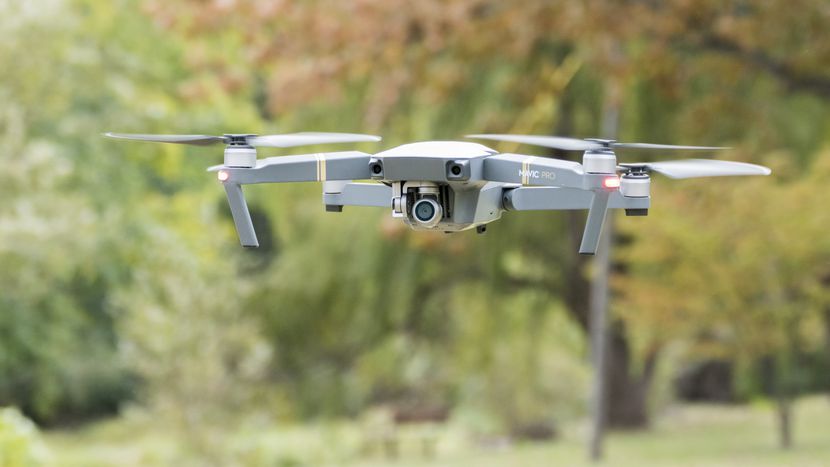 This drone might seem pricey for a beginner, but still, I would keep it at the top position for one of the best drones to learn on. As it comes with better stability and control. This drone would cost you somewhere around $1000, but at the same time, you will get all the features that you need.
It comes with one of the best obstacle avoidance technology in the market as of now that eliminates the chance of possible crashes. If you want more batteries, propeller guards and other accessories. You can buy the flying More Bundle.
The drone has solid build quality, simple to use and compact at the same time. Once you get good experience in it. You can use it for indoor flying as well.
You will find a lot of modes with this drone. But better, if you stay away from advanced features in the starting. Once you get the hold of it, then only start experimenting with other modes.  The beginner's mode is specially built keeping beginners into consideration. It is highly recommended for the novice. If you lose your drone by mistake, it has an RTH feature that will allow it to come back its set Home location.
If you master this drone, you can fly other drones with convenience and without any glitch. Don't rush while flying. Learning is a gradual experience, and it takes time.
Pros & Cons
It is one of the best beginner drones but pricey at the same time.
It is small foldable and easy to carry wherever you go.
It's long flight time makes your learning experience consistent. You don't have to charge it every ten minutes.
The drone is also very quiet, so you can also give it a try indoor.
There are a lot of free features as well that allow a drone to take care of a lot of things by itself.
It doesn't launch well from the uneven surface and has bit narrow FOV.
You might also get overwhelmed by the features that you get with the drone.
Technical Specifications
Drone Weight: 735g
Battery Power: 2970mAh
Charging Duration: 60+ minutes
Control range: 4.3 mile (7 km)
flight time: 27 minutes
Speed(Max): 18 m/s (40 mph)

2- Parrot Bebop 2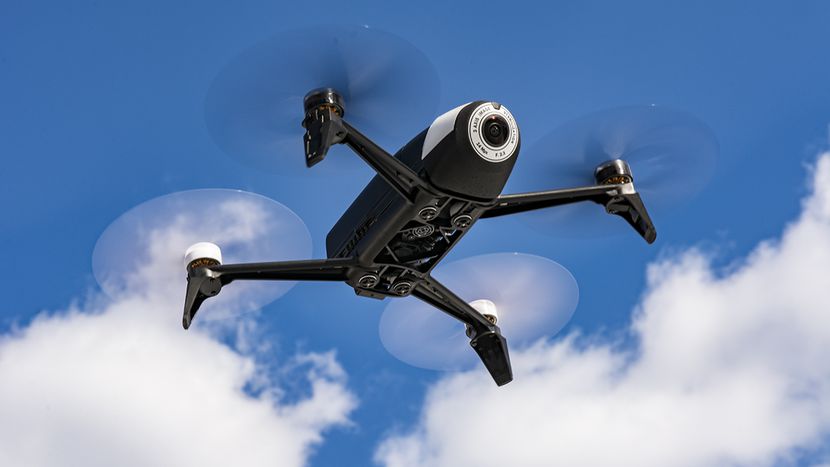 The Parrot BeBop 2 comes at the second place in our easy to learn on the drone list. This drone is suitable for kids and adults. You can start using as a beginner and keep on using it once you become advance in flying it. Every time, you charge the batteries, you get 25 minutes of flight time that provides you ample amount of time to learn. You have to assemble the drone properly before you take it off. The props of the drone come with color coding, you can simply twist them, and they fit in the position.
It doesn't come with the flight controller. Either you use it with your smartphone through its app or spend some extra bucks and buy a separate controller. If you have a budget and want to have all the accessories, you can also consider investing in the full bundle. You can have some excellent accessories with the kit that includes FPV glasses, Advanced controller and much more. These items are recommended for advanced users.
The new version of this drone has done a lot of upgradation than the previous ones. Now, you have a better build quality and compact size. It comes with the 180-degree fisheye lens with the 14MP camera. It can shoot really good quality videos. If you have a dream of becoming a professional drone flyer one day, then this drone is highly recommended for you.
Pros & Cons
The drone is great for beginners as it comes loaded with all the essential features.
The drone is also small that makes it portable.
It is also fast that allows you to practice at higher speed and gives you a better learning experience.
It is durable & stable and comes with easy controls.
Motors are powerful and have a lot of autonomous features.
The drone is also very affordable for keeping all the specs into consideration.
You only get 8GB memory space, and you also have to pay extra bucks to buy some in app features.
Technical Specifications
Drone Weight: 500g (1.1 lb.)
Battery Power: 2700 mAh battery
Charging duration: 55 minutes
Controller Range: 300 m (984 ft.)
Max flight time: 24 Minutes
Max speed: 36 mph

3- Altair AA818 Hornet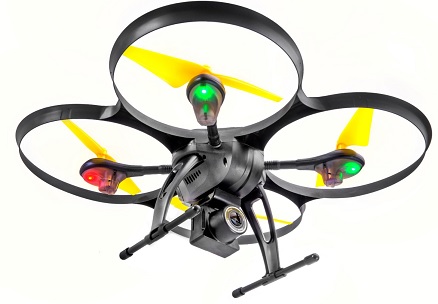 It is one of the best mid-range quadcopters and recommended for beginners. It is better than a toy and lesser than a high-end drone. It's a good drone to start off with. Its body is mostly made up of plastic and rubber to make it as much as crash resistant possible. As a beginner, you are going to have a hard time with landing, and that's why the landing gear also comes with rubber damping that keeps the drone safe from touch down.
There are a lot of things that I really appreciate about this drone that includes durability, immersive FPV Experience and the good quality camera that is capable of recording in 720 HD Camera. You get a lot of flight modes options as well, and settings can also be adjusted according to your experience level. There are three skill modes like Beginner, Intermediate, and Advanced that gives you a lot of flexibility.
The drone comes with one touch take off and landing. You also get a warning once it goes out of range. Battery alarms keep you aware when you take your drone back. Altitude Hold Mode gives you better stability.
There's no such thing as the perfect beginner drone. However, the 818 Hornet is as close to perfect as you can get for the price category. Still, there are a few negatives that may deter some folks. The 100-minute (1:40) charging time is long. That means gaps between flying times even with the bonus battery unless you buy extras. There's no GPS or Return to Home safety functions either.
Pros & Cons
The company provides excellent support service in case you ever need them. The spare parts also easily available online that allows you the room for a replacement. You don't have to buy the whole drone again.
It takes around one and a half hour for charging that might turn you off. So, you might have to buy some extra batteries if you don't want too much gap between the flights.
It also has Night time LEDs that help you out flying in the dark.
It also doesn't have RTH Feature and GPS that might make a flight more complex to handle. You have to control everything manually in this flight.
Technical Specifications
Drone Weight: 2.82 lbs. (1279g)
Battery Power: 2 7.4v LiPo Batteries
Charging Duration: 100 minutes (1:40)
Controller Range: 150m (490+ ft.)
Flight time: 15 minutes

4- HUBSAN X4 (H107L)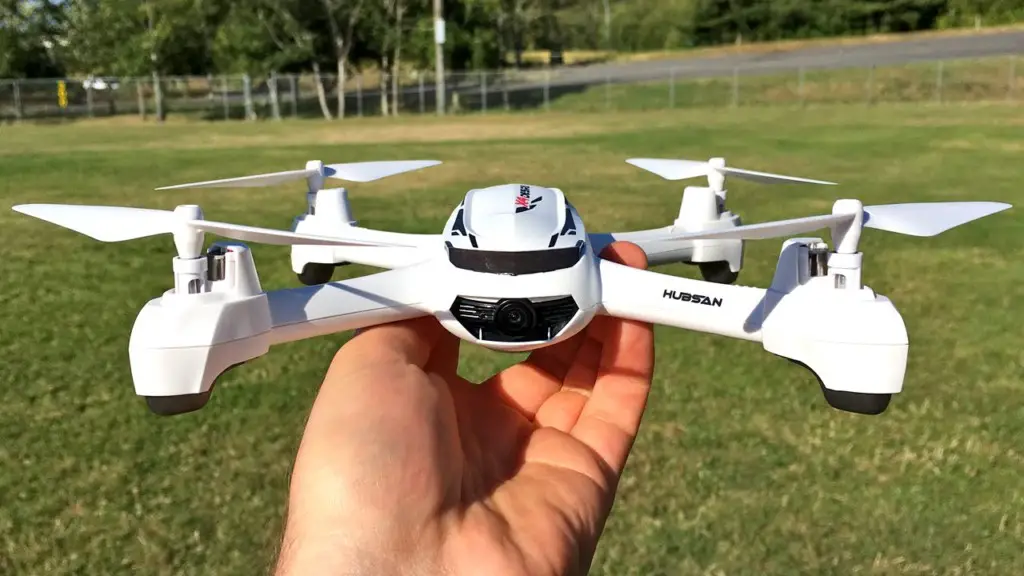 This drone has received really good rating online. The drone is very durable, cheap and easy to fly. It is a very small size drone; fits in your palm perfectly. You won't face any problem while flying it indoor or outdoor.
It has LEDs built on the arms, as soon as battery getting gets low, you will see the blinking as a warning. You also get two flight modes as well for beginners and for advanced. At the starting, fly the drone in beginner's mode, and gradually you can shift to advance. You get around seven minutes of flight time, and you can also charge it with your laptop as well.
Pros & Cons
The drone is fast and durable and comes in one frame.
You can do a lot of acrobatic stunts as well.
This is an RTF Drone, and you can start flying as soon as it is out of the box.
You might not be happy with its short battery life.
The drone also doesn't have good safety measures.
Technical Specifications
Drone Weight: 554 g
Battery Power: 240mAh Li-Po Battery
Charging Duration: 30 – 40 min
Controller Range: 100 m (328 ft.)
Max flight time: 6 – 9 minutes

5- Holy Stone F181 RC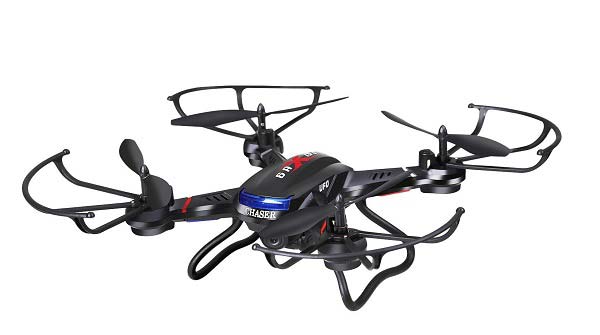 This drone is around $100 range and comes with durable plastic. It keeps the drone safe from minor crashes that you are going to see at the starting. It also has blade guards that make the propeller safe from the crash. You get around eight minutes of flight time that is not an exception for the beginner drone, but it also comes with the spare battery so that as soon as you land, you are ready for your next flight.
Pros & Cons
It gets heated after one flight, so you have to cool it down before you take if off for the next one.
It also has a 2MP detachable camera. Better, remove that camera and then practice, it will give you a better flight duration.
It is good for beginner, durable, has intuitive controls and also comes with soft landing pads.
Technical Specifications
Drone Weight: 400 g (14.1 oz.)
Battery Power: 3.7V 750mAh Lipo (includes spare)
Charging Duration: 90 min (1.5 hr.)
Control range: 100 m (328 ft.)
Max flight time: 8 – 9 minutes
Max speed: 4.4 m/s (10 mph)

6- Ionic Stratus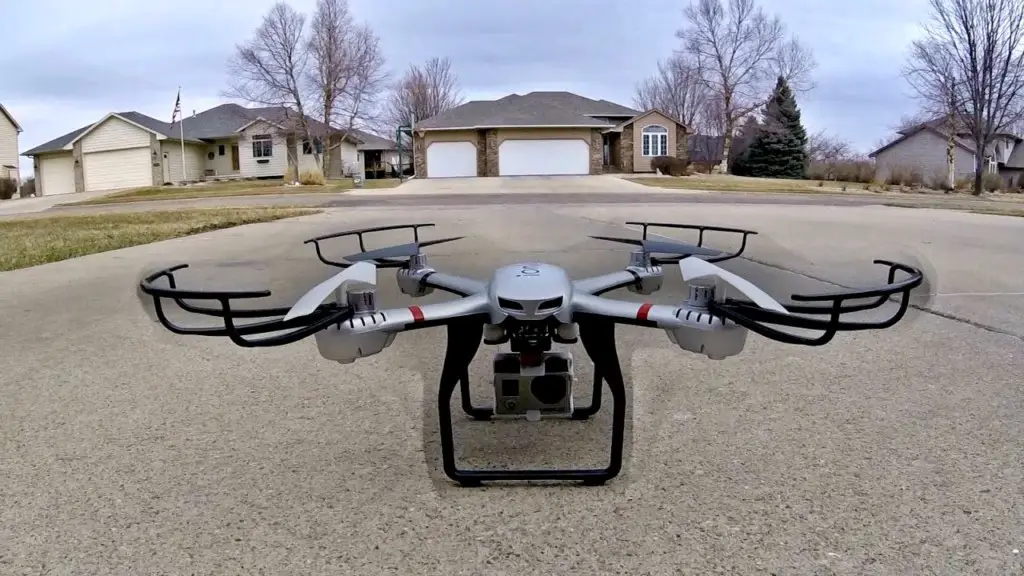 This is again a medium range drone, very popular among beginners. Though it doesn't have a camera, but it comes with a camera mount. The drone is super light weight and easy to use. There are a lot of flight options too that you should only explore when you have little bit experience on it.
The build quality of the drone is pretty good. Propeller guards make it more durable though landing gear is not very strong. Drone is very inexpensive, and drone parts are easily available online. So, fly it without fear and take it to the new heights. The camera mount allows you to mount the camera on it. You can mount the GoPro on it and have solid quality footage. You won't find camera mount feature in any other drone at this range.
Pros & Cons
It is a good beginner drone, compatibility with GoPro makes it unique.
Drone is fun and easy to fly.
You also get features like headless mode.
Propeller Guards, Landing Gear, and Solid Build Quality make the drone more durable.
The battery takes a lot of time to charge.
Flight Time is very short.
Many users said that it is too fast and bit difficult for the beginners to handle.
Technical Specifications
Drone Weight: 1724 g
Battery Power: 7.4V 1200mAh Li-Po
Charging Duration: 150 min
Range: 150m (492 ft.)
Max flight time: 9 minutes

7- Parrot Rolling Spider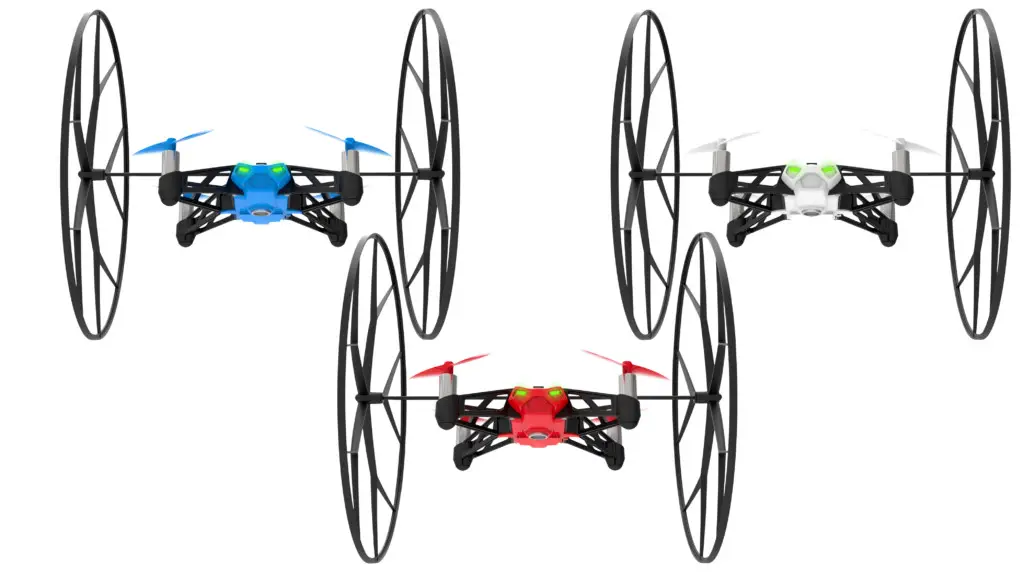 This is one of the most fun drone available online at affordable price. It has wheels on it. It flies and climb the wall and can do some really cool stuff. The drone is pretty small and fits into your palm. Unlike other conventional drones, you won't be getting any controller over here. You have to use the Parrot app and control it through the smartphone.
You should start learning it with its basic setting. As a beginner, you can start off with the tap to fly and land mode. It will allow the drone to take care of taking off and landing autonomously. There are a lot of other cool features that you can try once you get the hang of it.  You can use features like control acceleration, climbing & turning rates, and heigh limits.
Wheels apart from making it cool also works as propeller guards. A lot of drones at the beginner level are not suitable for indoor flying, but this one you can fly inside your bedroom without fear; the giant wheels protect the drone crashing into furniture or other vulnerable items indoors. After every charge, you get around eight minutes of flight time. If you remove the wheels, flight time will increase.
The Bluetooth connection affects how the Parrot Rolling Spider performs. The nearer you are to the outer limits of the flight range, the more chance there is of a sluggish experience.
Pros & Cons
It doesn't have much bluetooth range. So, you always have to be near to the drone, so it doesn't go out of the range.
The drone has a unique design and looks which makes it durable and sturdy.
Drone is also dirt cheap and highly recommended if you don't have much budget to spend on.
Technical Specifications
Drone Weight: 55 g
Battery Power: 3.7v 550 mAh
Charging Duration: 90 min
Control range: 20 m
Max flight time: 7minutes
Max speed: 11 mph
8 – Force1 U45W Drone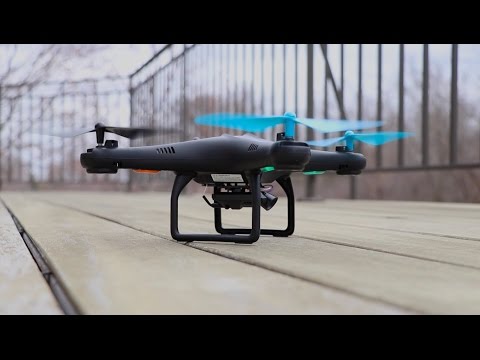 This drone has a lot of features. It's kind of an advanced drone at beginner level. This drone allows you to have FPV with VR Headset Compatibility. Once the WiFi is connected, you can see the live feed of your drone. The drone comes with altitude hold mode that makes it easy to fly. Beginners and Kids, both can use the drone without a glitch.
This is an ideal drone with a lot of features. You also get stabilized photography and videography with this. Auto TakeOff and Landing make the drone more easy to fly. In the beginning, the landing and take off are the most critical things to do. But, these autonomous features make it really easy to use.
It can capture 720p high definition aerial photos and videos with the 2megapixel camera; Sync it to your controller to really bring life to your flights!
Pros and Cons
It has custom route mode that allows the drone to follow the specific path set by you. You can do it with a mobile app path assistance app.
You also get 720P HD Camera to click photos and videos.
Altitude Hold Mode makes the drone more stable and easy to fly. You can do a lot of tricks with the drone also.
VR Headset Compatibility and Custom Route Mode really make this drone stand out of the crowd.
The range is only 100m, and there is no RTH feature as well.
You can't pivot the camera.
Technical Specifications
Flight Duration: 7-8 min
Environment: Outdoor
Camera Quality: 720p HD 2MP
Battery Power: 3.7V 500mAh LiPo
Weight: 4.2 oz
Size: 14.4 x 4 x 13.8 inches

9- UDI 818A HD+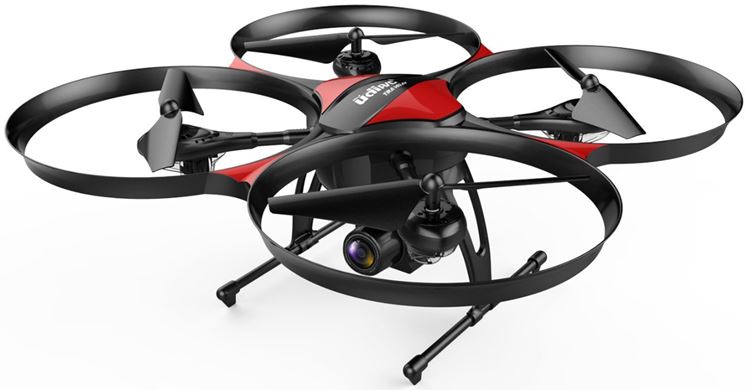 This drone has a lot of good reviews on Amazon. The drone has the solid build quality, and it is specially built keeping beginners in mind. It's elasticated plastic blades can bear the minor crash.
The company claims that it has a crash-resistant design which can stand minor collisions with the walls, trees, and other objects. It's a great drone to learn on, and you can fly it without fear of getting crashed.
The drone is ready to fly, just unpack it, charge the batteries, and you are prepared for your first flight.
What, I love about this drone that you can do a lot of simple maneuver with this drone. It can easily do 360 degrees flipping in any direction. It clicks pictures and records video with sound.
Comes with a small 2MP, forward facing camera already attached. The quality of the optics is great for a drone in this price range. I'd say it's one of the best in its class.
There's a decent remote control with two joysticks and a roll button for performing those instant 360˚rolls. There's also a nice LCD screen that shows your current flight status.
Pros & Cons
The UDI 818A HD+ comes with 2MP Camera which gives you decent quality pictures at this price range.
Instant 360-degree roll is easy and fun to use.
The drone is affordable and has decent build quality.
You also get the controller with the kit once you make the purchase.
Though short battery life, limited flight range could give you a slight turn off.
Technical Specifications
Drone Weight: 130 g
Battery Power: 2 x 3.7v 500mAh Li-Po Battery
Charging time: 90+ min
Control range: 32 m
Max flight time: 8 minutes

10- DJI SPARK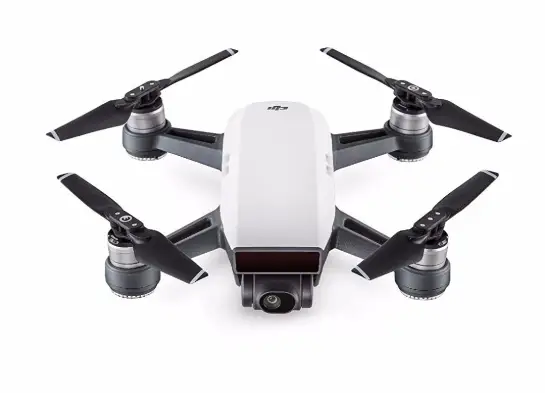 You might be wondering why I have put this drone at last. It is far better than the drone I have mentioned above regarding features, but most beginners are not willing to spend much amount at the starting. So, its higher price is a bit turn off for newbies.
This is one of the smallest drones by DJI. If you are willing to spend little bit extra money, this could be a perfect fit for you. It is simple to use and fun to fly. There are a lot of cool things, you can do with this drone, you can operate it with gestures, take off and landing on your palm and much more. You get around 16 minutes of flight time, the camera is capable of recording in 1080P. There are a lot of intelligent flight modes that you can try as well.
Pros and Cons
You won't find this much Compact design drone loaded with these many features.
It has gimbal support that provides you smooth, stabilized footage.
Autonomous Flight Modes let drone control many things by itself.
Many Beginners might get overwhelmed by these many features.
Technical Specifications
Camera: 12 MP
Takeoff Weight: 300 g
Dimensions: 143×143×55 mm
Battery: 2970 mAh

How to fly a drone | Watch till End
Read More:
Top 10 Trending Drones