Being a Chinese manufactured product, snaptain sp7100 has been pretty well received.
To make your dream of capturing the world from the sky come true, the prominent China-based Vantop Technology limited company developed an incredible snaptain sp7100 drone designed for all categories of age groups.
It brings you a fascinating flying experience and makes it more exciting by capturing precious moments from the sky. Snaptain sp7100 drone is developed with a 4K UHD camera and advanced features such as a foldable quadcopter and brushless motor.
Follow me, and Smart returns to home and other available models. What makes it more interesting among the beginners is its 26 minutes long flight time, which is quite remarkable.
Snaptain sp7100 drone comes at a pretty reasonable price based on its camera specifications and other features. Its photos and videos are filmed with high fidelity through the 4K camera.
Besides, the battery of this drone is quite tolerant and enables tons of automated functions.
Moreover, the Snaptain sp7100 drone has multiple positioning systems that make it hover in a stable position and becomes easy to use, especially for beginners.
The fun part is that it can easily be controlled through various gestures. With its headless mode, it becomes stable and easy to handle for beginners.
Although the advancements of  Snaptain sp7100 drone isn't limited till here only! It has an automated return to the home setting that helps it reach its initial location in case of a crisis.
As we got a brief idea of what kind of potential Snaptain sp7100 drone holds, it's time to review this product with its features and specifications. So, let's get started!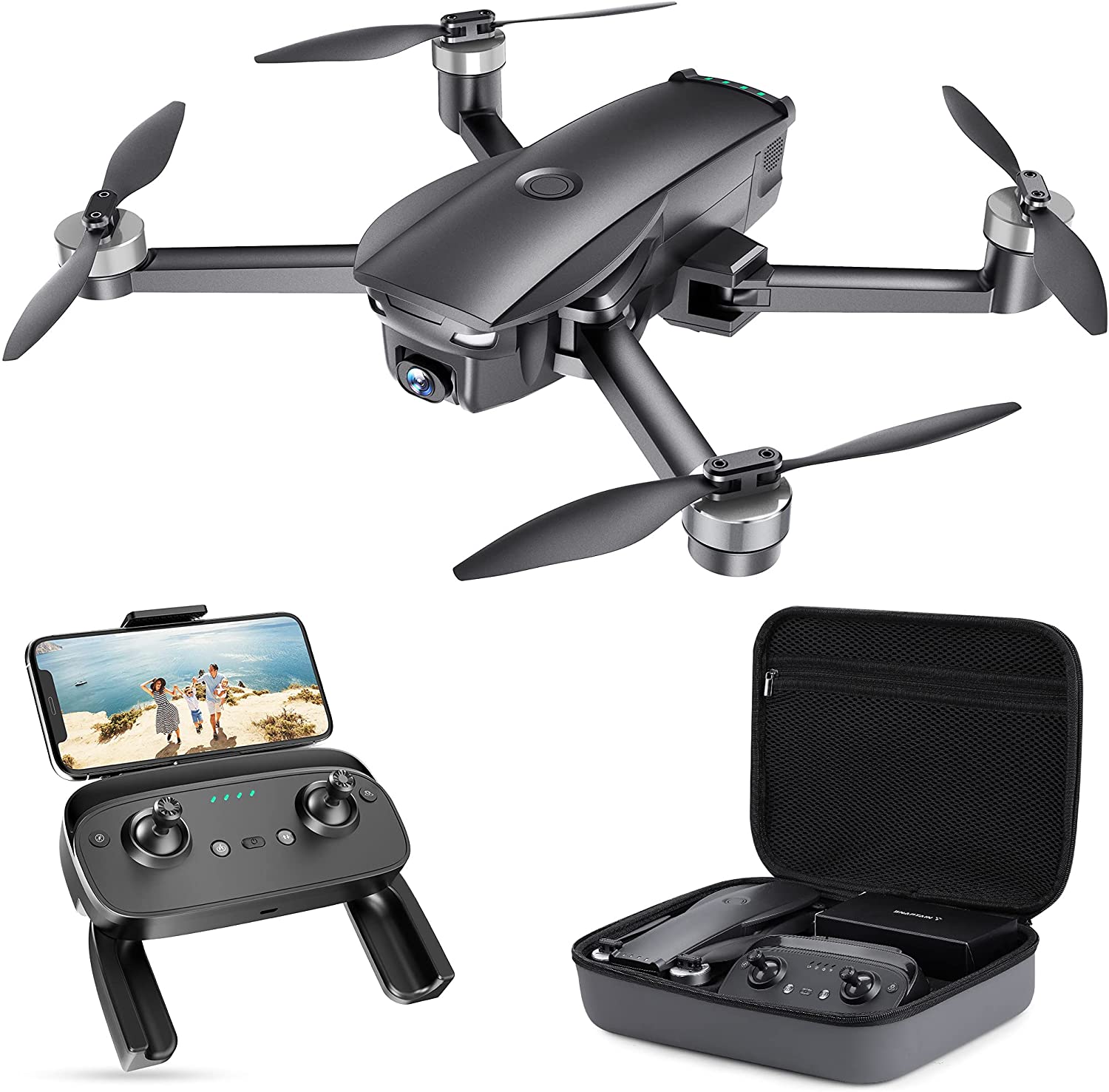 | Parameters | Snaptain SP7100 drone |
| --- | --- |
| Dimensions | 11.47×8.79×3.66 inches |
| Weight | 3.45 pounds |
| Motor | Brushless motor |
| Control range | <800 m |
| Charging duration | 4-5 hours |
| Flight time | 26 minutes |
| Photo resolution | 3840×2160 |
| Battery | 1 lithium polymer battery |
| FPV range | <500 m |
| Maximum flight relative height | 120 m |
| Video resolution | 3840×2180 15fs |
| Storage | Mobile or TF card |
| mobile app requirement | Android 6.0 or iOS 9.0 |
| Video format | MP4 |
| Camera | 4k UHD camera |
| Headless mode | Yes |
| Ultrasound module | Yes |
| Wifi | Yes |
| GPS | Yes |

Features
Automated return to home: Snaptain sp7100 drone has an automatic return to home feature that functions in crisis, such as loss of connection, low battery, or any other.
Also, you can call it back anytime you want with the given "Return to Home" option.
Advanced camera: It has a professional 4K UHD camera and shock absorption. These, when combined, capture photos and videos at high fidelity.
It can also be adjusted at an angle of 90 directly through the controller that helps in meeting all the requirements of shooting a professional film.
Exciting flight mode: This drone has various exciting, and fun flight modes specialized for you. You can get these based on points of interest, gesture controls for videos & photos, and waypoints.
Gesture controller: Snaptain sp7100 drone comes with an amazing gesture controller feature that makes it very convenient to use.
For example, showing a victory sign to the drone would automatically start taking pictures. So this becomes more fun and exciting as well.
Desired hover point: This feature works on helping you choose a certain point and set your desired hover dimensions. After this, the drone would follow the same route circularly.
This way, the users get to capture incredible shots from the sky.
Modern design: Snaptain sp7100 drone is designed in a very modern look as it has both a folding function and a remote controller. This helps you improvise your flight and make it easier to function with.
Very easy functioning: With its optical flow positing feature, the Snaptain sp7100 drone is easy to operate by proving accurate positing and stability during the flight, even during heavy winds. Also, you can control it through multi-functioning.
Real-time transmission: Another amazing feature of the Snaptain sp7100 drone is its 5GHz Wifi FPV transmission that helps in providing a smooth and clear live video view.
GPS Functioning: It has a GPS function that helps the drone return home. Along with this, it also has optical flow positing, altitude hold, and GPS location.
Specifications
Snaptain sp7100 drone is designed with a foldable function that makes it the best companion while traveling. After getting folded, it becomes very small that making it easy to carry around.
It has brushless motors which require minimal maintenance by the user. The drone is developed with ABS plastic material. And because of this, the drone remains protected even during a crash landing by absorbing the shock.
The drone contains a high-quality lithium-polymer battery of 3600mAh capacity. It takes around 5 hours to charge and provides a long flight time of 26 minutes.
Moreover, the Snaptain sp7100 drone provides the FPV experience as it is equipped with 5G wifi. It supports the maximum card limit of 64 GB, which you can save in your phone storage space in high resolution.
Its remote controller has a built-in rechargeable battery and provides a connectivity range of 2625 feet.
With Snaptain sp7100 drone's GPS settings, Follow Me mode helps sign the drone for capturing high-resolution photographs by just following you.
And with its headless mode, you can align the drone in the same direction as yours and need not worry about where it could go wrong or lost in any manner.
Plus, its brushless motors help in enabling strong functioning with very little noise as compared to one with brushed motors. The Snaptain sp7100 drone is designed as pretty durable and with high quality of the controlling and functions.
Pros and Cons

Conclusion
In conclusion, we can say that the Snaptain sp7100 drone is a great choice of drone for beginners. Based on its easy functioning and flight, both beginners and experienced users prefer it as one of the most competitive drones in the market.
It comes at some pretty resaleable pricing, and when you are getting started in this field, it's always a wise choice to go for such a drone with tremendous camera specifications.
It makes your flying experiences extremely fun and exciting; plus, you get to capture some truly incredible photos and videos. But before purchasing, you need to know that always stick to the given user manual to get started with the Snaptain sp7100 drone's functioning.
This would help you how to calibrate it. Also, it's always preferred t fly it in large open spaces so that the chances of crashes are eliminated.
And with its high-resolution camera with shock absorption function helps you capture shots, meeting all your requirements. The 5Ghz Wi-Fi FPV transmission ensures smooth and clear video and photos capturing.
Along with this, it has various other features that we discussed in this article, such as ultrasonic module, brushless model, GPS return home, customized fight route, points of interest, follow me mode, altitude hold, gesture control, headless mode, and others.
This makes the Snaptain sp7100 drone one of the most desired products in today's market for beginners.
Frequently Asked Questions
What is the hour LEDs' purpose on the Snaptain sp7100 drone? 
The four LEDs works on self-checking when the power is turned on. For this, just put the Snaptain sp7100 drone on a flat surface with the head forward.
How can the setting of indoor functioning change after calibrating it?  
In Snaptain sp7100 drone, the default setting is the GPS mode, so to change, switch to the ATTI mode to make it fly smoothly;y indoors. This way, the drone would not use GPS positioning, and that's why make sure you do not lose your drone.
How can the Snaptain sp7100 drone be connected with the wifi? 
Just turn on the device and make sure that only one device should be connected to the drone's wifi. Then, restart it, repeat pairings and proceed with the calibrated settings.