Today, we have brought one particular Mini drone for you. This Eachine E016H is a drone which is almost crash proof. It will crash and fly again. The company has covered it from all the direction; there is no way its props can be crashed with anything.
Apart from having the safe design and advanced features, it also has a perfect flight time that you won't find in any other drone at this range. It has 350mAh Lipo battery which gives the drone, the power to take off. The drone is very easy to control. I am sure, after a couple of flights, you can efficiently operate it. When it comes to its advanced features, it has altitude hold, which keeps the drone stable at a fixed height. There is no camera in the quadcopter; you have a bright LED light at the front, which helps you to take care of the drone orientation.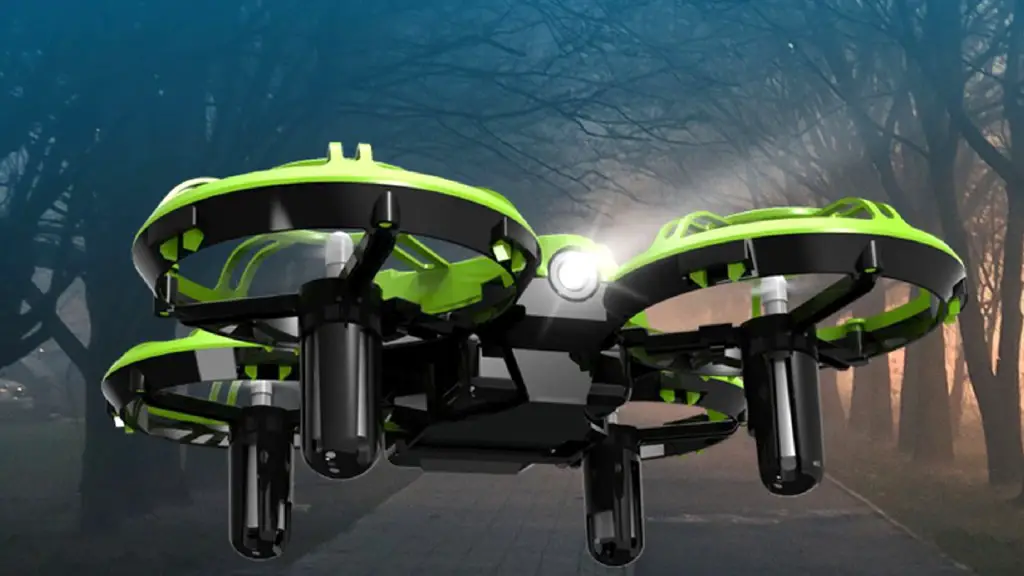 What I love about the product that it comes with two batteries instead of one that gives you two consecutive flight options of total 16mins. With the product, you will be getting the below items.
EACHINE E016H RC Quadcopter (1)
Transmitter (1)
3.7V 350mAh Lipo Battery (2)
USB Charging Cable (1)
Spare Blades (4)
screwdriver (1)
User Manual (1)

Eachine E016H Mini Review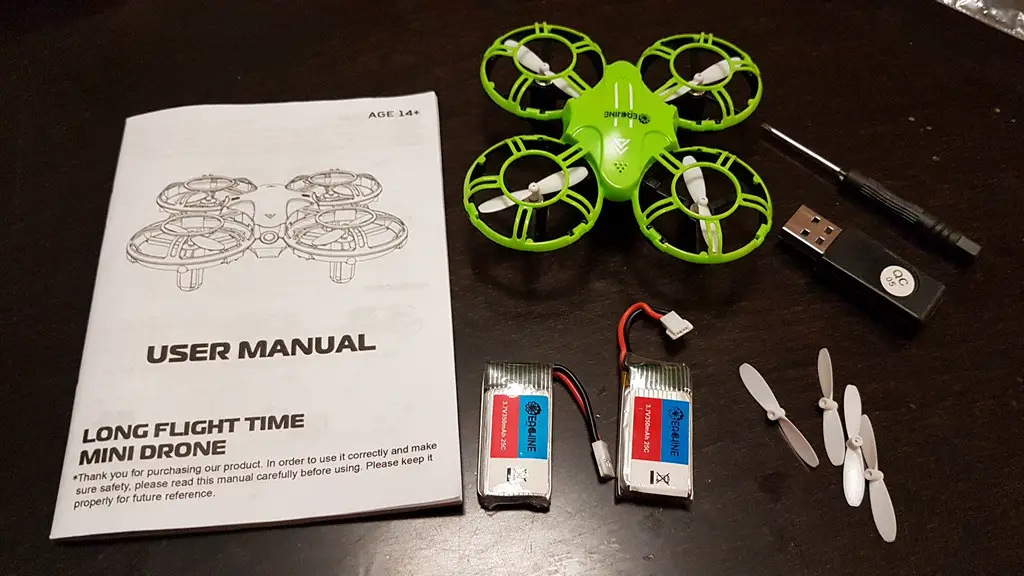 In this section, we will talk about all the essential aspects of the drone that you have to know. We will cover the E016H build quality, flight performance, camera capability, and others. So, let's dive into each one of them one by one.
Build Quality:
It has a unique kind of design which eliminates the chances of drone crashes. Its protective cover is completely detachable that you can remove in case if needed. When kids fly their first drone, most of the times, the quadcopters will bump into different kinds of stuff in surrounding, but when you have this bulletproof design, it reduces of the possibility of any kind of crash. It is also made up of good quality plastic which makes it more durable. When it comes to its aesthetic looks, it is bright in color and funky in a style that will undoubtedly draw some eyeballs if you are flying it outside. The drone dimensions are 8.5 x 8.5 x 3 cm, and it weighs only about 26grams.
Ease Of Use:
When it comes to drone use, it is pretty simple to control. Its control is fundamental that allows beginners to get hold of it very quickly. It has low battery alarm as well that gives you an indication about when to bring it back. Multiple speed modes bring more comfort to the flight. Most of the drones need smartphone app download to control, but in this one, things are pretty simple, you can control it with the controller only.
Battery & Flight Duration:
The drone comes with two batteries already. There is no need for buying a spare battery. With two batteries, you would be getting a total of 16mins of flight time that is decent enough, keeping beginner's requirement into consideration. If you want to increase the flight duration, you can remove the detachable drone cover. It works on a 2.4GHz frequency which is known for its anti-interference technology. The remote control is very small, fits perfectly in your hand, and you have good flight control.
Advanced Features:
In this section, we will talk about all the advanced features of the drone that you have to take a look at. These smart features make the quadcopter suitable for kids and beginner, and it's quite difficult to find the drone with all these features at this price range. So, let's dive into all the advanced features one by one.
One Key Return: It comes with one key takeoff and landing that makes flight experience quite convenient for novice flyers. Most of the time, when beginners fly the quadcopter, they make a mistake while doing the takeoff and landing and that's where the quadcopters are more prone to crashes. But, with this feature, take off, and landing can be controlled autonomously, and chances of crashes decrease drastically.
Headless Mode: Headless Mode is also very essential when it comes to flying drones. Beginners find the drone orientation tracking bit tricky at the starting. The drone's left and right vary depending on the direction it is facing, and you have to decide the drone controlling accordingly. But, you are using the headless mode, things become quite simple, and controls remain the same no matter at what direction quadcopter is facing.
Flips & 3D Rolls: The drone also has a fun part in it. It is also capable of doing flips and rolls with the click of one button. You can do the 360 degrees rolling at the high and low shift. Make sure, when you are doing the 360 rotation, it is a decent height. Otherwise, it might end up hitting the ground. You only try these stunts once you have gained good control over the drone. Once, you are ready, showcase it in front of your friends, they surely going to love it.
Anti Interference & Multi-Speed: The drone works on 2.4GHz Technology which is known for its anti-interference technology. There are also three option modes that you would be getting over here where you can select the speed at your disposal. Fly at low speed, and gradually, you can move to a higher speed.
Compass Mode: You also get a unique compass mode with the quadcopter that allows you to fix the drone direction correctly. With the help of joystick, you can change the position of quadcopter accordingly. It makes your flight more safe and secure.
LED Lights: It also has LED lights which makes the drone more visible, you can even fly it in night time as well.
Customer Support:
The company has known for its good brand value. They recommend that if you are ordering the drone from an e-commerce website and you find the box to be torn down, don't worry. It means that they have tested the product before shipping it to you. In case if you are facing any issue with the flight, you can read the instruction through their official site.
Eachine E58 | A Mavic Pro Copy
Eachine E56 Most Affordable Selfie Drone
IMP INSTRUCTIONS**
Don't overcharge the battery. You should know how to take out the battery properly and insert the port.
If the drone is unable to connect to the transmitter, please check whether the battery is full or not.
It is more suitable for indoor flight. If you are flying it outdoor, make sure that the weather is not windy.
Watch the Video till End
Trending Drones of the Month
Potensic D88 foldable drone Review