Eachine e58 is the replica of Mavic Pro. It is smaller, cheaper and has some advanced features as well. In 2016 and 2017, DJI Mavic Pro was one of the best selling drones, a lot of companies tried to make the replica of it, but Eachine E58 comes nearest. It looks so similar to Mavic Pro that first time, I mistook as Mavic only and what is more interesting than the similarity that it is twenty times cheaper than Mavic Pro. Cnet also covers that how exactly it matches with DJI drone.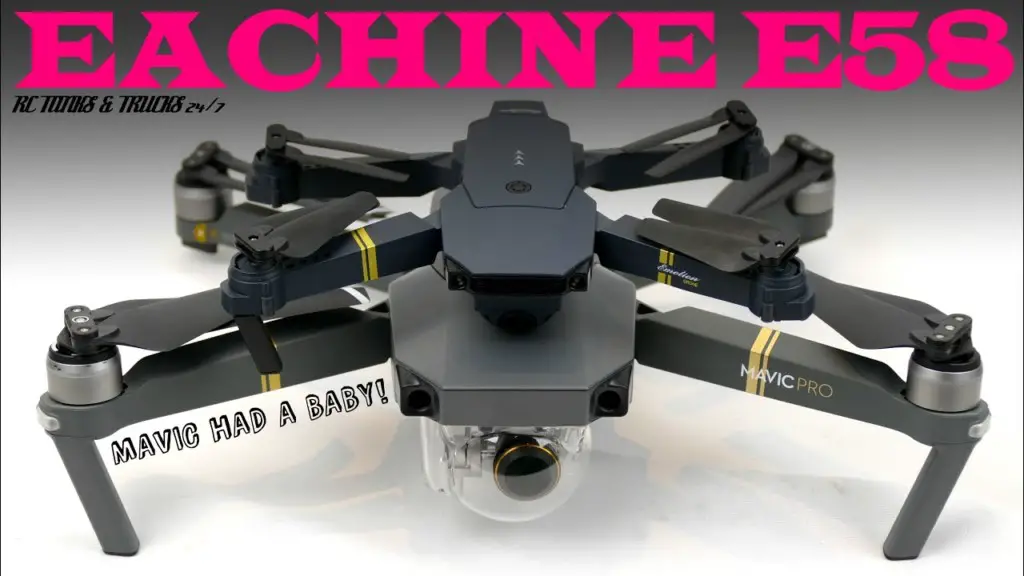 This is a kind of a drone suitable for beginners and experienced pilots as well as it comes with high-end features at an affordable rate. The drone is very responsive and stable at the same time. It has received really good ratings online because of its great capabilities. The quadcopter is small and fits in your palm. When it comes to camera quality, it's a lot better than the other UAVs in this price range.
When it comes to its features, it will blow your mind. It has features like altitude hold mode, headless mode, wifi app, one key return, and three-speed levels as well. A lot of first-time flyers have commented, being the beginner, they didn't face any problem in taking off this small quad.
Apart from having the advanced features, when it comes to its build quality, The Eachine E58 drone has a compact and foldable design that makes it easy to carry drone. You can even fit it inside your pocket also. The drone is made up of good quality plastic material, and in case of motor failure, they can be replaced easily.
What I love about this drone, here motors are connected to the drone with a plugin system which makes the motor replacement quick in case of any crash or failure.
The quadcopter is run on the 500mAh Lipo battery that provides decent flight duration. The drone is ready to fly out of the box. Below is the list of items that you would be getting with the product.
EACHINE E58 RC Quadcopter
Transmitter
3.7V 500mAh Lipo Battery (1)
USB Charging Cable
Protection Cover (4)
Spare Blades with Blades Clip (2)
Screwdriver (1)
User Manual (1)

Eachine E58 Review
In this section, we will talk about all the important specifications of Eachine E58. These are the features which make this quadcopter one of the best seller on Amazon. So, let's dive into all those important aspects one by one.
Real-Time Transmission:
You would be getting a real-time transmission with the drone. It comes with 120-degree wide angle camera which is capable of capturing high-quality images and videos. What I love about the camera that gimbal can also be adjusted. It's very rare to see FPV feature at this range, but this one gives you lag-free transmission which is remarkable. With this feature, you get the two view options available. The first one you can see the drone with your eyes and second, you can see the camera surroundings with drone's eyes. This gives better control over the quadcopter, and you feel more comfortable flying it.
Compact & Solid Design:
I love its good build quality and compact size. The drone is so small in size that it can be fit in your palm. The arms of the drone are also replaceable that gives more freedom and room for customization. The plastic material used in the drone is of good quality. I would say that it is a perfect backpacker drone. If you are a frequent traveler, it can easily fit in your bag small pocket. You don't need to carry the separate bag like real mavic pro-drone.
Easy to Use & Simple UI:
The drone is perfect for beginners. It comes with easy to use functions. You can be familiar with all the handlings and modes within an hour. Though, it will take some time to master them. The quadcopter is capable of auto landing and takes off that takes the convenience to the next level. You can handle the drone with the help of their application which is easy to use with simple navigation. Though, it is a look-alike of Mavic Pro but don't worry about its handling and controlling is not that complex, it is pretty simple to use. Features like headless mode, altitude hold make things easier for a novice that we will discuss in details in below sections. It also boasts about its emergency landing featuring that, of course, takes the quadcopter to the next level.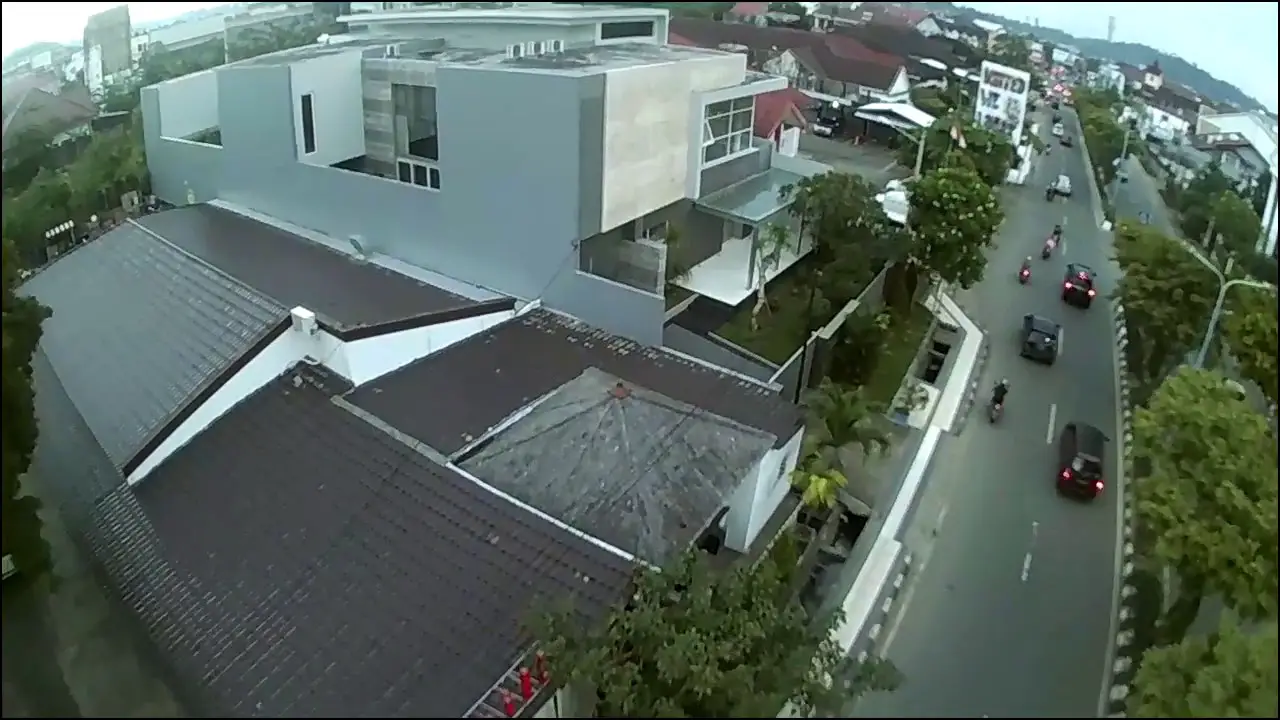 Advanced Features:
The quadcopter has some advanced features that make the drone easy as well as safer to fly. Below are some of those advanced features.
3D flips & Rotation: The drone is capable of doing the 3D flips that adds fun to the flying experience. You can showcase this skill in front of your friends as well. They are certainly going to love it. This 3D rolling can be done with the click of a button. Keep in mind when you are doing the flips and rolls, the quadcopter is suitable height so that it doesn't crash on the ground.
Headless & Trimming Mode: This is the must-have mode for the beginners. The drone gives you the better control, and you can fly it with the same controlling options no matter at what direction its nose is facing. When I flew the drone for the first time, I was always confused about the drone direction and many times, I will make this mistake by using the left stick instead of right. It also has trimming mode as well which can give a tilt to the drone if required and then you can have the stabilized flight accordingly.
Altitude Hold Mode: This mode allows you to hold the drone at a fixed height. A lot of time people ask, how to use this mode so let me tell you that there are no specific settings for that. You simply leave the control, and it will stay wherever it is. This mode allows you to click the picture and capture videos free from any kind of jitter or jelly effect.
Customer Support:
The company is known for good quality customer service. In case, you face any problem; you can directly email them or call them. They are quick to help. What I love about the drone that all the spare and replacement parts of the quadcopter are easily available. Apart from their easy availability, you can also replace the parts by yourself very easily. The motor in this quad works with the plugin and plug out, you don't need soldering for this. You can download Eachine e58 manual from here.
Flight performance:
Keeping all its features into consideration, the drone is suitable for both indoor and outdoor flight. Its altitude hold mode makes the flying experience more smooth and stable. It also has different color LED lights in both the direction that allows you to keep track of the quadcopter orientation. There are multiple speed modes as well with which you can change the speed from 30% to 100% and fly the quadcopter at your comfort. For the safety reasons, as soon as the battery is low, the quadcopter will land automatically.
Transmitter and APP control:
APP of the drone has a simple UI, and you won't face any problem with its navigation. 3AA batteries power the remote controller of the drone. If we talk about the transmitter build then it has normal control sticks, there are total six buttons. You would find take off and landing buttons on the side of throttle sticks. You can also control the machine with the smartphone through virtual control. It also has gravity sensors as well that will allow you to control the drone with your mobile movement and take your flying experience to the next level.
Eachine Camera Footage
Eachine E58 Pros & Cons
Technical Specification
| Eachine e58 | Specifications |
| --- | --- |
| Charging time | 60-70mins |
| Flying time | 7-9mins |
| FPV Range | About 30m |
| Camera | 2MP 720P wide angle |
| Channel | 4ch |
| Gyro | 6 axis |
| R/C distance | 80-100m |
| Motor | 0720 Coreless Motor |
| Transmitter Battery | 3 x 1.5 AA battery |

Eachine e58 pocket Drone Assembly & Flight setup
A lot of people have also been asking about the flight setup and drone assembly. There are a few things that you have to keep in mind for pre and post flight. You don't calibrate the drone properly; you might not have a stable and smooth flight. Sometimes, there would be other issues as well. There are two ways; you can do the calibration. We'll discuss both the ways one by one in below section.
Calibration through App
This calibration is easier. At first, connect the drone with your smartphone.
Then enter the settings MENU, and there you can go for the Gyro Calibration option.
Once, you click on the button, LEDs will flash quickly and then will become stable. Once the LEDs stop flashing. That's when calibration is done.
Calibration through Controller
Switch ON the controller then switch ON Eachine E58 by pressing the power button for a longer time.
Then put the drone at the horizontal surface. Make sure that surface is flat otherwise calibration won't happen properly.
The for calibration first put the throttle button and then bring it down. You will see the lights going from flashing to solid which will indicate the successful calibration.
If still the lights are flickering, then repeat the step once again and probably this time it should work. If still, you are facing the issue then change the location and try again.
BETTER & AFFORDABLE ALTERNATIVES (RECOMMENDED)
Final Thoughts
We have discussed everything that you should know about the Eachine E58. The drone is a lightweight quadcopter with good build quality. It is also very easy to learn that's why it is suitable for beginners. You can also record good quality video and pictures with it. It costs around $75; I would say that it is one of the best drones under $100 in 2019. It also has a fun factor in it with flips and rotation. You can showcase it in front of your friends, and they will surely love it.
If you are thinking of buying a drone for your kid or a friend who never flew the quadcopter before, Eachine E58 is a good one to start. It is affordable and loaded with some amazing features.

FAQs
What to do if quadcopter is not flying after changing the propellers?
Make sure that you have made the right connection for the props. It should match in alphabetical order.
What to do, I am facing the problem of connection loss in between?
This might happen because of a problem in wifi connection.
How do we insert the memory card in this drone?
The memory card slot is at the bottom of the drone from there; you can load and unload the card.
What is the maximum height the drone can reach?
It can go up to 80 to 100 meters.
Can I use the picture and video mode without a smartphone connection?
Nopes, you can't use it.
How do we adjust the camera angle during flight?
You can't adjust the camera angle during flight that you have to change before flight only.
What are the best Eachine Drones in the market?
Here is the list of Best Eachine Drones in 2020 [Complete List].
Where to buy eachine e58 accessories and spare parts?
You can buy spare parts and accessories over here.

Watch the Video till End