Today in this article, we will talk about the Elite REZO 2.4GHz 4.5CH drone. This microdrone is a small entry-level drone and suitable for beginners. It has a lot of advanced features which makes it unique. It has features like altitude hold, one key takeoff and landing, 360 flips and much more. That, we'll discuss in detail in the below section. What I love about the drone that it comes fully assembled, you take it out of the box, and it's ready to fly.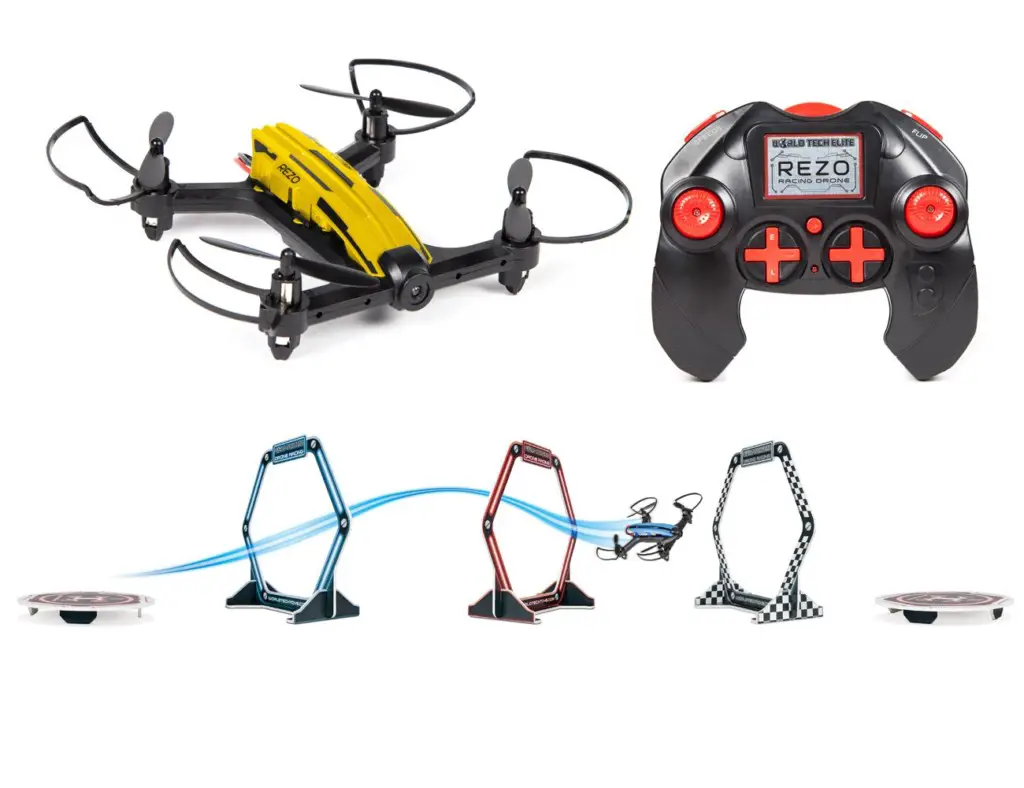 Its built-in camera is capable of clicking some decent pictures and videos. This pocket-size drone is the perfect fit if this is your first drone. It costs around $30 which is very affordable. This is a kind of quadcopter that even if you break at very first flight, you won't regret it.
The quadcopter is easy to fly because of its innovative feature. When you are a novice drone pilot, the chances of crashes are very high during takeoff and landing, but here automatic take-off and landing ease the process and it is done autonomously by drone only.
Here, the drone camera has the SD Card slot where all the media files are stored. You won't be getting SD Card with the package that you have to buy separately. The transmitter is powered by AAA batteries that fit at the bottom of the controller. The drone Lipo battery can be charged with USB Cable with the help of a laptop. The drone dimensions are 5.25*5.75*1.25 Inches.
You can also buy the complete racing course, in which you get three hurdles and landing and take off pads. It allows you to do the stunts and you get more fun during flight performance. The delivery process can take from 24 hours to a couple of days depending on the location and e-commerce site that you are ordering. In case, you receive the defected product, you can ask for the replacement. Below is the list of items that you would be getting with the package.
Rezo Quadcopter
LiPo battery
USB Charger
Memory Card
Adapter
Spare Propellers (4)
2.4GHz transmitter
AAA batteries
Screwdriver
User manual
Rezo racing Drone Review
In this section, we'll talk about different aspects of the drone. We'll talk about build quality, camera specs, flight performance and much more. So, read this section thoroughly, so that you have better clarity before purchasing one.
Multiple Color Options:
What I love about the quadcopter that you get multiple color options to choose from. This is a drone which comes under the toy category, and kids love different funky colors, so you can buy the one which he/she likes the best.
Camera Quality:
You get an inbuilt camera with the drone that does the basic photography, and you can also experiment with the video making. However, don't expect the very high-end video quality, it's a beginners drone, and the footage that you get is very basic only.
Build Quality:
The drone is very funky in design. It has the long slim body, and on the top of that, you get this pointed camera. Though, the plastic quality that is used is not that good. It looks bit fragile though you get prop guards with the quadcopter. Consider yourself lucky if the drone can survive a couple of crashes. So, handle the drone with care, try to fly it in an open area and avoid the windy weather.
Remote Controller:
With the quadcopter, you get a red and black color transmitter which has edges on both sides. It allows you to hold the quadcopter properly and you get a proper grip. To power the controller, you need to use the AAA size battery. It is a 2.4GHz transmitter with 4.5 channel transmission.
LED Lights:
The quadcopter also has LED lights which allows you to fly the drone in low light condition as well. If you are a beginner, then don't try to fly it. You might end up crashing the quadcopter.
Technical Specifications
| Rezo Racing Drone | Specifications |
| --- | --- |
| Drone Type | RTF |
| Flight Duration | up to 6mins |
| Battery | 200mAh |
| Body Material | Plastic |
| Drone Weight | 20grams |
| LED Lights | Yes |
| Camera Quality | Basic |
| FPV | No |
| Drone Variety | Multiple Colours |
Drone Racing : Watch the Video till End
Conclusion
This is a beginner's drone. It is suitable for indoor flying, and you can also try it outdoor if the weather is calm and composed. Though the picture and video quality of the drone is very basic and you will not be very happy with them. It has some good flight modes that add fun to its flight performance. If you are looking for an alternative, then below are some of the options that you can have a look at.
Top 10 Trending Drones