When it comes to drones, Blade is not a very popular company, but still, they make some really cool drones. One of them is Blade Nano QX RTF Quadcopter. Today we'll take a look into this drone and talk about its important aspect. It is a small fun drone; you can buy for recreational purpose. It comes with multiple funky colors, and you can choose the one that you like.
If you are looking for a drone, just to have fun and learn some basics of drone flying. It could be a good one to start with. It is very lightweight and has solid build quality. Even though it crashes, it will survive the minor crashes.
It gives a very good performance when you are flying it indoors. Though in outdoor conditions, there should not be any wind. Responsiveness of the quad is pretty good, so don't push the throttle too much. Firstly get used to it and then slowly you can increase the pace.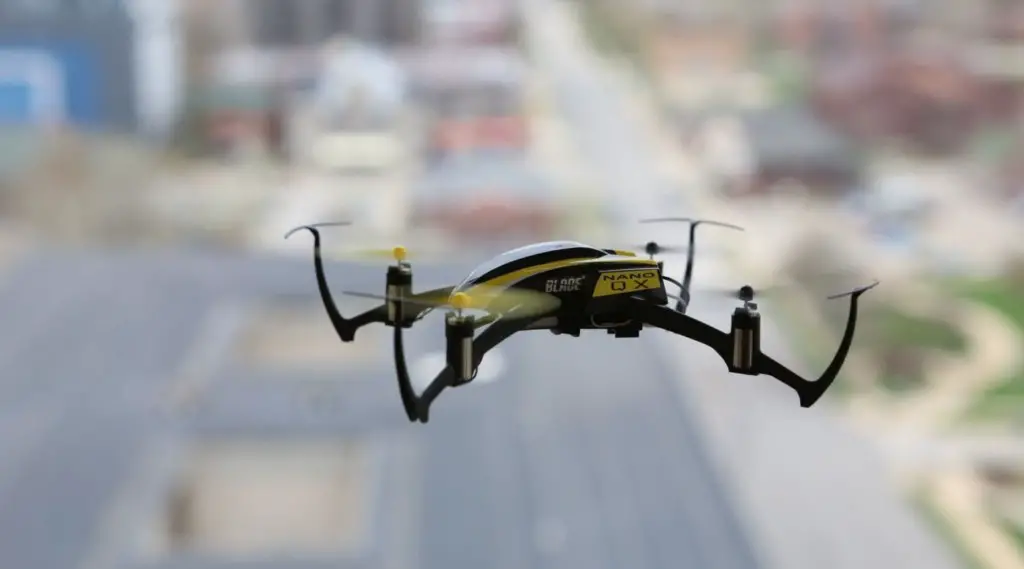 We'll be covering build quality, camera specs, battery backup, and other features in detail in the below section. There are also some better options that we'll cover in a better alternative section. So, read the whole article properly so that you have a proper idea about the product that you are buying.
In case you have any doubt or confusion, you can let us know in the comments below. We'll try to respond as soon as possible.

Technical Specifications
| Blade Nano | Specifications |
| --- | --- |
| Product Dimensions | 14.1 x 8.4 x 4.5 inches |
| Item Weight | 9.3 ounces |
| Recommendation | Age 14 + |
| Rotors | 4 |
| Motor Type | 6 mm brushed cordless |
| Battery Size | 150 mAh |
| Battery Life | 7/8 minutes |
| Camera | No |
| Price | Check Here |
Watch the Video till End
 Drone Review
Build Quality
It is ready to fly a drone. You take it out of the box, charge the battery, and you are good to go. You can also use as BNF version if you already own a controller. It has a very simple minimalistic design. Rotors also have the propeller guards, which saves the props during a crash. It is so small that you can fly it inside any room or office without a problem. If you are good at flying and want to increase the flight duration little bit, you can remove the propeller guards.
More than a drone, it looks like a toy. If you have multiple kids, you can get one for each of them, and they will have a fun time playing with it. And also in case you break the propellers, the spare parts are easily available online at a cheaper price.
Battery Specs
It comes with 150mAh Lipo battery which gets fully charged in half an hour and gives you around 7mins of flight duration. It's good to go with one spare battery so that you can have consecutive flight experience without a glitch. The battery gets fully charged in just half an hour. Though the sad part is that you don't get any charger with the drone that you have to buy separately. You only get the USB cable. Installation of the battery is pretty simple; you can easily slide it out.
Also, a couple of things regarding battery safety: store them at the proper place (No Humidity & Hot). If you are using some different charger, make sure it has the same voltage and ampere reading on it.
Performance
Don't get confused with its low price tag. Flight performance of the quadcopter is good. It is very responsive to the controller, and you'll have a lot of fun to fly. Even though you are a beginner; you will become good at flying after a couple of flights. Also, there are a couple of buttons on the controller, so if you are not aware, go through the manual first. You can download the user manual from here.
According to the company, it has SAFE (Sensor Assisted Flight Envelope) Technology, which makes the flight more secure and safe. But, always keep the drone in your sight. 90% of the safety depends upon how you control the quadcopter, a single mistake, and it will crash.
Maintenance
It is a low maintenance drone cum toy. Repairing of the drone is also very easier. Even though it meets any crashes and propeller gets broken. You can replace them by yourself. Spare props are available online, really cheap. In case the canopy gets broken, you can also buy them dirt cheap. There are no tools required for fitting the canopy or rotors as they snap into the body perfectly.
Extras
There are also unique drones in the market. If you love weapons, then there is a Drone Grenade launcher. Or if you live in the coastal area and want a drone that can assist you in fishing, You can look at this Drone that swims under water.
Conclusion
The drone is suitable for kids and beginners. Considering its lower price, it was a pretty good performance. The quadcopter parts are easily available online. Though battery backup is short so you probably have to buy some extra batteries. If you are a high school student and want to learn how to fly the quad, this is the best drone to start with.
We have covered everything that you need to know about this drone. In case you have any confusion or suggestion, don't forget to let us know in the comments below.
Better Alternatives (Expert Recommendation)
Top 10 Trending Drones