If you are looking for a mini FPV camera which is lightweight and very affordable in price, then you won't find any better option than this one. Its FPV setup is very simple, and you can use it may racing drones. You can use it with a flamewheel or tiny whoop or any other drone you have. There are a lot of different options available as well in the market, but at this price range, this is the best one. It runs on a 1s battery between 2.5 to 5.5V. The battery that is used with the camera is pretty cheap, and you can easily buy it online at just $4. You can choose between 450 and 800 mAh option which will give you around 20mins of backup.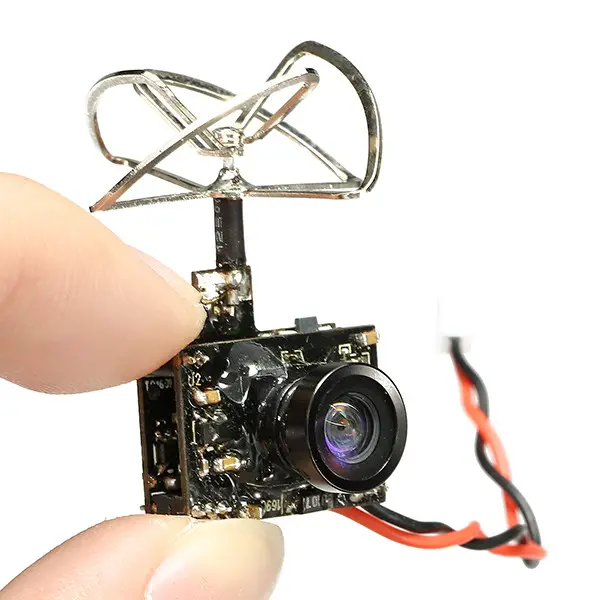 Apart from its low price, what I really appreciate is its easy installation and setup. It has easy to read display, and it runs between 25mW to 200mW. You can use it till 500meters at just 25mW.
Eachine Tx03 camera weighs around 6grams. It comes with a 1/3 inch CMOS sensor and 600TVL Camera. The objective lens is 10mm, and you also get a 120-degree field of view that is pretty good. You can also adjust the transmission output at your disposal. Below are the three items that you would be getting with the product package.
TX03 AIO FPV Camera
Cable
User Manual
Eachine Tx03 Technical Specifications
| Eachine TX03 | Specifications |
| --- | --- |
| Size | 20.66mm*14.06mm*6mm |
| Camera Resolution | 600TVL |
| Output Impedance | 50 Ohm |
| Wireless Channel | 72CH |
| Antenna Size | 22x29mm |
| Audio carrier | NO |
| Operating voltage | 2.5V ~ 5.5V |
| Current consumption | 250mA-510mA |
| Weight | 6Grams |

Eachine Tx03 Review
When it comes to drone review, there are some different aspects that you have to keep in mind. We'll try to cover build quality, camera quality, price and much more. So, let's dive into all of these aspects one by one.
Build Quality:
It has pretty solid build quality which makes it durable and sturdy. It only weighs around 6grams which makes it very lightweight as well. Being lightweight is a very important factor that a camera should have, it increases the flight duration, and you have more fun flying the drone. As it is a camera, it is very sensitive. So, handle it with care, if it falls down it might stop working. You get a unique type of nickel plated leaf antenna with the drone that helps you in getting the glitch-free transmission. You also get nickel plated 4 leaf antenna that allows you to have glitch free transmission.
Affordability:
This one costs you less than $25. I mean what do you expect at this price range. There are also some few cheap cameras available in the market, but the quality that you get with this one is remarkable. You can buy it from Bangood or Amazon. They do shipping all around the world, and you will get the delivery in a couple of days depending on from which country, you are ordering.
Camera Quality:
When it comes to camera quality, I will give it 4 out of 5. It also has the VTX with good range. It has a 1/3 inch CMOS sensor, and camera resolution is 600TVLA. The objective lens diameter is 10mm, and you get a 120degree field of view as well. Mini illumination is 1 lux and format in which the content is saved NTSC.
Transmitter:
The output impedance that you get with the transmitter is 50 ohm. You can also adjust the output power as well from 25mw to 200mw. You also have a 72 wireless channel connection. The antenna size that you get is 22*99mm.
Watch the Video till End
Conclusion
If you are looking for fpv racing camera for beginners, then this could be the one that you should consider. If you are looking for tx03 alternatives, then you can also checkout Quantum Elite X50-6 which is a bit heavier, but you get decent flying range which is around 3 to 4 miles. If you want the lighter option, then BS02 is the one you can try. Though, some users complained they are quite difficult to use in the early morning and low light conditions. If you have bit larger quadcopter, then you can also give it a try to Foxeer Monster.
Top 10 Trending Drones
Vivitar Aeroview Drone DR 446 Review