DJI Mavic 2 Pro is a high-end drone specially built for professional photographers and videographers.
When phantom 4 pros got launched, people loved it because of its camera capabilities but hated its big size.
But with this drone, there is nothing to complain about.
This one comes with a 1″ sensor that gave it an edge over other foldable compact drones in the industry.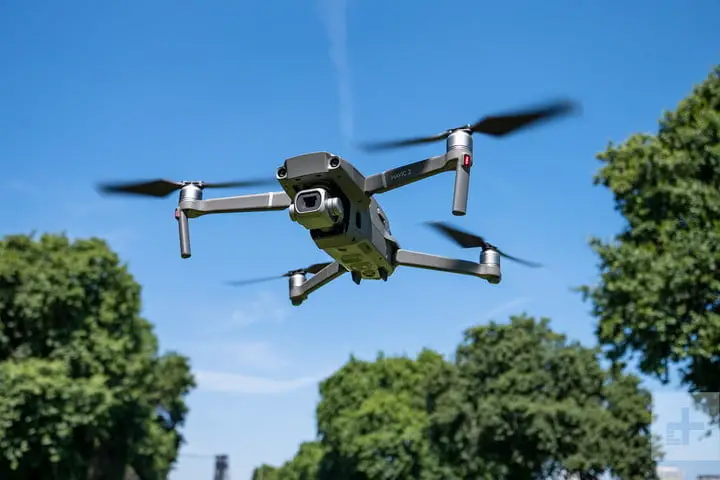 Today, in this article. We will discuss everything you need to know about DJI Mavic 2 Pro.
We will be covering the unboxing, design aspect, camera quality, battery life, and much more.
Please read the article thoroughly. If you have any doubt, don't forget to let us know in the comments below.
DJI Mavic 2 Pro Unboxing | Fly More Combo
Suppose you wonder what all items you get inside once you open the box. Then, don't worry; you will be getting six different items inside the box that includes the following things.
DJI Mavic 2 Pro
Remote control
Battery (1)
Propellers (6)
Charger
USB-C cord
Connectors
User Manual
Check the Best Price on Amazon
Build Quality and Durability
Mavic Series is known for its solid build quality, and 2 pro is different. This is. One of the sturdiest and sleek drones you will see in the market at this price range.
The solid-body takes the fear out of you and lets you fly it to new heights.
If you compare Mavic 2 Pro with the older version, there is not much difference, both look almost similar, but you will also see little difference.
They have also added a few new sensors in the drone to make it more safe and secure to fly. Now this drone takes care of the obstacles from any side.
I love this drone is its folding arms and sleek & solid bodmakees it portable and easy to carry while traveling. In our flight test, we didn't crash any drone, but we are pretty sure that it can easily survive the minor crashes of bushes and branches.
So, there is nothing to worry about its build quality. It's reliable, durable, and looks cool at the same time. You can read more about the best drones for beginners over here.
Battery Life
Online forums, I have seen a lot of people asking questions about its battery life and charging time.
It comes with fantastic battery life, and DJI claims that you can fly it up to 30 mins.
Though the actual timings might vary depending on the weather and the speed at which you operate the drone.
DJI says you can get 29 minutes flight time in optimal condition and max 31 minutes if you are flying it with a constant speed of 25kph.
It takes around 2 and a half hours to fully charge the battery.
The one battery you are getting with the kit is decent enough, but if you want to keep always some power in backup, you can buy some extra batteries.
They are easily affordable.
Flight Modes
In this drone, we would be getting two smart modes that will allow you to enhance your videography to the next level.
– Hyperlapse: If you watch Casey Neistat or Dan Mace, you probably might have seen a lot of moving images that look like a video, and that's called hyperlapse.
Now you can do it at the height of 1 km, and this will enhance your cinematic video look to an entirely new level. You can't change the exposure during hyper-lapse, and the slowest shutter speed you get is 8 seconds.
There is a lot of room for experiments as well with this model.
You can get the motion timelapse, set the track pattern, and much more. And this all happens with a single tap on the DJI GO app.
– Point of Interest(POI): This mode is more suitable for shooting landmarks, events, or any big location where you set the drone focused on a particular subject, and then it revolves around a set track with set speed.
The whole process is completely automated, you have to decide the subject, set the height & distance, enter the speed, and then you are good to go.
Rest is taken care of by drone only.
Who Is This Drone for?
If you are into filmmaking, traveling photography, videography, or just a hobbyist who wants to stand out of the crowd.
This drone is for you, and it is compact, durable, portable, and far more capable than you think.
It comes with Hasselblad Camera with one-inch sensors that make it top-notch and fun to fly.
Yeah, the drone is a bit pricey, so make sure you have the budget for the same.
Frequently Asked Questions (FAQs)
What is the D Log filming duration if you forget your memory card?
H.265 4K for 11 minutes and 15 seconds.
What is the lowest shutter speed we would be getting with Hyperlapse Mode?
8 Seconds.
Can We adjust the shutter speed and aperture manually?
Yes, you can. Keep some ND filters handy if you are shooting in the day.

Conclusions
If you want a portable drone that comes with a great camera, then you surely can't ignore the Mavic Series. DJI Mavic 2 Pro has set a new benchmark in the industry.
If you are looking for an alternative, you only have other DJI drones as alternatives. No other brand is somewhere near to the unparalleled Mavic 2 Pro.
If your foremost priority is to capture the amazing video quality, then you can also consider Inspire Series as well.
If you are tight on budget and don't need top-tier obstacle avoidance and performance, you can also switch to Mavic Pro or Mavic Air.
But, if you can afford it, you won't regret buying it. It is worth every single penny.
Happy Flying!!!!
Check the Best Price on Amazon
DJI Mavic 2 Pro Video Review