HR H5 GPS Drone, an incredible foldable drone with the camera specification of 1080p HD. This drone is designed in an advanced manner with its sharp corners and lines.
It is very smooth for operating and has a rectangular space. It comes with tons of amazing features and specifications, and in the market, it's quite competitive. It works on making your experience with drones more interesting and exciting. And this is done through the way-point flight.
It also has visual recognition technology that helps you control the drone using your hand. Also, you can take pictures with the "V" and many others, which works as a gesture for controlling the drone.
HR H5 GPS Drone helps you click the most incredible photos and shot footage from up above the sky of really great quality.
Moreover, the HR H5 GPS Drone isn't limited to its modern look only. It is famous for its features and flight functioning. It is mostly specified for beginners and helps them in building their skills.
This drone is very easy to manage and maintains its position very well. This helps in capturing the perfect picture and slot from the sky.
With ist headless mode feature, the user can control the drone even if they can't see it in front as it realigns in the direction pointed by the user.
Additionally, HR H5 GPS Drone is very convenient to travel with. It comes in a strong, high-quality case that protects it against any physical harm.
This drone is filled with advanced features that make it function super easy and smooth. Speaking of which, in this article, we have reviewed this incredible HR H5 GPS Drone along with its features, specifications, and other details. So, let's get started!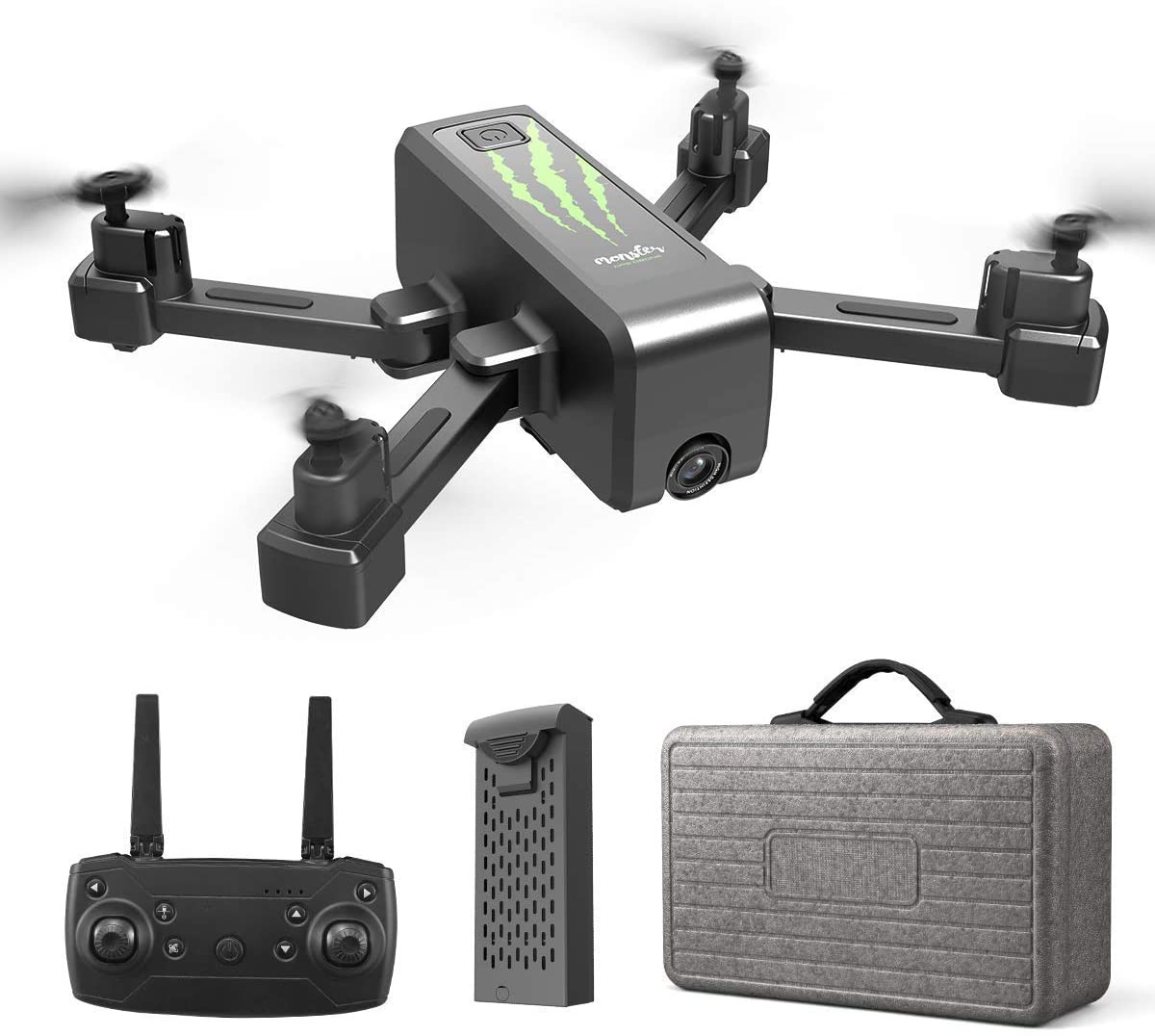 | Parameters | HR H5 RC drone |
| --- | --- |
| Manufacturer | HR |
| Brand | HR |
| Item weight | 1.37 pounds |
| Package dimensions | 13.35×9.84×4.13 inches |
| Camera | 4K UHD camera |
| GPS | Yes |
| Wifi | Yes |
| Video output resolution | 1920×1080 pixels |
| Flight time | 15-20 minutes |
| Material | Plastic |
| Battery capacity | 1000 milliamp hours |
| Remote Control | Yes |
| Plugs type | USB |
| Charging voltage | 5V |
| Power source | Electric |
| Controller battery | 3×AAA |
| Controller mode | MODE2 |

Features
Verified GPS Assistance: HR H5 GPS Drone comes with GPS-assisted intelligent flight that helps the drone automatically return to its initial place in case of low battery, bad signal connection, or if you press one key return.
This is done only through the GPS setting. It also helps the drone circle in the direction you give and helps you focus on capturing photos and slots.
Automatic hovering: It has all-around functions, including headless mode, altitude hold, and one key takeoff and landing feature. This makes the functioning very easy and smooth, and the user does not have to worry about orientation.
You just have to press the button to increase the flight height of the drone and can very easily land it as well, which makes it perfect for beginners.
Customized flight: HR H5 GPS Drone has the feature of automated hovering. With this, the user can set up the place in a circular manner so that the drone would follow the same point as a customized flight.
This helps you focus more on the photography instead of worrying about the drone's location.
4K HD Camera: This drone carries the camera specification of 1080p HD along with image stabilization.
And with its 5G wifi transmission would help you capture ultra-vivid and incredibly clear photos and videos from a distance of 500m away.
Upgraded configuration: HR H5 GPS Drone has an intelligent battery that runs for 20 minutes after every charge. Also, the long-life motors carry low power consumption and enable a very quiet flight.
With its amazing folding function and well-fitted carrying case, flying the drone outdoors becomes more convenient and fun.
Optical flow positing: Another great feature is the optical flow positing that helps you take distortion-free videos and photos while hovering or following.
Orbit Mode: HR H5 GPS Drone comes with setting orbit mode in the drone to make it fly around a certain object or check all the angels.
Specifications
HR H5 GPS Drone is designed in a modern design as it is not too large, and after being folded, it becomes smaller. This way, it becomes easier to carry and carry it anywhere and store.
Although it has some weight of around 340g, it's very important to register your drone at the FAA before flying it in the USA.
It is developed with a high quality of ABC plastic and is well protected from the inside. It comes in colors gray and black, which makes it quite stylish.
Apart from this, HR H5 GPS Drone carries a very high-quality camera that satisfies the user in the case of photography.
It also has real-time transmission on your smartphone as well. Just download the mobile drone app and get started. Its battery is very easy to remove and insert in the drone and very safe for the users.
Moreover, the HR H5 GPS Drone has a remote control feature that is very stable to operate. Also, the joystick and wheels can be used very well.
Pros and Cons

Conclusion
In conclusion, we can say that the HR H5 GPS Drone is amazing and specialized for beginners, although experienced or advanced users can pretty well use it.
It is very easy to operate, fun, and is pretty durable. It's a truly incredible product for beginners as they are getting started with drones, and choosing one with less complexity is always a smart choice.
Beginners mostly praise its easy and smooth functioning while the advanced users are charmed by its high-quality photos and videos.
Also, it becomes easier as the user can easily control it through their smartphones using its specified application.
One of the most palpable parts of the HR H5 GPS Drone is that it comes entirely assembled after its delivery to get started with the drone easily.
However, there have been seen some shortcomings related to its battery which needs more modification.
And for the users, it is recommended to purchase an extra battery and the HR H5 GPS Drone. This way, you would get more flight time.
Besides, It comes with some very interesting features and specifications that make this drone distinct from its competitors and provide a smooth and stable flight.
It's a great product and always the first choice for beginners.
Frequently Asked Questions
Is HR H5 GPS Drone safe to operate?
With it,s long-lasting durability, solid construction, and stability during the flight, HR H5 GPS Drone is considered very safe and secure to operate.
And as it is specially designed for beginners, the manufacturer has created this drone keeping safety at priority. It can easily be opened both indoors and outdoors.
How can HR H5 GPS Drone be connected with the smartphone?
To connect the HR H5 GPS Drone with your phone, it's essential to have the specified app of this drone installed on your phone. For that, visit the play store and download the application.
Then, go to the settings where open the network & internet section and click on the wifi option. Ow, connect the drone's wifi server with your phone with the passphrase given in its manual.
How far can HR H5 GPS Drone fly?
According to the data and statistics, it is mentioned that the HR H5 GPS Drone can have a distance range of around 0.25 to 1/5 miles.
What is the role of the headless mode present on the drone?
The headless mode works when the drone's orientation reaches out of the window. Algorithms mainly manage it.