If you are an Ironman fan and love flying drones then there is a good news for you. DJI has recently launched the Iron Man Edition of their RYZE Tello Drone. It takes the flying experience to the next level and you have more fun playing with this small tiny avenger drone. When the Tello came in the market, it was one of the most affordable drone by DJI. This was the only drone below $100 category. This initiative made the DJI drone affordable and available to beginners and other recreational drone enthusiasts. The drone was made by the combination of Intel and DJI that's why it came super good. Now, they have come up with the Marvel Edition of it. This drone is certainly going to draw a lot of attention by the Marvel fans all around the world.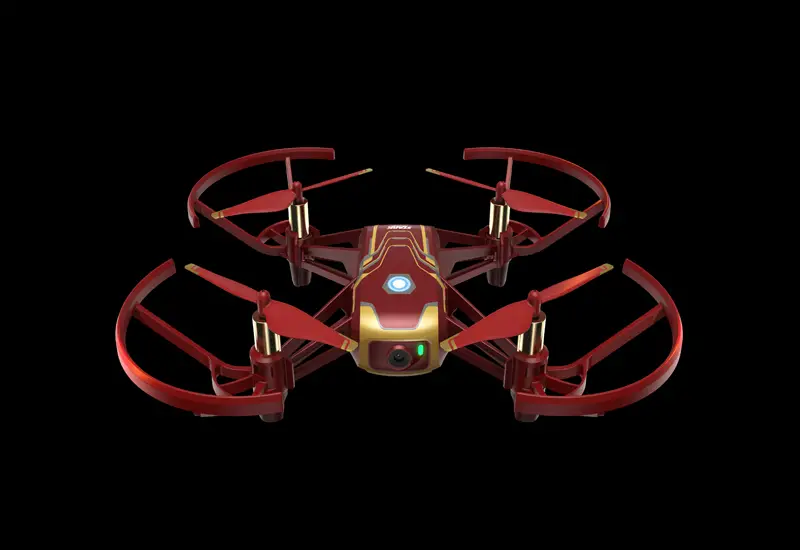 The drone is based on Iron Man theme and its design perfectly matches with the ironman suit. To get this drone, you have to spend around $129 which is a good deal i would say. There are some other iron man drones in the market, they are cheap but they are also pathetic when it comes to flight performance.
But with this RYZE Tello Iron Man Edition, you get a high end drone which is more than a fun toy and a good one for the beginners to start with. Though, this drone is little bit expensive than the previous model because of the marvel licensing deal may be.
DJI's partnership with Ryze has opened the immense possibilities for drone enthusiasts as Ryze mainly focuses on building affordable drones for beginners and educational purposes.
What i really like about this version that it has great finish and give you the feel of Iron Man. I'll say company has done a good job interms of branding and manufacturing this drone. You can buy this drone in countries like US, Canada & Europe. Below is the list of items that you would be getting with the product.
Aircraft x 1
Propellers (Pair) x 4
Propeller Guards (set) x 1
Battery x 1
Micro USB cable x 1
Propeller Removal Tool x 1

RYZE Tello Iron Man Edition Review
In this section, we'll talk about the different important aspects of the drone that you should be aware of. We'll cover build quality, camera specs, advanced features and much more.
Build Quality:
The drone is suitable for both indoor and outdoor experience. It has good sturdy build quality and easily survive the minor crashes. When you hold it in your hand, it gives you the premium quality iron man feel. The material which is used in coating give it a glossy shine. It has two antennas that makes the transmission very stable and you don't have to face the glitch in between.
Camera Quality:
With Trello, you get 100m image transmission distance which is decent enough for beginners. You get 720P HD live footage that allows you to capture the amazing shot.The camera is ducked inside the body. So, even though it crashes, the camera would always be safe. Its electronic image stabilisation makes sure that you get the footage free from jitter effect.
Battery Backup:
What i really love about the drone is its battery backup. You get around 13mins of battery time that is pretty decent. There are a few things that you have to keep in mind regarding battery safety. Store them at right place. Use the charger that you get with the product. Incase, you are using a different charger, make sure it is having a same ampere and voltage reading. It also has low battery protection which gives you the alert when battery is low.
Flight Performance:
Flying this quadcopter is fun. Even a novice, can get a good command on it after one or two flights. The iron man drone has vision positioning system as well that gives you very precise and accurate hovering. You can also do the program customisation with drone. It is driven by an MIT developed code system that allows you to program it from scratch. If you are an advanced user then, you can develop the applications by using the Tello SDK. Scratch is simple basically a block based visual programming while SDK brings in the new advanced possibilities.
Simple App:
To use all the features, you need to install the Tello Hero App. This app makes the flying experience more immersive and take you to the journey of ironman world. It has Iron Man's AI assistance that helps you in completing the mission. It really brings fun and new possibilities together. The Tello Hero App is only compatible with Iron Man Edition only. It doesn't support the Standard Tello Version.
Advanced Features:
It has some fantastic advanced features which makes it unique and take your flying experience to the next level. These features make it suitable for beginner and you have great time flying it.
Auto Takeoff/Landing: It allows the drone to take off and land automatically. If you are a beginner then take off and landing are the time when the chances of crashes are very higher. This is taken care autonomously by the drone and it gives you the smooth landing.
Failsafe Protection: It also has the failsafe protection which help incase of any problem or you lose connection, the drone will land safely.
Throw & Go: This is a fun feature that i personally like. This allows you to toss the drone in the air and it will start flying from there. Though, i would recommend read the instructions properly before using this feature.
Bounce Mode: It also has the bounce mode which gives the freedom to control the drone through your hand. You just put the hand below the drone and as you move your hand up, the drone will up and same when you move your hand down.
8D Flips: You can also do some cool stunts with the drone. It allows you to do some flips that you can showcase infront of your friend and have a fun time. Make sure when you are doing the flips, the drone is at suitable height, you don't want to crash it while doing it.
Safe Flight Mode:
This iron man drone is powered by leading DJI flight control system. With this, you experience very smooth and stable flight system. It has some pre-programmed features as well which makes some of the features completely autonoumous. Even though, when you are using Throw & Go feature or autolanding, the drone's advanced technology ensures the safe flight performance. It has good quality propellers and prop guards as well. It also has collision detection system and low battery notification informs you when to bring the drone back.
Affordability:
I would say the price tag with the drone is decent and you can easily afford it. Getting a drone at just $129 from DJI company is actually a perfect deal. You can buy it in Europe, Canada and United States. For ordering, you can use the DJI website.
RYZE TEllo Iron Man Edition Accessories
You can also buy couple of accessories with the drone that will take your flight experience to the next level.
Tello Flight Battery: The drone gives you around 13mins of flight duration. If you want to enjoy consecutive flights without a glitch then you can buy a separate Tello flight battery which is available at just $19.
Remote Controller: If you don't want to fly it through app and want to use the controller then GameSir T1d Controller is the best choice. It will cost you around $39 but completely worth its price.
Spare Propellers: You can also buy the Iron Man themed extra propellers that you can replace incase you break the current ones.
Propeller Guards: I would say that these are the must have accessory for the drone. These are available at cheap $8 and makes your drone more durable.
Technical Specifications
| Drone | Specifications |
| --- | --- |
| Battery Backup | 13mins |
| Dimensions | 98 x 92.5 x 41mm |
| Weight | 80g |
| Photo | 5MP (2592x1936) |
| FOV | 82.6 deg |
| Battery | Detachable 1.1Ah/3.8V |
| Flight Distance | 100m |
| Auto Landing | Yes |
| Price | Check Here |

Watch the Video till End
Conclusion
The drone is very affordable and suitable for beginners. And if you are an Ironman Fan, then it could be the perfect choice for you. There are a lot of fake iron man drones available in the market. But, i would recommend you to go with this one. If you are looking for some cheap under $50 drones then you can have a look below. Incase of any doubt, don't forget to ask the questions below.
Trending Drones
Best flight controller with GPS