If you are looking for one of the best beginner drones under $50, then Cheerwing Syma x5sw-v3 is going to be the right choice for you. The quadcopter is very popular among the beginners and drone enthusiasts because of its friendly design and advanced features. You will rarely find a drone with a camera at this price range, but Cheerwing Syma has one. You also get a pretty decent transmission with the drone which allows you to have a glitch free flight experience. The drone has some really unique features that you won't find even in $100 drones in the market.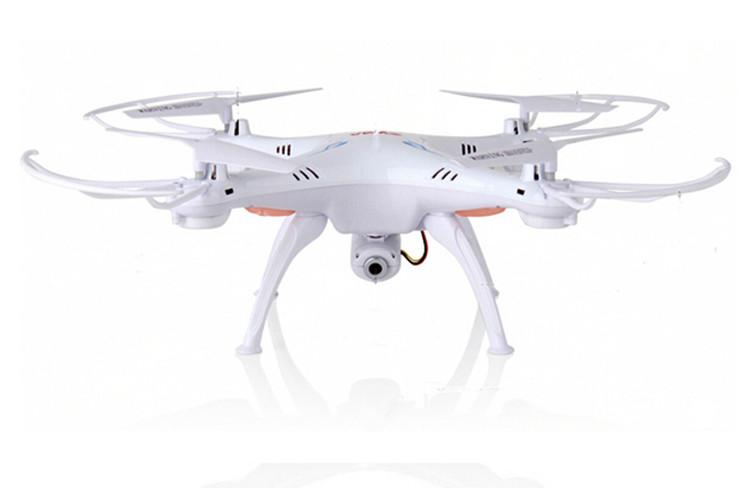 According to the company, this drone is made for the first time flyers. It teaches you the basics of quadcopter flying. And what is really fun that even though you crash it after several flights, you won't regret it because it's so cheap. The drone is also very durable at the same time. We have embedded a video below; you can watch it which shows you that drone crashes and flies again. It only has 50metres of range, but i would say that is a decent range to start with.
Though people might argue that the 50m range is very less but let me tell you when you are flying the quadcopter as a beginner, the chances of crashes are very higher. You don't want your drone getting stuck in the tree and going out of your sight. The battery backup that you get is around 5-7mins that is less but keep in mind that there is a camera attached to it as well. You can also buy the spare batteries at the cheaper price and have glitch free consecutive flights.
When it comes to size, the drone is not very small and not very large; it's a kind of medium-sized drone which is 12.2″ in length, 3.1″ in height and 12.2″ in width. The drone is also very lightweight as well, it weighs only 0.26 pounds, and you don't have to go for FAA registration. It uses the Lipo battery which is 500mAh & 3.7V which gets fully charged in one and a half hour. For the controller, you need to use the four AA batteries that you have to buy separately.
What i really like about the drone that its spare parts availability. As this is the first drone, it will certainly crash, and once it crashes, you don't have to replace the whole quadcopter as the spare parts of this drone are available at a cheaper price online. Below is a list of the items that you would be getting with the delivery package.
Cheerwing Syma X5SW-v3 quadcopter
Syma Remote with a phone mount
Four additional propellers + screwdriver
USB charging cable
Syma WIFI 2mp camera
Cheerwing Syma x5sw-v3 Review
In this section, we'll talk about different aspects of the quadcopter that includes build quality, camera specs and much more. So, go through all the points; it will give you clarity about the drone. After reading this, if you have any confusion, don't forget to let us know in the comments below. We'll try to respond as soon as possible.
Build Quality
The drone has a decent build quality and can easily survive the minor crashes. Its camera is one of the best in this price range. It's a mid-sized drone and very lightweight at the same time. All the footage that is recorded is stored in your mobile only. Its dimensions are 12.4 x 12.4 x 4.13 inches, and it weighs around 119grams. It only comes in white color, so won't be getting any color choices. The remote controller that you get with the drone is also pretty good. It has a six-axis flight control system that gives you a stable and smooth flight experience.
Flight Performance
The drone has great flight performance keeping the price into consideration. You get stable and smooth videos shots. If you want the emergency stop, then you can turn off the controller, and the drone will drop wherever it is. You also have two-speed options to choose from. Beginners can start from a lower speed, and if you are experienced, then you can start with higher speed. It is recommended to fly at a lower speed when you are indoor, and you can switch to higher when you are outdoor. The footage and images that you would be getting are not very good, but it will tell you the basics of shot and frame composition. In a windy situation, the drone is not suitable to fly; it will move to and fro.
Camera Specs
A lot of people are asking about its camera capabilities. With SYMA X5SW, you get 2.0MP HD Camera, and you also get real-time video transmission as well on your device. You can easily attach the phone in your controller in the clamp. There is an antenna at the backside of the drone which does the signal transmission to the device. If you want a longer flight time, you can detach the camera and have a better flying duration.
Flight Time and Battery
As, we have told, with the drone, you get 500mAh 3.7V battery that gives you around 5-7 mins of flight time. You can slightly increase the flight duration by removing the camera as well. What i love, you can also use the higher capacity battery with the drone that you have to buy separately and have a better performance. The battery gets charged in one to one and a half hour. There are a few things that you have to keep in mind regarding battery safety. Keep them in a cool place. Use the same charger that you are getting with a drone. In case, you want to use the different charger, make sure it has the same ampere and voltage reading.
Remote Control
You get a very sturdy remote controller with the drone. It gives you the feel as if you are holding an RC Car remote. All the buttons are in under reach; you won't feel strain while using it. You have a high and low-speed switch on the left side, one-touch 3D flip on the right side. The phone holder is big enough, and it can easily hold the iPhone and Samsung Galaxy Models.
Then, there are trimming button an power button in the middle. It also has a small LCD on it, which shows a little bit of information about the flight.
Advanced Features
The drone also has some advanced features and modes as well which make the drone beginner friendly and easy to fly. So, let's dive into those features one by one.
Headless Mode: With the drone, you get this headless IOC function which allows you to control the drone, in the same way, no matter in which direction it is facing. In this mode, any part of the drone can work as tail and controlling become a lot easier as well.
360 Degree Roll: The quadcopter also does 360 rolls with the click of single button. It adds fun to your flight experience. You can showcase this feature in front of your friend, and they will surely love it.
Colorful Flashing Light: You can also fly the drone in low light conditions as well. But, if you are a beginner, then it's not recommended to take it off in the night. But anyhow, these flashy lights will make things convenient for you.
Throw & Go: You can also try this throwing flight function. In this case, you can throw the drone in the air and hit the thrust lever, and it will start flying and be responsive to your command. Though, this feature is also bit risky if you don't throw it in right way or don't use the thrust lever at the right time, you might end up crashing the drone.

Cheerwing Syma Pros & Cons
In this section, we'll talk about the positives and negatives of the drone. So, read the section carefully so that you have an understanding of both sides.
Technical Specifications
| Syma Drone | Specifications |
| --- | --- |
| Size | 12.4 x 12.4 x 4.13 inches |
| Drone Weight | 119 g |
| Battery Charging Time | About 100 minutes |
| Flight Time | 6-7 Mins |
| Range | 50m |
| Headless Mode | Yes |
| Wifi Camera | 0.3MP |
| Support Phone Type | iOS / Android |
| Drone battery | 3.7V 500 mAh Li-po |
Watch the Video till End
Conclusion
If you are looking for a beginner drone under $50, believe me, you won't find a better deal than this one. It suits everyone, whether you are a beginner or an experienced pilot. It has some amazing features which make it easy to use, and you have a great flight performance. It has received really good rating online. Tens of thousands of people have bought this product. If you are looking for some high-end alternative, then you can have a look at other options as well. In case of any question, don't forget to let us know in the comments below. We'll try to respond asap.
FAQs (Frequently Asked Questions)
How to connect Syma x5sw to phone
Connecting the Syma drone is pretty simple. Turn on the Wifi in your phone then connect with the SYMA option. Once the connection is established. Go to Syma FPV App and rest you can control from there only.
What to do when the camera doesn't work?
If the camera is not working, you can uninstall the app and install it once again.
How many batter ports do we have in the drone?
You have two ports in the drone. One is a male port, and another one is a female port.
One motor is not working; what should i do?
You have to check whether motors are correctly aligned or not. If the motor is defective, you can ask for the replacement.
Is my drone moving in one direction?
In this case, you have to fine tune the drone. You have to press the fine tune button till the time it is synced properly.
IMP**
After each flight, the motors and circuit might get heated, so start for another flight only when the quadcopter is cooled.
Top 10 Trending Drones