There have been a lot of changes in drone regulations in the last couple of years. The most important one is to give freedom to the drones under .55lbs.
Earlier each drone has to go through the same process of registration. But, recently FAA Ordered a new rule is stating, there is no need for registration for drones under 250grams/.55lbs category.
These registered-free drones will come under the recreational category, and their use is equivalent to the use of toys.
This gave a huge relief to many drone enthusiasts worldwide, and that's why the surge in drone use worldwide is palpable. That's why DJI Created a 249-gram drone just to overcome the headache of FAA Drone registration.
As the number of drone users has become so huge, regulations imposed by the aviation authorities have also become very important at the same time.
If you are new to drones and wondering whether you should buy register your drone with FAA or not, then don't worry. Read the complete article, and by the end of it, you will have better clarity.
We will also cover the top 10 drones under 250grams, and you can choose the one you like the most.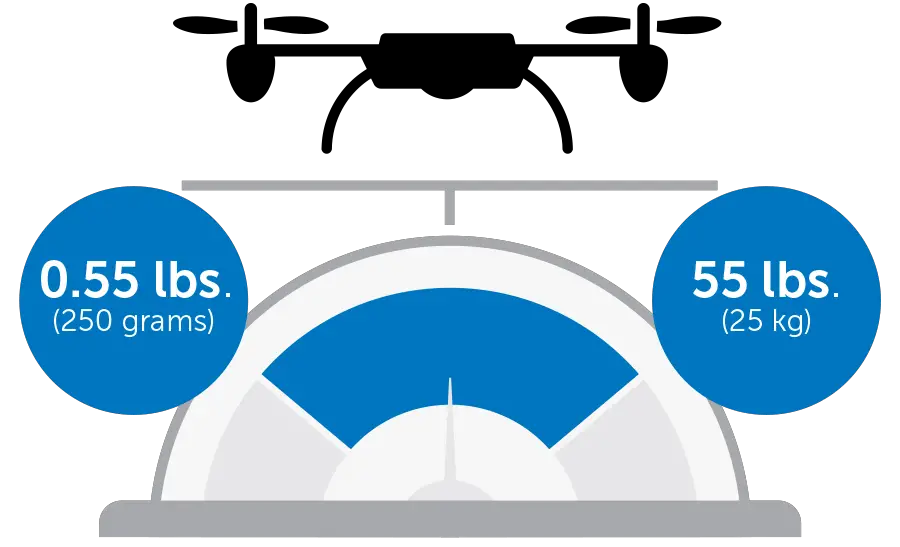 Even though your drone weighs less than .55lb, you don't need to register it, but still, you have to follow the specific rules that we will discuss in detail in the below sections.
If you are new to drones, let me tell you one thing, drones are wild creatures. Handle them properly. You should know how to control them.
Even though the drone is less than half a pound, it can cause serious damage. Many incidents have been seen in which drones that seemed like a toy caused some severe damage.
If you check online, you will find dozens of drones under this category buy most of them are worthless and not recommended for buying.
These drones might seem very inexpensive initially, but when you start using them, the control is pathetic. Some of them have less battery time, while others have less flying range.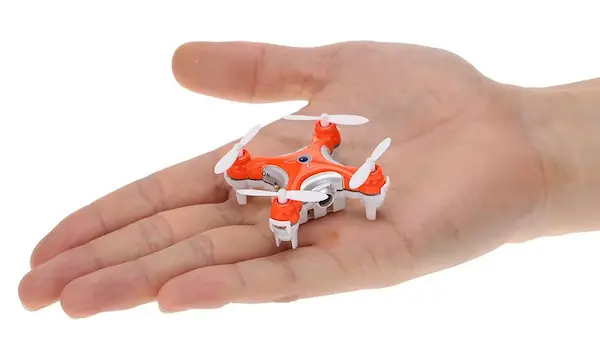 So, we are here to save your time. We have made the list of top 10 drones in the market. If we miss any first drone, you are free to let us know in the comments below. We'll try to add that one as well.
Drones under .55 lbs Rules – Can you fly a drone under 250 grams anywhere?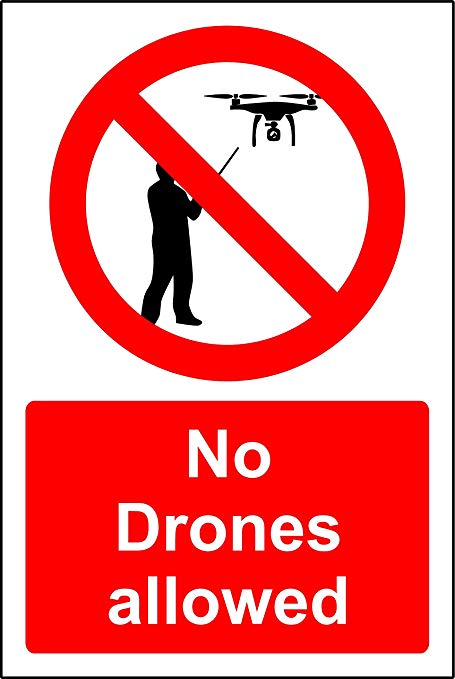 Recently Federal Aviation Authorities announced in the UK the drones weighing more than 250grams have to go through the registration process. They also have to qualify for the safety awareness test.
Earlier, the rules were very different. Anything that weighs more than 20kg was considered deemed for registration. But, now things have changed completely, any drone that weighs more than half a pound should go through the process.
Lowering the weight limit is undoubtedly a sign of the stringent rules. This ruling came because of several instances when drones created serious trouble in the aviation department.
In China, there was a case where more than 100 flights got delayed because of a small flying drone.
You can use drone laws readily by country over here. https://uavcoach.com/drone-laws/
Top 10 Best Drones Under .55lbs (250 grams) Don't Need To Be Registered
1- DJI Mavic Mini
This is one of the best premium drones you can buy online for under .55lb. It costs twice as much as the others on the list, but as I previously stated, it is excellent value for money, and at just 249 grams, it can circumvent drone registration requirements worldwide.
The Mavic Mini is the king of drones under 250 grams. Aside from a long battery life (up to 30 minutes), DJI's smallest drone offers the longest flight range in its weight class.
The FCC (US market) version has a range of up to 4 kilometers, whereas the CE (European market) edition has a range of up to 2 kilometers.
With a maximum bitrate of 40Mbps, the Mavic Mini can shoot 1080p (FHD) footage at up to 60 frames per second and an extremely sharp 2.7K video at up to 30 frames per second. You can save hundreds of videos without needing an external SD Card. Four Quick Shot modes (Dronie, Rocket, Circle, and Helix) allow us to shoot some extremely unique videos.
I'm hoping for ActiveTrack, adjustable exposure settings, and maybe a frontal obstacle avoidance sensor with the upcoming Mavic Mini 2.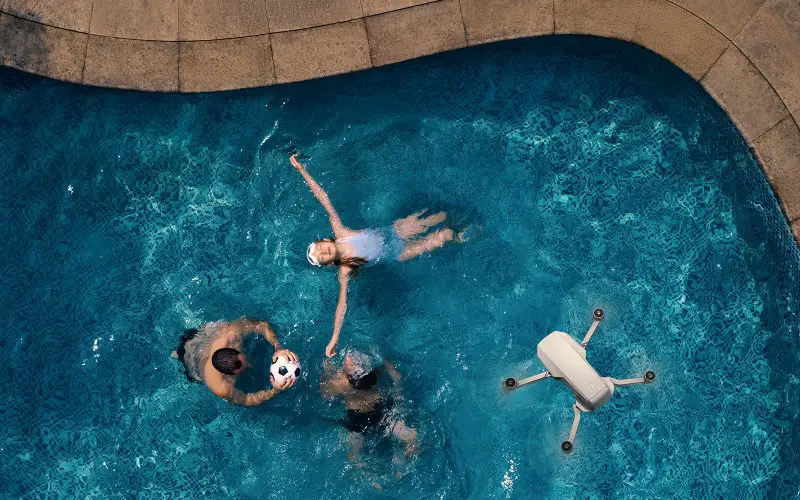 Below are some of the cool features of the drone that you should know about.
The drone is capable of facial recognition, and you can also do visual mapping with it. There are multiple modes available; my best mode is followed me mode.
It has GPS that allows you to fly the drone at a higher altitude without losing it.
The drone comes with longer battery life. It is easy to carry with foldable props; you can fit it in a small bag.
Check the Best Price on Amazon
2- DJI Mini 2
It was intended to get the weight under.55 lbs (249 grams), making it easier to fly in the United States; you do not need to register with the FAA. The Mini is likely to introduce camera drones to a whole new group of people. You can easily connect this drone with your smartphone and take amazing pictures with your friends.
Moreover, it is a level-5 wind-resistant drone and has an anti-vibration shock absorber so that you can click pictures and record video without the jelly effect.
This drone is a future selfie drone. The flight range of this DJI drone can fly to 10 km. or 6.2 miles, which is good enough for capturing beautiful landscapes in normal and panorama mode.
It has a flight of three minutes that could be a downside. DJI's Mini 2 is the company's newest, lightest, and smallest 3-axis 4K camera drone.
Check the Best Price on Amazon
3- Parrot Airborne Night Mini Drone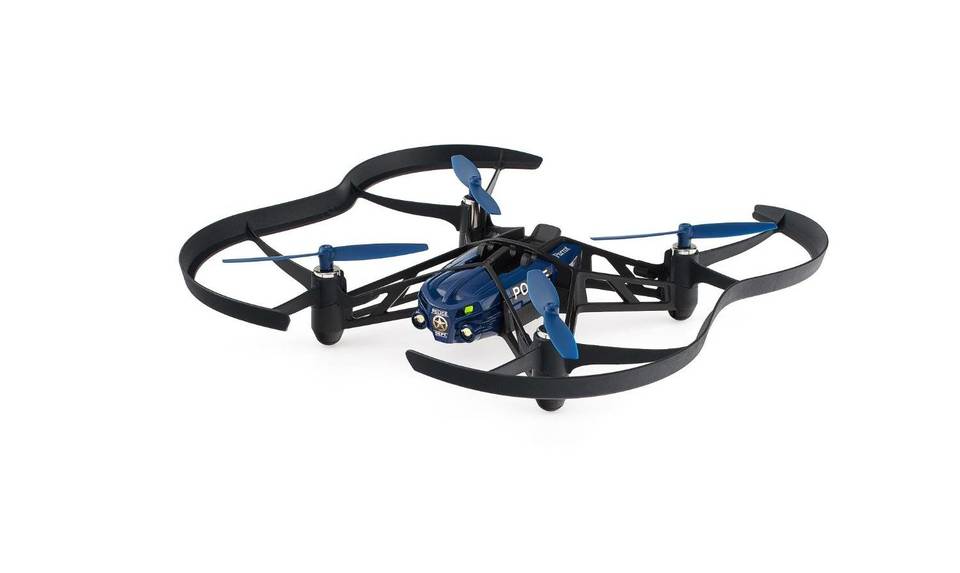 Parrot is known for its fantastic drone performance. It has received excellent reviews online — the best thing about this drone is that you can use it at night as well. The drone could be a bit costlier than the other drones in this range, but it is definitely worth its price. Below are some of the features of this drone that you should know.
You can control it with your Android or iOS device. For that, you need to install the application from the play store.
The drone can fly up to 65 feet, providing enough height for clicking some cool pictures.
The drone can do some in-flight tricks like flip and 360-degree rotation that again give it an edge over others.
The drone has a 0.3 MP VGA camera that is good for aerial photography. The drone can last up to 10 minutes once fully charged. Batteries can be fully charged in just half an hour.
Check the Best Price on Amazon
4- Xiaomi FIMI X8 MINI
Xiaomi released a new, highly powerful sub-250g class drone in 2021. The Drone comes with a 9V/3A battery that allows the drone to fly up to 30 minutes that is palpable for the drone at this price range.
The FIMI MINI is available in two weights. The 'Pro' model weighs 245 grams, while the 'Standard' version weighs 258 grams. The only variation is the type of battery used to power the drone.
The FIMI X8 MINI has a control range of up to 8 kilometers and a battery life of roughly 30-31 minutes. Its HDR UHD camera that can capture 4K footage at 30 frames per second.
What I love about this drone is that there is a lot of room for customization where you can showcase your creativity by adding some extra features. The drone has a solid build quality and looks great at the same time.
FIMI MINI has excellent efficiency and smooth handling. If you are a newbie, then this drone is recommended for you.
The drone is compatible with the HDR UHD camera that certainly gives it an edge over others and makes this drone capable of capturing some cool videos.
Check the Best Price on Amazon
5- Holy Stone HS510 GPS Drone
This is one of the most popular cameras in the under .55lb drones list. At this range, most of the drones lack picture quality, but Holy Stone HS510 does the photography task elegantly.
The quadcopter has a super compact design, and its foldable design makes it easy to carry while traveling. It has a 4K UHD Wifi Camera and is remarkable at this price range.
This enables the camera to capture 4K footage at 16 frames per second and 2.7K video at 25 frames per second. You get the live stream of the video directly to your smartphone once it is synced with the drone. The HS510 is a must-have for any traveler.
People considered this drone to be incredibly handy after having a little encounter with it because of its altitude holding technology, which allows them to stay in a single spot for an extended period.
The quadcopter arms and propeller blades may be folded to compact this 4K drone. It's compact (folded dimensions: 5.59 x 2.91 x 2.04) and only weights 250g/0.55lbs. The government does not need you to register your drone.
A gravity sensor has been fitted to flying drones, allowing them to be controlled via cellphones while soaring through the skies.
No more complex technology can eventually spin your brain. So this has been the best model in its category for teenagers that doesn't require a license.
The registered-free drone has a visual mapping and facial recognition technology, taking this drone to the next level.
Check the Best Price on Amazon
6- JJRC – Elfie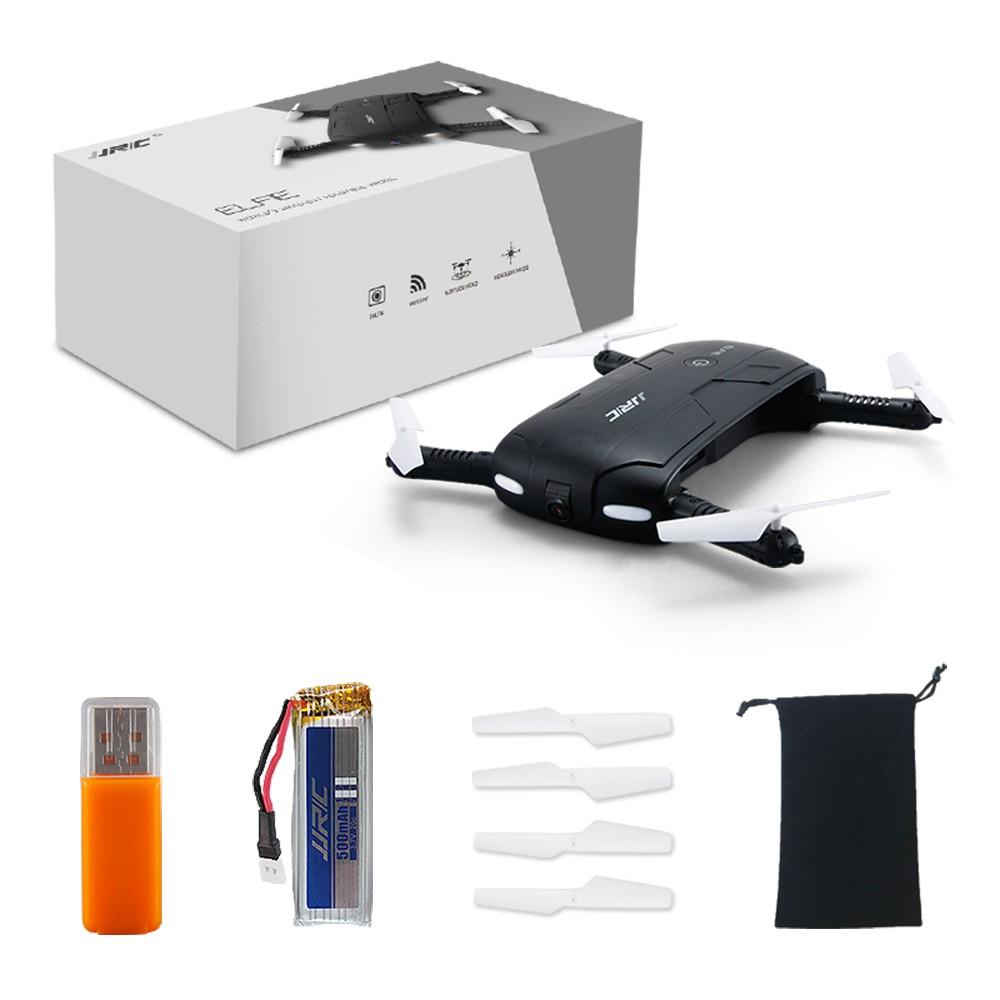 Elfie drone is by JJRC brand. It weighs only 73grams which makes it super, and there is no FAA registration required for this. This costs around $50 and is built in China. There are a lot of features in this drone that brings it to our top 10 list. The drone has a feature like an altitude hold mode that allows the drone to be stable at a certain height once you don't touch the throttle. This is helpful for beginners, and you can have some cool pictures without having the jelly effect.
The drone is smooth and easy to fly. If you lose your drone, you can bring it back home with one key return feature. It can fly up to 8-15 minutes after a single charge when it comes to battery backup. The drone can also do stunts like 3D flips, 360 roll, and many others.
Check the Best Price on Amazon
7- JJRC H6D FPV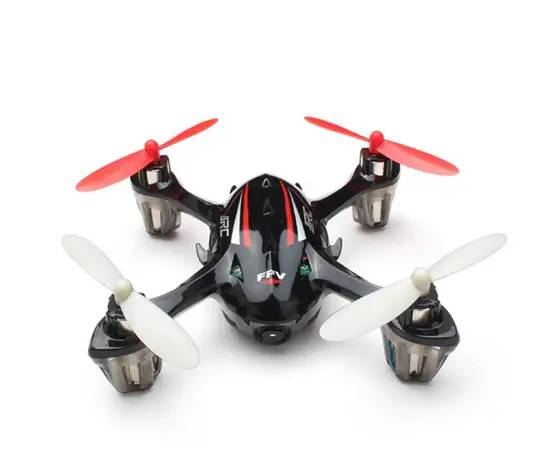 JJRC H6D FPV is well known for its efficiency and durability. It's been three years since its launch, and it has gained good popularity among drone enthusiasts since its launch. The drone is also very affordable, and that's why preferred by a lot of people.
It runs on a 5.8 GHz frequency which gives you lag-free transmission. The 2MP camera is capable of clicking some cool pictures. It also has a headless mode which is helpful for newbies. It is also capable of giving a live video feed. The battery backup is around 7 minutes, and it can fly up to the 200m radius that is good enough for taking some cool shots.
Check the Best Price on Amazon
8- Hubsan H107D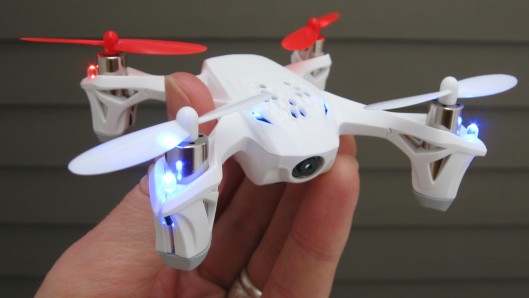 Hubsan has produced some quadcopters in the market. This is one of the smallest quadcopters. The drone is stable as it comes with six-axis gyro stabilization. The Company claims that it even has good stabilization in a windy situation. It has a Hubsan trademark HD camera that gives you great picture quality. It has a resolution of up to 1280×720.
Hubsan H107D also boasts about its headless mode, which is helpful for beginners. It also has multiple intelligent modes as well that give this drone an extra edge.
The quadcopter has a good build quality, and it also looks stylish. It is one of the smallest drones you will find online. The drone is good for both kids & adults both. If you want to enhance its ability, then you can go for extra accessories available on Amazon.
Check the Best Price on Amazon
9- Walkera Rodeo 150 Racing Quadcopter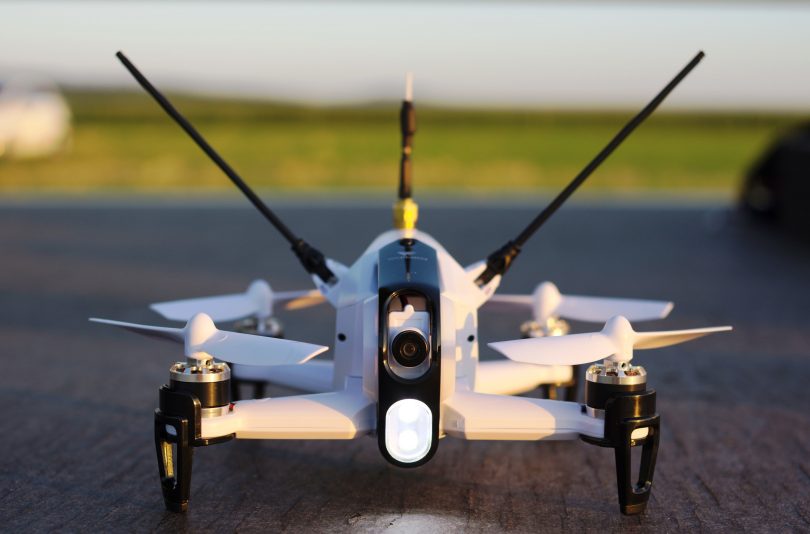 This is also a very tiny drone. It has an FPV feature, which you can use for racing purposes. The drone is ready to fly; it comes preassembled. It has a 600Tvl camera that gives you high definition live view. Its frame is unique and smart in design. The drone dimensions are 5.5 x 5.5 x 3 inches, and the item weighs around 3.95 pounds.
The company claims that their camera can capture good quality footage in night time also. In most cases, when the drone is flying at high speed, the recorded footage is blurry, but here you won't see that problem. You would be getting better picture quality.
This camera has a 110-degree FOV. With 5.8GHz, you won't see any lag in the video transmission. You can use the goggle and use this drone for racing purposes.
It has 40 channel support and can fly up to 800 meters, and that is the highest range in this category. Its 7.5 volts battery gets easily charged and provides up to 8 minutes of flight time.
Check the Best Price on Amazon
10- Cheerwing Syma X5SW-V3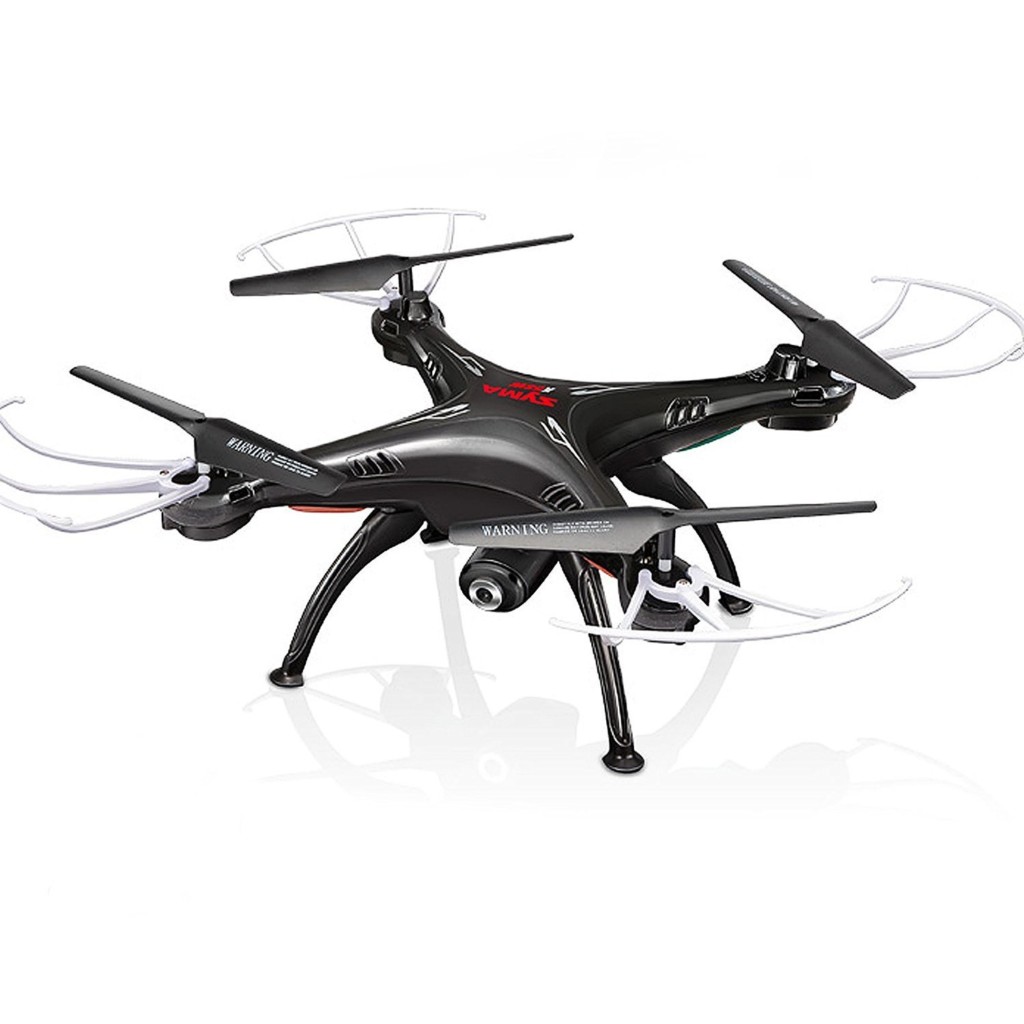 Drones made by Syma company are popular among drone enthusiasts. This quadcopter is full of advanced features. It has a six-axis gyro control system, 3D lock, multiple flight options, and much more. It also has an HD camera that allows you to click great pictures. It can help you in bringing in a new perspective. To use all the features, you need to connect the drone with your smartphone by installing the application.
You can also perform 360 rolls, continuous roll with the drone that the flying experience real fun — the drone suits all the age groups. If you are a beginner or adult, the drone has something for everyone.
The control is smooth and stable. You can also go for different speed modes and fly at the speed you are comfortable with. The drone dimensions are 12.4 x 12.4 x 4.1 inches, and it's super lightweight.
Check the Best Price on Amazon
Things to Consider About When Buying Drones Under 250 Grams
If you want to find the finest drones under 250 grams in 2022, search for the following features:
Video Quality
The video quality of a drone is the most crucial factor to consider before purchasing one because if the video quality is poor, it will be difficult for you to capture a video; also, with good video drone footage, your movies will easily stand out from the crowd. Coherence with the camera is very vital when looking at the video quality.
Insider these qualities, good video quality is particularly useful for generating artistic films like making gorgeous time-lapses. Look at the pixels utilized while evaluating the drone's video quality; at least 1080p quality is essential.
Flight Duration
Because it is tied to the drone's weight, the flight length of a drone is one of the most significant factors to look for. With the longer flying periods, you can easily carry or fly it.
You may film a movie from a variety of perspectives and record a longer video without pausing. Drones weighing less than 250 grams have a wide range of flight times. So, before you buy, look up the flight time in various evaluations.
Capabilities on the Flying Range
The flying range of a drone should be addressed before purchasing one because if your drone does not have a long flying range, you will be in danger, and controlling the drone will be difficult.
So, before you buy, read a few reviews for this criteria and see if the drone supports headless mode. Headless mode is highly useful for flying a drone since it doesn't matter which way the drone is looking, making it easy to operate the drone even if you don't know its orientation.
Resolution
Because the resolution of the camera is directly proportional to the video quality, the integrated camera resolution of the drone is the most important characteristic in any drone for aerial photography.
So invest in a high-resolution drone so that you can capture high-quality, high-resolution movies.
Wind Resistance and Flight Stability
One of your key concerns with a drone should be its stability since if the stability is poor, and it will be difficult to manage the movement or produce any type of video.
Due to their great sensitivity and quick speed, such drones are challenging to control.
If you are new to flying drones, the best option is to purchase stable drones weighing less than 250 grams. Choose a drone with electronic image stabilization (EIS), which means your movies will be more stable, sharp, and free of hiccups.
Watch the Video till the End