The drone can be used for multiple purposes, and its regulations vary depending on whether you are flying it for professional use or recreational purpose. Today, in this article we will cover everything you should know about recreational uses of drone, what are the rules, registration process and best recreational drone with the camera that you can buy in 2022.
According to National Drone legislation, there is a clear difference between recreational and professional usage of drones. Under Recreational purpose, you can use the drone sports and other leisure activities; you can also do own photography and participate in races. Recreation purpose limits the use of the drone to certain areas while professional use can give you more flight options and flexibility.
In European countries, you might not need any from the aviation department however the case could be completely different in the US. Though you are using the drone for recreational purpose, there are a lot of restrictions. Most of drones kit nowadays come with regulations leaflet, make sure you go through all the basic aviation rules carefully.
Drones seem fun at the starting, but if you cross the line, you might see the thousands of dollars of fine and might end up in jail as well. There have been many cases in recent years when drones crashed into a restricted area, and the operator had to pay the huge fine. Drones Rule varies drastically depending on the country and state you live. So, make sure you adhere to the local rules and don't create any problem with anybody.
So, before jump into do's and don't of a recreational flight, firstly let's understand what does recreational use mean?
Check the list of the best lightweight drones that don't need registration.
What Is Recreational Flight?
Below are some of the important points that make drone flying recreational or flying for fun.
The drone should not go away from the visual line of sight of the operator.
The drone operator should keep in mind all the safety guidelines keeping all the local community rules into consideration.
The drone operator cannot provide service paid or unpaid for any individual or any company.
The pilot will not receive any compensation for the flight.
Recreational Drone laws & Regulations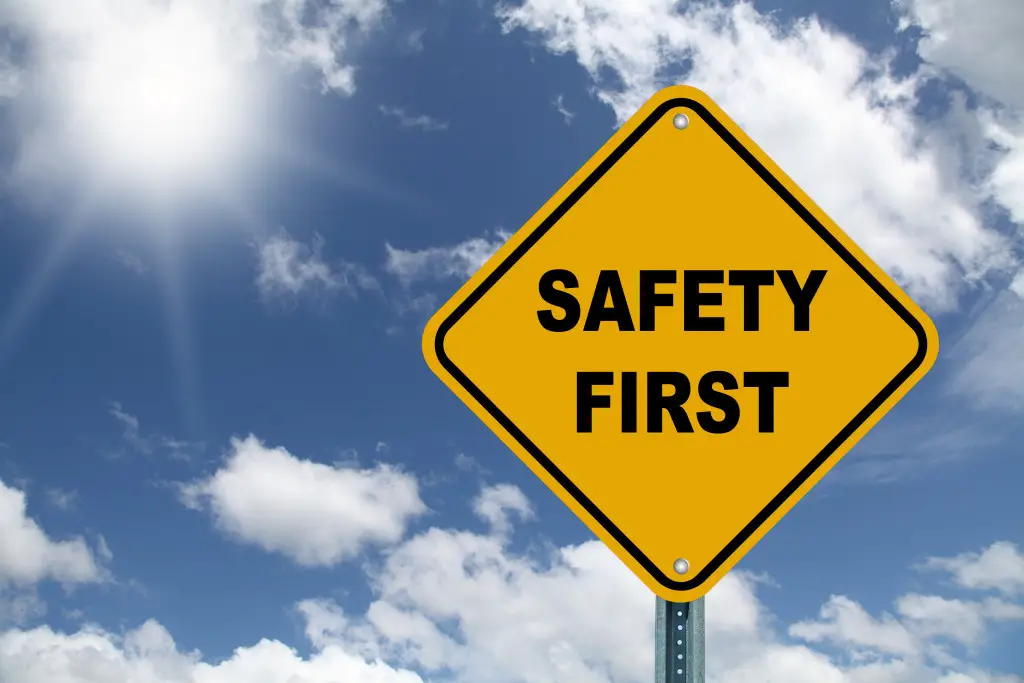 The first and very important thing that you are not allowed to fly UAS out of your sight.
Don't fly the drone over the people.
Keep your drone far away from stadiums and sports events.
You are not allowed to fly in aviation or any restricted zone.
Don't fly the drone over moving vehicle.
Before, you take off your drone, make sure you align with local drone regulations.
No drone is flying near emergency response effort zone.
Take off the drone only in suitable weather conditions.
You can know more about FAA Recreational Drone Rules over here.
How to Obtain a Remote Pilot's License
A lot of people have been asking this questions as well, how to get the remote pilot's license, so we thought of covering it as well. Though there is a notion that getting a pilot license is very difficult, but it's not. The process is pretty simple; you can easily register from the official website. The process is hassle-free and very affordable at the same time. You have to go through the study material thoroughly. Below are links from where you can download the Pdf files.
UAS_ACS PDF
Remote Pilot Study Guide
Sample Exam
To apply for the test, you have to visit the nearest testing center that you can through the official FAA Website or for more information you can dial there toll-free number as well. Below are the documents that you have to carry with you.
State ID
Driving License
Passport
Photographs
Military Identification Number (If you have)
After the verification, you have to go through the test. If you fail the test, you can apply for it in the next 14 days. Once you qualify the exam, you will get the pilot certificate mailed to your residential address. It is valid for four months.
Top 5 Best Recreational Drone with Camera
If You are not looking for a professional high-end drone then below are some of the very inexpensive options that you can use for recreational purposes. These are the top 5 best recreational drones with cameras. In case, you have any suggestion, don't forget to let us know in the comments below.
1- DROCON Ninja Foldable Drone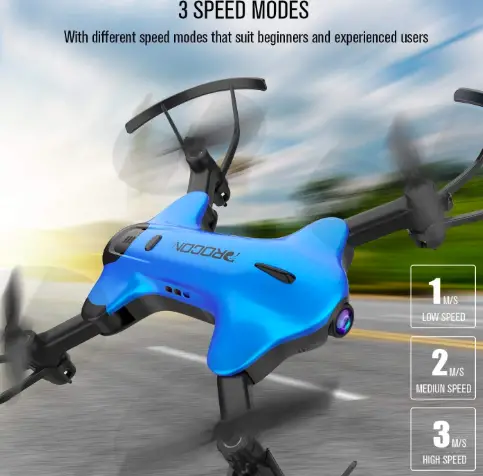 This drone is one of the best drones for kids and beginners and suits if you are buying the drone for fun. The drone is loaded with lots of features that include, FPV, 90-degree rotating camera, altitude hold and much more. You can operate the drone by connecting it through the app. You also get the live transmission that allows you to see what you are filming. The drone is foldable that makes it compact and easy to carry. Below are some of the important things that you should know about the drone.
The drone is suitable for beginners as it is equipped with the headless mode, altitude hold. One key take off, and landing makes the process more smooth.
It comes with HD Camera which records in 720P/30fps. 120-degree wide angle lens is good for shooting a panorama and capturing beautiful landscapes.
The company claims that this drone provides you more stable flight than others in this range as it comes with an excellent barometer. Altitude hold makes controlling easier for beginners and gives you better controlling.
2- HASAKEE FPV RC
This is the second drone with a camera that you can buy for recreational purpose. This quadcopter is suitable for beginners & kids and comes with all the essential features.
The drone allows you to operate through multiple options that include Remote Controller, Application or Gravity sensor. This gravity sensor itself a unique function in which drones starts mimicking the cell movement. If you move your phone to the right, the drone will go right; if you move it left, the drone will go left. Below are some of the important features of the drone that you should know.
You can also control the speed at your disposal at it comes with Medium, Low and High-Speed options. If you are a beginner, fly it at slow speed, and if you are an expert, you can surely go for higher pace.
This comes with six axis stabilization system which gives you better control so that you can have smooth take off and landing if you are doing it manually. Auto Hovering of the drone allows you take shake-free pictures.
It has HD Camera and provides you real-time transmission without a glitch. You have to install the app for it functioning that supports both iOS and Android devices.
The drone weighs around 12.8 ounces, and its dimensions are 5.7 x 4.7 x 2.6 inches.

3- QCopter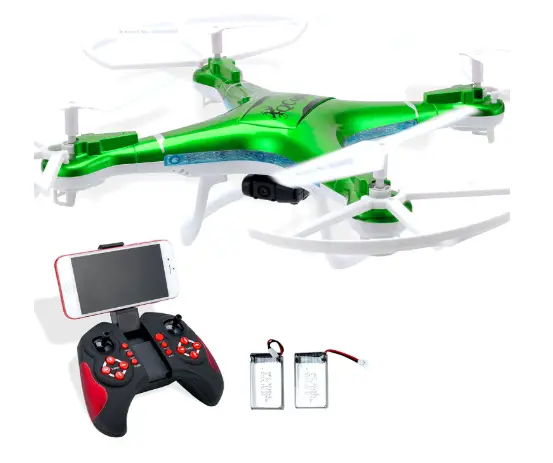 The Drone is capable of shooting in 1080P. Its real-time video transmission allows you to enjoy the live viewing. What I love about this drone that you get a crash replacement kit once you make the purchase, it helps you to repair the minor crash, so that you don't have to go to any store. LED Lights make it look cool in the night, and you also get the extra battery as well. Below are some of the important things that you should know this recreational drone.
The company has very good customer support. In case you face any problem, you can mail them, they are very in response.
The flight duration of this drone is remarkable. It can fly up to 30minutes as it comes with 3.7V 1100mAh battery while you won't get even 15 minutes of flight time with other drones in this price range. Plus, you also get an extra battery as well.
It can fly up to 300 feet which provides you decent enough height to take bird's eye view shot.

4- DROCON U31W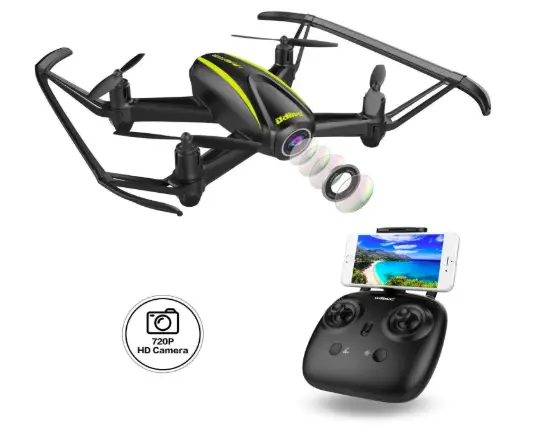 This is also a very good inexpensive drone that you can use for the recreational purpose. The drone has one year of warranty that boasts about its durability and reliability. You can call their customer care anytime; they are very quick to help. The drone also features the headless mode that makes flying easy for new operators. In this mode, no matter in which direction, the drone is facing, it will always follow the same left, right, front and back movement. Below are some of the important points that you should know about the DROCON U31W.
It has 2MP Camera with a 120-degree field of view. When you are a beginner, the pictures mostly come shaky. But altitude hold mode makes the drone stable so that you can take the stable footage.
The dimensions are 15.6 x 13.4 x 6.5 inches, and drone weighs around 3.4 ounces.
The drone looks stylish and has solid build quality. It also has an excellent barometer that gives it the altitude hold means once you leave the controller it will keep on hovering at the same position.
Most of the beginners face a problem when it comes to manual landing and takes off. But it has self-take off and landing feature that eliminates the chances of any possible crash on the ground.

5- Cheerwing CW4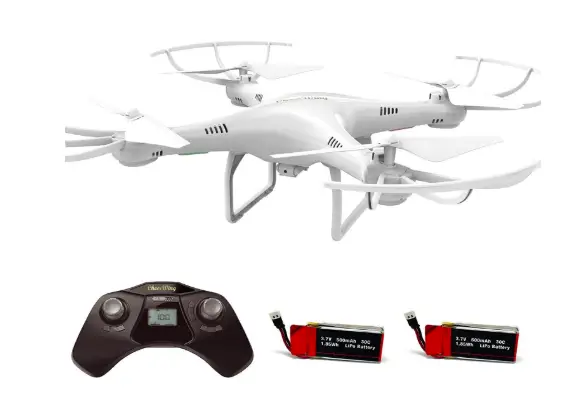 This is the last drone in our top 5 list of recreational drones. This one also comes with a headless mode for better stabilization. The drone is easy to use and has sturdy build quality. It can do some cool stunts like 360 roll and continuous roll as well to add some fun your flying experience. Drone is very cheap and worth every single penny. It costs less than $100, if you are looking for a recreational drone for your kid, this could be the best option for you. Below are some of the important things that you should know about Cheerwing CW4.
It comes with two batteries, and it can be easily charged with USB Connection.
It has 2MP of HD Camera with which you can click some cool pictures. You can also shoot some cinematic videos at 30fps.
Auto landing and take off is also a key feature that helps a lot if you are a beginner and learning how to fly a drone.

Read More:
Best DJI Drone that money can buy
Smallest DJI Drone that you never heard of
Make Your Own Hexacopter in 30 Mins
Drones for Real Estate Photography
Top 10 Trending Drones