Drone flying becomes immersive when you are flying it with fpv goggles. There are a lot of brands in the market that make the goggles, but Skyzone SKY03 is the best in the market. It is the upgradation of previous SKY02 model. Here, with the goggle, you get 48channel diversity that gives you the glitch-free transmission. It has a dual antenna, DVR function, built-in camera and some advanced features like head tracking. The field of view that you get with it is around 43 degrees.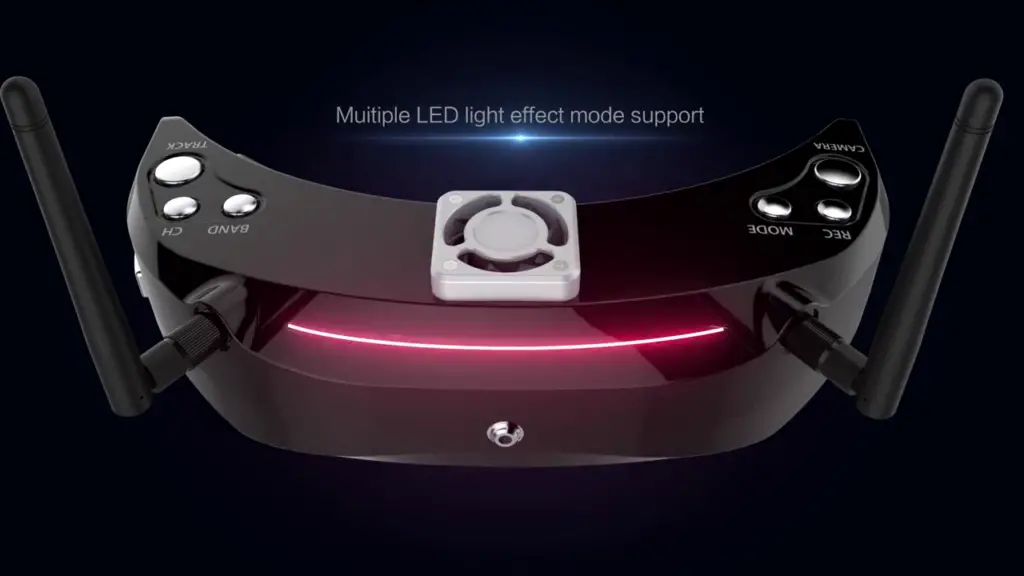 What I appreciate about this goggle is the build quality that makes it very easy to use. You can easily switch between different modes with the buttons present on it. There are a total of six buttons on it, three on the left and three on the right. Read the manual carefully before you start using it that will give you the clarity about it.
It works with 5.8GHz bandwidth and compatible with many video transmitters that include DJI, Boscam, Foxtech and more. In antennas, you get two options to choose from, either you can go for omnidirectional or a directional one. When it comes to design, it looks pretty cool and has good quality material used in its manufacturing. Goggles are powered by external 7 to 26V & 2S/3S batteries. Below is the list of the items that you would be getting with the package.
1x Skyzone SKY03 Goggle
1x Goggle Carry case
1x Data cable
1x JR data cable
1x AV cable
1x Power cable
2x 5.8G 2dBi antenna
Skyzone Sky03 Review
In this section, we'll talk about different essential aspects of the Skyzone Sky03 that you should be aware of. We'll talk about the build quality, camera specifications, warranty period and much more. So, let's dive into all of these aspects one by one.
Solid Build Quality:
When it comes to build quality, it has pretty solid construction. All the buttons are there in the right place so that you can use them with ease. It is the upgraded version of Sky02, so will see a lot of modifications as well. What I like is the comfort, they are very suitable to use. You can use them for long hours, and you won't feel the pain. The Strap is of good quality and goes around your head. You also get the full range of eyesight which makes the experience more immersive as well.
Advanced Features:
It also has some advanced features as well that make it stand out of the crowd. Its advanced head tracking system takes the experience to the next level. It has a good quality camera that is built at the front side of the goggle. You can also try among different modes that will allow you to see the things from a different perspective.
Camera Quality:
It has a built-in front camera which gives you the 43 degrees of field of view. You can also switch between multiple display options which are binocular display and 800*600 SVGA resolution mode. It also has various LED light effect support, and you can also switch between 2D and 3D mode with a click of a single button.
The receiving effect can be improved by a wireless system that can work in the diversity receiver mode. Its compatibility with most of the ISM transmitters of 5.8GHz frequency makes it more flexible to use.
Technical Specifications
| Skyzone Sky03 | Specifications |
| --- | --- |
| FOV | 60 degrees (Diagonal) |
| Resolution | 640X480(VGA) |
| Focal length | f=4.0mm |
| F/NO | 2.8 |
| Video Standard | NTSC/PAL |
| Weight | 231g |
| Dimensions | 170(L)X83(W)X44(H)mm |
| 3D Display | Side-by-Side |
| Build Quality | Decent |

Skyzone Sky03 Pros & Cons
In this section, we'll talk about the pros and cons of the skyzone sky03 so that you can to know both the positive and negative sides of the goggle. It will give you better clarity about the product.
The first thing that I like about the product that it comes in a complete bundle kit. You don't need to buy anything separately.
It has good aesthetic look and sturdy build quality which makes it a product.
It has advanced features like head tracking, 2D & 3D mode can easily be switched by pressing the buttons present on top of it.
It also has builtin DVR, fan, facial masks, frontal camera, and secure Vfreq scanning system.
You can't record in 30fps when doing NTSC recording. People also complained that the NTSC format is partially cropped.
There are some glitches with aspect ratio and DVR module as well that users are not happy with.
Comparison: Watch the Video till En
Conclusion
When it concludes, I would say that it has both positives as well as negatives. The build quality is decent; you get all the accessories with the kit. It has the required ports that you need, and you also get different FPV Modes to choose from. When it comes to price, it is affordable as other fpv goggles are bit costlier than this one. Though, some users are not happy with it's out of focus and wide 43-degree view.
So, the choice is up to you whether you want to go for it or not. You can also check some alternatives mentioned below. If you have any confusion, don't forget to let us know in the comments below.
Top 10 Trending Drones
Snaptain S5C Wifi FPV Drone Review
Vivitar Aeroview Drone DR 446 Review