Today, in this article, we are going to cover Halo Drone Pro. You might not have heard about the company name before, but they make excellent quality products. People have been asking a lot of questions about this quadcopter that includes specifications of drones, how good is its obstacle avoidance technology, comparison among phantom and mavic DJI series and much. We'll try to cover all the essential aspects of the drone that you should be aware of.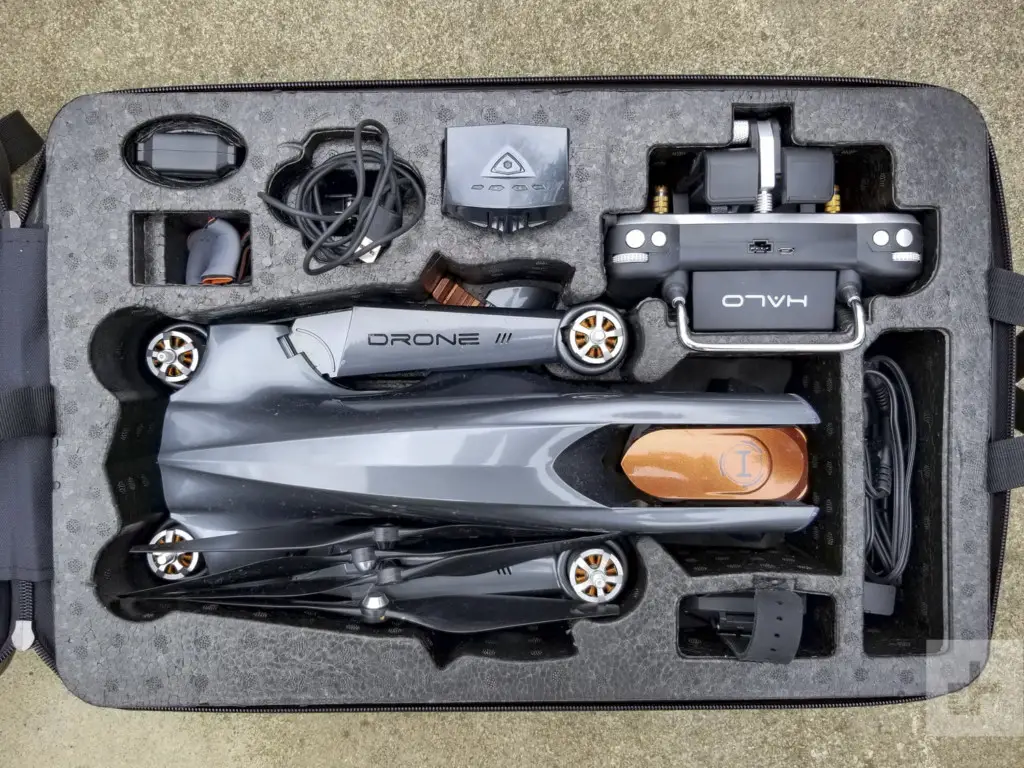 The company primarily started with products like hoverboards and later on moved to the drone market. Halo Stealth Pro drone is a full-fledged quadcopter and comes with some amazing advanced features. A lot of experts compared this drone with DJI and Yuneec Products. It has reliable build quality comes in gunmetal plastic housing. This is a compact foldable drone and could be your great companion in your backpack journey.
It has a 4k camera capable of clicking some amazing pictures. The remote controller that you get also has a pretty sturdy build, and you can precisely control the quad with it. It has multiple modes to try from. Its GPS Satellite system gives you precise follow me Mode.
You also get Wrist controller as well, which makes you feel like James Bond. You also get sufficient accessories with the package that you don't have to buy anything separately. The drone costs you around $1500, and a lot of users find it expensive. There are some negative aspects as well about the drone that we'll discuss in details in the below section. For more information, you can visit the official Halo Website.
Once you make the purchase, below is the list of items that you get with the package.
Halo Drone Pro Quadcopter
Detachable 4K Action Camera
Remote Controller
Battery
Charger
2 Extra Propellors
Watch Remote Control
Follow Me Module
Watch & Module Charger
Hard Shell Backpack Case
Review
In this section, we'll talk about the different important aspects of the drone. We'll dive into build quality, camera specifications, gimbal stabilization, remote controller, portability, and other aspects. If you are interested in buying this quadcopter, i would highly recommend reading this section carefully. In case you have any doubt; you can let us know in the comments below, we'll try to respond as soon as possible.
Build Quality
It has foldable backpack design, but still, it is bigger in shape in comparison to Mavic Air & Pro. It looks pretty much similar to Gopro Karma Drone. It comes with a fitted backpack for transportation and storage. The pack that you get has dimensions 18*12*8 inches and has a sturdy build. Once the Halo Drone is folded, it would be of the same size as Karma (5.5*7.5*14 inches), and it weighs around 3 pounds.
To make it ready for flying, you need to unfold the arms and then lock them with clips. Then, the rotor installation is required, and it doesn't fit in the backpack rotors attached. It has a detachable camera, the build quality is not very high end, but it's decent enough. Don't have GoPro expectation with this one.
Picture & Video Quality
The camera record video up to 4k at 50Mbps compression rate. The quality is not very high, but i would call it ok. You might not be happy with the white balance as it changes drastically during the flight. It is not capable of recording at 24fps at a higher resolution. One thing is also very painful that you can't change the settings during the flight.
Changing the different settings is a real pain as you have to detach the camera and then put it back again. When it comes to clicking pictures, it can click the 16:9 aspect ratio at 8MP and 4:3 at 12MP. It has a 115-degree field of view, which is also good. Below are different frame rates at a different resolution.
4K up to 30FPS
UHD up to 60FPS
FHD up to 60FPS
Gimbal & Sony Image Sensor
According to the company, the gimbal is capable of making 2000 adjustments per second. It allows you to have crisp, stable footage. Its camera has IMX 377 image sensor that provides you the top-notch quality. Its 6 axes electronic image stabilization and lens distortion correction provides you the perfect 4k video.
Portable & Easy to Fly
Though drone is a bit bigger in size, it is very portable at the same time. You can easily take it from one place to another in the backpack. Its weight is 1.3kg, and it is 430mm in length diagonally. Once, all its arms are folded, it becomes very compact. Most of the time when you are traveling around, you always have this fear of damaging it during travel, but Halo keeps the delicate parts perfectly safe, and you can go with it anywhere without worrying too much about it.
It has very simple user controls and some advanced features as well. It has auto takeoff and landing. Precise-Return to Home feature. You can fly the quadcopter up to 22mins which is very good flight time. You need to download the Halo Drone App, which supports iOS and Android both. You get a lot of real-time data that allows you to keep track of your quad.
Battery Specs & Remote Controller
The drone has a 6000 mAh 2S Lipo battery, which gives you good flight duration. But the charging of the battery is a bit fuss as it takes several hours to get fully charged. You only get the single charger which is used to charge both drone and as well remote controller. You can fly the drone up to 3280 ft; the remote controller works with 2.4GHz and 5.8GHz frequency.
Technical Specifications
| Halo Drone | Specifications |
| --- | --- |
| Weight | 1.37kg |
| Size | 430mm Diagonally |
| Max Speed | 45Mph |
| Max Flight Distance | 1km |
| Camera | 12MP |
| Video | 4k 30P |
| Battery | 6000mAh |
| Video Latency | <200MS |
| Other Drones | Check Here |
Watch the Video till End
Halo Drone Pro Cons
You can't change the camera settings during the flight. You have to detach the camera, and then only the changes can be done.
Though it has a 4k camera, you will find better camera options at this price range.
The live feed that you get is not very sharp; you'll also have latency issues as well.
You only get a single charger with the product that you should use for charging the battery and as well as a remote controller. (both can't be charged simultaneously)
HALO Drone Pro Affordable Alternatives (Recommended)
DJI Ironman Drone for Beginners
Yuneec Typhoon H for Experienced
Summary
Overall, The drone has pretty good performance. But considering the price, i think you can surely get the better quadcopter than this one. I appreciate its battery backup and cool looking wrist watch control. The decision is to whether you wanna go for it or not. In case you have any questions; you can let us know in the comments below, we'll try to respond as soon as possible.
Halo Drone Related Questions (Must Read)
What is the battery backup of the drone?
It has flight duration up to 22mins.
How's the performance in windy condition?
It has good performance in a windy situation.
Are there any better alternatives in $1500 range?
You can go with Mavic Air and Pro, better than Halo.
Do we have any better option than this one around $500 – $600 range?
Here is the list of all the drones in this range.
Trending Articles
Best Camcorder for Wedding Videography
Panasonic HC-WXF991K vs HC-VX981K
Camcorder video camera yeehao Review