We all love capturing our beautiful moments. Every time, we see something special or unique, we want to capture it through the lenses of our cameras. It allows us to save the moment so that later on, we can cherish it.
But, to do that, we need a good quality camera. There are literally thousands of cameras in the market. Each comes with unique design and features. One of the categories is Camcorder which is very handy and allows us to do a pretty good photo and videography.
There are some cameras which are made for beginners while there are others which are highly advanced built for advanced users. Today, in this article, we'll talk about one of the most popular entry-level camcorders that you can buy at a really affordable rate and start doing your videography.
Yeeha Camcorder is a 1080P HD Wifi Camera comes with 16X powerful zoom. Its microphone is decent enough to capture the high-quality sound. It also supports infrared night vision feature that allows you to use in low light conditions as well.
If you are thinking of starting a Youtube Channel, this could be one of the best vlogging cameras to initiate with. Most of the camcorder comes with an inbuilt sound recorder, which is not very effective, and you often end up having a good video quality but bad sound quality.
But this camera comes with an external microphone which ensures the sound quality remains intact. Considering its price, its stable sound image localization is pretty remarkable.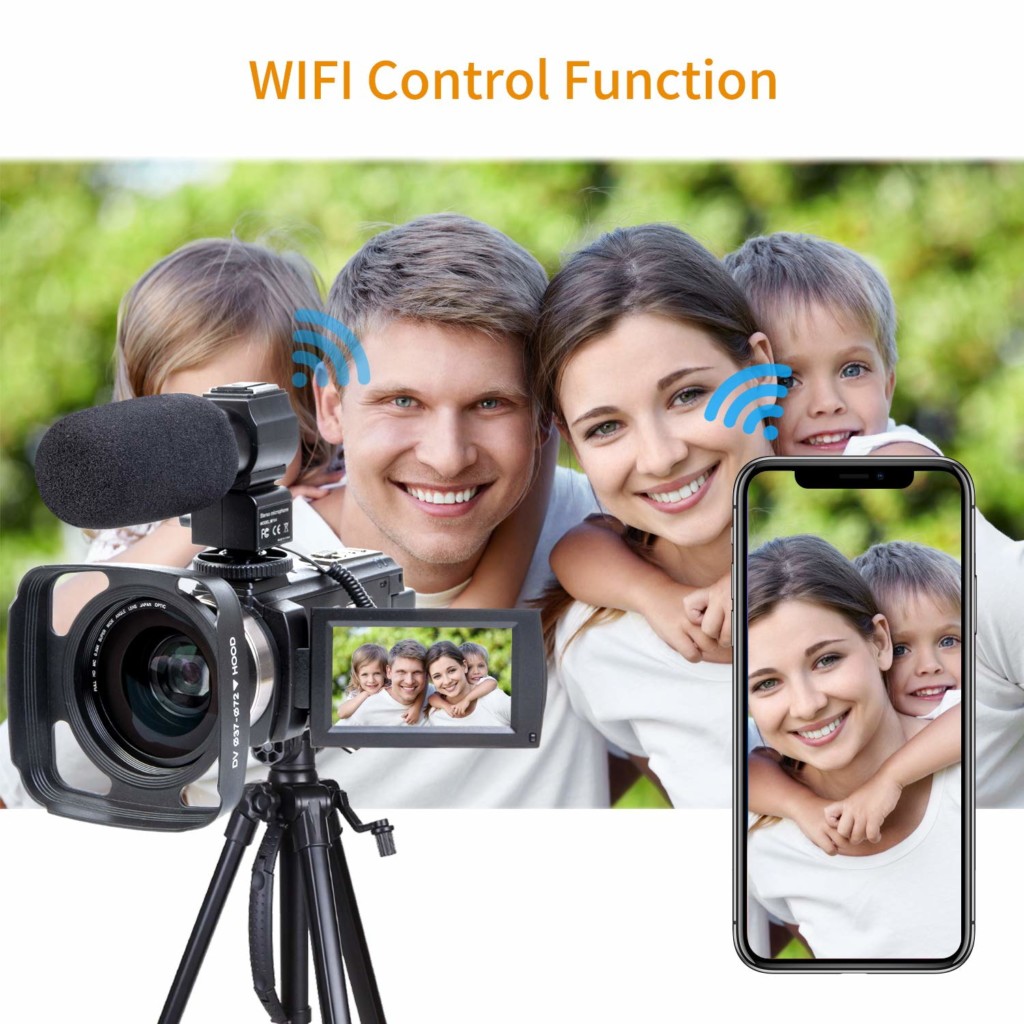 The Camcorder 2 in 1 wide-angle lens allow you to capture the broader view. It helps you in capturing the beautiful landscapes and sceneries and bring a lot more detail to your photos and videos.
You can also do very good close up shots which will help you in shooting flowers and small living beings.
What i really like about this camcorder is its lens hood which makes it more sturdy and reduces the possibility of any kind of damage.
With the product, you get all the required accessories; you don't have to buy anything separately. Below is the list of items that you would be getting with the package.
Camcorder (1)
USB Cable (1)
USB Charger (1)
User Manual (1)
Camcorder Bag (1)
Microphone (1)
Lithium Batteries (2)
Microphone Cable (1)
Microphone Connector (1)
Wide Angle Lens (1)
Remote Contro (1)
Lens Hood (1)
Things to keep in mind before buying a Camcorder
In this section, we'll talk about some of the important things that one has to keep in mind before buying a camcorder. This section includes the technical aspects and also gives you an overview of different types that are available in the market. So, read the below points carefully so that you have proper clarity about the product that you are buying.
Type
There are different types of camcorders available in the market. Each provides you the unique style and quality of the recording. The size can vary from small as your palm to big as a small mini tv. There is a notion that the bigger the camera, the more advanced features it will have, which is not right. If you are not a professional user, you should always go with a handy camcorder which gives you more freedom, and you can easily carry it from one place to another.
If you are thinking of shooting in different light conditions, then make sure that it has proper night vision (it also depends on the lens). There are also a series of pocket and wearable camcorders that gives you more freedom in terms of use, and you can shoot while doing skating or riding a bike.
Resolution
More the resolution, the better the picture quality, you'll get. It could be a 720P, 1080P, or a 4k camera. Nowadays, most the camcorders have 4k resolution which gives you the crystal clear quality on the bigger screen.
Aperture
Aperture helps you deciding how much light you wanna let in. The bigger the aperture (low f stop number), the more light will come. Which ultimately helps you in shooting in the low light condition. It will also impact the depth of the photo. By changing this, you can create a good bokeh mode.
Zoom & Stabilization
Zoom could be a real game-changer when you are doing long-distance photography like wildlife, or anything else. When you are shooting in the wild, you don't want to disturb your subject by moving close to it. That's where you can use the zoom and capture some natural moments. Also, one important thing that when you are using the zoom, your image stabilization will distort.
Nowadays, you get camcorder comes with electronic stabilization which provides better stability and you get very less jitter in your footage. There are also camcorders which come with mechanical stabilization. It could be from one axis to five-axis.
Bit Rate
If the camera has a higher bit rate, it will have higher video quality. Bit rate is not a very important factor, but you can look at this part when buying the camera. Though it also has the downside as well. Higher bit rate camera will fill up the memory card pretty fast.
Sensor Size
Sensor size decides the camera resolution. The larger the sensor, the better the resolution, you'll have. It also gives you the range of ISO, and you can control the sensitivity of the lens with it.

Features
In this section, we'll talk about some of the unique features of this particular Yeehao Model. So, let' dive into each one by one.
Remote Control System
This camcorder comes with a remote controller which makes it pretty unique. With which, you can wirelessly control the camera and click pictures and shoot videos. You can also play and pause the video playback. The range is around 10meters. To use the remote controller, you have to use 2 AAA batteries that need to bought separately.
Night Vision & Wifi Connectivity
It also has pretty good infrared night vision feature which helps you to shoot in different kinds of light conditions. You can also control the camcorder by using the app in your smartphone. It is recommended to go through the manual properly before you start using the product.
Video Resolution
It comes with 3inch IPS touch screen from where you can do the navigation. It has an 8MP CMOS image sensor, which allows you to capture high-quality images and videos. Photo format is JPEG while Video is saved in MOV Format.
Image Resolution (24MP): FHD1920x1080(30FPS)
Video Resolution: FHD1920x1080(30FPS),HD1280x720(60FPS),HD1280x720(30FPS)
Different Modes
It also comes with several different modes as well, which allows you to take your photography and videography skills to the next level. You can record the time-lapse. There is also the option of the self-timer, which allows you to click the picture at a different interval. According to light condition, you can also change the color, which will help you in maintaining the proper colors.
Storage & Operating System
It supports from 4GB SD Card to 128GB SD Card. I would recommend not to go with anything which is less than 64GB. Though it's not included with the product; you have to buy it separately. To edit the video, you can use the different operating systems like Windows XP, Windows 7, Mac 10.2,
Windows 10, Windows 8 & others. For connection, it has USB2.0 Port.
Easy Charging
It has an easy charging system. You don't have to remove the batteries, unlike other camcorders. You can easily make the connection through USB Cable and charge it. The camera top hot shoe can be used for connecting the different types of equipment as well, such as fill light.
Advanced Features
Digital zoom: The camcorder comes with a 16x digital zoom, which allows capturing the long-distance subject. It is very suitable for taking the close up shots.
Anti-Shaking: It also has pretty good image stabilization which reduces the jitter effect, and you can also capture the video while moving at slow speed.
Slow Motion: It also features a slow-motion mode that helps you in shooting a higher frame rate. This feature can make your video more cinematic if you know how to use it.
Motion detection: It also has motion detection technology which captures the subject and keeps it in focus. To use this feature properly, don't forget to go through the user manual once.
Using Tips
This is an entry-level camcorder suitable for beginners and photography enthusiasts. If you are thinking of opening a youtube channel, this could be a good camcorder to start with. Make sure that you format the SD Card before you start using it. Don't overcharge the batteries. The remote control range is 10meter only.
Conclusion
We have discovered everything that you should know about this product. It weighs around 2.75 pounds, and its dimensions are 5.3 x 2.4 x 2.3 inches. It has all the necessary features that you want in your camcorder. If you are thinking of buying your first camera, this could be the right choice for you.
There are some advanced modes that you'll take some time to master. In case you have any confusions, you can let us know in the comments below. We'll try to respond as soon as possible.

Trending Gadgets in 2021