Today we'll discuss one of the best underwater 4k camera that will take your filming experience to the next level. It gives very good competition to the GoPro cameras, and at the same time, it comes at such an affordable rate. When you get the delivery, you receive it in a very good package. You will get all the essential accessories with the product. You'll be getting additional batteries with charger, adapter, and mounts. Same doesn't go when you buy a GoPro, there you have to buy everything separately.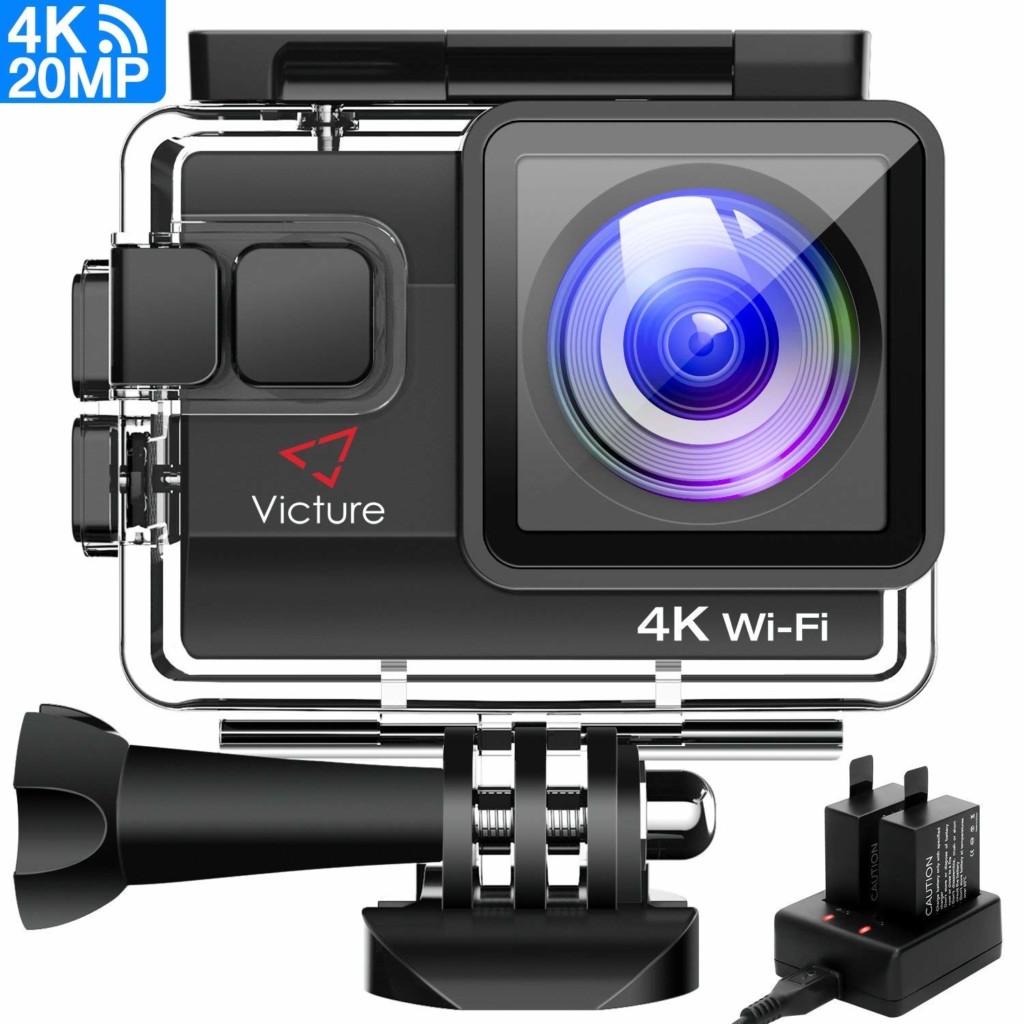 The camera setup is pretty simple. Within five minutes, you'll be able to use the camera. It's very lightweight as well that makes it very portable as well, and you can easily carry it from one place to another.
You can connect your camera with your mobile by WIFI. For WIFI connection, you need to download the app first and have to provide a picture and video access.
Don't expect the quality exactly like GoPro but you will get the very decent quality which makes this camera worth its price. Below is the list of items that you would be getting with the product.
1x Victure 4K Camera
1x IP68 Housing (Waterproofing)
1x Dual USB Charger
1x USB Cable
2x Battery
2x Frame Mounts
2x Quick Release Mounts
1x Surface J-Hook Buckle
2x 3M Adhesive
1x Back-up Battery Cover
1x Helmet Mount
1x Handle Bar
2x Bandages
3x 3-Way Pivot Arm

Victure AC800 Review
In this section, we'll talk about the different aspects of the victure 4k camera. We'll cover build quality, camera specs and much more. So, read the complete section, and in case of any question, you can let us know in the comments below, we'll try to respond as soon as possible.
Build Quality
It has solid build quality. Though it's the price is pretty low in comparison to others, but when you hold it, it gives you the feel of some high-end sports camera. Its solid waterproof case allows you to go deep into water 40 meters which give you a decent enough depth option to shoot. It comes in black color, you have got power button on the front, and the body, Victure, and 4k WIFI are written.
Affordability
Its low price is the forte of this adventure camera. When we think of underwater sports camera, we always think of cameras which cost you hundreds of dollars. But this one comes around $50 and give good competition to those expensive cameras. Victure company has opened the doors for beginners and other sports enthusiasts who are looking for a decent camera at an affordable range.
Ease of Use
Within seconds, you can set up the camera, and it is ready to use. You can use the other software to edit the video. You can also use the GoPro Software without a glitch. Here, with the kit you get all the accessories required, you don't have to buy anything separately. This makes things easier for you and gives you the freedom so that you can use it at your disposal.
HD Quality Video
Here, you get 20MP Camera which gives you buttery smooth HD quality footage. It has a lot of advanced features as well. You also have 4X Zoom, and video is free from shaking. 170-degree wide-angle view with 2 inch LCD Screen gives you the live view option so that you can set the frame and composition properly. You can record the 4k video in cinematic 24fps. What i appreciate that camera can also adjust the white balance automatically when you dive into the water.
Water Proof
This camera also gets sealed pack once you put the waterproof housing which allows you to go till the depth of 40m. Make sure you put the housing properly before you start using it. For more instruction, you can read the manual as well. Don't go too much deep into water (beyond 40m). Because once the water goes inside the body, your camera is gone.
Advanced Features
You can take some cool wide-angle shots with a camera. Let me tell you one thing, the handling of a sports camera is a bit different than the normal camera, and you need to do some practice to get the hold of it. You can also do timelapse with the victure. It has features like motion detection, night scene, gyroscope, fpv mode, car mode, ISO Sensitivity and much more. You also get 12 months of warranty with the product which itself boasts about its durability.
Shooting Modes
Time-lapse recording
Continuous shooting
Loop recording
Self-timer
Motion detection
TV mode
Night scene
Diving mode
Technical Specifications
| Victure | Specifications |
| --- | --- |
| Screen Size | 2 inch |
| Lens Angle | 170 Degree |
| Video Resolution | 4k/24fps |
| Photo Resolution | 20MP |
| Recording Time | 180mins |
| Water Proof | Up to 40m |
| Battery | 1050mAh |
| Warranty | 1 year |
| Total Accessories | 22 with the kit |
| Price | Check Here |
Camera Video Samples | Watch the Video till End
Verdict
The camera has received very good rating online and also received the Amazon's Choice Award. It has the good build quality, and you get a lot of advanced features as well. For more information, you can visit their official site. This camera is available for shipping all around the world. If you are looking for some other alternatives, you can check the below-given options. In case of any doubt, you can let us know in the comments below. We'll try to respond as soon as possible.
FAQs (Frequently Asked Questions)
Which SD Card does the camera support?
The camera supports the 10 Micro SD Card up to 64 GB.
How's this camera in low light condition?
It's not suitable for low light condition. You'll only see dark.
How to control the camera with mobile?
You need to download the OKCAM application with which you can control the different camera settings and mode. You can download the Android & iOS Version App here.
How do you get the photos and videos off the camera?
You can use the card reader, or you can also export through WIF via OKCAM application.
What are other under $50 sports adventure cameras?
Here are some of the best sports adventure cameras under $50.
Trending Articles
Best Camcorder for Wedding Videography
Panasonic HC-WXF991K vs HC-VX981K
Camcorder video camera yeehao Review