Today, in this article, we'll be covering YI Dome multi-purpose camera that you can use for baby monitoring, surveillance, security, or any other purpose at your disposal. This small camera is loaded with a lot of features at a very affordable price. It has mechanical pan and tilt, motion tracking system, sound detection, local and cloud data recording, and much more.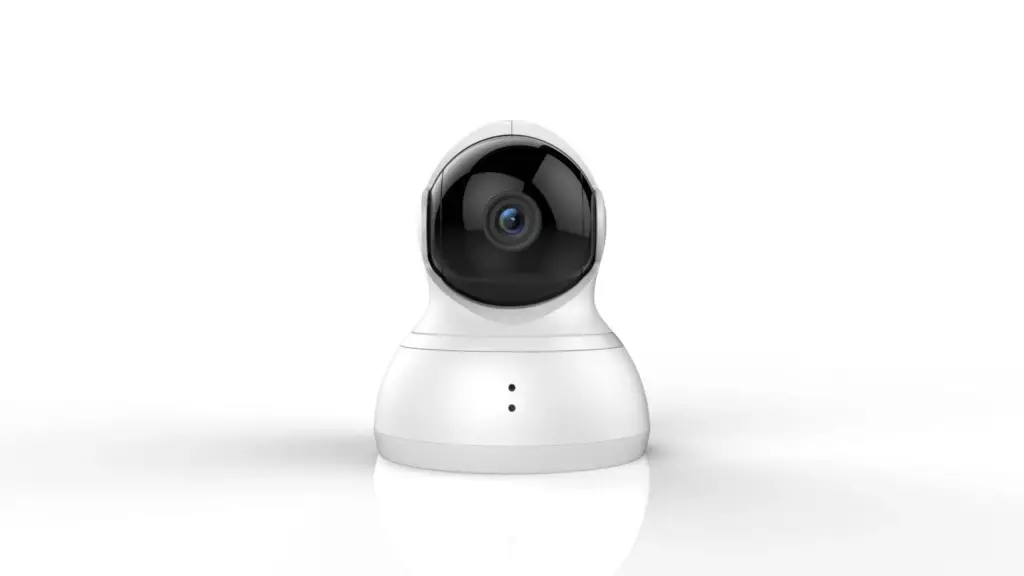 If you are using this camera for baby monitoring, then it has a baby crying alert feature as well. You can also click panoramic pictures as well. It has a decent build quality and also looks pretty good. Its stylish finishing makes it look like a piece of decor. It has a sturdy solid base, and smooth edges make it easy to use.
What i really like about the dome camera that it provides a wide range of motion and 360 degrees view that covers the whole surveillance area properly. You can save the footage in the local SD Card, or there is also the option of cloud storage as well. The cloud plans have different payment options that you can choose from.
It is very easy to use, and you can smoothly operate it from your Android and iOS device. It also has a night vision feature, but it is not very comprehensive, so don't expect too much from it in low light condition. It has a good quality microphone, and its advanced technology makes it suitable for long-range communication. To control the camera, you need to download the dedicated YI Dome App. Below is the list of items that you would be getting with the Camera.
YI Dome Camera
USB Wall Plug
USB Cable
Mounting Bracket
Screws
Yi Dome Camera 1080p Review
In this section, we'll talk about different important aspects of YI Dome camera that one should be aware of before buying it. If you are really interested in buying the camera, you must go through all the points that will give you better clarity about YI Dome. So, let's dive into all the aspects one by one.
Build Quality
It has the great build quality and looks sturdy as well. It came in a circular shape and bit larger in size in comparison to other cameras in this price range. It has manual tilt; if you don't move it, it will remain pointed at one direction. It is not weather resistant, so only suitable for indoor use only. Motor present in the camera is a bit noisy and make a sound when you move them. If your baby is sleeping, it might wake him up as well. The camera rotation is pretty good that allows you to see everything around it. It can be rotated in vertically and horizontally as well.
Vertical Movement: 115 Degree
Horizontal Movement: 345 Degree
Ease of Use
There is a lot of camera in the market, but using them becomes a real pain. YI Dome is easy to , and from a single day, you'll become used to of it. Make sure; you have already downloaded the App before you start using it. The app gives you the QR code that you can show the camera and connection happens automatically. It only works at 2.4GHz Wifi, and within 15-20 minutes, you'll be able to use it.
Camera Audio & Video Quality
This is the 1080P Camera; you can also go for 720P version as well, which will be a bit cheaper than this one. Though the video quality of the camera is not very crisp, but it is decent enough considering the price. The field of view is only 112 degree that could have been better. The exposure of the camera is also not very good, but it does the job. The camera has infrared LEDs which illuminates 15-20 feet in low light condition.
The Audio Quality of the camera is pretty solid, the microphone is sensitive enough, and the speaker is loud enough. You can use the hand's free mode, and both parties can freely talk without a glitch.
YI Dome App
The Yi Home app is all in one app that works with all the security camera products of the company. The app is supported to both Android and iOS device, which you can download from the official company website. In the main screen, the vertical list will come where you can navigate in different options. Live feed will always be there on the top of the screen. You can choose among different modes by going through the settings option. It has good motion tracking system. For more information, you can read the article here.
How to Pair Your YI Dome Camera
Setting up the camera is pretty simple. Follow the below steps one by one.
At first, you need to download and install the YI Home App.
Then Go and Create a YI Home Account.
You need to connect your device through WIFI (Only 2.4GHz connectivity)
You also need to adjust the router settings to pair your camera.
Then log in to your account and click on the + button to select your camera
Turn on the Camera, and then there will be a voice prompt for connecting to the WIFI network.
Choose 2.4GHz wifi, enter the password, and make the connection.
Scan the QR Code that comes to your smartphone to the camera, and everything is set up, now you can use the camera.
Technical Specifications
| YI Dome Camera | Specifications |
| --- | --- |
| Camera | 1080P @15fps |
| WIFI Connection | 2.4GHz |
| App Support | Android & iOS |
| Baby Cry Detection | Yes |
| Presets | 8 Bookmarks |
| Motion Tracking | Yes |
| Storage | Local & Cloud |
| 2 - Way Communication | Yes |
| Price | Check Here |

Watch the Video till End
Pros & Cons
Pros
The design and build quality of the camera is pretty good.
It has a very affordable price. There are a very few cameras this much capable enough at this price range.
It has multiple modes to choose from. You can create the panorama shots or also can go for night vision mode in low light condition.
It is very easy to setup
It has local and cloud storage option
The motion tracking feature is very accurate.
Two communication gives you more freedom.
Cons
Though it's a 1080P Camera, you won't be very happy with picture quality.
It only supports 32GB Memory Card, and for cloud storage, you need to pay extra.
It captures video only in 15fps.
YI Dome Camera Affordable Alternatives (Recommended)
Conclusion
This is undoubtedly one of the most popular security cameras on Amazon with lots of positive reviews. It has some cool features which make it stand out of the crowd. It has a stylish finish, which makes it look like a piece of decor. Though there are some glitches as well when it comes to video quality and range transmission still the camera is worth giving a try. You can mount the camera on the ceiling or wall at your disposal. There are different presets and modes to choose from. You can buy a single camera or buy it in pair depending on the requirement.
We have covered everything that you need to know about the camera, for more information, you can let us know in the comments below, we'll try to respond as soon as possible.
YI Dome Related Questions (Must Read) 
What is the different way to install YI Dome Camera 1080p?
You can install it horizontally at the table, or on the wall or the ceiling with mounting bracket. It entirely depends on you.
What accessories come with YI Dome Camera 1080p?
You don't need to buy anything separately. Everything that you need for setup, you'll be getting with the package only.
How is YI Dome Camera 1080p's weather resistance?
It's not for outdoor use. It can operate from 0degree to 50degree Celcius. Recommended only for indoor use.
Can I use a portable battery to supply power?
Yes, you can use the portable battery.
Which is the best Security camera under $100?
You can try this Waterproof logitech Camera that works with Alexa & Google.
Trending Articles
Best Camcorder for Wedding Videography
Panasonic HC-WXF991K vs HC-VX981K
Camcorder video camera yeehao Review