We all want to capture great images with the advanced technology available and it is always better to have high resolution videos wherever we go. The best thing about these camcorders are that both have 4K capability. Panasonic has its headquarters based in Japan and was founded in 1918. The company has grown globally over a period of time and has its base in providing products as well as services in the industries related to health, appliances, beauty, and many more. It takes care of the products that you would be needing in your house as well as at your workplace.
Panasonic HC-WXF991K comes with a viewfinder feature, to get detailed images which is preferred by professionals, however, the Panasonic HC-VX981K model lacks this feature. This is the main difference. While Panasonic HC-VX981K is lighter in weight, weighs 0.77 lbs unlike Panasonic HC-WXF991K that weighs 0.88 lbs.
The company's name is imbibed and has almost become a household name because of the quality and long lasting life of its products and services that customers have appreciated over decades. These come with a black finish and really smart to look at. Moreover, the devices would not be very hard on your pocket. They are budget friendly and in fact provide you with the most amazing features within the listed price. Once you travel and carry them along, you would always want them by your side. They would make you relive the happy days that you would have lived and the best memories that you would have captured and that too with a pleasing quality. Let us now get a better understanding of the specifications that the camcorders have to offer.
Panasonic HC-WXF991K vs HC-VX981K
| | | |
| --- | --- | --- |
| Article | Panasonic HC-WXF991K | Panasonic HC-VX981 |
| Product Weight | 0.88 lbs | 0.77 lbs |
| Item Measurements | 2.6 x 6.4 x 3.0 inches | 2.5 x 5.4 x 2.8 inches |
| Color Available | Black | Black |
| Affordability | Under 800 dollars | Under 700 dollars |
| Preferred by | Professionals | Beginners |
| Viewfinder | Present, 24 inch | Absent |
| LCD display | 3 inches touchscreen | 3 inches touchscreen |
| Connectivity | WiFi (2.4 GHz) | WiFi (2.4 GHz) |
| USB port | Present, 2.0 | Present, 2.0 |
| HDMI port | Available | Available |
Apart from these specifications there are other features as well that describe the camcorders better with much more detail. Let us check these out.
Panasonic HC-WXF991K Review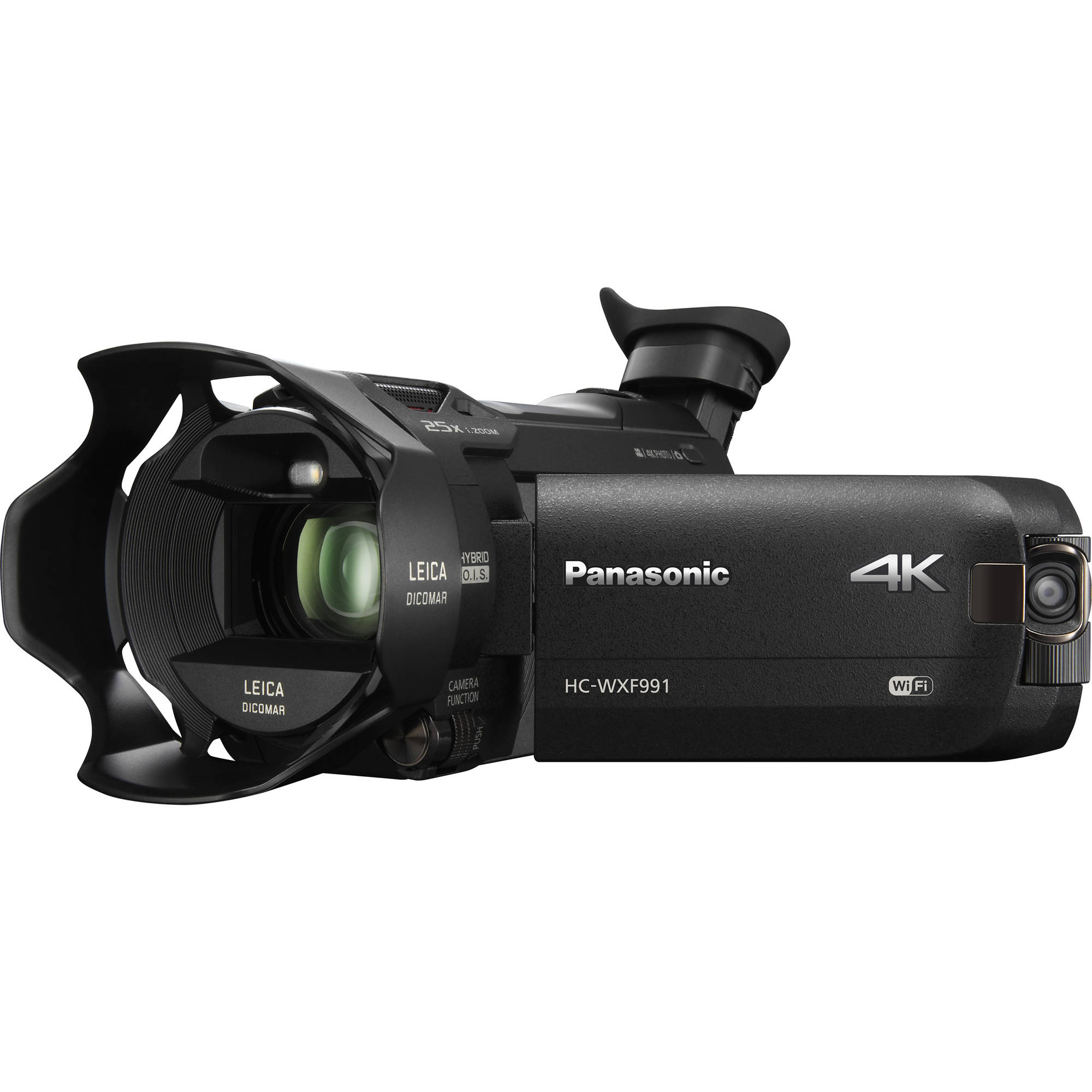 Dimensions
The item is lightweight and can be carried easily to any of the trips you are planning to. The camcorder weighs around 0.88 lbs which makes it portable. Then comes the measurements of the equipment which are 2.6 x 6.4 x 3.0 inches. It is a compact design. The model has a few features which are specific to this. Therefore it is a little more in weight as well as in dimensions compared to the other model. The tools however when taken to your trip would give you the best memories that you would be able to capture within this camcorder and see it later along with your friends and family.
Viewfinder
The camcorder comes with this amazing feature which explains its extra weight and dimensions. It is electronic in nature and has a size of 0.24 inches. It is towards the rear end. Your comfort has also been taken care of while you are using it with the help of an eye cup which is soft enough. The viewfinder gives a high resolution of 1,555,200 dots which helps you to capture all the details in the shooting. It is therefore preferred by professionals who are keen about details. It helps you get really sharp images by working out the angle as per the requirement. The images produced are not blur because of the algorithms involved in capturing the images.
Connectivity
The camcorder can be connected to WiFi with a 2.4 GHz frequency by default. It also has a USB 2.0 port available which allows you to keep your device charged. The device comes with an HDMI port in case you wish to present the videos or footage that you have captured while travelling. In addition to that you would also be able to connect with your microphone or headphone using the same device. Yes, that is right. You get all these features in just one camcorder, isn't it a complete package to give you the best experience?
Panasonic HC-VX981K Review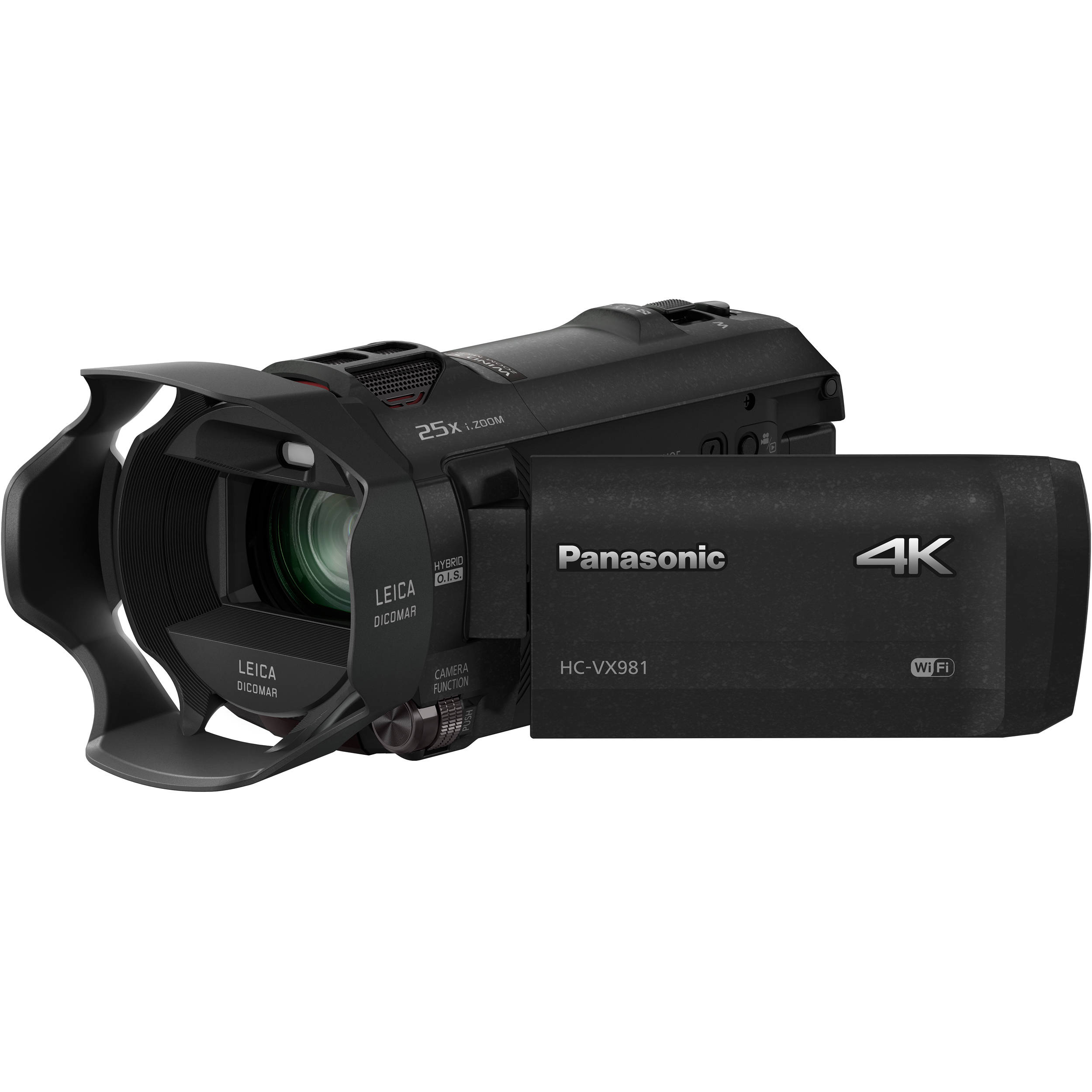 Dimensions
The equipment is somewhat lighter in weight as well as smaller in size compared to the previous model. It weighs around 0.77 lbs and it measures 2.5 x 5.4 x 2.8 inches. The camcorder is black in color. The material used to build the equipment is both plastic as well as metal. The camcorder is portable and is generally preferred by people, especially youngsters, going on vacations or even for any video work associated. The camcorder is handy as well, it does not require much space in your hand bag. It would be your constant companion on the trip.
Display
The camcorder unlike the previous modes does not come with a viewfinder. However, the quality of pictures it captures are pretty decent. The LCD used in it is as wide as 3 inches and comes with a touchscreen feature enabled. The controls are quick and easy to manage. The resolution that it brings is 460,800 dots which gives an extremely good quality image. In order to access other features like brightness, sharpness, white balance, shutter speed you do not have to go through various menus. You can simply do it through a manual dial present. This will help you save time and get quick results.
Connectivity
If you want to share your pictures or videos, you can do it easily with the help of WiFi that the camcorder provides you with. Further there is a USB port as well which can be used for charging whenever you run out of battery. Also, in case you have an important presentation early in the morning and you haven't transferred it to your pendrive or laptop in a hurry. Then too not an issue as the camcorder comes with an HDMI port which would help you to directly present it on the screen. The equipment is all in one solution to improve your photography as well as videography skills.
Watch the Video till End
Conclusion
The camcorders would help you shoot the best images and videos which you can relish for the entire life. They are available in black color and the finish is unbelievable. The cameras come with WiFi connectivity and a USB port for keeping the device charged whenever you are going outdoors so that you are ready to shoot and etch a memory in your gallery forever. Further, both the camcorders have HDMI ports for easy presentations. The equipment are designed in a compact manner so that they can be fitted in a small bag and there is no hassle in their portability to spoil the fun of the trip. Moreover, the display comes with a touchscreen feature so that you have quick controls and ease of use.
Panasonic HC-WXF991K weighs 0.88 lbs and it costs more. The camcorder is available at a price under 800 dollars. It comes with a viewfinder feature towards the rear side of the device which is the reason why it is preferred by the professionals as it is capable of capturing the details and gives images without any noise. Panasonic HC-VX981K is a lighter model comparatively, with a weight of 0.77 lbs. It can be bought at a price under 700 dollars. The camcorder is mostly preferred by beginners and people who are learning photography and videography skills. The equipment is practical and easy to use. Based on all the features mentioned, you can now decide for yourself which equipment would be the best fit for you.
FAQs (Must Read)
Q. Can the camcorder function when there is not enough light?
A. Yes, they perform really well even in low light.
Q. Can videos be recorded in slow motion?
A. Yes, it is possible with Panasonic HC-WXF991K camcorder.
Q. What is the battery capacity in both the camcorders?
A. The battery capacity is the same in both the camcorders which is 1940 mAh, 3.6 volts.
Q. What is the aperture range used in the camcorders?
A. The aperture range is f/1.8 to f/3.6.
Q. What is the lens type used?
A. It is a zoom lens that is used in both the camcorders.
Q. What options does the White Balance provide?
A. You can set the White balance as Auto, Sunny, Cloudy or Indoor.
Q. Do the camcorders come with HDR shooting mode?
A. Yes, they do have that mode.
Q. How is the functionality of the zoom in feature?
A. The zoom in feature can be used up to 20 times to get sharp images.
Q. Is there any warranty period available?
A. Yes, the warranty period is 1 year and it is 90 days for the parts of the camcorder.
Q. Is there a flash by default in the camcorder?
A. No, there is no such option present.
Q. Does the camcorder come with a lens cover?
A. Yes, the camcorder has an auto cover.
Q. Is the AC adapter included in the camcorder box?
A. Yes, you do get the AC adapter with both the camcorders.
Q. In which format the images are generally available?
A. They are generally available in JPEG format.
Q. What kind of batteries do the camcorder use?
A. The camcorders use rechargeable batteries and they are Lithium ion batteries.
Trending Gadgets in 2021