What do you think of a camera that works perfectly with the combination of speed, portability and versatility? Impressive, right? That's what Olympus OM-D E-M1 Mark III stands for! It is counted among the world's top-notch portable camera systems. With a compact and lightweight body, Olympus OM-D E-M1 Mark III works seamlessly with the very strong compact M. Zuiko PRO lenses. It is developed by Olympus, with the well-rounded Micro Four Thirds mirrorless camera that works brilliantly for all the requirements of a video.
Additionally, Olympus OM-D E-M1 Mark III has an excellent 20.4MP Live MOS sensor along with an upgraded TruePic IX image processor. It's quite famous for its instant continuous shooting up to 60 fps along with an electronic shutter and 15 fps with a mechanical shutter. Also, its DCI and UHD video recording resolution is around 4K. With Olympus OM-D E-M1 Mark III, one truly enjoys the joy of photography. It has tons of amazing features that help you pass through the toughest shooting situations with grace.  In this article, we have reviewed all the necessary details and features of the Olympus OM-D E-M1 Mark III. So, let's get started!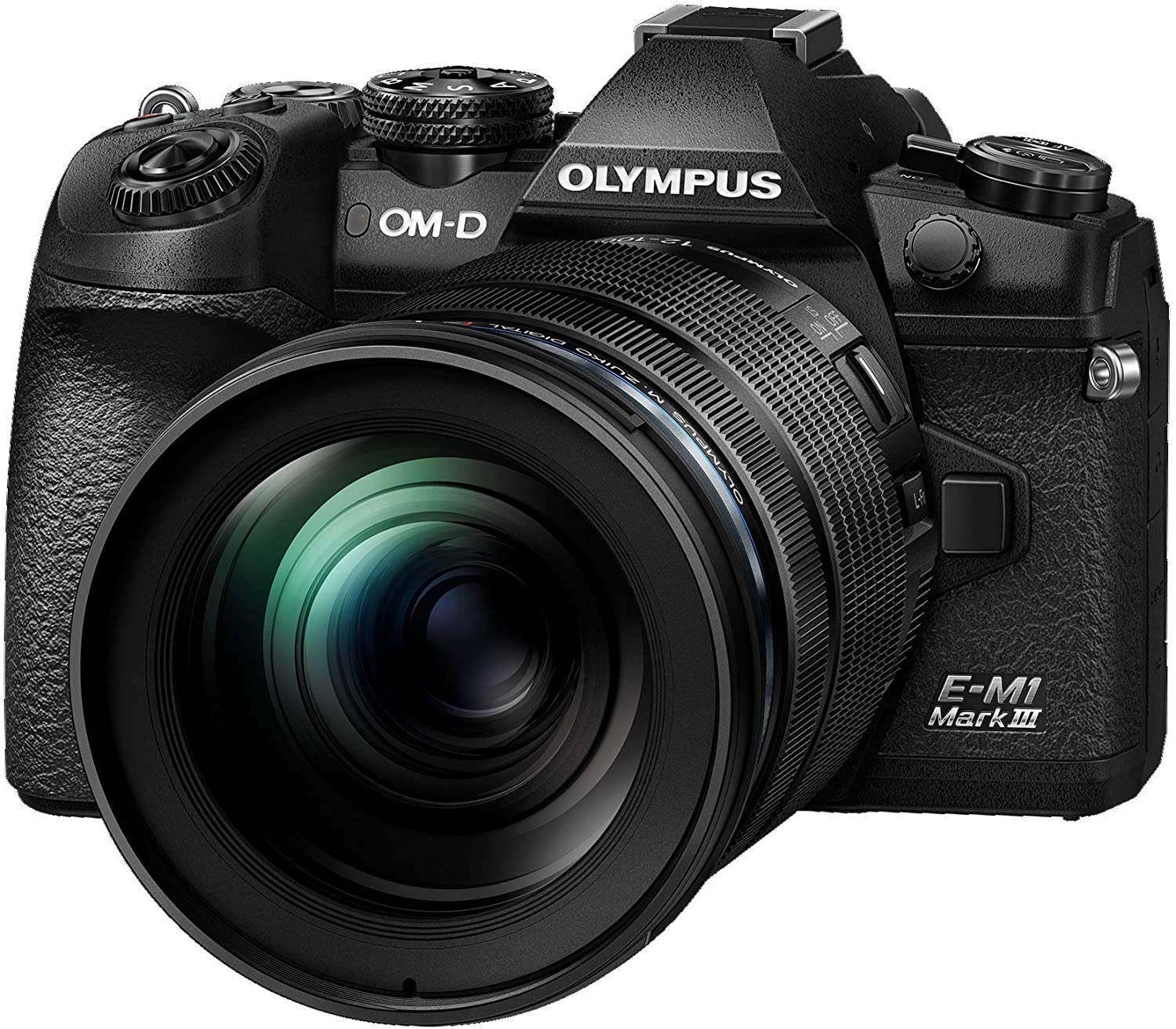 | Parameters | Olympus OM-D E-M1 Mark III |
| --- | --- |
| Product Dimensions | 9.15×6×12.15 inches |
| Weight | 5.4 pounds |
| Batteries | 1 Lithium-ion battery |
| Manufacturer | Olympus |
| Form Factor | SLR-Style Compact |
| Colour | Black |
| Special feature | Image Stabilisation |
| JPEG quality level | Basic, Fine, Normal |
| Brand | Olympus |
| Lens Type | Wide Angle |
| Compatible Mountings | Micro Four Thirds |
| Continuous shooting speed | 60 fps |
| Exposure control type | Program, Manual, Aperture Priority, and Shutter Priority |
Features
Live MOS Sensor & Image Processor: Olympus OM-D E-M1 Mark III comes with an incredibly high resolution of 20.4MP Live MOS Sensor and an upgraded TruePic IX image processor. This improvised the enhanced shooting performance, the versatility of around 4K video recording capability and an ISO 25600 ranged sensitivity. This feature makes it an ideal camera for wildlife and sports shooting.  This combination of sensor and processor makes Olympus OM-D E-M1 Mark III with a full-resolution continuous shooting rate from 15 fps up to 101 consecutive raw files.
121-Point All Cross-type-Phase Detection AF: Olympus OM-D E-M1 Mark III has an advanced autofocus system that combines the 121 on-chip phase-detection points to the 121 contrast detention areas. This enhances the focus capability and performance of the camera with instance and accuracy. And the 121-Point All Cross-type-Phase Detection AF improves the precision in a sort of varied lighting conditions and subject tracking potentials. Olympus OM-D E-M1 Mark III have multiple focus modes that work brilliantly with different conditions.
Sensor-Shift Image Stabilization: Olympus OM-D E-M1 Mark III is designed with a 5-axis Sensor-Shift Image Stabilization that helps in reducing the camera shake appearance up to 7 stops along with the lens and compensates for the camera movement. This is utilised in working with macro imagery, long exposures and telephoto shots.
Also, this feature helps in covering five axes in order to compensate for horizontal angle rotation, rolling camera shake movement, vertical angle rotation and rolling camera shake movement.
Video Recording and OM-Log: The sensor and processor of Olympus OM-D E-M1 Mark III support the DCI and UHD 4K video recording. With the DCI, 24.00 fps frame rate and IPB compression are used. Along with this, a 237 Mbps bit rate and UHD 4K is present in the frame of the camera. Olympus OM-D E-M1 Mark III also supports the full HD 1080p and HD 720p recording.
Additional Features
A 50MP handheld high res shot is available.
For the quick selection of AF areas, a Multi-selector (Joystick) is available.
Dual SD Card Slots are available.
Continuous shooting of 60 fps and 18 fps is available along with the silent electronic shutter.
It has a slash-proof, Dustproof and Freezeproof Magnesium Alloy Weather-sealed formation.
Specifications
Olympus OM-D E-M1 Mark III comes with the specifications of a high-resolution 2.36m-dot electronic viewfinder. It is present for the purpose of monitoring and has a magnifying power of 0.74x for detailed and distortion-free viewing. It has a BLH-1 lithium-ion battery that lasts for around 420 shots on a single charge. It can also provide 900 shots per charge when kept in sleep mode.
Moreover, Olympus OM-D E-M1 Mark III have built-in wifi and Bluetooth settings that allow the sharing and remotely controlling of the wireless image and the camera, respectively. It can be linked with a smartphone or tablet through the O.I.Share app.
Along with these specifications, Olympus OM-D E-M1 Mark III have broad accessory compatibility that comes with the incorporation of 3.5mm headphone and microphone ports.

Pros and Cons
Conclusion
In conclusion, we can say that Olympus OM-D E-M1 Mark III is considered the most effective image stabilisation across the whole world. It comes with tons of features that when combined, makes a truly remarkable photography experience. Being ergonomic and lightweight, Olympus OM-D E-M1 Mark III works seamlessly with its compact M.Zuiko PRO lenses. And that's why it is widely known as the most portable camera system. It is fast, easier to manage and provides you with excellent photography results. With this camera, you do not need any tripod or handheld stills and video.
It's a fast and powerful TruePic IX processor that makes the compact Olympus OM-D E-M1 Mark III more superior in terms of image quality, vibrant colours and perceptiveness. It is known to be a perfect choice for capturing the world's greatest image. Even after being a bit expensive, it's worth all the settings and performance it provides. So, don't waste your time and get started with Olympus OM-D E-M1 Mark III and enjoy the free handheld camera experience.

Frequently Asked Questions
Can we see through the electronic viewfinder in sunny sunlight?
Absolutely, one can easily see through the electronic viewfinder in bright or sunny sunlight as this lighting is better than the flip screen.
How can I get the battery charger for the camera?
Well, the battery charger comes along with the camera body in the package. The charger and its pattern are exactly similar to the OMD-EM1 Mk II models but very different from the OMD EM1 charger.
Does the camera work properly with a Panasonic 100-400mm f/4-6.3 Leica Lens?
When a Panasonic 100-400mm f/4-6.3 Leica Lens is attached to the Olympus OM-D E-M1 Mark III, its phase-detect autofocus does not get affected largely and continues to work properly as before. No AF wobble is present on the Panasonic bodies.
Which battery can be used as a spare one?
It's often essential to use the same Olympus brand battery as it is specifically designed for this camera and based on its price, it's always a risk to use another brand. The original Olympus brand batteries are coded through which, full functionality for the camera is seen.However, third-party batteries are not coded which when used, can restrict your camera over many things.The original Olympus battery may seem a bit expensive but it will not harm your camera in any possible way. Therefore, stick to the original battery only.
How large can OM-D E-M1 Mark III enlarge a photo?
Well, you can very easily print an excellent quality of the image of dimensions 20×30 from just a 12MP photo when taken from an Olympus E-5 and for the 10MP photo you can easily get your desired size. You can very easily enlarge a photo from the Olympus camera.
What are the optimum specs required for the SD card in OM-D E-M1 Mark III?
In OM-D E-M1 Mark III, for the first card slot, you must purchase and use the SDXC II SD card. This provides a higher speed with a write speed of 150 MB/s along with the double contacts present on the back of the card. But remember, do not use this in the second slot.
Watch the Video till End