Graphic cards are surely bought in huge numbers every year across the globe. There are thousands of graphics cards available that one can choose from and they come in a variety of price ranges all depending on the features they are willing to offer. If you want to know what are the top 5 expensive cards that are available right now, then keep reading to know more. There are a lot of companies in the market but NVIDIA is one of the best. To have a  better clarity about the best graphics card, please go through the complete article. You can let me know your comments down below.
NVIDIA TESLA V100 16GB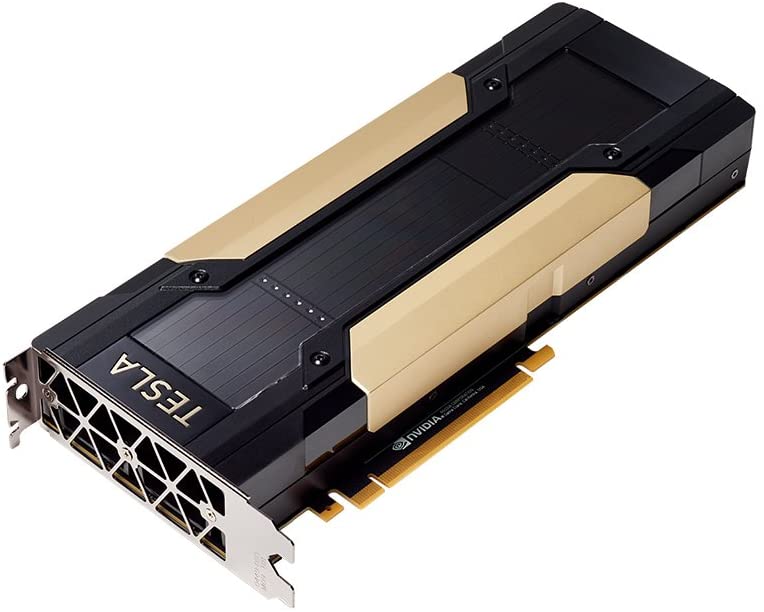 This is a professional graphics card that was launched in June 2017 by NVIDIA. The card supports a graphic memory size of 16 GB. The type of memory is 2

nd

generation of High Bandwidth Memory (HBM2) and the memory bus is of 4096 bits.

Talking about the graphics processor, the GPU name is GV100.

 

The card supports DirectX 12 that has a lot to do with the experience achieved in terms of rich audio, video, exceptional graphics, etc.

 

NVIDIA TESLA

V100 is built on a 12 nm processor that clearly throws light on how fast and efficient the operations would be.

It has a large die area of 815 mm².

Higher the number of transistors, better the performance. As many as 21,100 million transistors are equipped in

NVIDIA TESLA

V100. This talks volumes about the performance offered. Doesn't it?

Frequency: The GPU has an operating frequency of 1245 MHz i.e the base clock has a speed of 1245 MHz. This can further be boosted up to 1380 MHz. Also, the memory runs at 876 MHz (memory clock speed).

Render configuration: This card is equipped with 5120 shading units, 320 texture mapping units, 128 Render Output units and 640 tensor cores. All of these aid in improving the speed of machine learning applications.

NVIDIA TESLA

V100 supports Volta architecture, which is said to be one of the most powerful GPU computer architecture.

It is a dual-slot card, hence draws power from 2 x 8-pin power connectors.

 

The Thermal Design Power (TDP) is 300W which means that the maximum amount of heat generated is 300W. Higher the TDP, better is the cooling system required.

This does not have any display connectivity.

Tesla V100 PCI-E 16 GB is connected to the rest of the system using a PCI-Express 3.0 x16 interface.

This graphics card weighs about 2.64 pounds and has the dimensions of

10.54 x 4.37 x 1.57 (in inches).
PNY NVIDIA QUADRO RTX 8000, BLACK, GREEN, SILVER (VCQRTX8000-PB)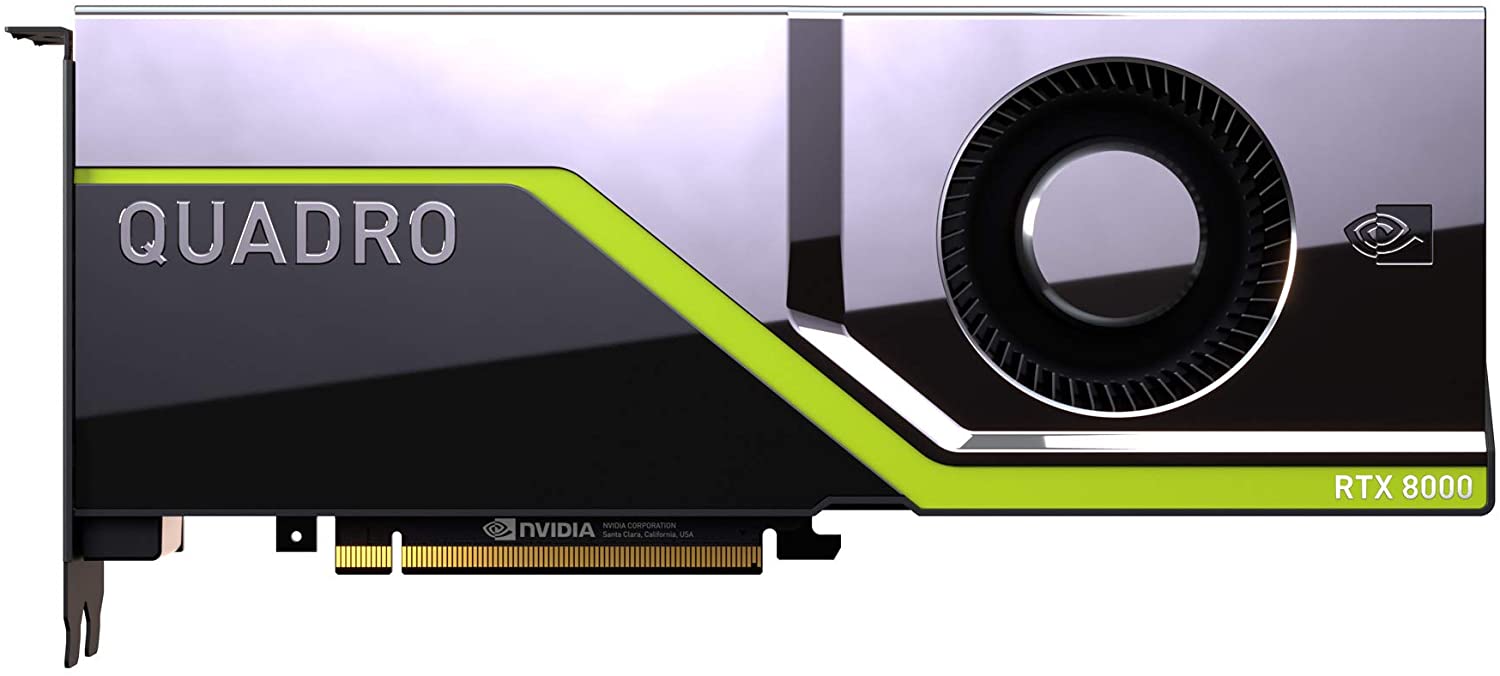 The PNY NVIDIA Quadro RTX 8000 makes into the list of the world's most powerful graphics card for professional workflows. This graphics card claims to provide its users with an experience that is unbeatable in terms of memory, performance and power. It exhibits the following specifications – 
NVIDIA Quadro RTX 8000 is powered by NVIDA's Turing architecture that assures users of providing fast and interactive professional experience. Summing up, it is designed to offer an incredible application performance. It aims to deliver world's most powerful graphics card solution.

Graphics card interface that this card supports is PCI-E X16 (

Peripheral Component Interconnect Express

X16) meaning it has 16 data lanes for the data to travel to and from the card.

Hardware interface also stands the same at PCI-Express X16.

Memory bus width is 384 bits.

The PNY NVIDIA Quadro RTX 8000 supports an exceptional

Graphics memory of 48 GB GDDR6, probably one of the best features that this card offers. The memory is scalable to 96 GB thus dealing with memory intensive tasks like creating complex models, working with 8K movie content in real time, etc. are no longer issues to be bothered about.

Rendering: This graphic card is designed in such a manner that it provides real time rendering to the professionals. Also, the main job of RT (Ray Tracing) Cores is to speed up ray tracing, as known to many. With 72 RT Cores, the photorealistic RT rendering is accelerated, thus providing an even better experience. This thereby enables artists and designers to create absolutely stunning content and increase their productivity.

Wondering what this card has to offer in terms of AI workflow? Well, with 576 Tensor cores, this card powers AI development and training.

Connectivity: It has four DisplayPort 1.4 connectors and a virtual link as well. With the feature of virtual link, virtual reality (VR) features can now be incorporated and needless to say, the gaming experience is at another level. Virtual link enables you to connect to a high resolution VR Head Mounted Display with the help of which you can work in a variety of virtual environments.

Dimensions:

10.51 x 4.41 x 1.42 inches

Equipped with 4608 CUDA cores
NVIDIA Titan RTX Graphics Card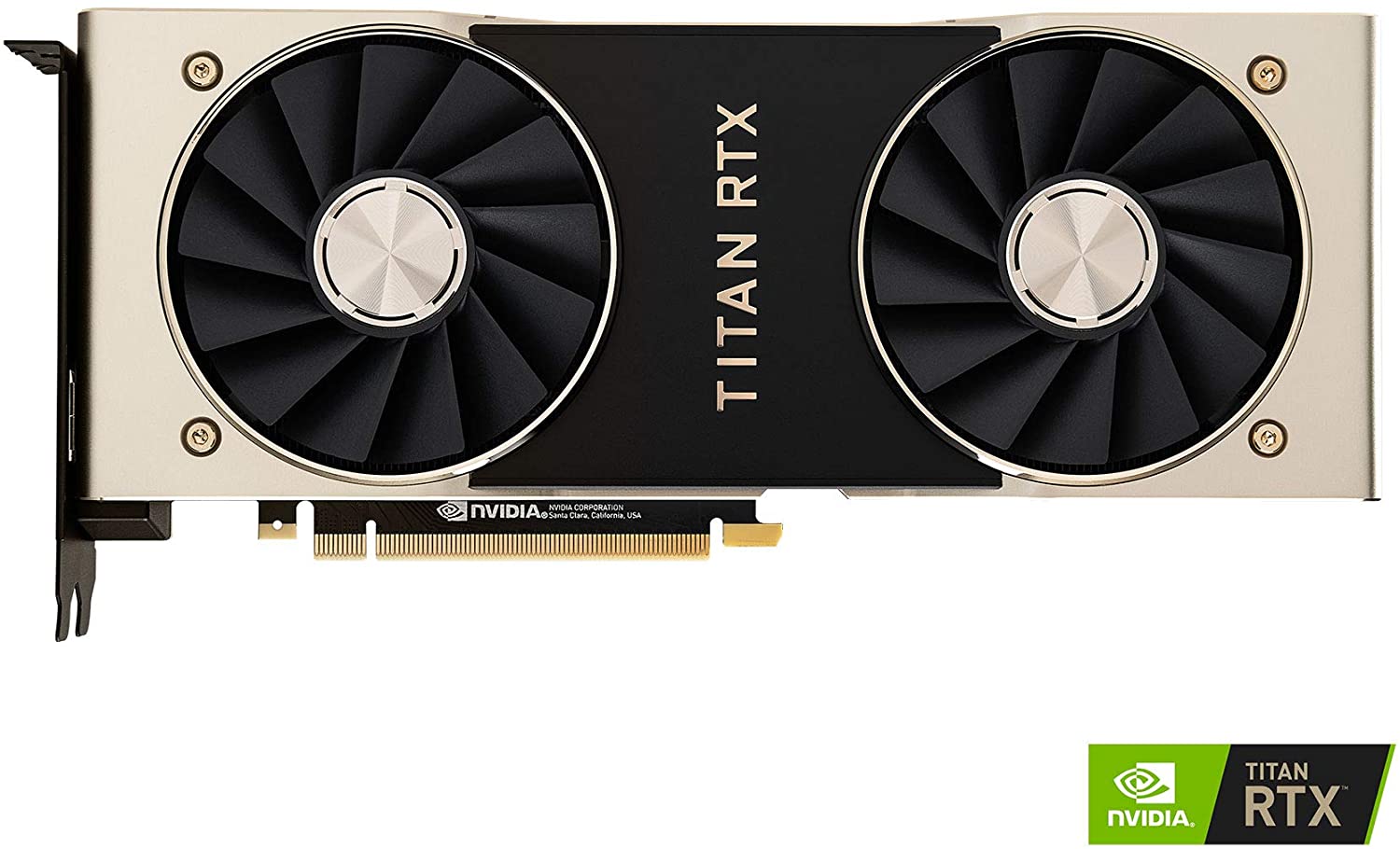 NVIDIA Titan RTX Graphics Card claims to deliver an ultimate PC computing experience to its users.

 

It is powered by Turing architecture

Who wouldn't consider memory to be one of the prime parameters while buying a graphics card? Undoubtedly, nobody. This has 24 GB

of ultra-fast

GDDR6 memory.

72 RT Cores aid in accelerating the photorealistic ray tracing.

576 Tensor cores deal with the Artificial Intelligence aspect and 4608 CUDA cores serve as a boon for the developers and researchers.

NVIDIA Titan RTX Graphics Card is also equipped with 2 fans that have 13 blades each. They produce 3 times higher airflow.

Another key feature of NVIDIA Titan RTX Graphics Card is that it has a vapour chamber. This is designed in such a manner the heat spreading is maximized and transferred to the fin-stacker assembly. In other words, it vents the air into the case and not the backplane.

Build: It is made of aluminium cover and has a diamond-cut edge. No compromise has been made on the quality despite it being light in weight. It is both, rigid and smooth.

NVIDIA Titan RTX Graphics Card supports virtual link as well.
NVIDIA GEFORCE RTX 2080 TI FOUNDERS EDITION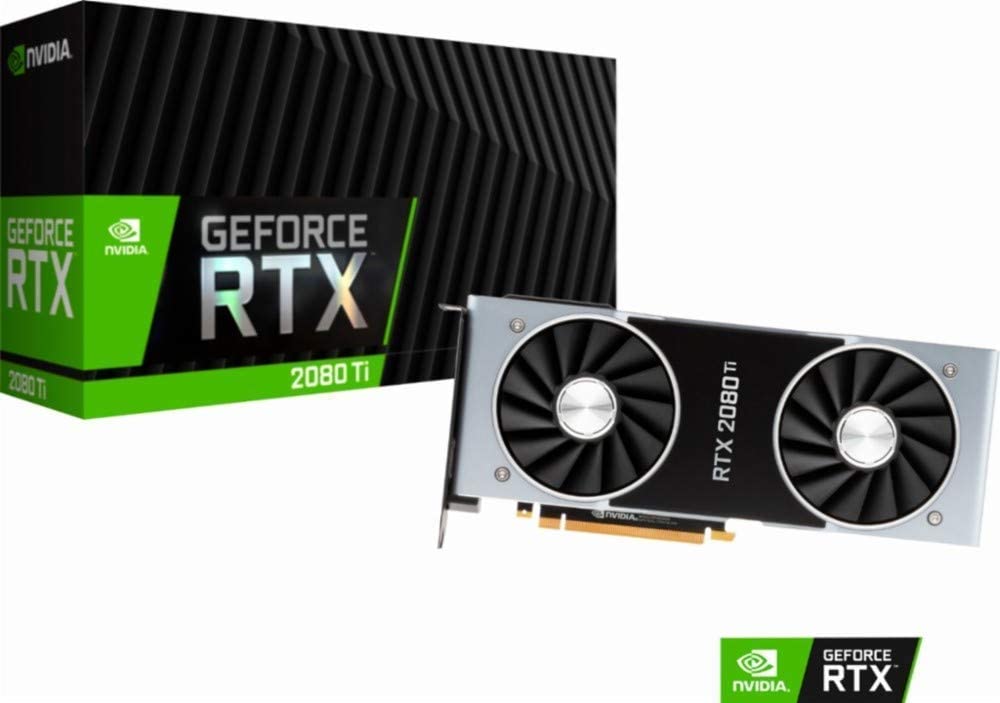 NVIDIA GEFORCE RTX 2080 Ti Founders Edition is yet another expensive graphics card but truly is worth the price. This is powered by

NVIDIA's Turing GPU architecture that gives a remarkable performance (approximately 6 times better than the previous generation ones)

This has 11 GB of next-generation, ultra-fast GDDR6 memory that you surely wouldn't want to miss.

There are mainly two reasons as to why should one consider buying this. One, it is surely among the fastest graphic cards available and second, the real time tracing, artificial intelligence application and deep learning technology will enhance your gaming and graphics experience to a top notch level.

NVIDIA GEFORCE RTX 2080 Ti Founders Edition has a

13-phase power supply for maximum overclocking

Supports 2 13-blade fans and a vapour chamber that'd enable a cool and a quiet experience.

The ray-tracing technology (real-time) and hyper-realistic graphics are surely worth a mention.

NVIDIA GEFORCE RTX 2080 Ti Founders Edition requires 2 eight-pin power connectors and has 3 Display port 1.4a connectors.

This is also equipped with a feature of Virtual Link that is capable of supporting virtual reality headsets.
PNY GEFORCE RTX 3090 24GB XLR8 GAMING UPRISING EPIC-X RGB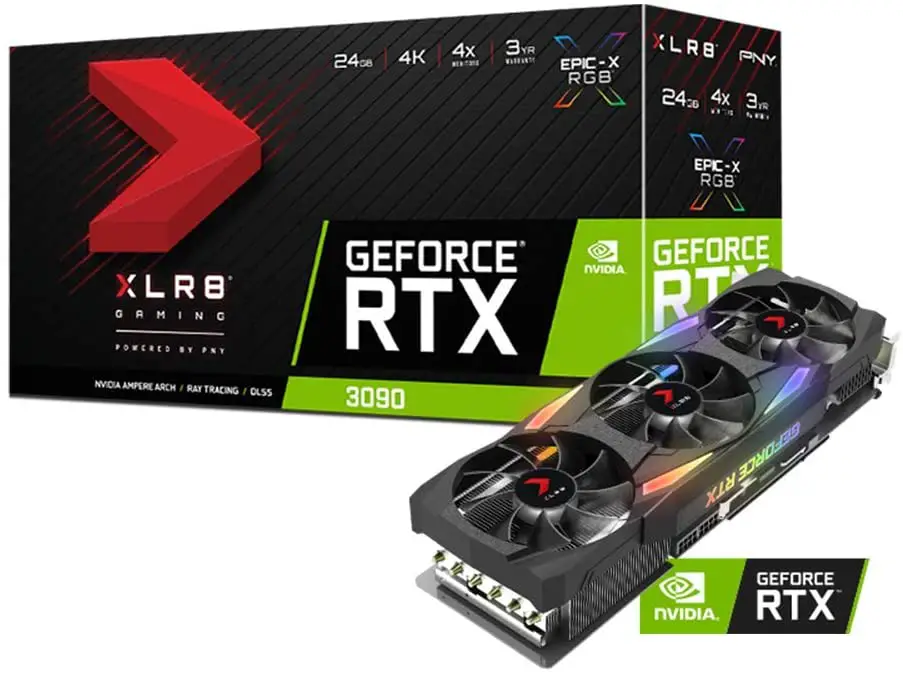 PNY GEFORCE RTX 3090 24GB XLR8 is powered by

NVIDIA Ampere architecture that ensures great throughput.

With real time ray tracing, the visual experience is surely a treat to the eyes.

This card promises incredible image quality because of the AI rendering.

It claims of offering the lowest latency and the best responsiveness.

PNY GEFORCE RTX 3090 24GB XLR8 GAMING UPRISING EPIC-X RGB TRIPLE FAN GRAPHICS CARD promises you the best performance – be it while editing, live-streaming and what not.

With the all new NVIDIA Broadcast app, you can now incorporate features virtual background, webcam auto frame, and microphone noise removal, thereby improving the audio and the video quality.

It also has an advantage wherein more graphics effects can be added to the Microsoft PC games.
CONCLUSION
As all of these 5 graphics cards are expensive, their prices are more or less the same. If you are looking for a graphic card aimed at gaming, then NVIDIA Titan RTX Graphics Card shouldn't be your choice. The rest offer great gaming experience. If you are looking a professional workloads to handle, then PNY NVIDIA QUADRO RTX 8000 is the best fit. Almost all these cards show similar performance – which of course is incredible! What to pick among them, is surely dependent on the purpose you want to buy for.
FREQUENTLY ASKED QUESTIONS (MUST READ)
Do all games require a graphic card?
Not all games are designed in a manner that they would require a graphic card. However, one can enjoy playing some high level games using a graphic card only. The visual quality, graphics, image quality, etc. are exceptionally great and one can surely make the difference out.
Is it required to change the PSU for a new graphics card?
This entirely depends on what type of graphics card you are planning to buy. It is always better to go for a higher PSU than what is stated by the manufacturer.
What is the difference between a single fan and a dual fan in the graphics card?
Cards usually come with either a single, double or a triple fan variant. The purpose of a fan, evidently, is to cool. A single fan variant is cheaper than the dual variant one. On that note, a triple fan variant is the most expensive one. However, a dual fan variant provides better cooling than a single fan variant. Similarly, a triple fan variant provides the maximum cooling.

 
Can the graphics card be overclocked?
Yes, you can overclock the card to improve the performance but the extent to which you can do so varies from one card to the other. In some cases, you can increase by 5% and in some you can go as high as 25% as well.

 
Watch the Video till End