When we talk about some of the best drones in the market which are capable of good videography, then DJI is the first company that comes to our mind. But, in 2019 Autel Evo Drone is giving a good competition. After 2018 CES, it has created a buzz among drone enthusiasts all around the world. This is a foldable 4k drone which offers some really advanced features that are very rare to find at this price range. Some drone experts are also calling it a phantom killer as it has almost the same features at a lower price point.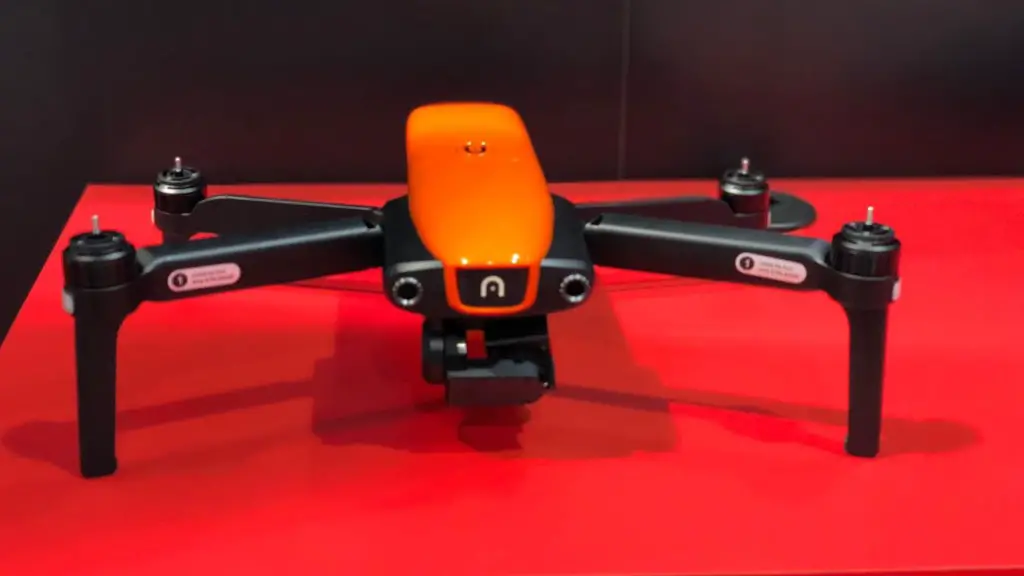 When it comes to beginners drone, most of the time you go with the cheap one and end up buying the cheap quality as well. But, Autel Evo could be a perfect drone to start with. If you compare this drone with mavic pro then you will see around a hundred dollar difference when it comes to weight, it is heavier than the mavic pro and bulkier as well. You don't get the carrying case with the product, that you have to buy separately, though the package includes a 32GB memory card. All the images and videos are stored in the card during flight; you can simply remove it from the right side and transfer the data to your system.
Build Quality of the drone is also pretty good. It looks a very high-end quadcopter, and legs don't cross once it's folded. Below is the list of items that you would be getting with the package.
Styrofoam Carrying Case
Foldable Autel Evo Drone
Controller with smartphone holder
SD Card
Charging Cables
Autel Evo Compact Drone Review
In this section, we'll talk about the different important aspects of the drone that you should know before purchasing. We'll cover the build quality, camera specification, warranty period and much more. So, let's dive into all of the specifications one by one.
Camera Quality:
The camera operating temperature is between 0°C~40°C that allows the camera to survive in extreme weather conditions. Its 12MP camera gives you the high-quality images, and you also get multiple modes to choose from that includes burst shooting, auto exposure and time-lapse. You can also choose among the different frame rates that are 60, 120 and 240fps. The field of view that you get is around 90 degrees. The file formats in which the video is saved FAT32/exFAT and photo Modes are JPG/DNG/JPG+DNG. It gives good competition to the DJI drones, and some users are saying that quality is even better than the DJI Mavic pro.
Battery Backup:
With the drone, you get the Lipo battery which is 4300mAh which gives you a decent time duration. The charging voltage is 11.4V, and you get around 30mins of battery backup once the battery is fully charged. Try to keep the battery away from heat and humidity. Better to use the same charger that you get with the product, if you are using the different charger, make sure it has the same ampere and voltage reading.
Advanced Remote Controller:
You get a very good build quality remote controller with the drone. It also has the OLED screen that gives you the 330nits of brightness which makes is visible in low light condition as well. Once, the remote controller is fully charged, you can use it for 3 hours. The receiver operating frequency is 2.4GHz which gives it glitch free transmission. What I really appreciate that its range of transmission which is 4.3miles. The remote controller weighs around 370grams, and the power consumption is 7.2W. The remote controller also gives you a good grip and fits perfectly in your hand.
Autel Explorer App:
You have to install the Autel Explorer app to use all of its features. It is supported by iOS and Android both. It provides you the 1080p live transmission. The navigation in the app is pretty simple, and after using it for a couple of minutes, you will become used to of it. In its simple user interface, you can easily choose among the different flight modes. Below are some of the advanced modes that you have to take a look at.
Dynamic Track: This mode allows the drone to follow the moving object. Here, once the drone gets the subject in the frame, it keeps track of it. What is really surprising that there are a lot of drones that come with this feature, but the accuracy and precision that you get here are really remarkable.
ViewPoint: This is also one of its unique mode in which you can change the viewpoint and see the things from a different perspective.
Orbit Mode: In this mode, the drone will orbit around the subject in the perfect circle. Enter the data correctly; you have to enter the radius, speed, and height. And also make sure there is no obstacle on the way when it's orbiting around the subject because you don't want to end up crashing the drone.
Waypoint: This is a bit difficult mode in which you can enter some , and the quadcopter will follow the route precisely. This kind of mode is used for surveying purpose.
VR: This is also virtual reality compatible which makes the flying experience more immersive. Though you have to buy the VR headset separately, but it's worth extra investment.
Advanced Safety Feature:
When it comes to safety features, it has pretty good obstacle avoidance system which doesn't let it crash very easily. It has GPS & GLONASS system which gives good altitude hold while it's hovering. If the battery is low, then it automatically returns to its home point. For obstacle avoidance, it has two cameras in the front which creates a 3d map for the drone which helps the quadcopter to eliminate any kind of crash chances. It also has two ultrasonic sensors as well helps you not to land when the land is not uneven. Its infrared sensor at the back helps you when flying in reverse direction.

Ease of Use:
When it comes to drones which have this kind of high-end features, it takes a lot of time to learn. But, this drone is suitable for beginners, and you will become good at it pretty soon. It is ready to fly drone out of the box; you can set up the EVO app within minutes. For this, you don't need a smartphone to fly; you can simply use the inbuilt screen and take it in the air.
Flight time & Range & Speed:
As we have already mentioned that it comes with a giant 4300mAh battery which gives it around 30mintues of flight duration. Once, the battery hits 15%, it will start flying back to its home position. You can fly it to 7kms which is a pretty good range, though wifi transmission is up to 2miles only. When it comes to speed, it can fly at 45mph which is not very good speed but decent enough if you are a beginner.
Technical Specifications
| Flight Duration | 30 minutes |
| --- | --- |
| Product Weight | 1.9 pounds |
| Field of View | 94 degrees |
| Video Resolution | Up to 4k |
| Camera | 12MP |
| Recommended | Age 18+ |
| Assembly Required | Partial |
| OS Compatibility | Android, Apple iOS |
| Color | Orange |
| Warranty | 1 Year |
Watch the Video till End
Autel Evo Drone Accessories
There are certain drone accessories as well that you can buy and take your flying and videography experience to the next level.
Spare Batteries: You can also buy one extra Lipo battery for the drone to have consecutive flights without a glitch — the one Lipo battery costs around $80.
ND Filter: If you are using the drone for film making and in the day time when you are shooting at the high shutter speed, you most of the time find your footage to be whitewashed. In that case, you can go for 3 ND filters pack which costs around $50.
Quick Release Propellers: You can also buy quick release propellers that will help you in case of a drone crash. They are very cheap and cost ten dollars each.
Autel Robotics Charger: You can also go for the robotic charger which is highly recommended. It increases battery life, and charging also becomes pretty convenient.
Autel Robotics Shoulder Bag: If you travel much and you need a separate bag so that you can carry it around safely all the time, so can go for this bag. It has a good quality build quality, and it costs just $40.
Autel Robotics EVO Propeller Guards: The last accessory that you can go for is propeller guards, it keeps your drone safe from the crashes.
Conclusion
The drone has all the features that you need in a drone. Though, some users complained they are not happy with its gimbal stabilisation, and sometimes footage is shaky that ultimately becomes unusable. On the whole, I would say considering the cost, it is a pretty decent drone, but it would be better if the company can rectify the small glitches that people are facing with the drone.

Top 10 Trending Drones