This drone has come around two years back. It's a tiny drone in a shark shape which is loaded with a lot of features and also look cool at the same time. In the pro version, they have added some advanced features as well. It's a fun toy if you are thinking of buying it for your kids, they going to love it.
So, today in this article, we will talk about everything that you should know about this drone that includes review, manual, beta flight, binding process and much more.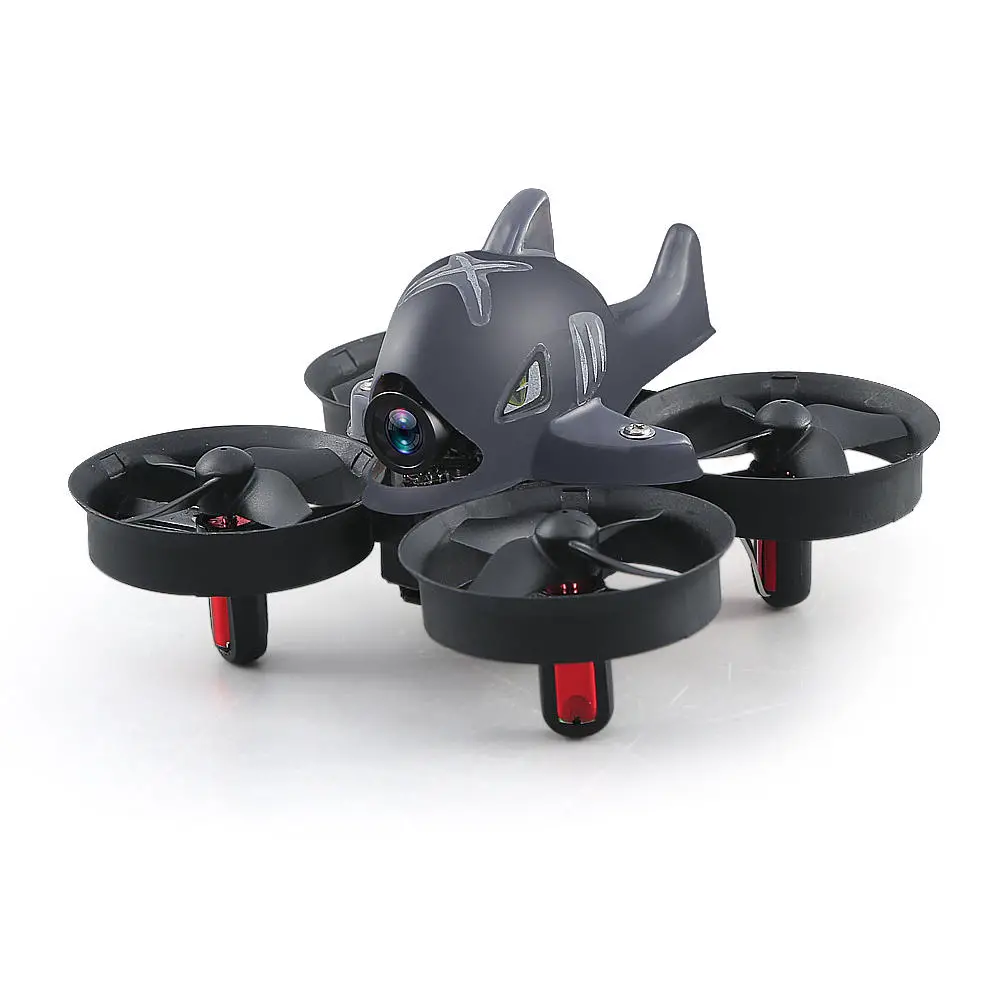 The Eachine E010S Pro comes with a unique design. You won't find any other drone in the market with this design. It has a black frame, and its shark shape housing provides the aerodynamic lift that ultimately gives you a smooth and stable flight. It also has a decent quality camera at the same time that includes an M7 800TVL 1/3 inch sensor with a 150-degree field of view. If we talk about its battery, then you have 3.7V 240mAh battery that will help you in taking off your drone. When it comes to motors capacity, then you get high torque motors over here with 59000 rpm ± 12%. Motors are coreless which allows you to have quick take off and landing.
This is a toy drone but also comes under the racing category in all Eachine Drones as well. The drone cross dimension is around 8cm that makes it super compact. If you are looking for a drone which can be used as a racing drone and also gives you the toy feel as well, then this could be the right combination for you. It weighs less than 30grams, and you can also have FPV experience when flying it in FPV mode. The real-time transmission allows you to see the things from the drone perspective.
Though, this shark cap might look weird at the starting. But, it does three things; first thing, it provides safety to the camera which is ducked under its plastic coating. It also gives a fresh look, and at the end, this streamlined design gives you the better lift as well. The propellers of the drone are also protected well over here. Below is the list of items that you would be getting with the package.
1 x Eachine E010S Pro FPV BNF
1 x 615 59000rpm engine
8 x blades (2 sets)
1 x USB Charger
1 x Manual
1 x F3 flight controller
1 x 800TVL camera
1 x Battery 240mAh 3.7V 45C
1 x frame kit (without shock absorber rings)
Eachine E010s Pro Review
In this section, we will talk about all the essential features of the drone which makes it a different drone. We cover camera capability, flight controller, battery specifications, different modes and much more. In case, we miss any important feature; you can let us know in the comments below, we will try to add it as soon as possible.
1- Camera Quality & FPV
The Eachine E010S Pro drone comes with 800TVL Camera with 1/3 inch sensor. Here, the video signal will be transmitted to the monitor at 5.8Ghz. This frequency ensures that you have transmission without a glitch. I would say keeping the quadcopter price into consideration; this is a pretty decent quality camera. Though, the quality won't be that good to be shared on social media. So, have fun while flying it. It won't give you very high-quality footage, but you will learn a lot of things about camera handling, composition and shot framing as well.
2- Flight Experience
Let me be very honest, when it comes to drone flight experience, you will have a stable and smooth flight with Eachine E010S Pro. The drone comes with BNF(Bind and Fly) version which means that you won't be getting a remote controller with the drone. It is equipped with a FrSky receiver that means you can use any corresponding FrSky Controllers. It is compatible with all these versions; FS I4, FS I6, FS I6X, FS I4X, I6S, FS I10. It comes with a high definition camera which has a wide angle lens which will be a real help in capturing the beautiful landscape. What I really about this drone that it provides you the room for customization, you can choose the controller at your disposal and have desired configuration. It's a toy drone and a mini-drone; it's entirely up to you how you want to use it. The max speed that it can go to is 30km/h. There are many accessories available as well that you can go for if you want to level up your drone.
3- Battery & Flight Duration
It comes with a 240mAh battery that gives you around 3-4 mins of flight time. That's not very great. In case you want the consecutive flights without putting the battery on charging for hours, you can buy some spare batteries. The batteries are available at a lower price online.
4- Multiple Flight modes
With the drone, you will be having multiple flight modes option as well that can be easily programmed through the beta flight. Once the quadcopter is programmed, there are multiple options that you can choose from that includes beginner, experienced and expert mode.
Technical Specifications
| Drone | Specifications |
| --- | --- |
| Take off weight | 29.5g |
| Battery Power | 3.7V 45C 240mAh |
| Flight Time | 3.5 mins |
| Wheelbase | 65mm |
| Frame | ABS high-quality |
| 615 Coreless Motor | Long diameter 15mm |
Final Thoughts
The Eachine E010S Pro is a great drone. It is also known as tiny whoop racing drone. The quadcopter could be a perfect gift for your kid. I would say if you are thinking of buying a toy which can fly, you won't find any better option than this one in the market. Below are some of the best selling alternatives that you can check out also.

Trending Gadgets in 2021