TRNDlabs is the company which has made the fader drone. The company has been known for making some high-end products. TRNDlabs became popular when they created Pokedrone in 2016, that really went viral. They mostly make low budget toy drones which have some high-end features and also fun in their performance as well. This mini-drone is suitable for beginners and recreational enthusiasts as it comes with HD camera also.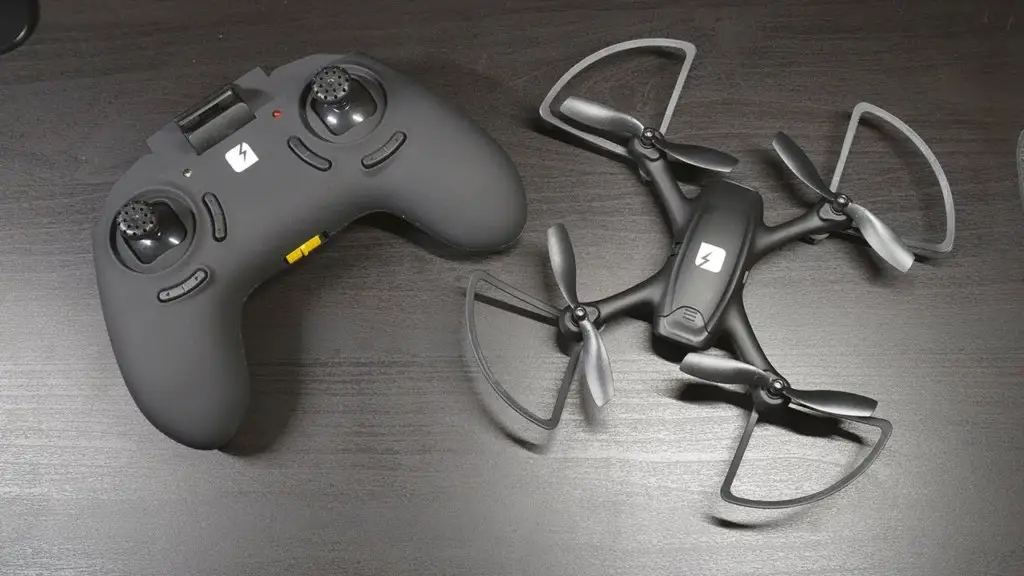 The fader drone is easy to use, and you will get good command over it after a couple of flights. It is so small that it fits at your palm. It also has some advanced features that we will discuss in details in the below section. The quadcopter is ready to fly out of the box, and it comes under $100. It also has a six-axis gyro system that provides you the amazing stabilization. RTH, Altitude Hold, and one button backflips add more fun to the flight experience. It also has a 720P camera which lets you record HD Quality video. The quadcopter also has bright color LED lights which allows you to fly the drone in low light condition as well.
The Company has produced a lot of drones till now, but this one hand downs is the best one. Its compact build quality easily allows it to fix in your pocket. Most of the beginners face the problem during landing and take off, but this one with auto takeoff and landing helps the novice pilots and eliminates the possibility of any crash at the starting.
The quadcopter comes in black color, and it looks like a very high-end drone. You can also do some cool tricks with the quadcopter and showcase in front of your friends. You can also choose among the multiple speed options and start with the one that suits you the best. I would recommend starting with the low speed, and gradually, you can increase the speed as you become more comfortable with the quad.
The controller is also of very good build quality. Its range is around 50m which is decent enough, considering it a beginner's drone. To explore all of its features, you can download the fader App which is supported to iOS and Android both. Here is the complete user guide.  It also has the First person view which allows you to see the things from drone's perspective. It also supports VR which is really remarkable considering its low cost. You get up to 8minutes of flight time. Below are some of the items that you would be getting with the package.
1 x FADER Drone
1 x Remote Controller
1 x USB Cable
1 x User motors
4 x Spare Rotor Blades
Technical Specifications
| Drone | Specifications |
| --- | --- |
| Gyro | 6-Axis Gyro |
| Battery | 3.7V, 520 mAh |
| Flight Time | ~7 minutes |
| Charging Time | 45 minutes |
| Weight | 55 gram (1.94 ounces) |
| Memory Card | 4 GB MicroSD Card |
| Controller Battery | 4 x AAA (Not Included) |
| Dimensions | 17.5 x 17.5 x 4.0 cm |
| Remote-controlled Distance | Up To 50m |

Fader Drone Review
In this section, we'll talk about the different aspects of the quadcopter. We'll dive into build quality, camera specs, warranty, affordability and much more. So, read this section thoroughly before you make the decision of buying this drone.
Easy to Fly
The quadcopter is very easy to fly. This is the RTF model out of the box. If you are a beginner and flying the drone for the first time, you will become a master in it after a couple of flights. Most of the beginners face problem in take-off and landing at the starting, but its auto take off, and landing makes flying more convenient for you. If you are a novice, try flying it indoor or open ground outdoor (No Wind); it will avoid any possibility of crashes. It's also recommended to read the user manual properly so that you know which button is used for what purpose in the remote controller. If you are new to flying drones, you can find the complete guide on how to fly a drone in Uavcoach website.
Build Quality
It weighs just 55grams which gives you the idea of its tiny size and lightweight body. It has good quality plastic, and propellers are made up of carbon fiber which makes it more durable. It has six-axis gyro stabilization which gives you a smooth and stable flight experience. In the remote controller, all the buttons are at the optimum position; you will not feel the strain in your fingers while using it. You can also choose the sensitivity level at your disposal. Start with beginner and then you can gradually move on to an expert. Keep in mind that at the expert level, the drone becomes more sensitive.
For real-time transmission, download the app, then connect the transmitter with the drone and as the binding happens, you will see the live feed on your smartphone.
HD Camera & LED Lights
The fader drone has decent quality beginner camera which is not very high end but it will fulfill your requirement. It has good altitude hold which enables the drone to click the pictures free from jelly effect. It also has LED lights which allows you to fly the quadcopter in the low light condition. Operating in the night is not recommended, especially outdoor until or unless you are very good at flying UAVs.
Fader Simple App Navigation
The fader app, you can download from the playstore. It is supported by iOS and Android both. It has a very simple UI and easy clutter free navigation. All the media is saved in the App gallery. What I really love about this drone that it also supports the VR Mode which allows you to have a more immersive experience. You can buy an IRIS VR headset with the product and have a completely unique flying experience. You can download the iOS and Android App from here.
Flips & Rotation
The quadcopter is also capable of doing flips and rotation which adds fun to the flying experience. It can do flips with the click of a single button. You only try these flips once you have good control over the drone.
Battery Backup
The battery that you get here is 3.7V 520mAh battery, and it gets fully charged in just 45minutes and then you have around 7-8mins of flight duration. For the controller, you need 4 AAA batteries that you have to buy separately. I would also recommend you to buy some spare drone batteries so that you can have consecutive flight experience without any interruption.
Watch the Video till End

BETTER & AFFORDABLE ALTERNATIVES (RECOMMENDED)
Conclusion
If you are looking for an easy to fly drone, then it could be the right choice for you. The drone costs around $100 which is worth every single penny of investment. You can charge the drone directly with the computer or power bank. If you are looking for an alternative then below are some of the good options that you can try. In case you have any doubt, let us know in the comments below, we'll try to respond asap.
We have also covered some important posts which includes Quietest Drone in 2019 and Smallest Gimbal Camera in the World.
FAQs (Must Read)
How much does a fader drone cost?
The drone costs around $129 but available at $99 from their official website.
What is a fader drone?
Fade drone is made by Trndlabs. It is one of the advanced drone at affordable price. You can also use the VR Mode but goggles you have to buy separately.
What are the accessories available with the drone?
With the package, you get only drone and remote controller. You can also buy replacement battery, charging pack, crash pack and more under $30.
Which drone to buy for beginners?
Here is the list of best drones for beginners in 2020.
What is the easiest drone to fly?
Here, You can check easiest drone to fly in 2020.